route information
Start:
Near West Saltoun
Finish:
Crossgatehall
Distance:
10.5km / 6.5miles (one way)
Time:
3 hours
Terrain:
Well surfaced wide and level path
Directions:
Follow the road south west out of West Saltoun for one kilometre. You will see a small parking area on the south side of the road and the railway heading off to the north. There are several other points of access onto the railway walk at Pencaitland, Ormiston, Elphinstone and at Crossgatehall.

At the western end of the railway walk, it is possible to continue to the Smeaton Railway, which can be followed to Whitecraig and then on to Musselburgh.

Public transport:
Regular bus and rail service to Pencaitland and Ormiston. There is no public transport to the car parks at either end of the walk.
Local services:
There are convenience shops and eating places in Pencaitland and Ormiston.
Public Toilets.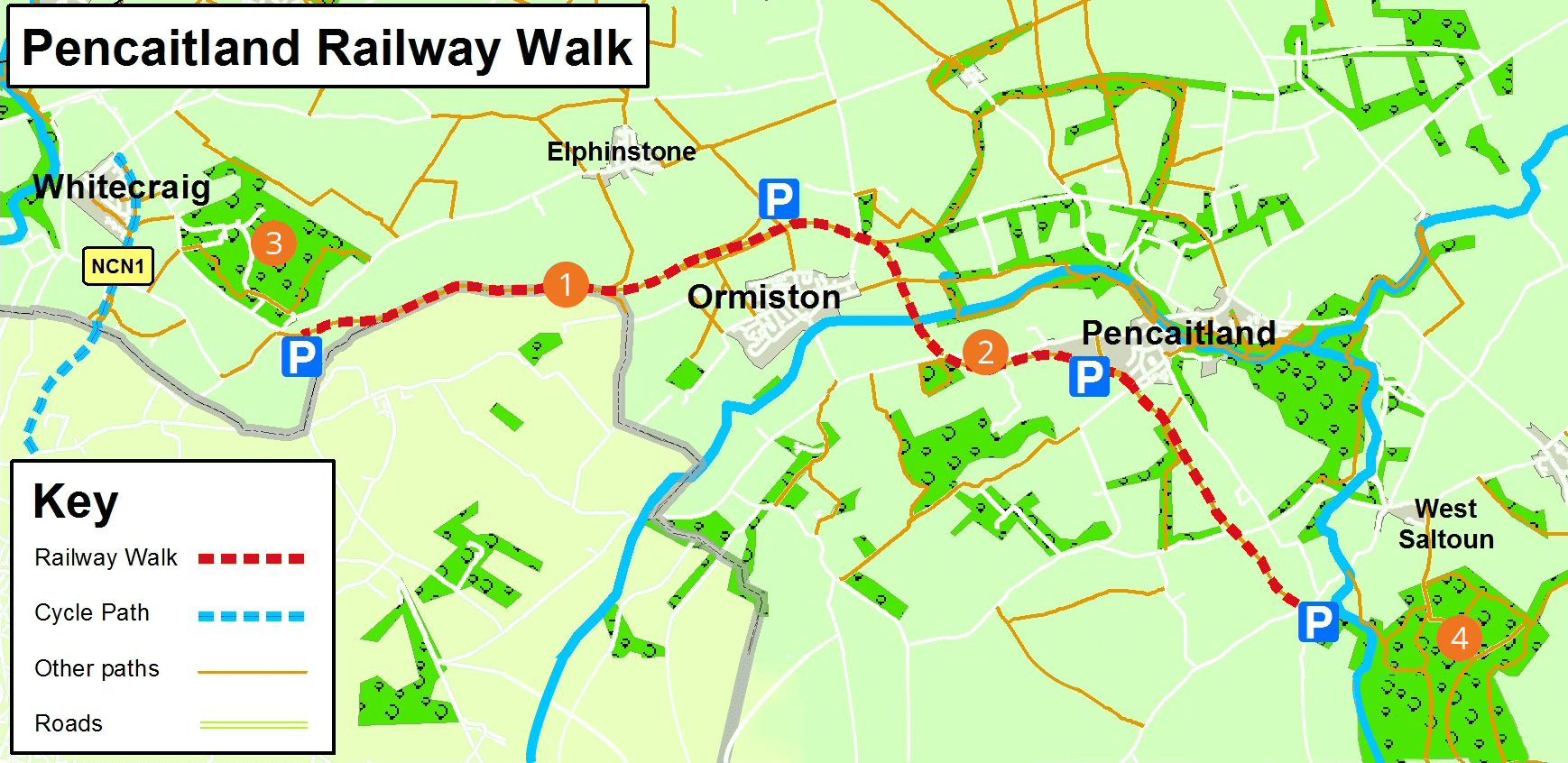 Pencaitland Railway Walk

- PDF download

points of interest
Former Railway Line
The western end of this disused railway line was built in 1867. It was extended as far as Gifford by 1901 and was used until 1965 when it was closed. There are various interpretation panels and markers, which describe the history of this route.
Hedgerows, burns & woodland
All along the route there is a varied habitat for a great diversity of wildlife and rare wild flowers.
Carberry Hill
Where Mary Queen of Scots surrendered to the Confederate Lords in 1567. A lovely woodland walk with great views over Edinburgh and the Firth of Forth.
Saltoun Forest
A lovely area of mixed woodland offering a variety of walks.