Looking for some inspiration on what to buy someone this Christmas? Take a look at our guide to some of the best local producers, makers, movers and shakers in East Lothian and their unique and beautiful festive gift offerings.
An ethical adventure company based in Dunbar, specialising in paddleboarding, coasteering, surfing and mountaineering around Scotland offering gift vouchers that take you where you feel most alive!
Lifestyle store Village Green Home supports East Lothian creatives and independents. Visit the shop next to the Strawberry Barn just outside Dunbar, or head to their website.
Laura Thomas Co use plant-based ingredients to make natural soaps and scents for a sustainable lifestyle. Discover more at their website or visit their store on North Berwick High Street.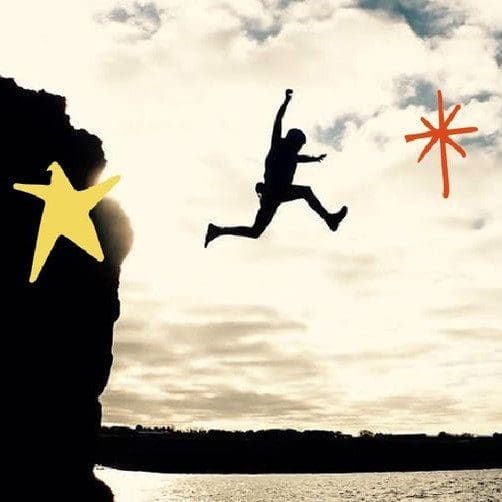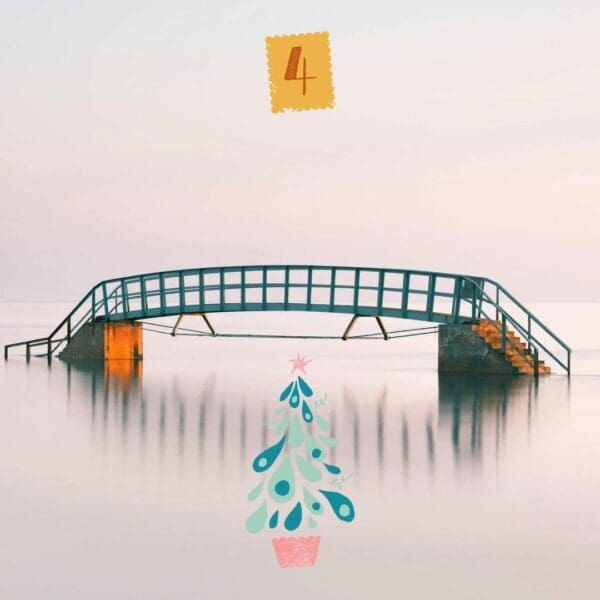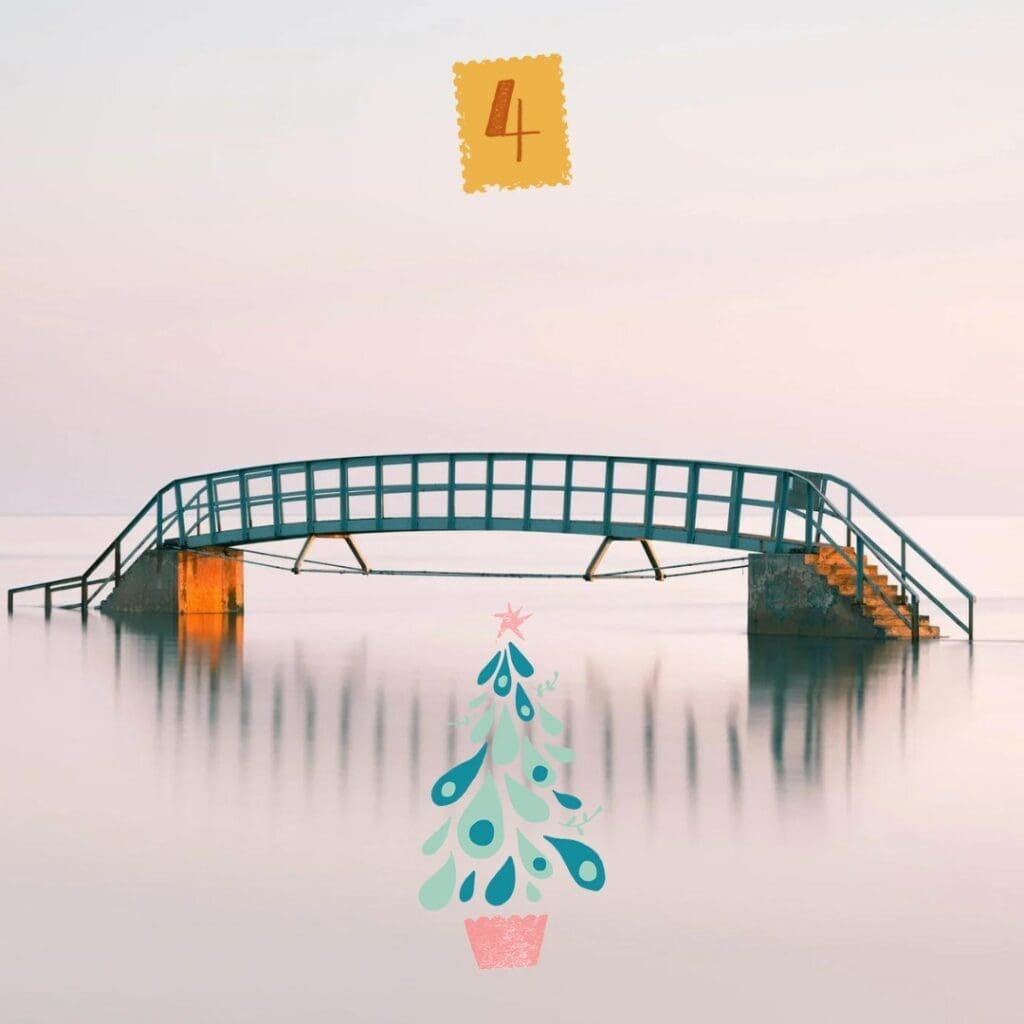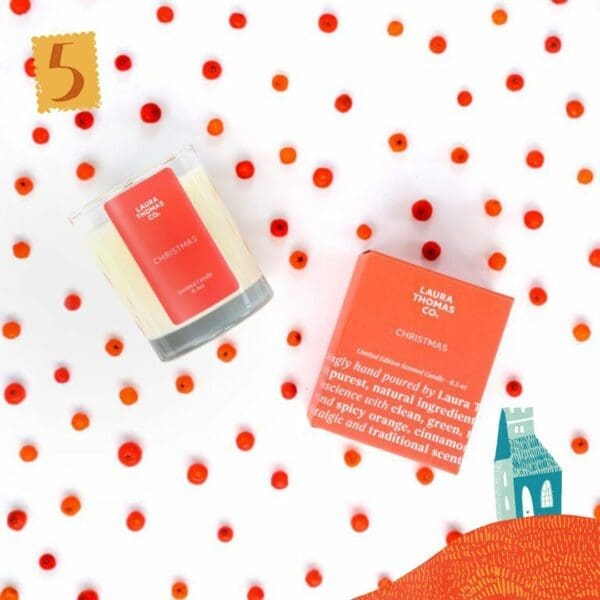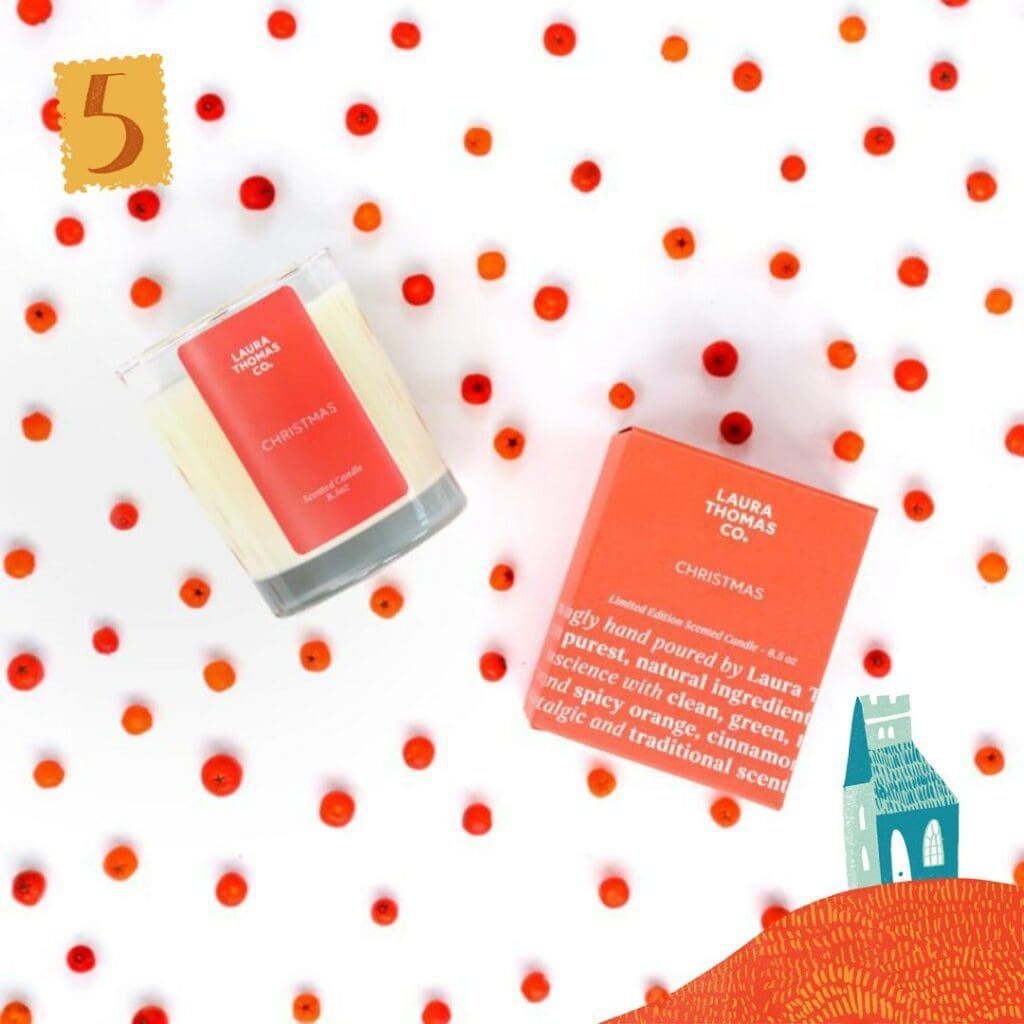 Give the gift of choice with an East Lothian Gift Card this Christmas. There's over 100 local businesses to choose from and it's valid for a year so the lucky recipient can take their time and enjoy spending!
Choose from quirky gift shops, hairdressers and beauticians to popular tourist attractions, golf courses and restaurants to sample East Lothian's fantastic food and drink.
Foxlake Adventures gift vouchers allow you to gift everything from wakeboarding sessions to their Foxfall low ropes course creating fun-filled experiences for all in the great outdoors. Enjoy a fun day out at this 5-star adventure hub just outside Dunbar.
Stunning range of ethically sourced craft chocolate using only the finest premium ingredients. Including hand crafted bean to bar visually beautiful organic couverture bars and delicate flakes to enjoy the perfect cup of cocoa.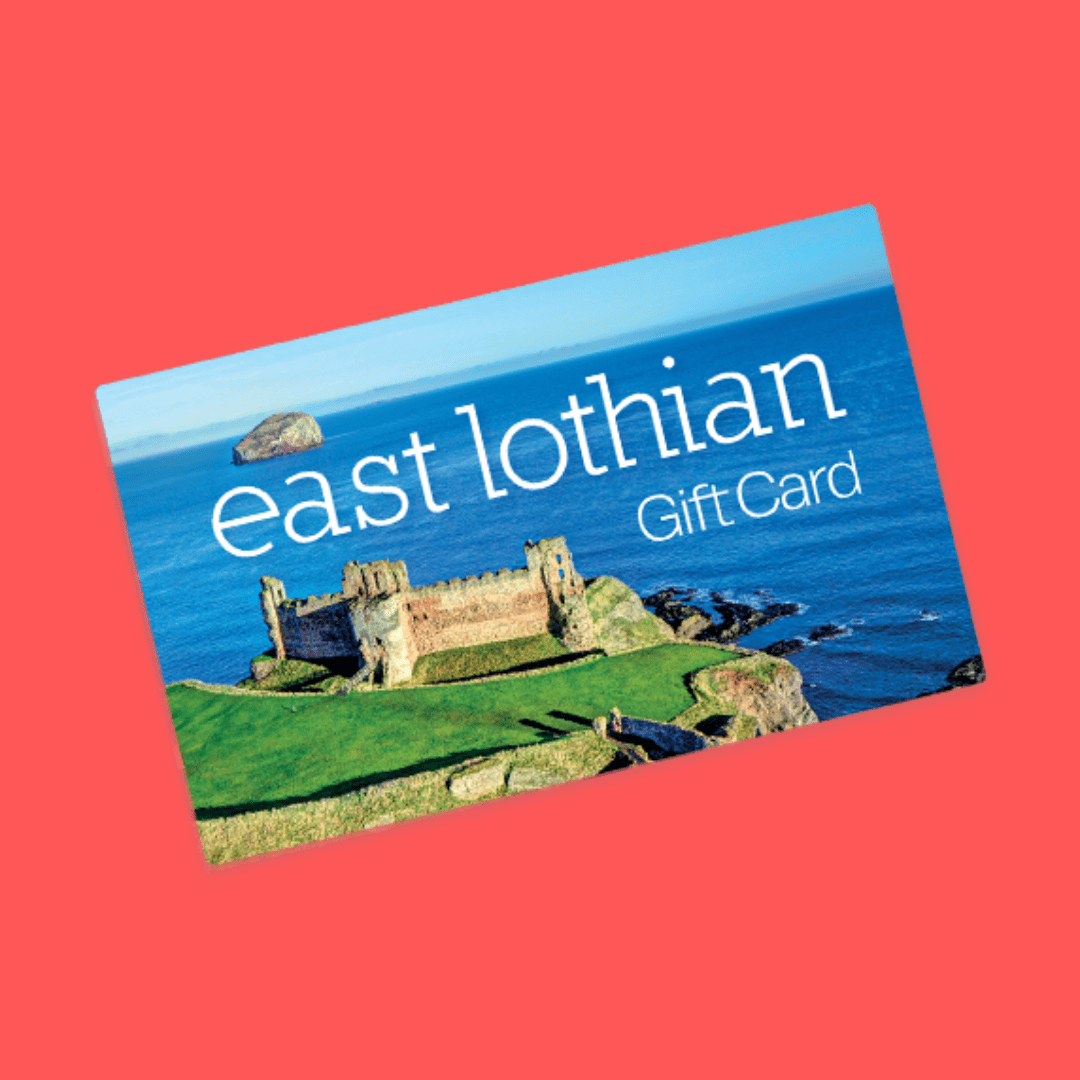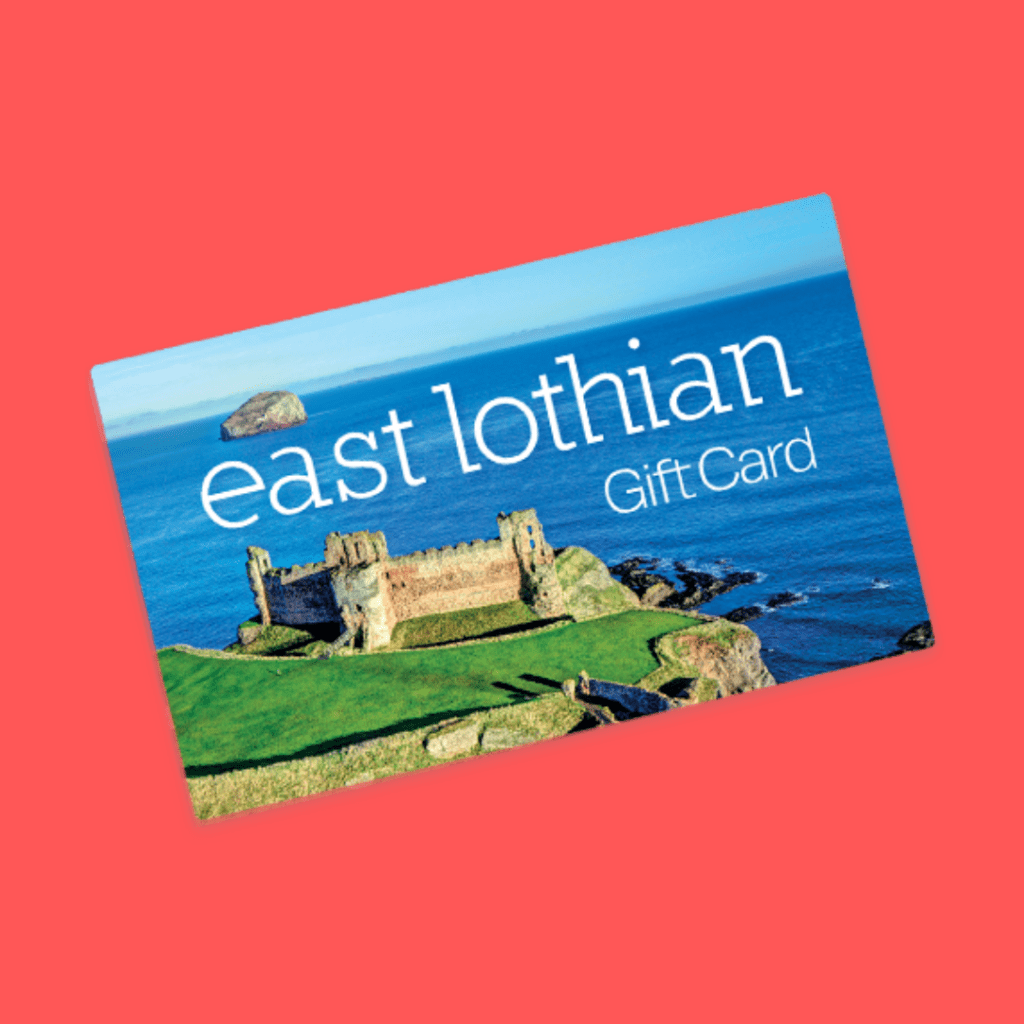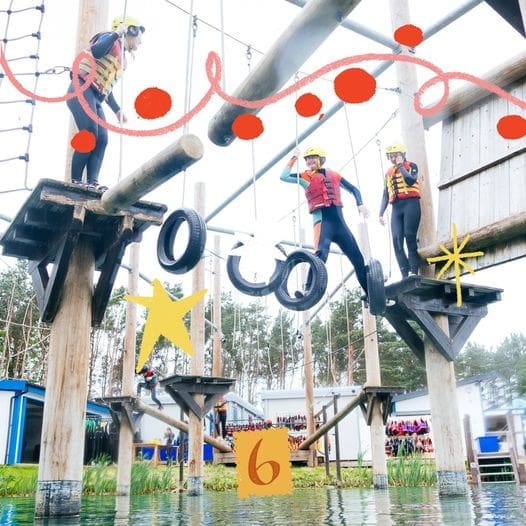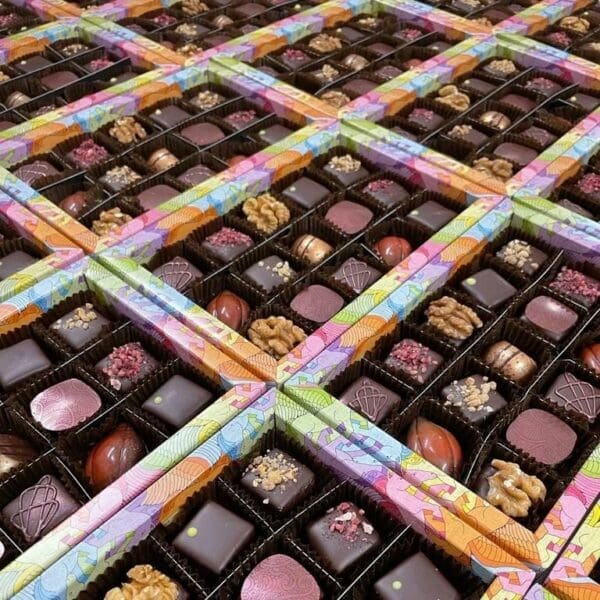 Perfect curries every time! Spice pots are perfectly blended spices that can be used to make simple and delicious indian food. Their curry spice kits make the the best gifts for foodies!
An artisan larder of delicious home made goodies. Their luxury hand stamped festive hampers are filled with your own personal choice of treats. Discover more at their website or visit their shop on Haddington High Street.
Give someone an unforgettable experience flying in a microlight. Fly over East Lothian's beautiful beaches and famous golf courses and see the world's largest gannet colony on the Bass Rock from a different perspective. With a choice of special presentation gift or electronic vouchers.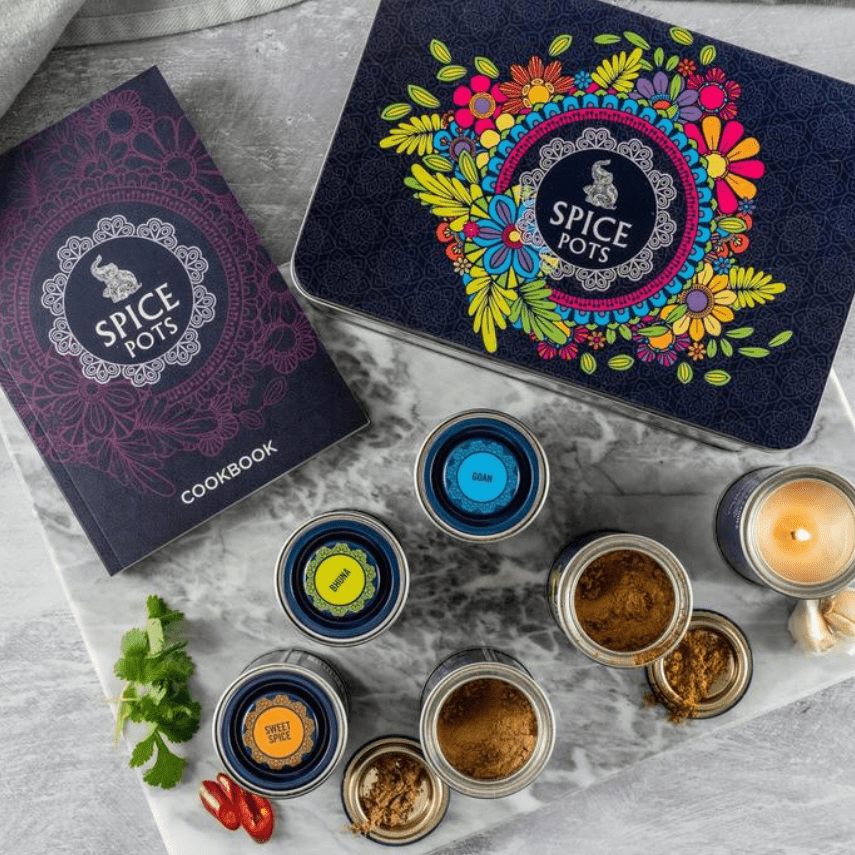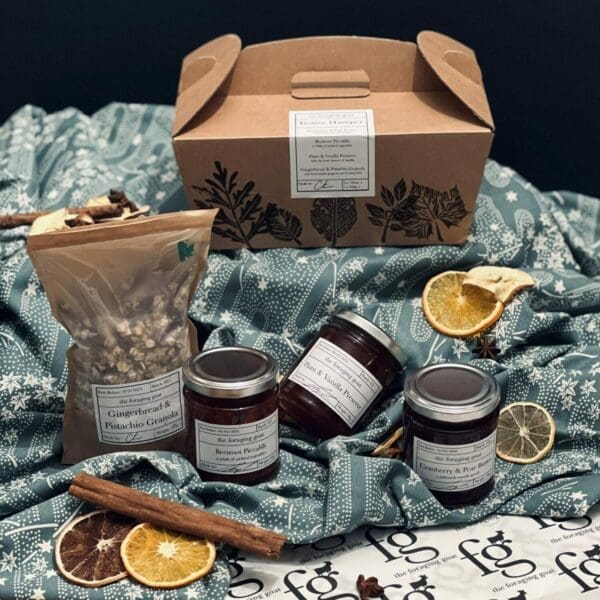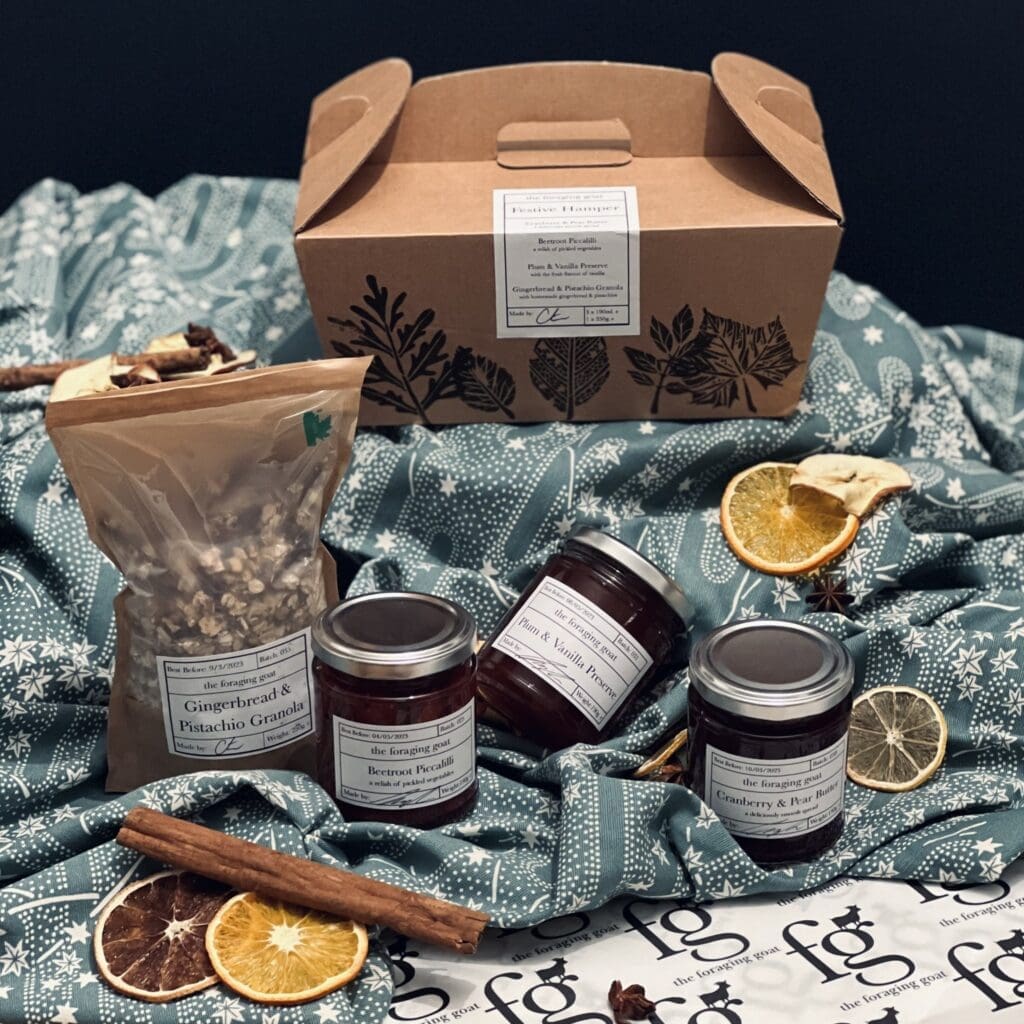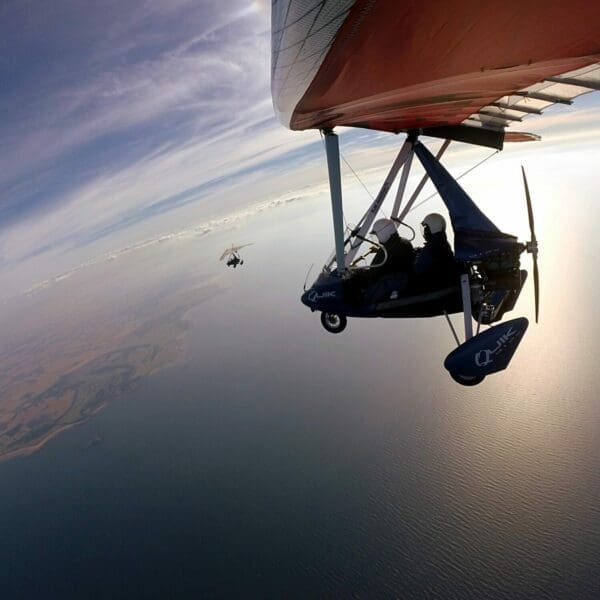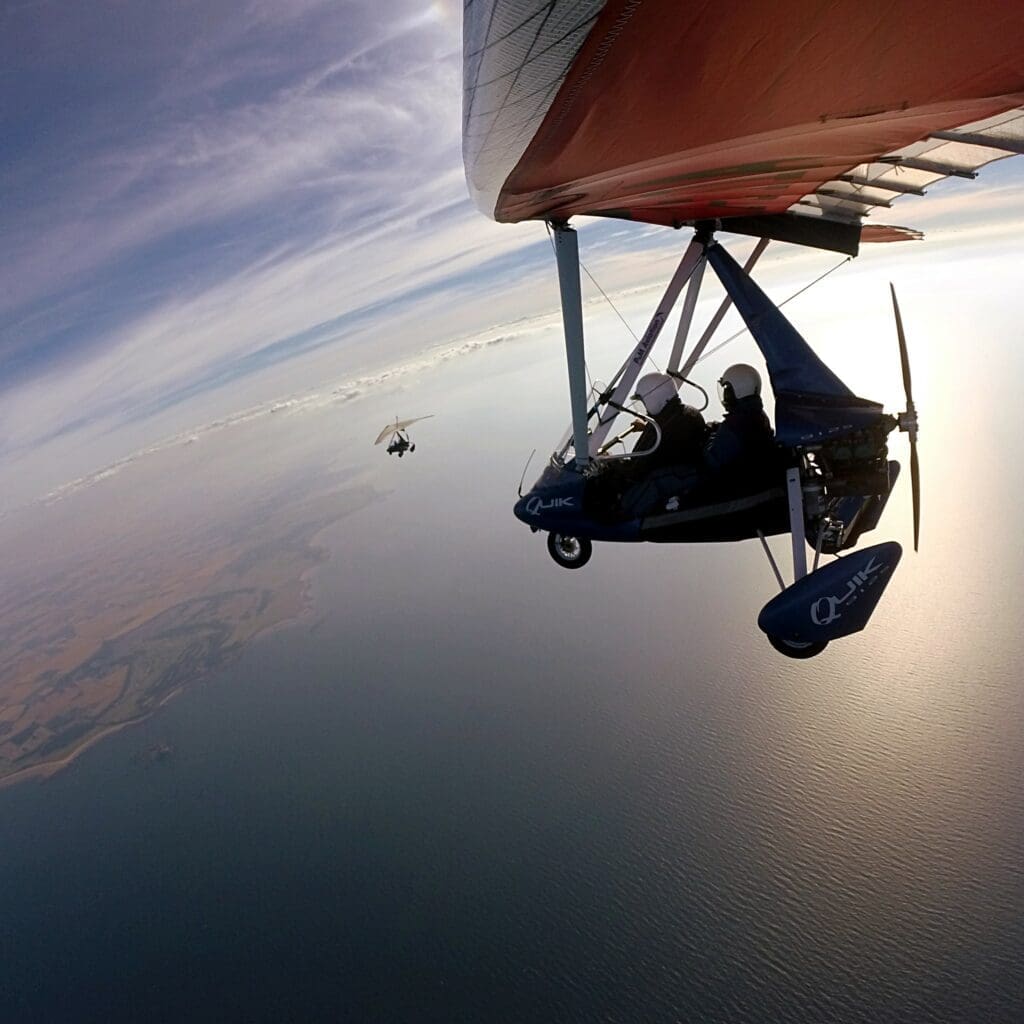 The cookery school gift cards make the ideal Christmas present for family, friends and partners. The cookery school offers a choice of classes for individuals and couples from preparing locally caught seafood, perfecting the art of traditional pastas and fillings to mastering delicious dishes to share as you enjoy quality time with your partner or creating stand out dishes to impress your friends at a dinner party.
The shop at Belhaven Brewery is stocked with some great Christmas ideas including branded merchandise, selection of beers and handmade accessories or order from their online shop.
Experience the outdoors on an E-Bike tour discovering East Lothian's varied and stunning landscape, coastline, hidden gems and delicious food and drink along with way. Gift a tour or e-bike hire voucher.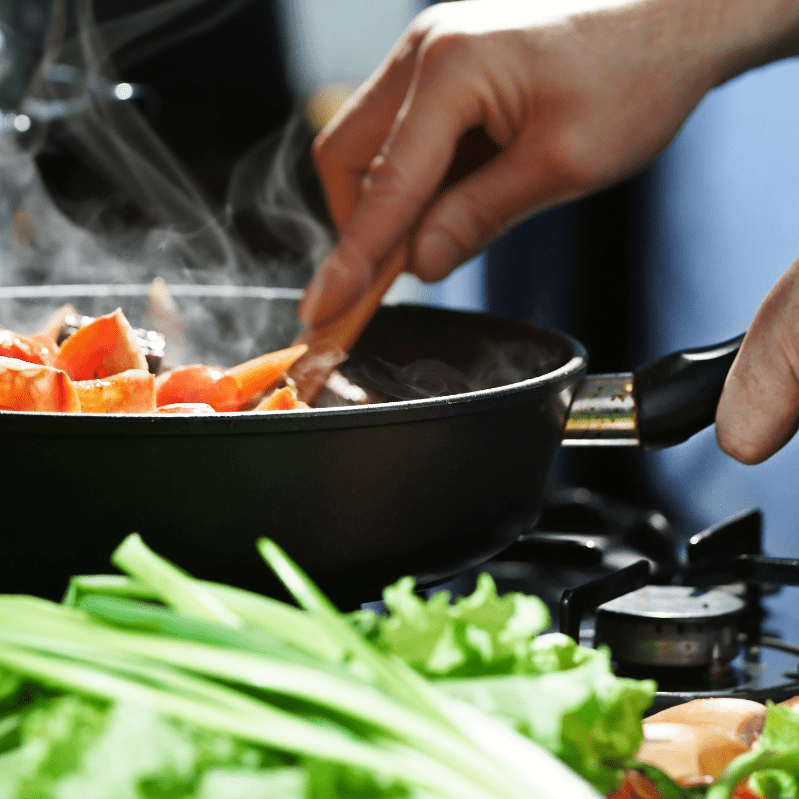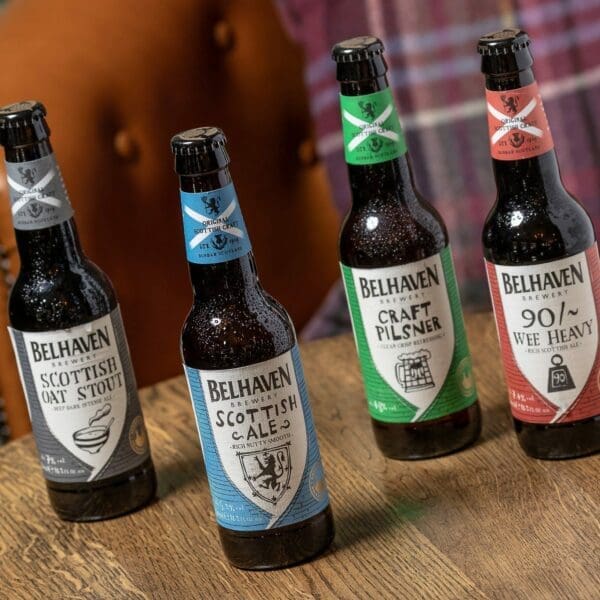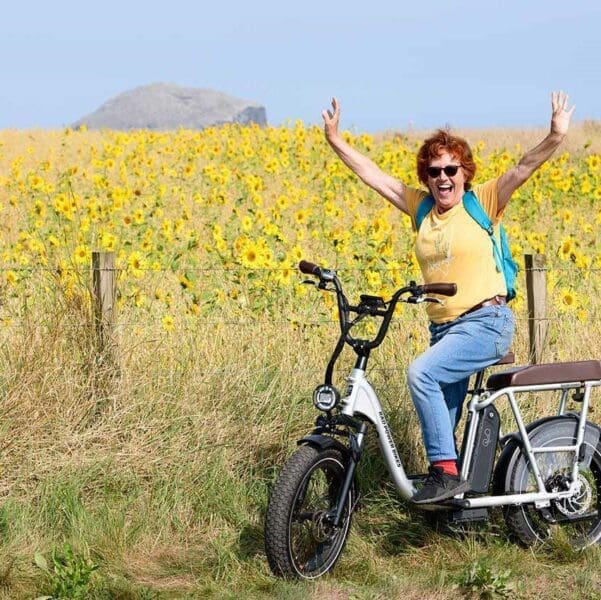 #loveeastlothian #shoplocal
Put text here
If you want 2 images use 2 columns
More text
If you want 3 images use 3 columns
Put text here
If you want 2 images use 2 columns
More text
If you want 3 images use 3 columns
Come rain or shine you can find a great outdoor space in East Lothian to enjoy a cool beer, cocktail, soft drink or a bite to eat al-fresco style. Tucked behind our restaurants and bars and in our hotel gardens, there are terraces and yards that have been transformed into lovely dining areas, perfect for some rewind and relaxation time.
We have hand-picked some of our top spots in East Lothian.
A welcoming family and country pub located right beside Belhaven Brewery, the oldest working brewery in Scotland. Serving great classic food and a range of drinks including cask beers and cocktails. The secluded garden has covered booths with heaters for those chilly nights. The pub was named dog-friendly pub of the year at Scottish Bar & Pub Awards 2020!
Situated in the centre of a charming village, this gastropub has an outside area with grill cooking a weekly special menu around classic Scottish dishes with a modern twist. There's no better place to relax and unwind after a long day sampling their range of malt whisky or Scottish gins.
Enjoy delicious drinks, food or afternoon tea in this charming landscaped outdoor garden space with fire pits and plenty of blankets at hand! This Michelin-rated pub is run by husband and wife team, Tom & Michaela Kitchin.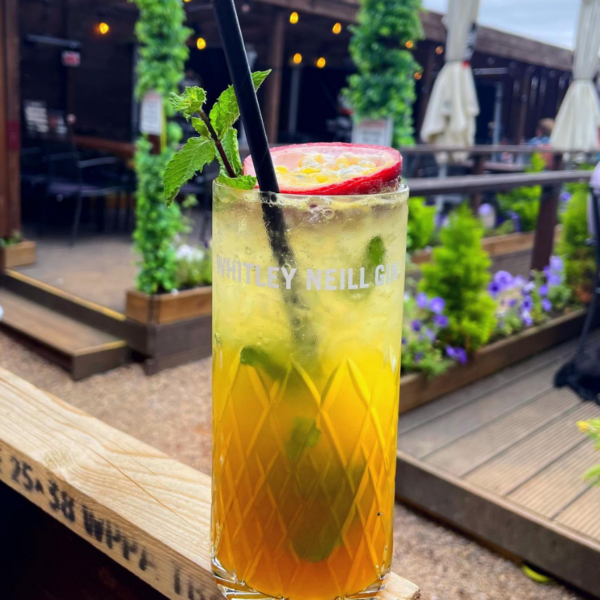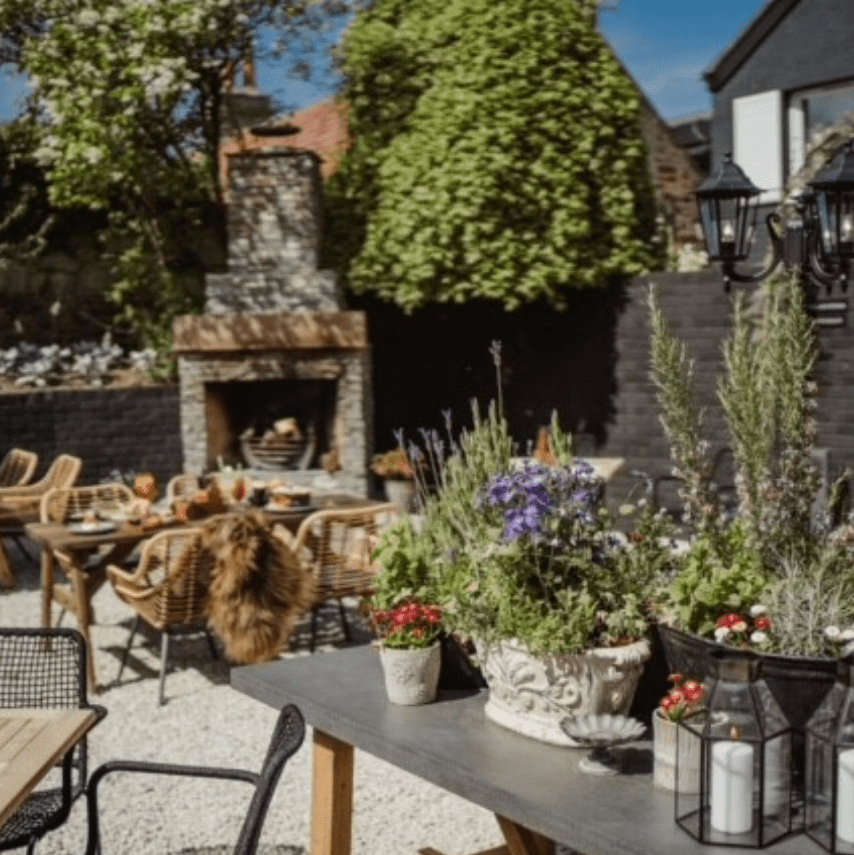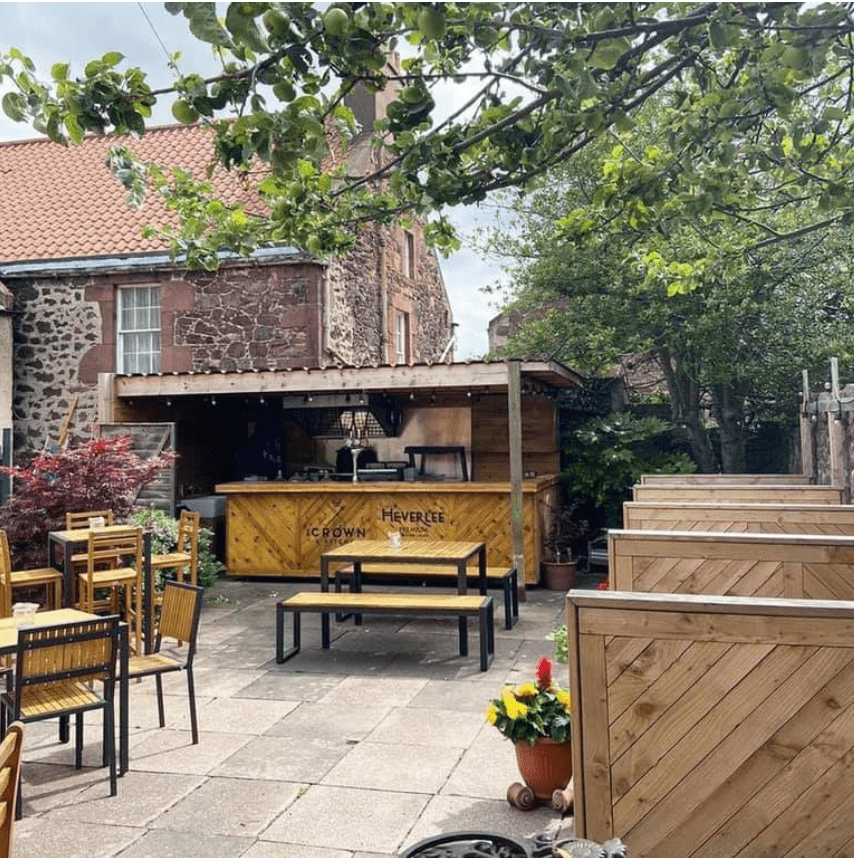 Soak up the atmosphere at Ducks Inn offering great food all prepared on the premises and a fine selection of wine, ales and whisky. The beer garden is at the front and back of the hotel where you can relax with a beer or eat from the menu after a long walk.
This award-winning bistro is located on the banks of the River Tyne right beside the historic Nungate Bridge. Sit back, relax and enjoy the glorious views and passing wildlife, which often includes swans. Offering menus for each season including classics, lighter plates, daily specials, sharing platters and a great range of ales and wines to sample.
No 12 Hotel & Bistro, North Berwick
Enjoy a beautiful meal or drink in this wonderful beer garden where they have creatively made use of shipping containers for their bar area. Due to its prime location in the centre of the town, it goes without saying that No 12 is very popular with groups of golfers, watersport enthusiasts, families and couples!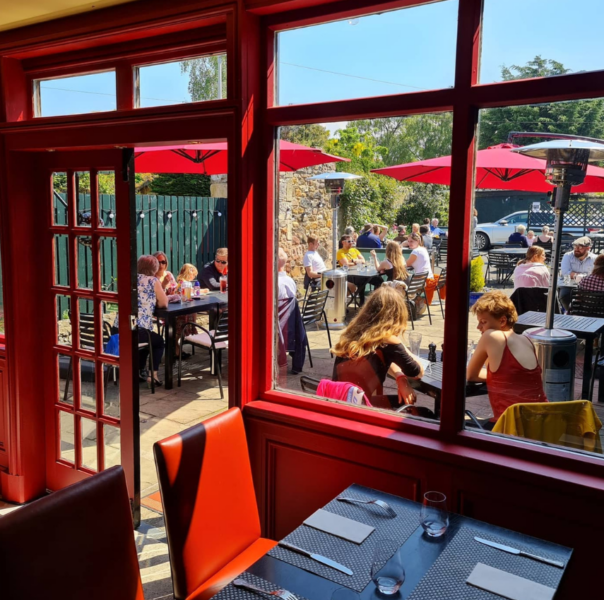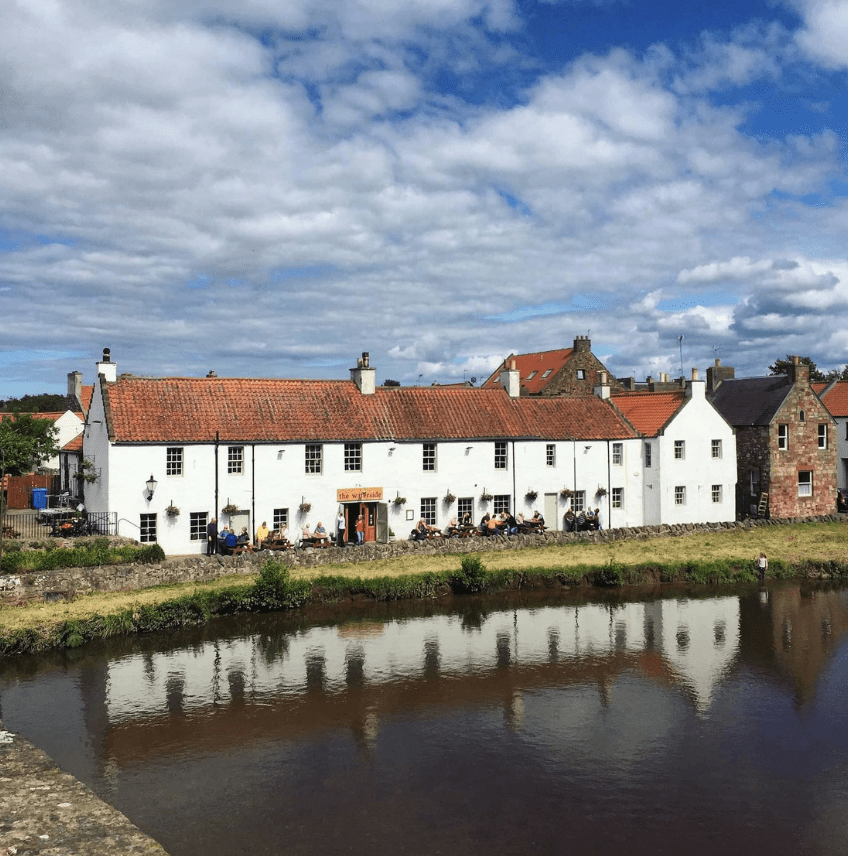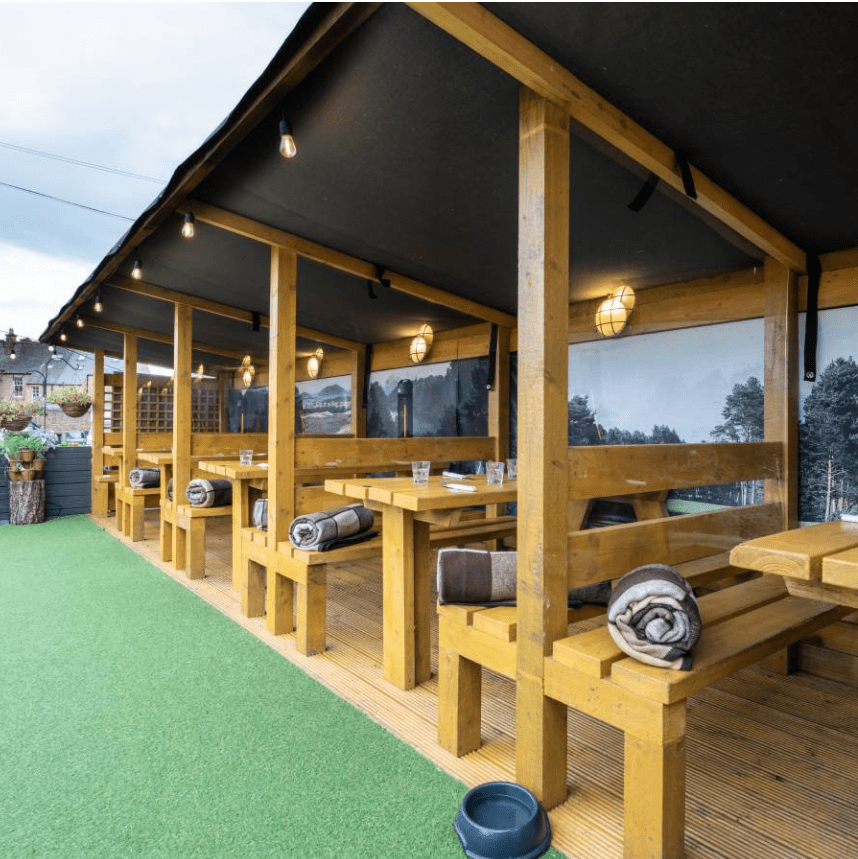 A traditional village pub which prides itself on creating a cosy and relaxing environment, which is perfect if you are looking to try out some of their locally sourced cuisine or nip in for a pint of real ale!
A lovely micropub with a sheltered beer garden and if it does get a wee bit chilly, their wood burning stove will keep you nice and cosy. It's dog friendly inside and out, so you can enjoy a beer with your furry friend from their range of craft beers and lagers such as Peelywally IPA, Barryswally APA, Tap's Aff and more!
The Linton Hotel & Steakhouse, East Linton
Sitting on the edge of the River Tyne, the large walled garden at the rear is the perfect pit stop for a meal or coffee with your friends. The Linton was Best Hotel Restaurant in the 2021 Food Awards Scotland.
In the centre of one of East Lothian's picturesque countryside villages is this lovely beer garden. Great ambience, fresh food and fine ales, extensive selection of gins and the finest wine are on offer.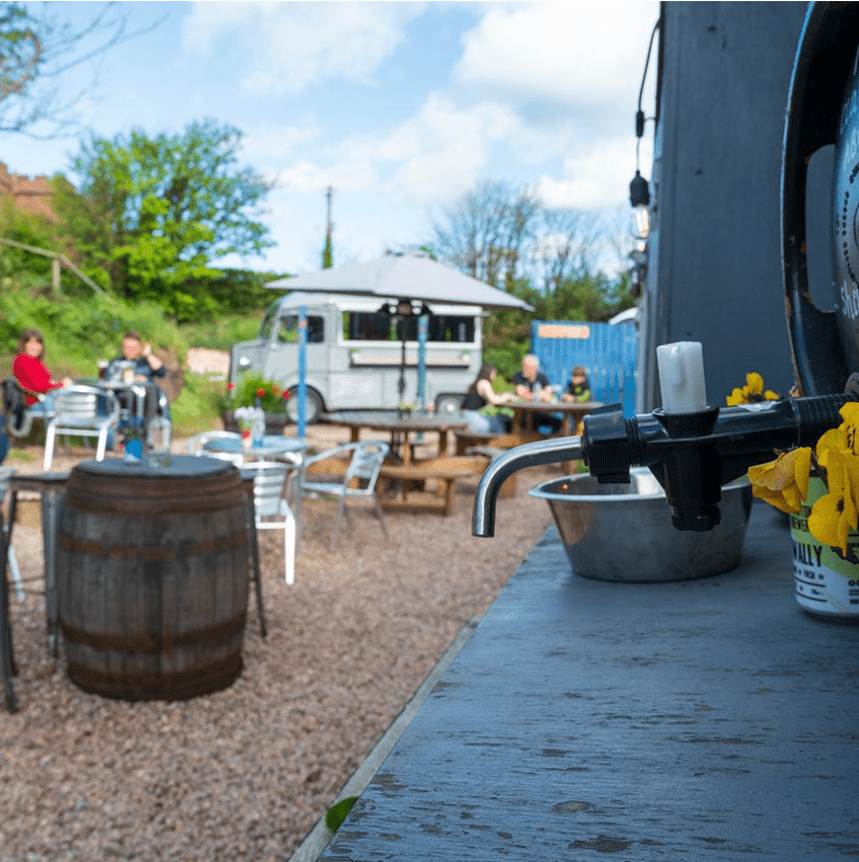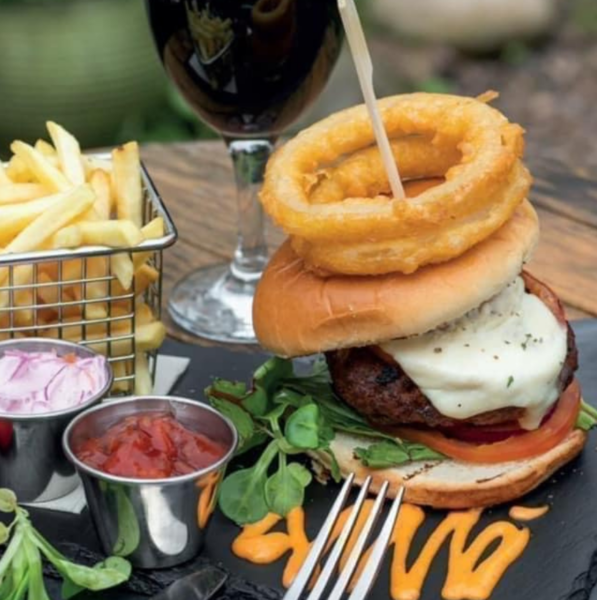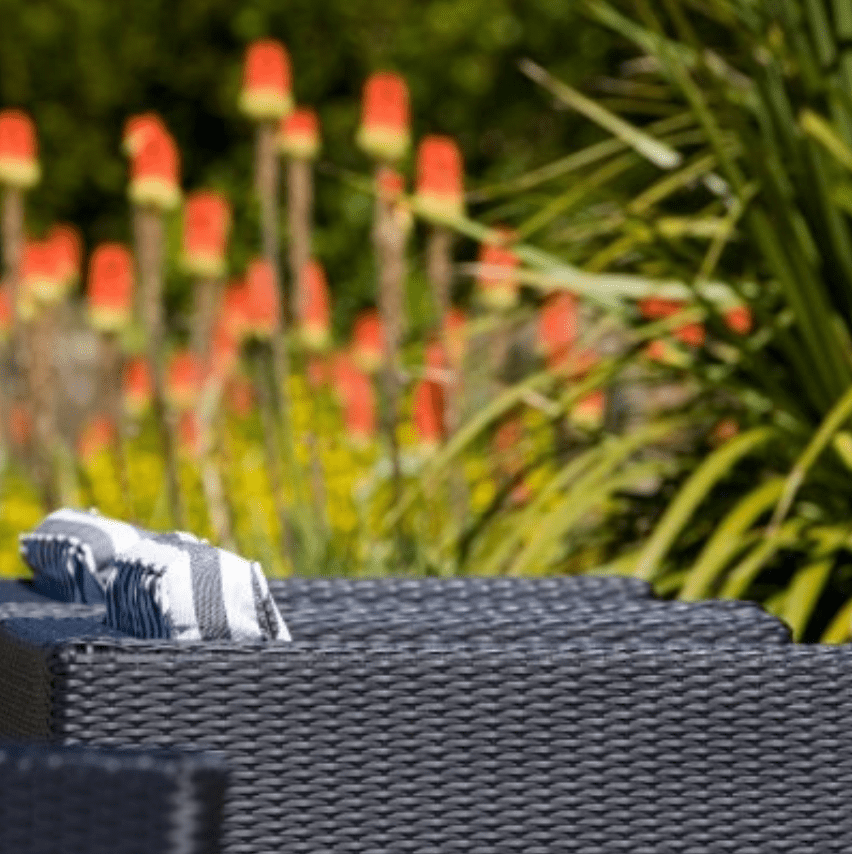 Please drink responsibly – visit Drink Aware
It really is a summer of golf in Scotland – The Home of Golf this year!
Our neighbours in Fife are hosting the 150th Open at the Old Course in St Andrews and here in East Lothian we have not one but two major tournaments.
The Genesis Scottish Open gets things going from 7th-10th July at The Renaissance Club. The best of the best are set to tee off for the third Rolex Series event of the DP World Tour season. Among the Major Champions, Rolex Series winners and World Number Ones battling it out for the trophy are Scottish Scheffler, Jon Rahm, Collin Morikawa, Justin Thomas, Cameron Smith, Patrick Cantlay, Viktor Hovland, Sam Burns and Matt Fitzpatrick.
For event information and tickets
Then from 4th-7th August, the iconic Muirfield, host of 16 Open Championship, hosts the AIG Women's Open. The top players from the women's game are set to tackle this famed links course. Anna Nordqvist aims to become the first player since Yani Tseng in 2011 to successfully defend the title. But she's up against some tough competition from the likes Georgia Hall, Leona Maguire, Nelly Korda, Jin-Yung Ko and Lydia Ko.
For event information and tickets
East Lothian is known as Scotland's Golf Coast and with 21 quality courses it has something for golfers of all ages and abilities from Championship, traditional and modern links courses to classic inland courses. There is a great history here and the courses are set in truly stunning locations. You will find courses designed by such legends as Old Tom Morris and James Braid. Scotland's Golf Course offers some super packages and deals on golf and accommodation. 
If you are coming to East Lothian for a golf event or to play, there is plenty to keep you entertained off the course!
There's the scenery for one thing. East Lothian stretches for over 40 miles of stunning coastline that includes rugged cliffs, golden sandy beaches and gentle rolling countryside. Towns and villages are steeped in history, with excellent places for food and drink, welcoming accommodation and independent shops.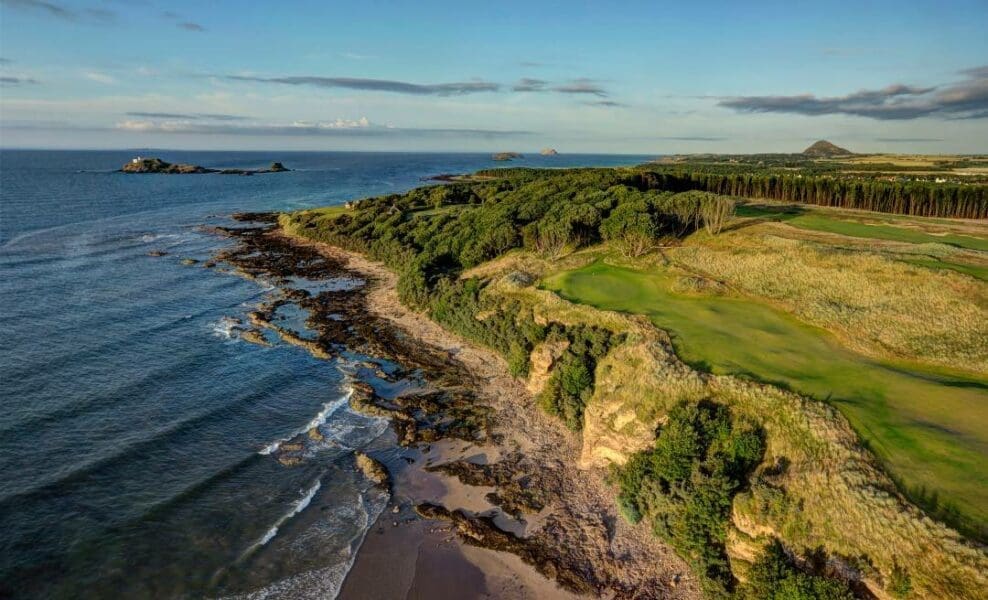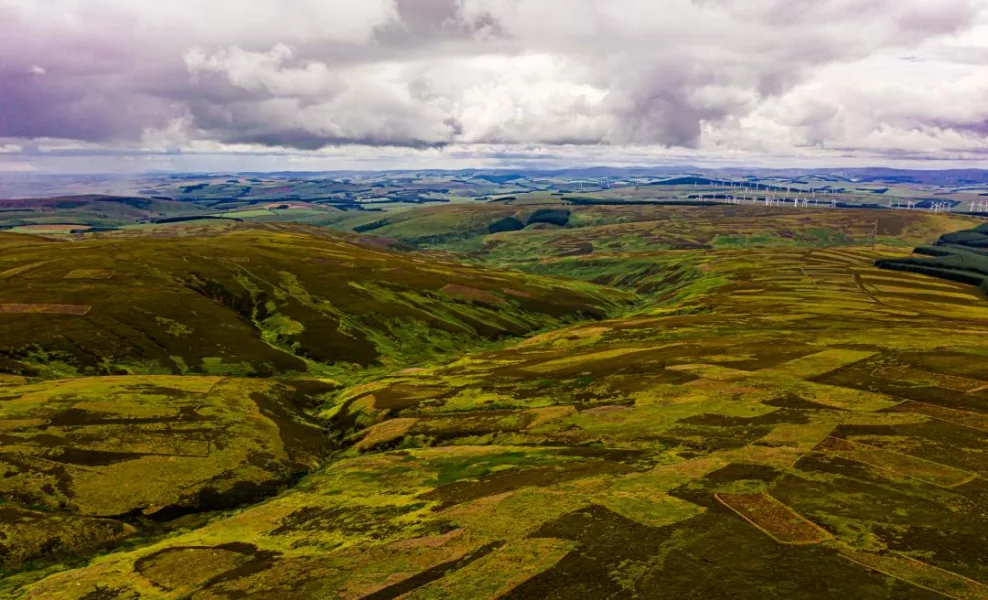 The Renaissance Club is within Archerfield Estate and The Walled Garden is well worth a visit for a bite to eat and to pick up some unique gifts.
Muirfield is just along Scotland's Golf Coast Road on the way to Gullane. We recommend a stroll around this picturesque place and a stop off at one of the restaurants and bars for locally sourced food and drinks. It's a bit of a golfer's dream location with no less than 4 golf courses lining the road. Gullane Bents is one of East Lothian's most popular beaches and if you have the time, a stroll along the dune backed sand is a must.
Head along the coast road to the east and you will find Dirleton. This quaint village is set around a village green which is overlooked by the impressive Dirleton Castle. There are some great places to eat and drink here too.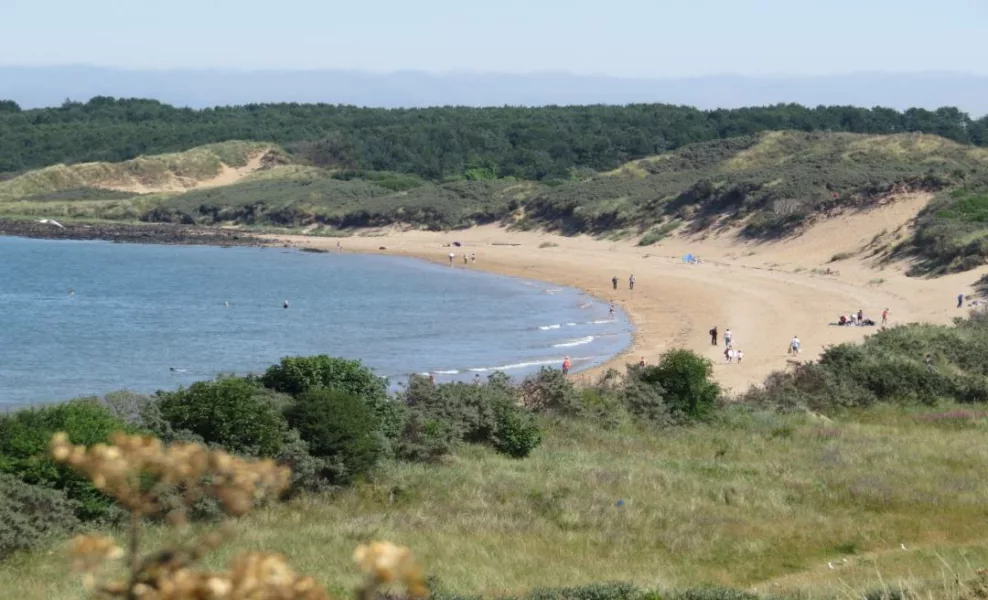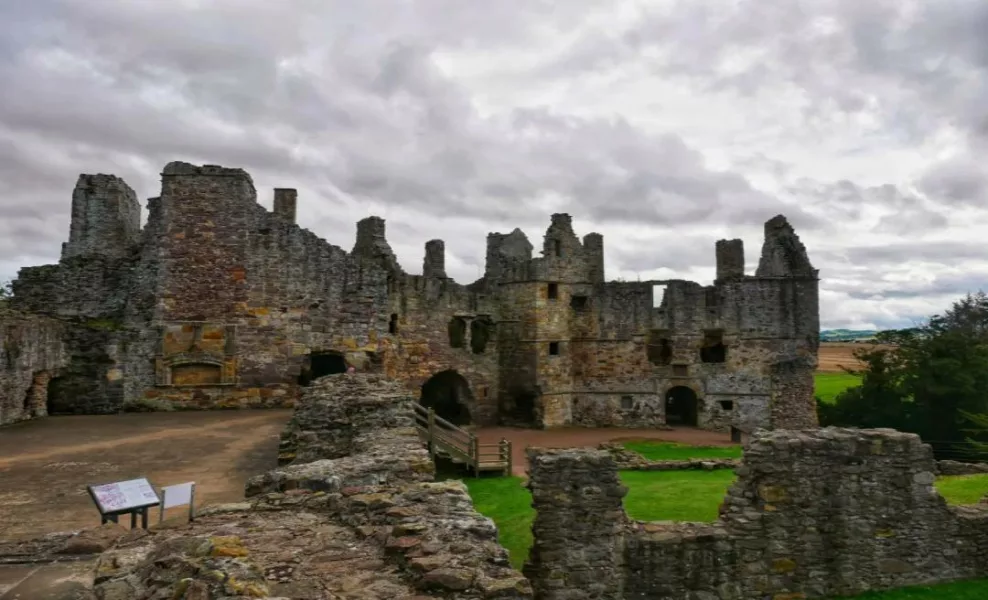 North Berwick is one of East Lothian's best loved towns and it's easy to see why! With 2 beaches, the magnificent Tantallon Castle set on a cliff top, 2 golf courses and the iconic Bass Rock it's easy to spend a while here.
No visit to Scotland is complete without a visit to a whisky distillery. Head inland and visit Glenkinchie - The Lowland Home of Johnnie Walker for a tour and a taste of The Edinburgh Malt.
 You can find everything you need to know about visiting East Lothian at Visit East Lothian and if you plan to visit the beaches be sure to download the Visit East Lothian App available at App Store and Google Play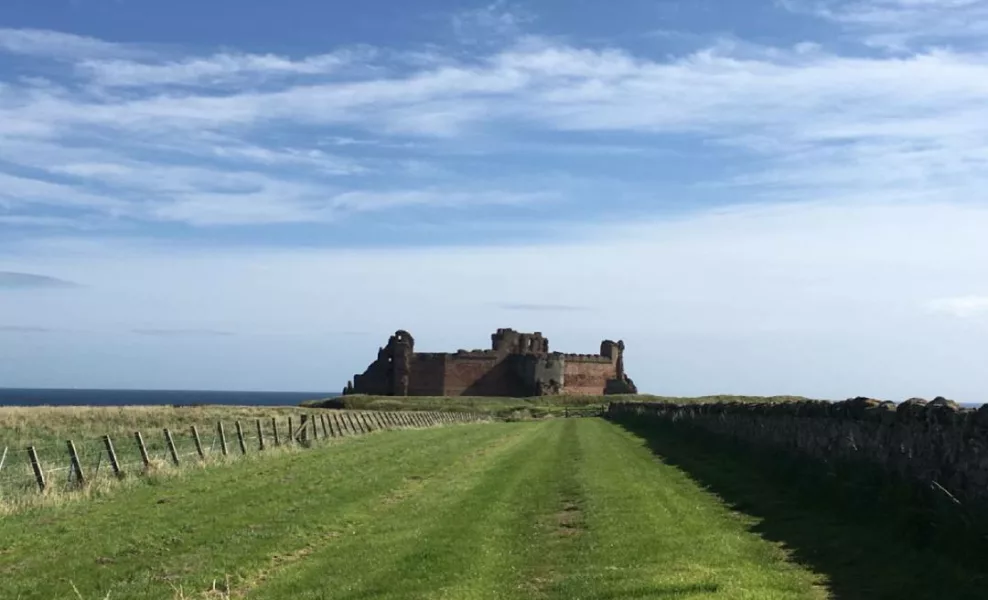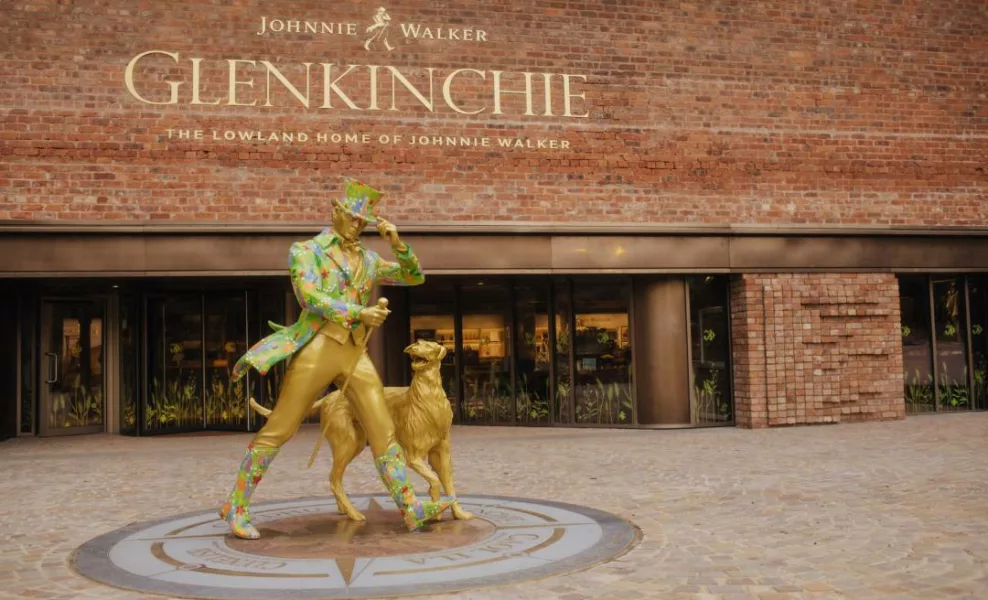 With many of us choosing to book staycations this year, we really wanted to visit somewhere new to us and East Lothian was definitely an area that we were both excited to explore.
We settled on booking a stay in North Berwick because we really wanted to get away from our usual life in the city and of course, enjoy some of that fresh sea air. But more than that, we are big fans of seafood, nature and history which are all things that North Berwick offers in abundance.
As we were driving into North Berwick, past all of the lovely golden fields and basking in the sunshine, we were both feeling very happy (and a little smug) in our choice to visit East Lothian, as we knew that those back home were not enjoying the same weather!
One of the first things I noticed as we got closer to the town, was the Bass Rock. It took me by surprise as I had no idea that it was so close to land, or that it was quite so imposing! I was impressed and equally taken aback.
Next, we passed Tantallon Castle, another standout location as it's seen perched on the cliffside.
As we carried on towards the town centre, we began to see rows of colourful houses, the water, and happy crowds of people filling the streets. You couldn't help but have a sense of excitement at what was to come.
We had definitely made the right choice.
We spent two days relaxing, wandering the beaches, shopping on the high street, sightseeing at the top tourist spots, visiting cafes and eating copious amounts of glorious food. You can read all about it in our other posts but below are some of my favourite things about our couples escape to East Lothian!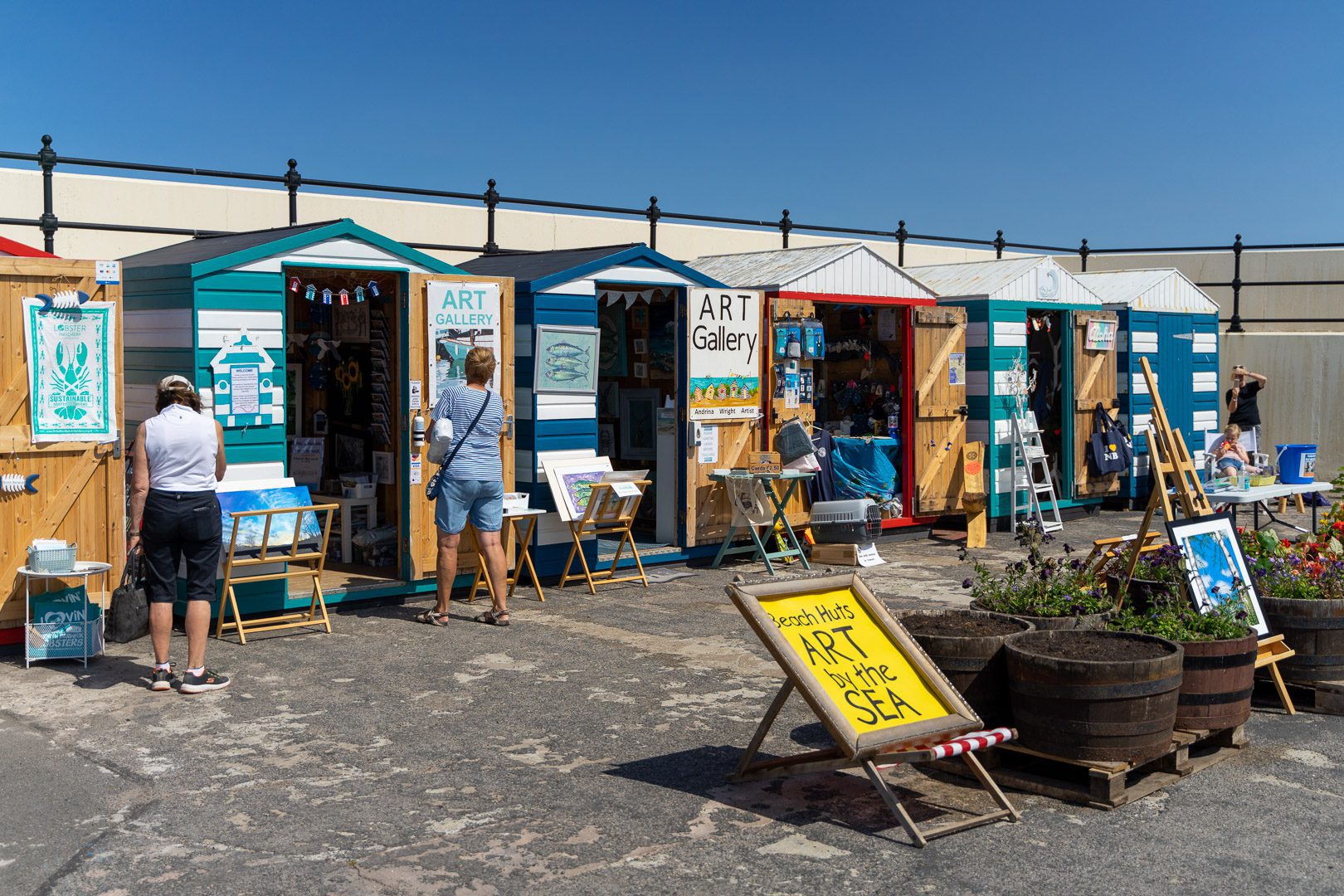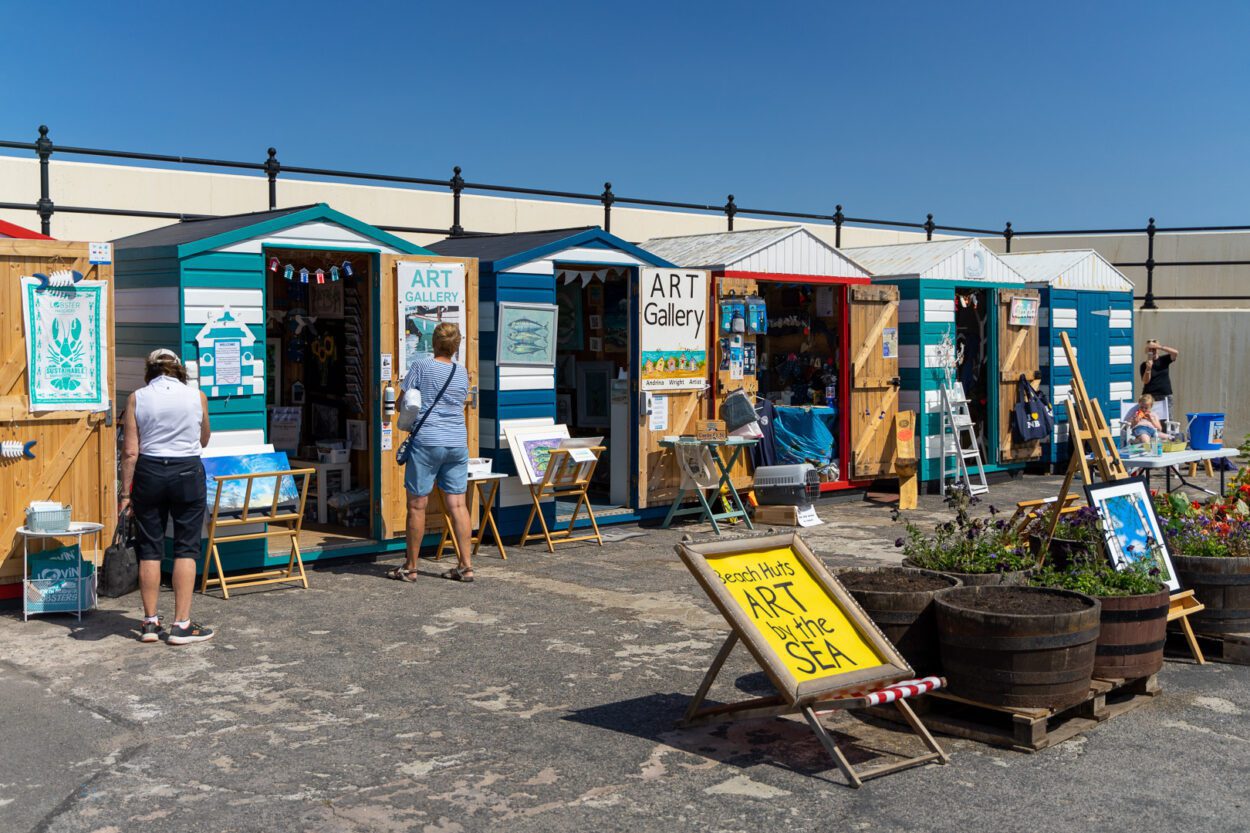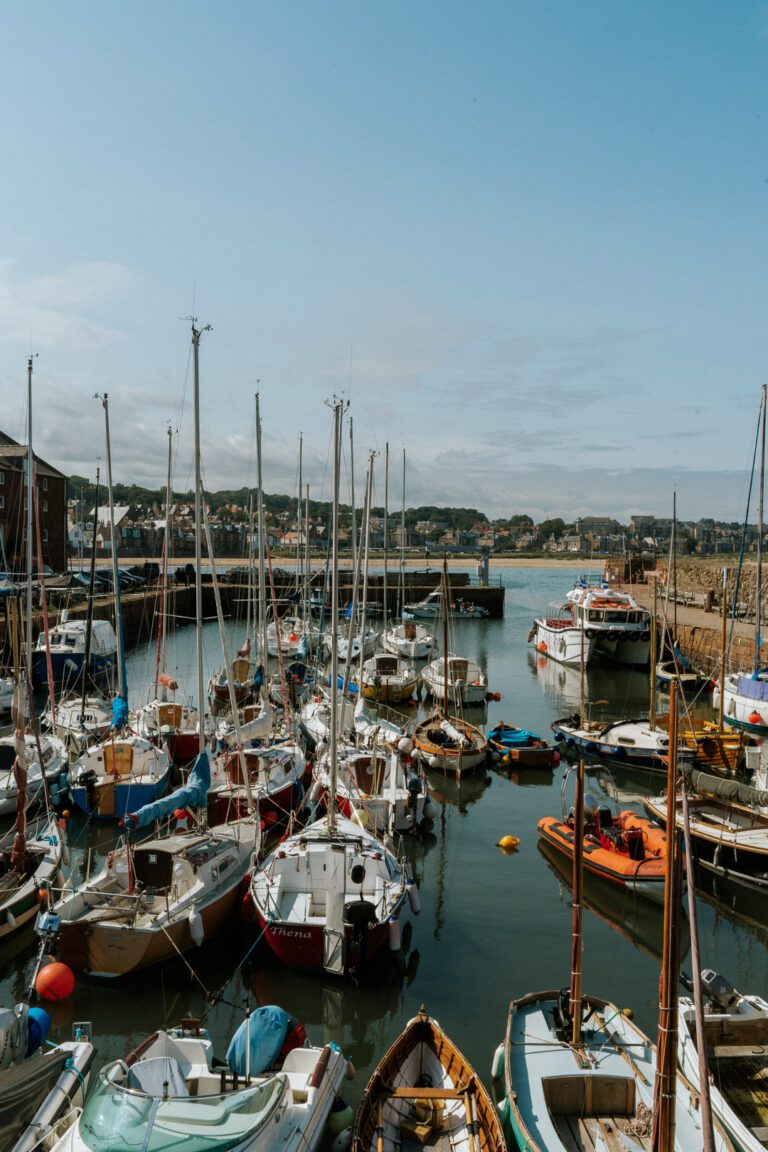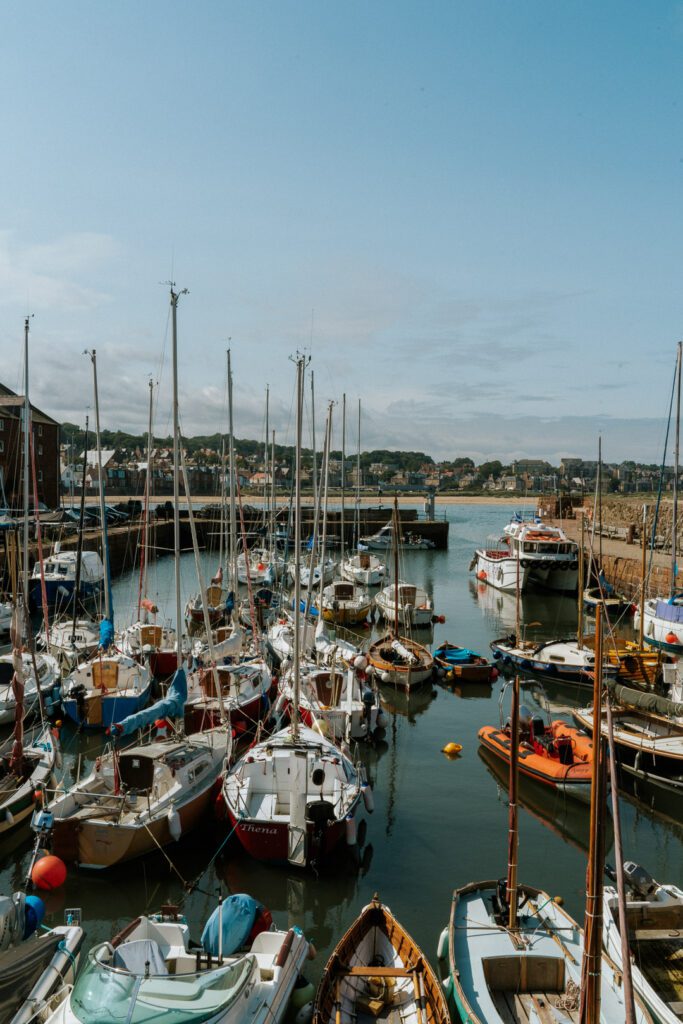 The Secret Cabin
When it came to booking our accommodation, there were so many fantastic options available.
Whether you wanted a hotel by the golf course, an apartment overlooking the water or a caravan for the family, there's something for everyone.
For us, we liked the idea of booking something totally different to our life at home and chose 'The Secret Cabin'. This is a self-catering home that has a fully equipped kitchen, shower room, wood fire and even a private garden. You can find 'The Secret Cabin' tucked away by Seacliff beach, which is around a 10-minute drive from North Berwick High Street.
Despite not knowing the area and it being somewhat hidden, 'The Secret Cabin' was surprisingly easy to find and upon entering, we couldn't believe how lovely it was. I feel very lucky to have stayed, it far exceeded our expectations and we couldn't have looked or wanted for anything more.
There were so many personal touches that added to our visit and definitely did not go unnoticed. Right down to the scones and jam that were waiting to welcome us.
Sadly, as we visited in the summer, we had no need for the woodfire, which felt like such a shame but I can imagine just how wonderful it is to visit over winter!
Seacliff Beach
As mentioned, our accommodation was near Seacliff beach, which we took a walk to in the evening.
This walk, which led us past fields of horses, took maybe 10 minutes. I will say that although you are walking on a road, it is quite steep in parts. If this is a concern, you can always drive to an accessible car park at the beachfront.
We enjoyed our walk and there were never-ending photo opportunities. We were awestruck by the views before us. And even more so when we reached the beach itself.
Part of the pleasure of visiting in the evening is that there were only a handful of other people on the beach with us. Some playing in the water and others walking their dogs.
We stood by the water, admiring Bass Rock ahead of us, and Tantallon Castle to the left of us.
Eventually, we wandered over the rocks (make sure to look out for the tiny harbour!) and took in more of the sights.
This was a wonderful time spent detaching from real life and feeling truly relaxed.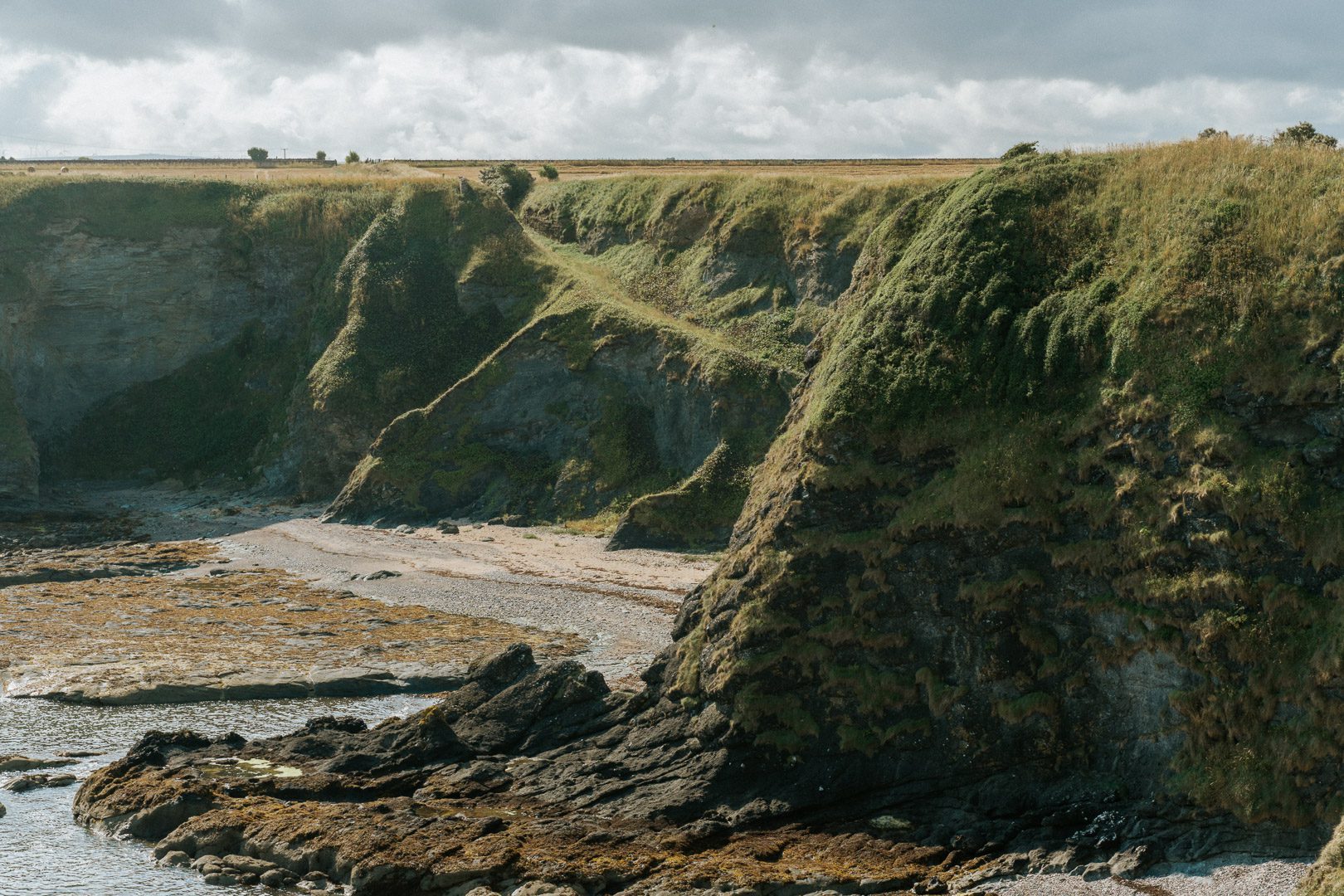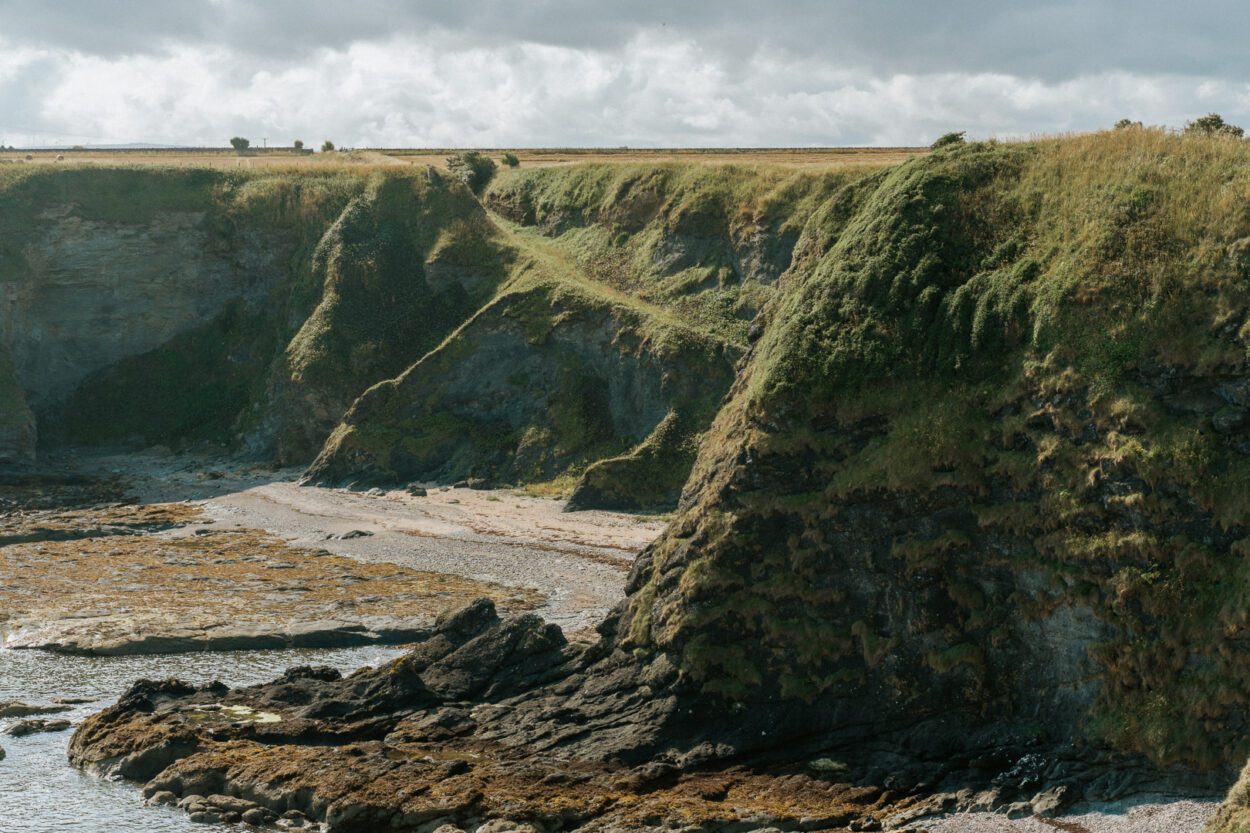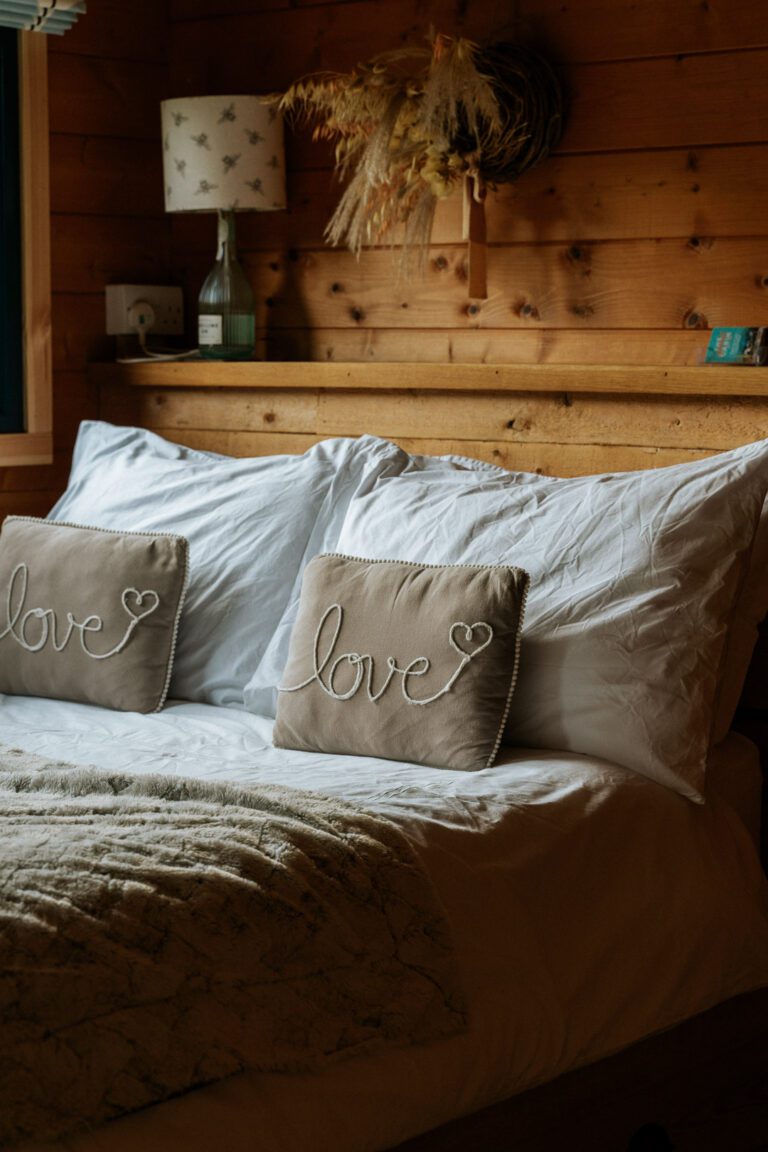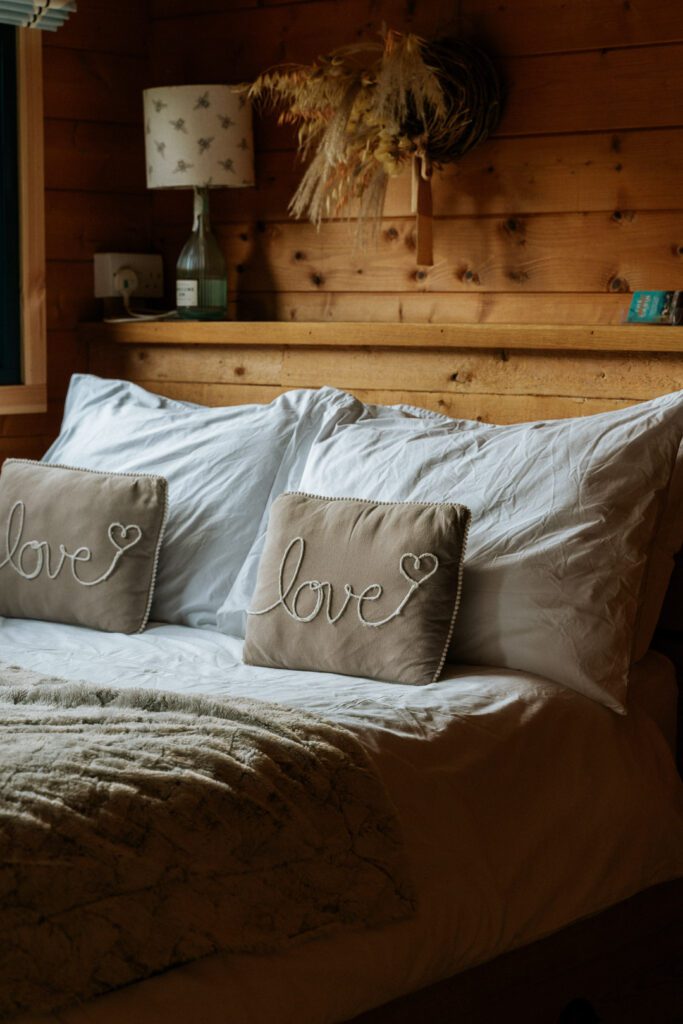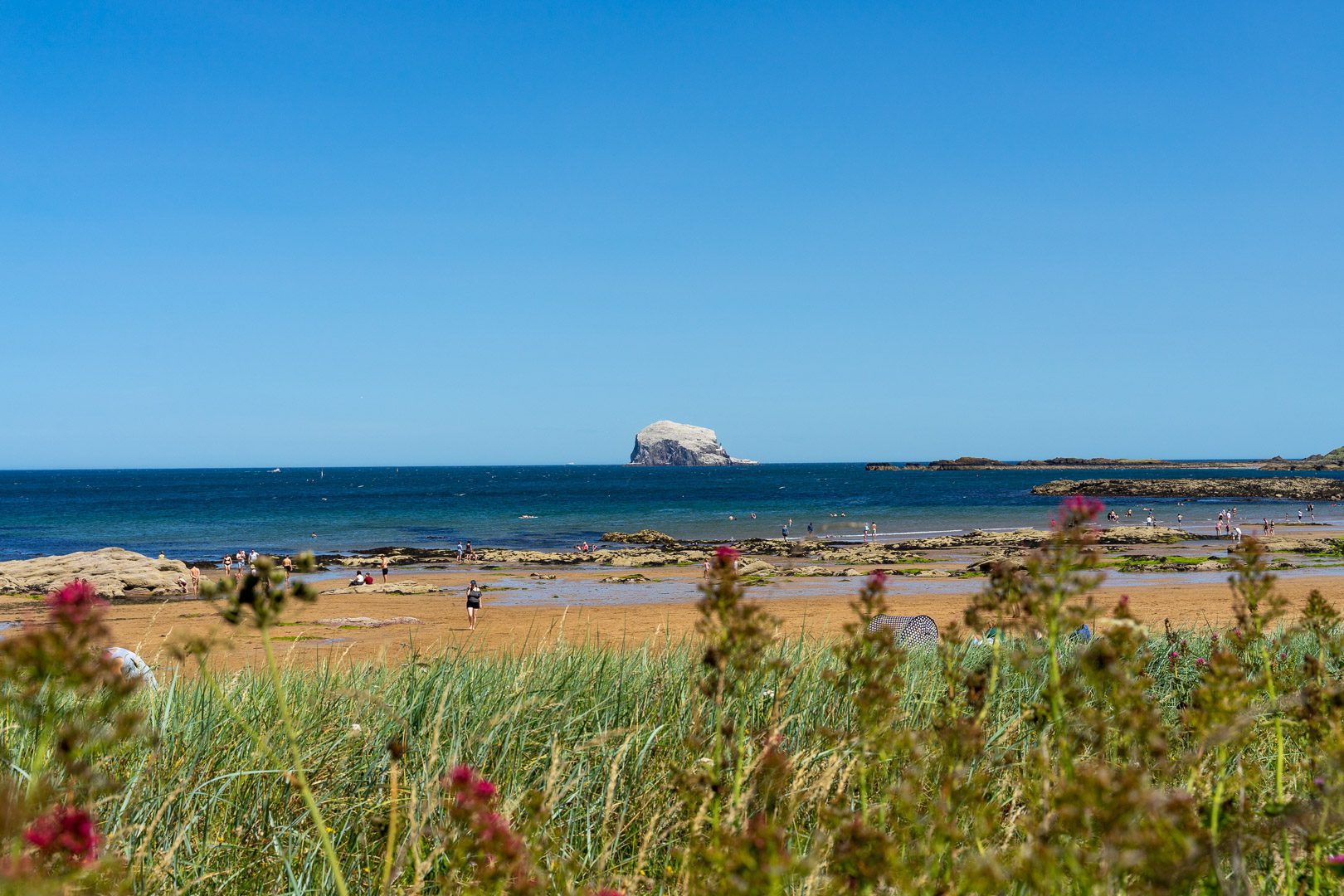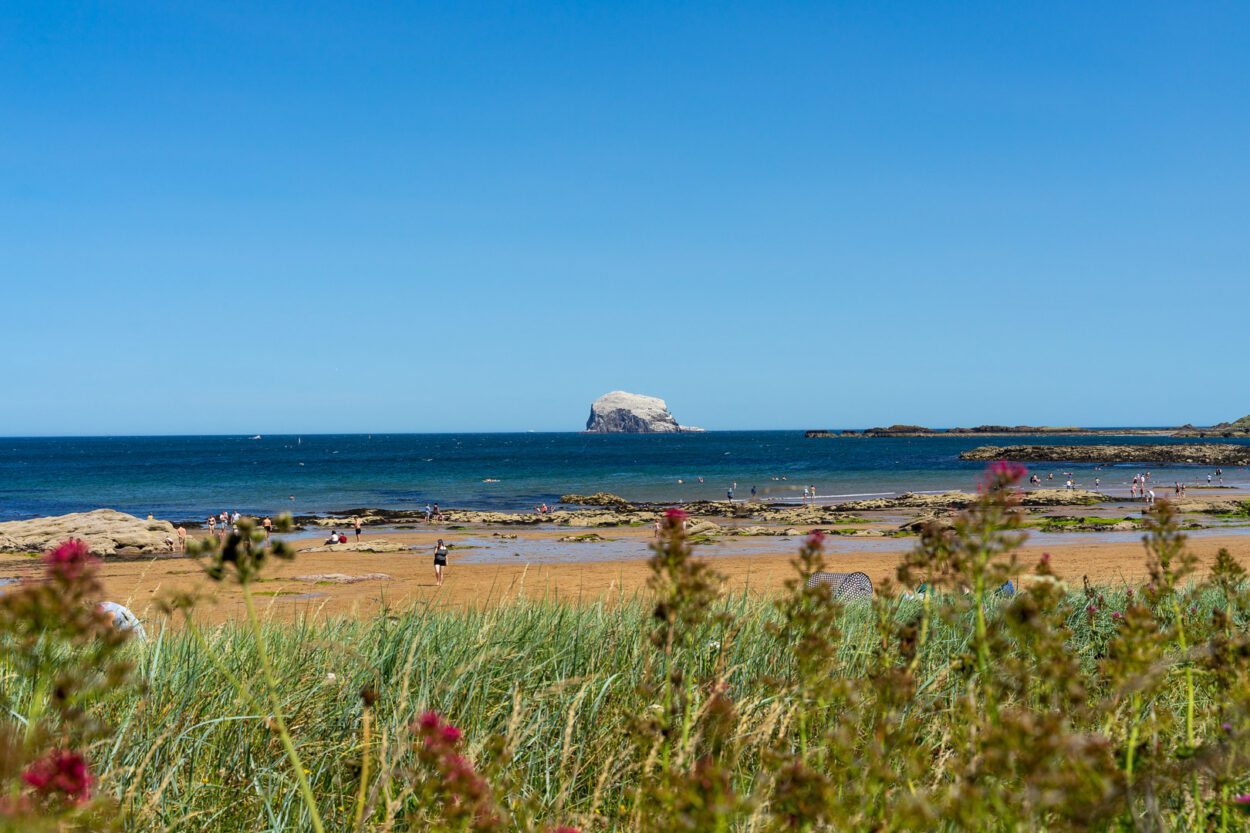 Haddington
Haddington is yet another picturesque, beautiful town (East Lothian is filled with them!) and we spent many hours walking around the streets whilst exploring the area.
We went to The Loft Cafe, where we received a delicious breakfast and we even sat outside where we got to enjoy more of the glorious sunshine. A rarity for Scotland!
From there, we walked around the town centre, visiting many of the local and charity shops. Sadly, we didn't find anything to buy on our visit but it's a great stop for some shopping.
Two of my favourite experiences from our time there were the walk around St Marys Pleasance Garden and a visit to Nungate Bridge. I loved the stonework and the town had a really lovely atmosphere.
As a personal love interest, there are some really beautiful buildings to be seen in this area and some of my favourite pictures of the entire trip were taken in Haddington.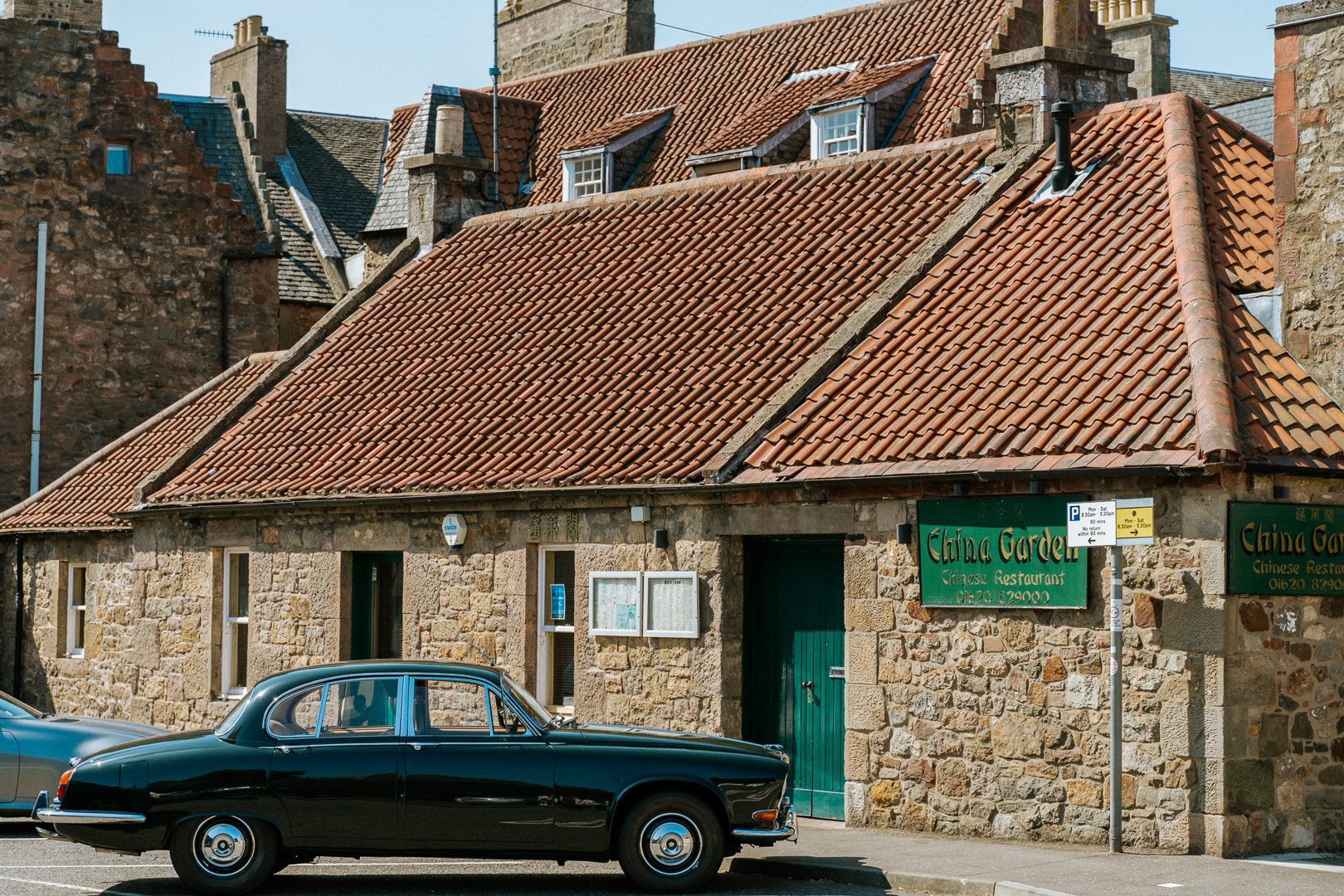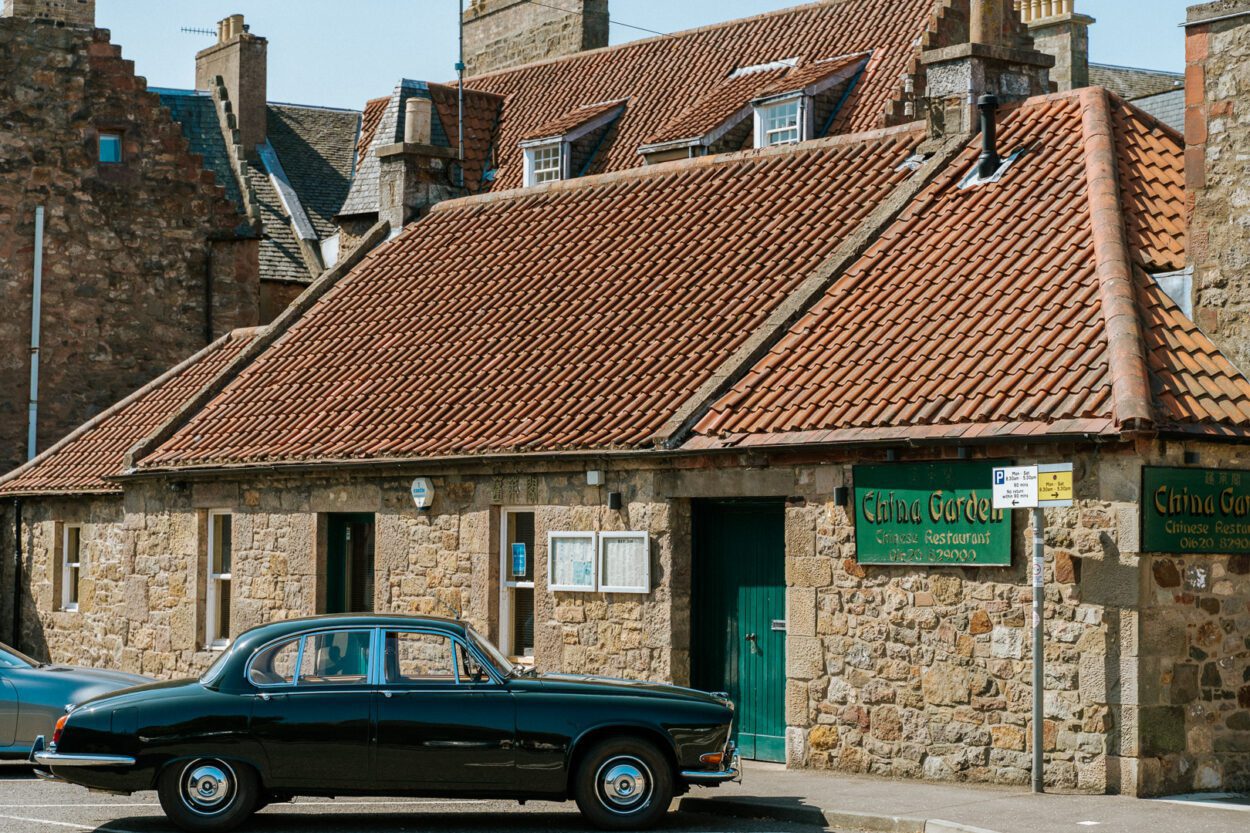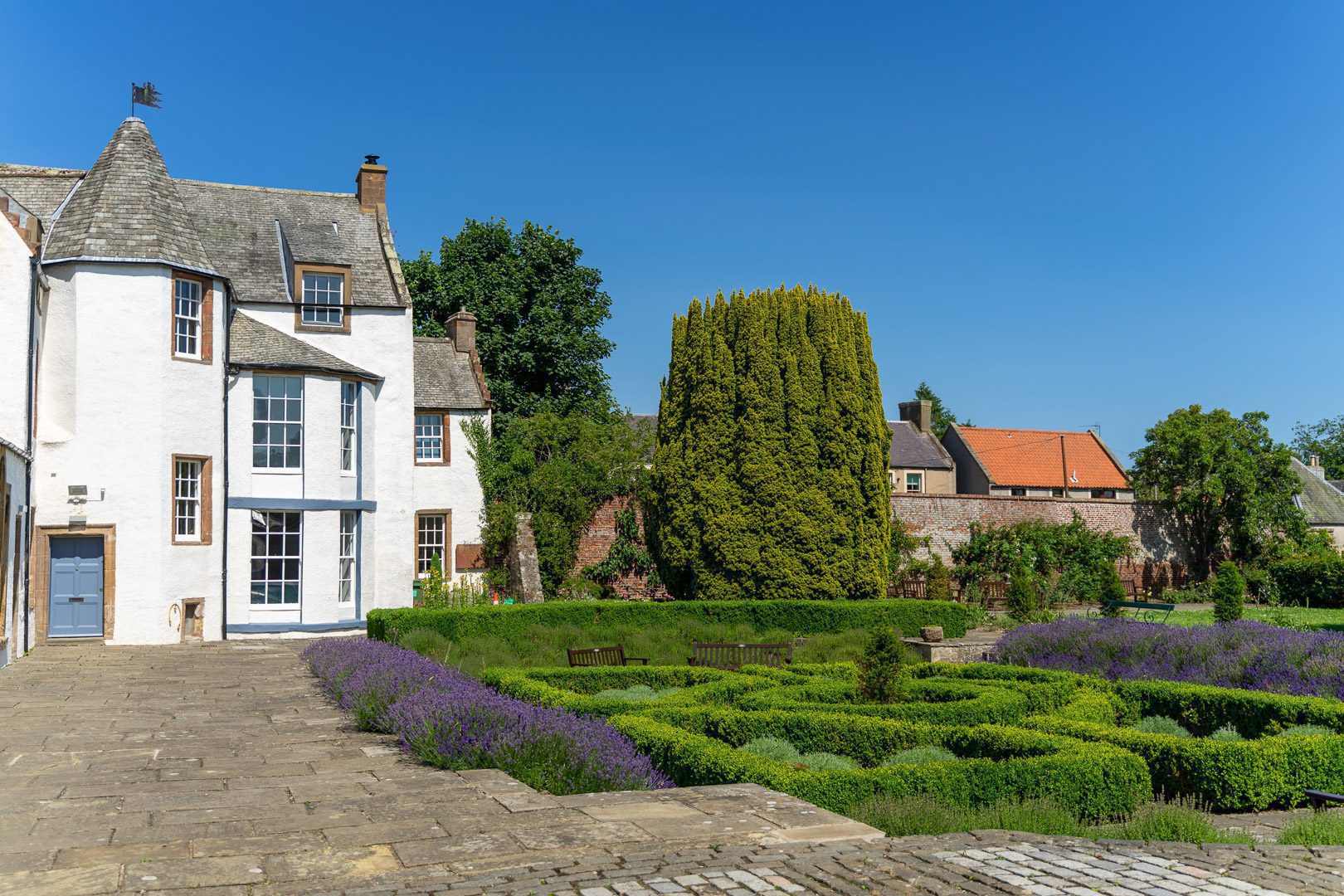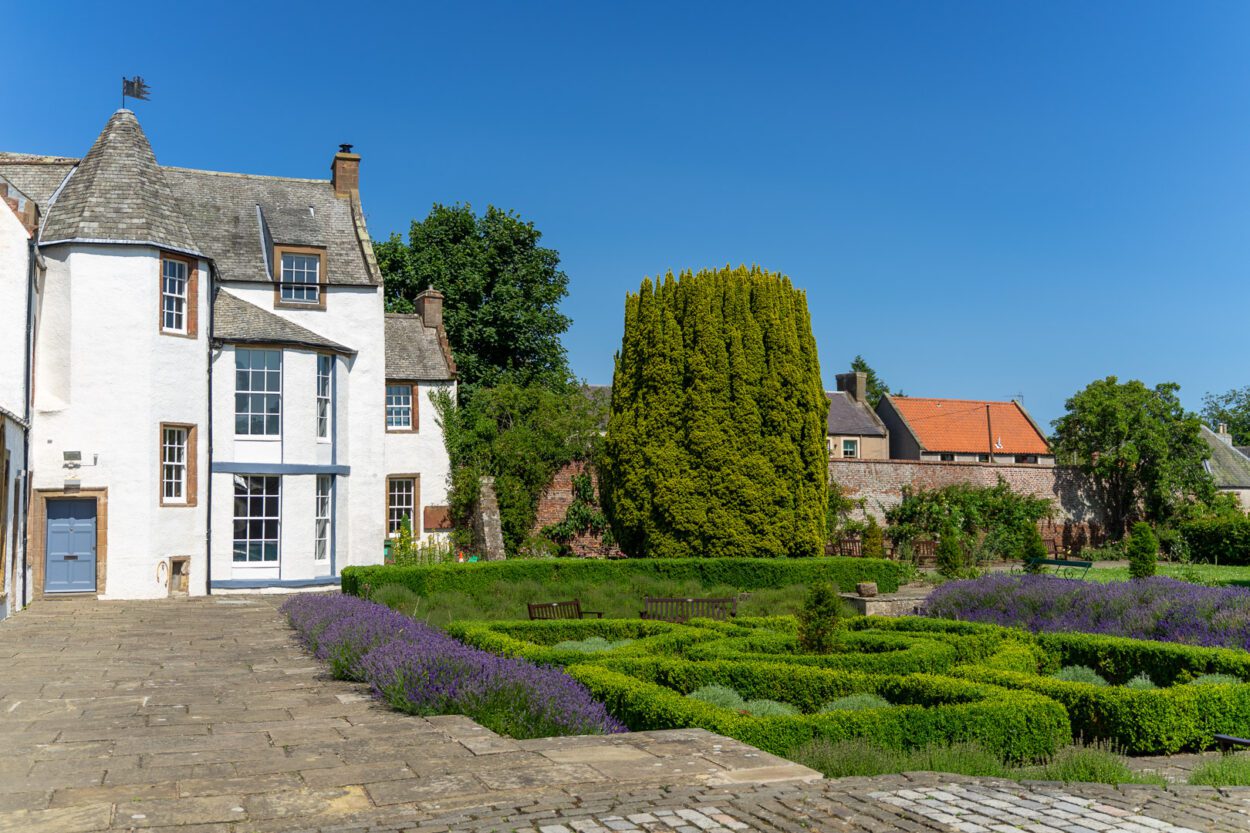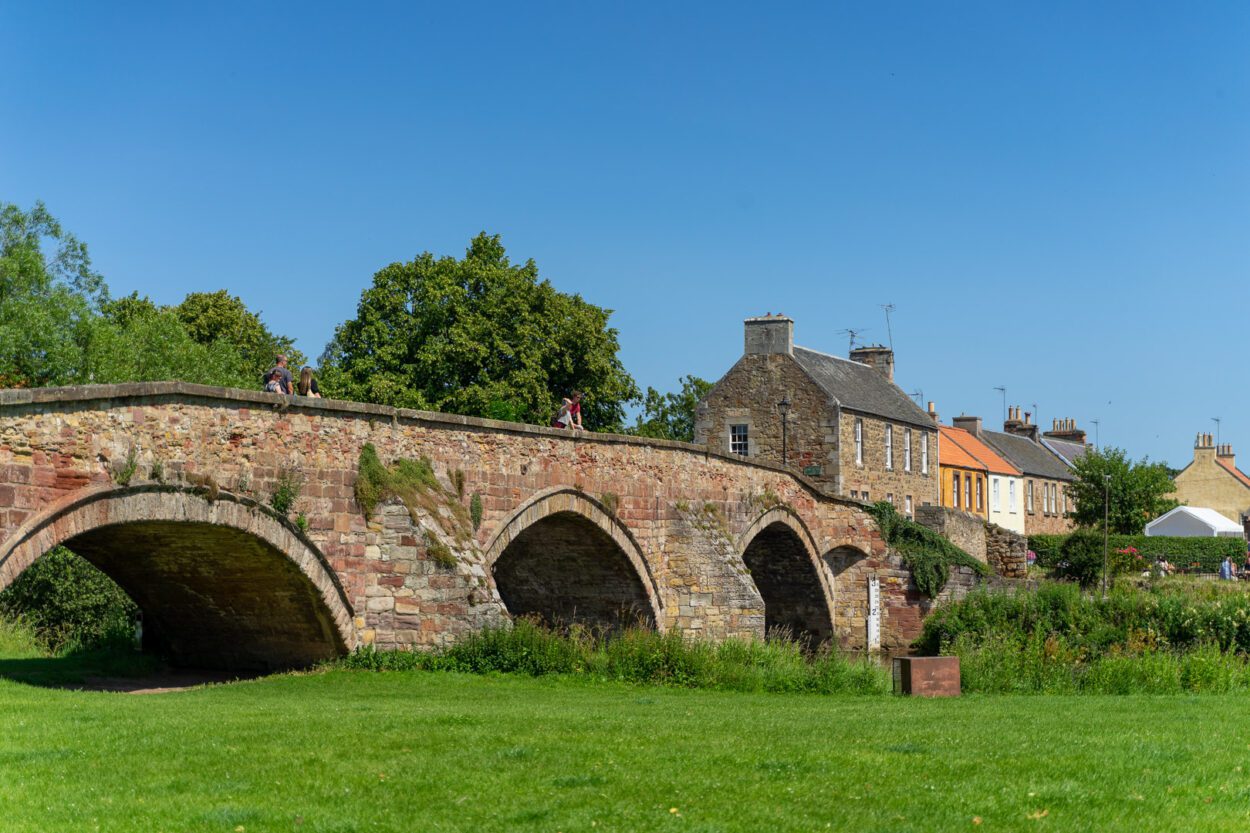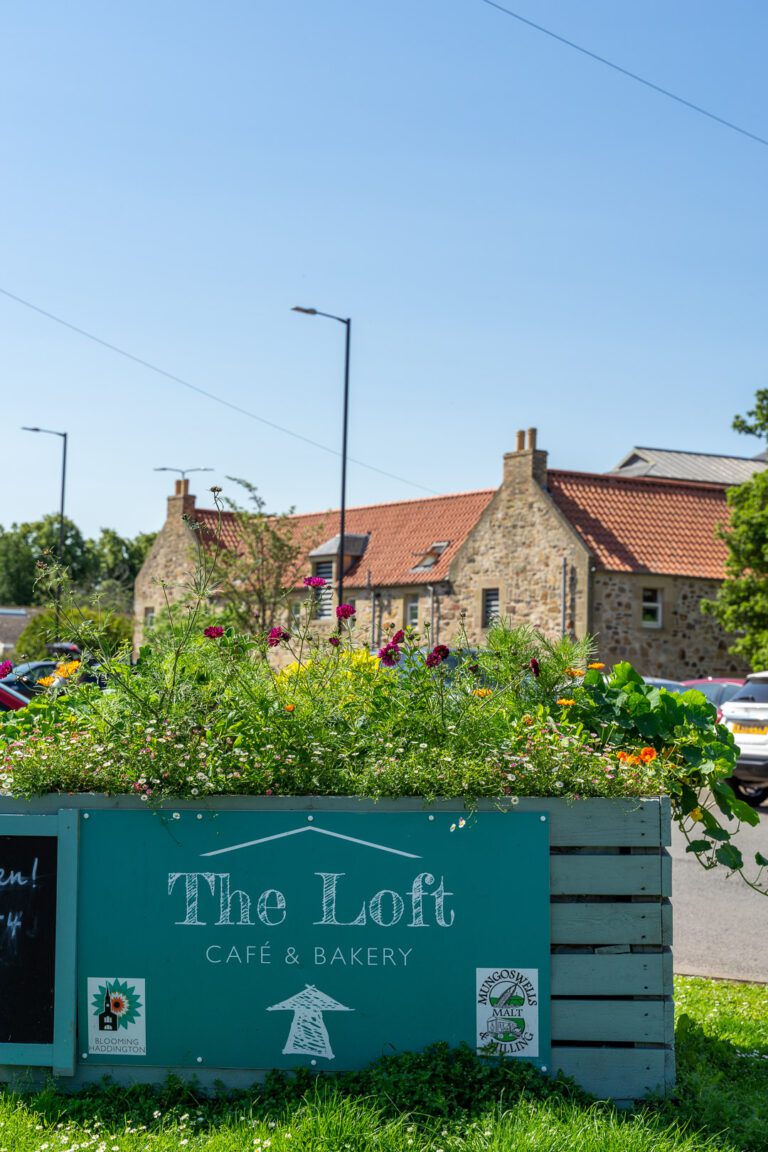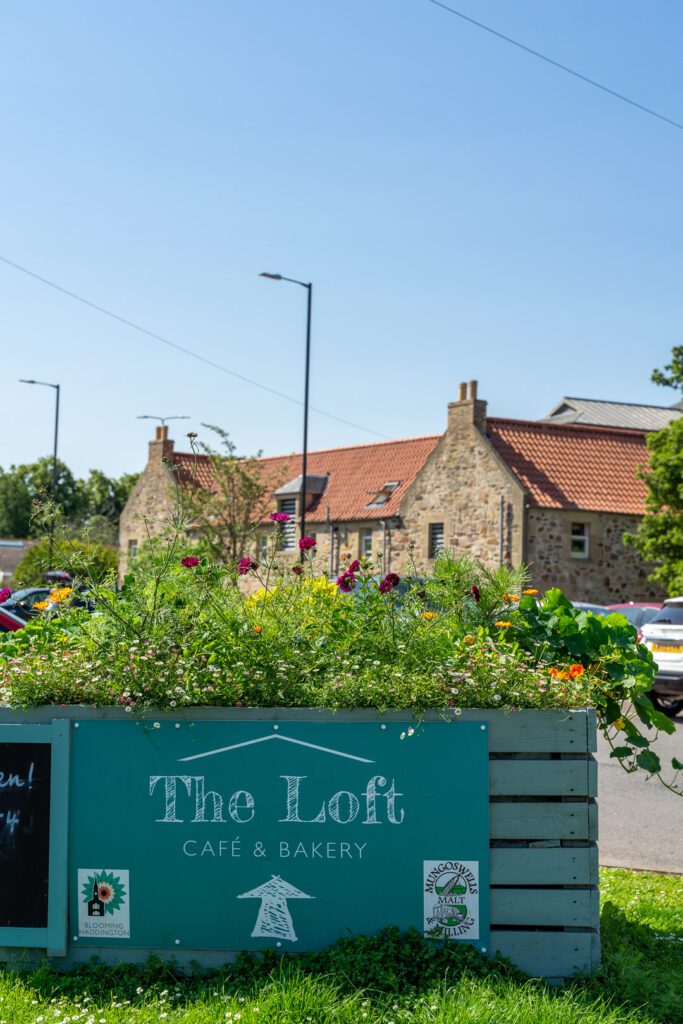 Museum of Flight
As with all couple escapes, I think we can agree that there is usually an element of compromise required. And agreeing to visit the National Museum of Flight was mine. Or so I thought.
Now, I love learning about history, wandering museums, having new adventures and I was more than happy to visit East Fortune, but I really didn't think that it would have much to offer me personally, as my knowledge of planes, undoubtedly, leaves a lot to be desired.
However, I loved it. From start to finish, I thoroughly enjoyed the visit and walk around the East Fortune Airfield and it was nice to see my partner having so much excitement and passion for something.
There are so many planes of all kinds to see, but of course, the Concorde was the main attraction. It is where we spent the majority of our time and I think there's always an element of fun in getting on a plane, even if you aren't going anywhere.
It may not have been at the top of my list of places to visit initially, but it's one that I would definitely recommend now that I have been.
We experienced so much of North Berwick in such a short space of time and had the most wonderful break away!
It may have been a short visit but we left East Lothian with so many great memories, and definitely, some things left to tick off the list!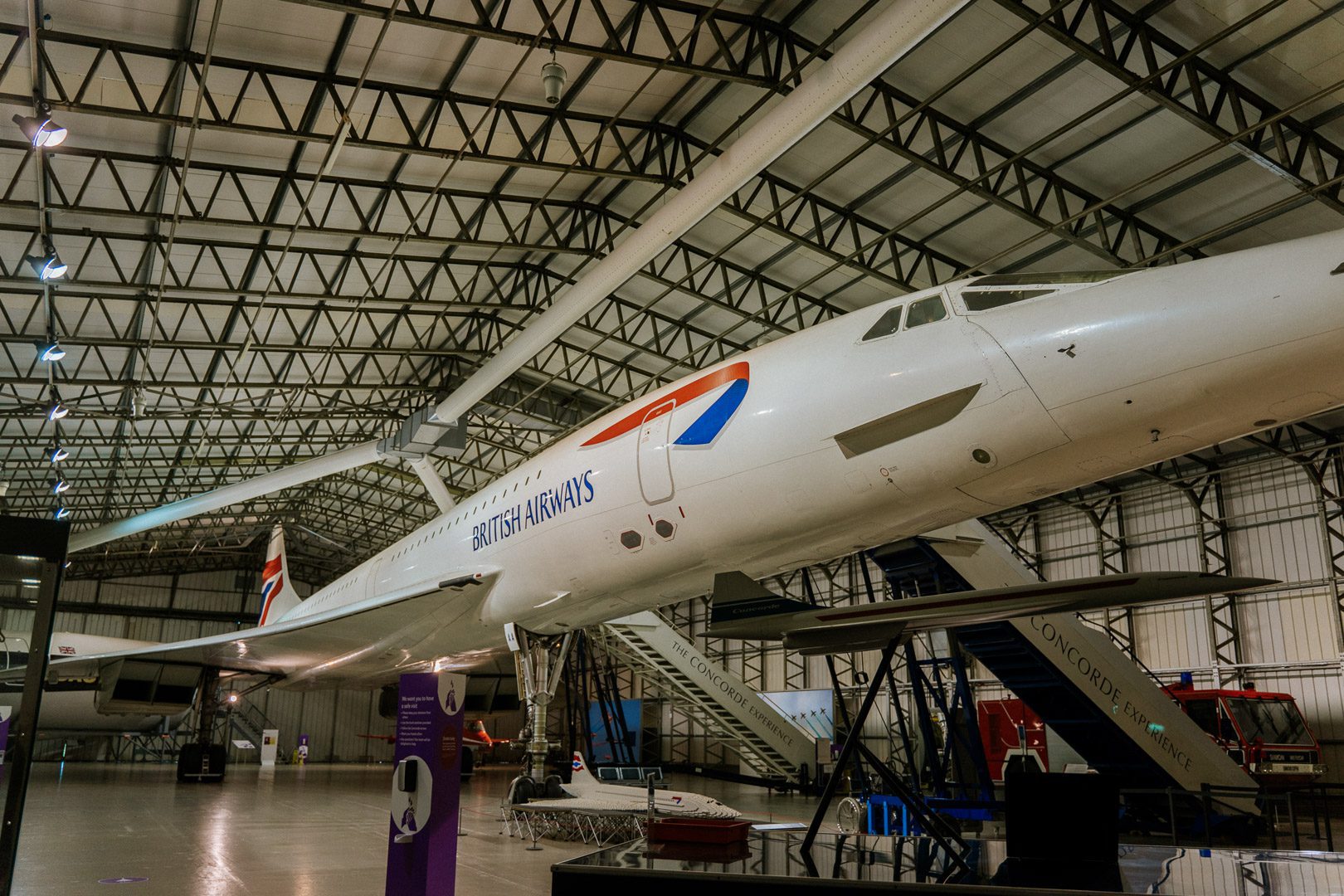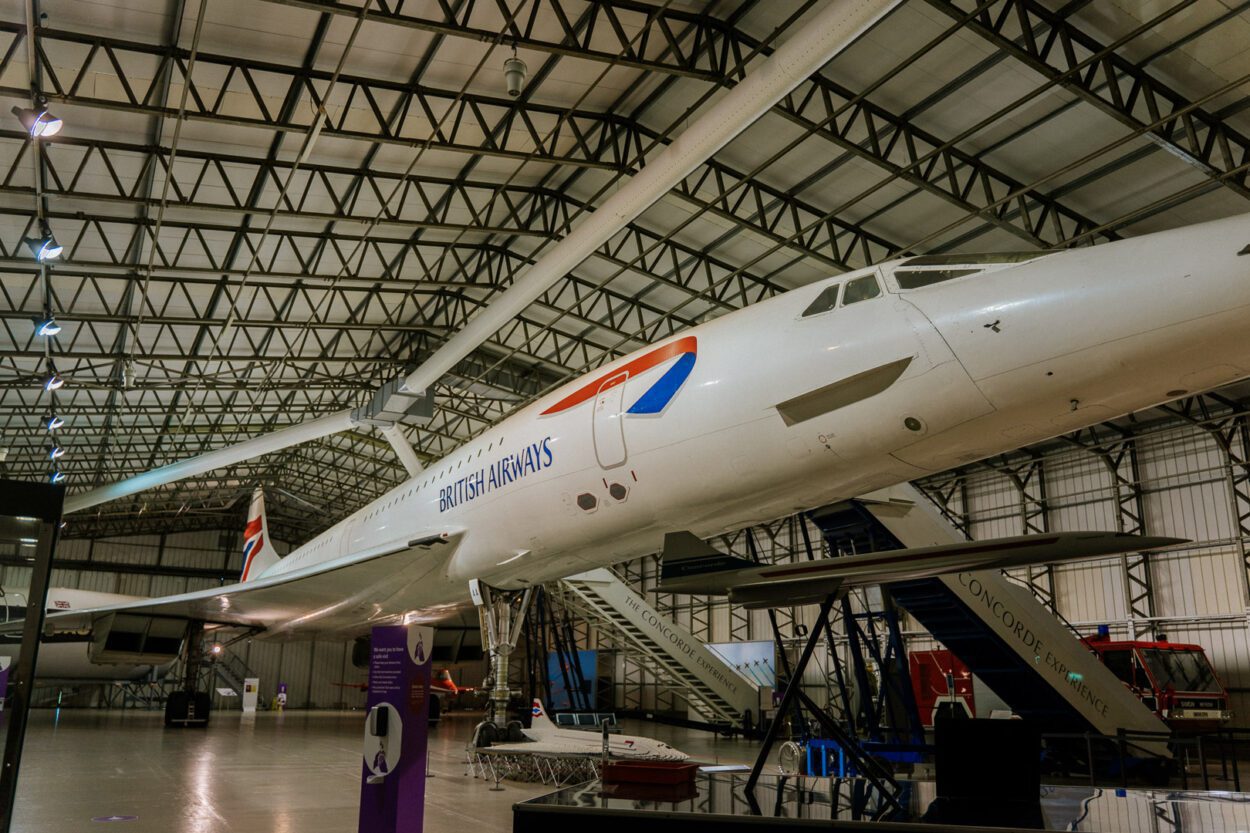 Put text here
If you want 2 images use 2 columns
More text
If you want 3 images use 3 columns
by Anna Neubert-Wood, WanderWomen Scotland Ltd
1. Walk barefoot at the beach. Barefoot walking is really good for you, not just does it slow you right down, helping you de-stress, but it's also free reflexology, it grounds you, and gives you a sense of freedom and adventure.
Try it here: any sandy beach in East Lothian will be perfect. We love Tyninghame Beach for it. Add a few rocks for the advanced barefoot experience.
2. Spend some time with a tree, and listen to the sounds around you, notice all the life around you - what do you notice? Can you spot any animals? Can you tell different birdsong apart? Whether you are standing or sitting with a tree, notice how unconditionally the tree has your back, how it supports you, how you can trust it with your weight, and how being around trees calms you.
Try it here: Blinkbonny Wood, Gifford Community Woodland are some of our favourites.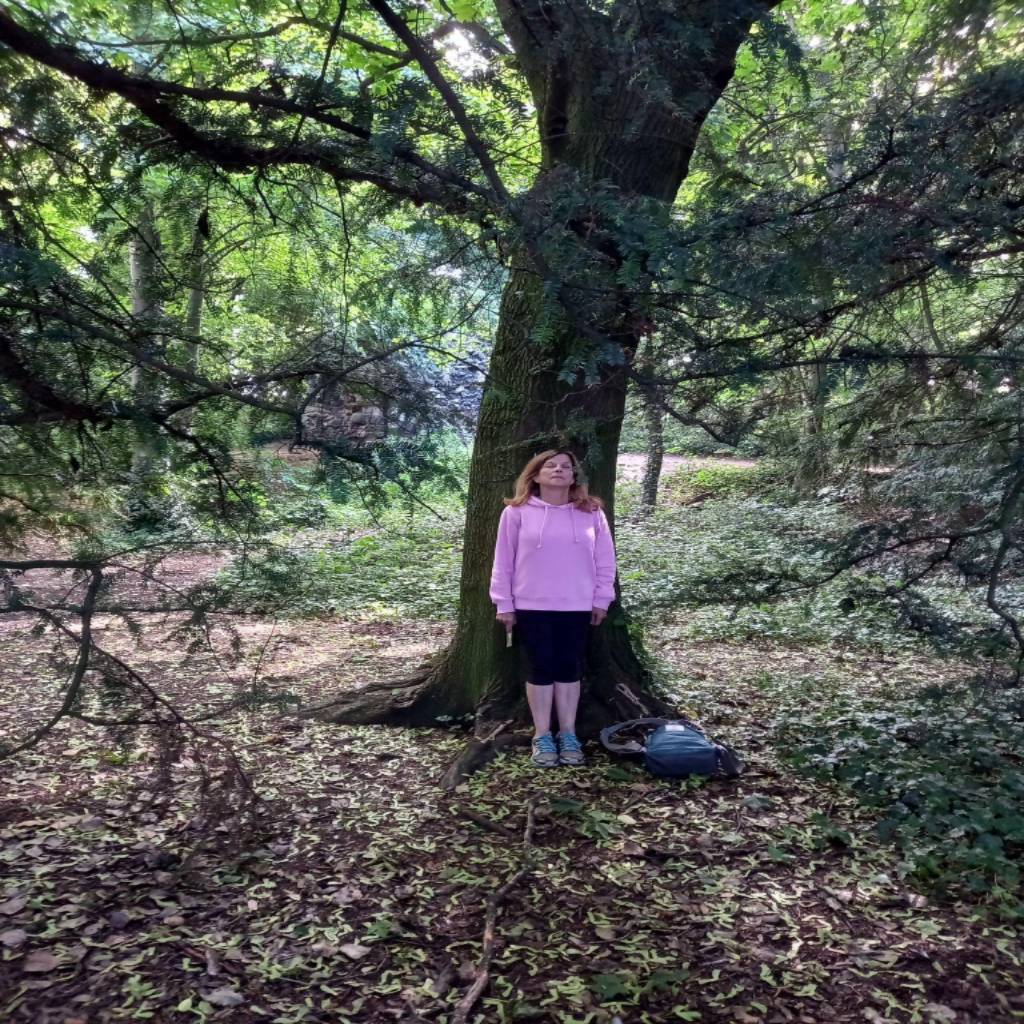 3. Search for sea treasures (sea glass or sea pottery), and build rock stacks. Finding flow in a playful activity, being present and finding joy in the simple things, is beautiful mindfulness. Once you slow down, you will be amazed at all the colours by your feet, shapes and sizes of washed up treasures. Building rock stacks requires a steady hand, balancing skills and a calm mind. Practice, practice, practice - how high can you stack your tower?
Try it here: Morrison's Haven and Prestonpans Beach.
4. Create some nature art. Wherever you might be on a walk, pick up things that catch your eye - colours, textures, shapes…those might be rocks, shells, feathers, sticks. Collect with a child-like mind. It will make you pay more attention to what's around you. Eventually, create something nice with it, whether it's a mandala, a face, a little landscape or anything else that makes you feel creative!
Try it here: Any walk in any East Lothian location will do - beach, woodland or hills!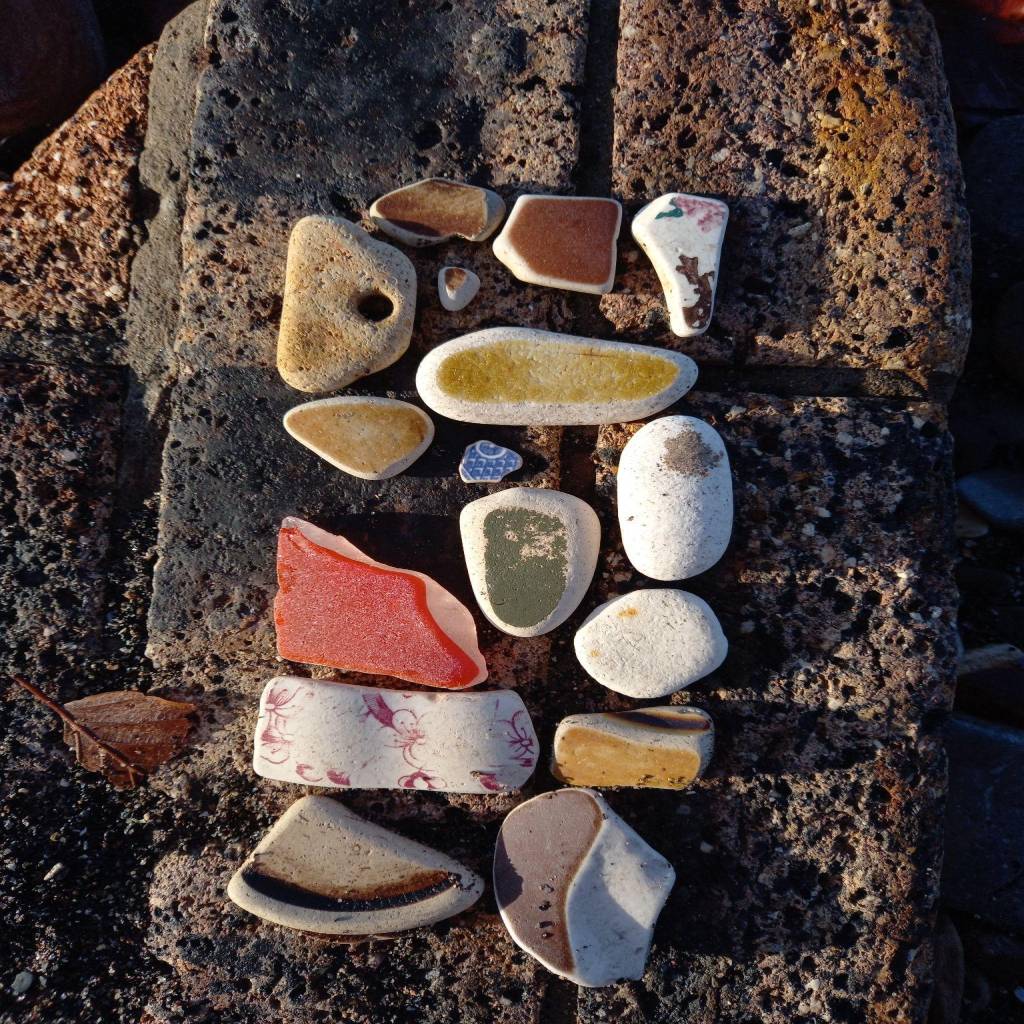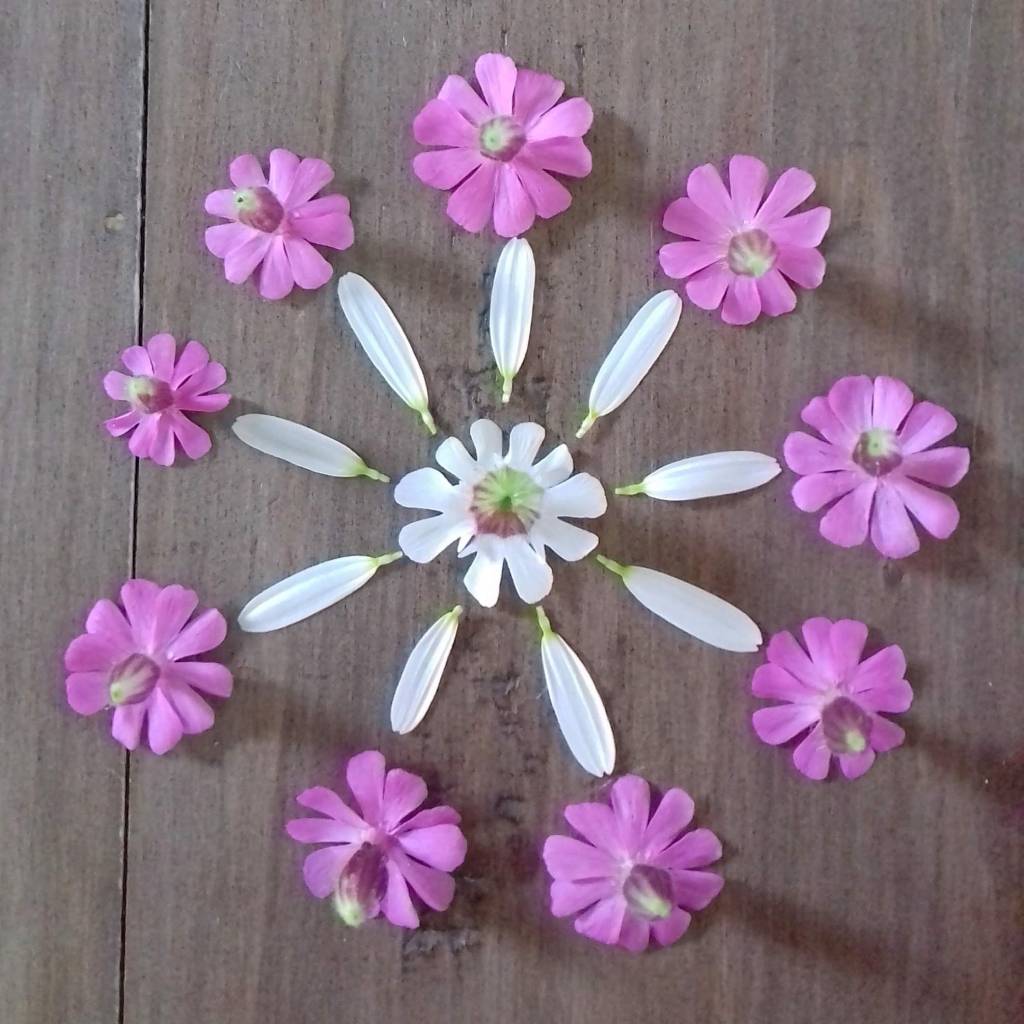 5. Sea meditation: Sit or stand facing the sea. Become aware of the space. The colours, the sounds. Focus your mind on the sound of the crashing waves and notice it for a while. Eventually try and synchronise your breathing with the rhythm of the waves. Breathing in with the incoming wave, breathe out with the crashing and the retreating of the wave. In and out. Nature makes you feel so good!
Try it here: Anywhere on East Lothian's beaches. The louder and powerful the waves, the better!
6. Skygaze. Take some time to lie down somewhere comfy - on the sandy beach or a grassy area. Relax. Watch the sky and the clouds, notice whether it's a still day with slow moving clouds, or whether it's wild and clouds shapeshift quickly. What shapes can you notice? What stories can you come up with? Become aware of the big space above you - are the clouds far away? Or are they quite low? Which way does the wind blow? Can you touch the sky? Be playful and enjoy!
Try it here: We like Yellowcraig Beach or the grassy plain behind the dunes for this!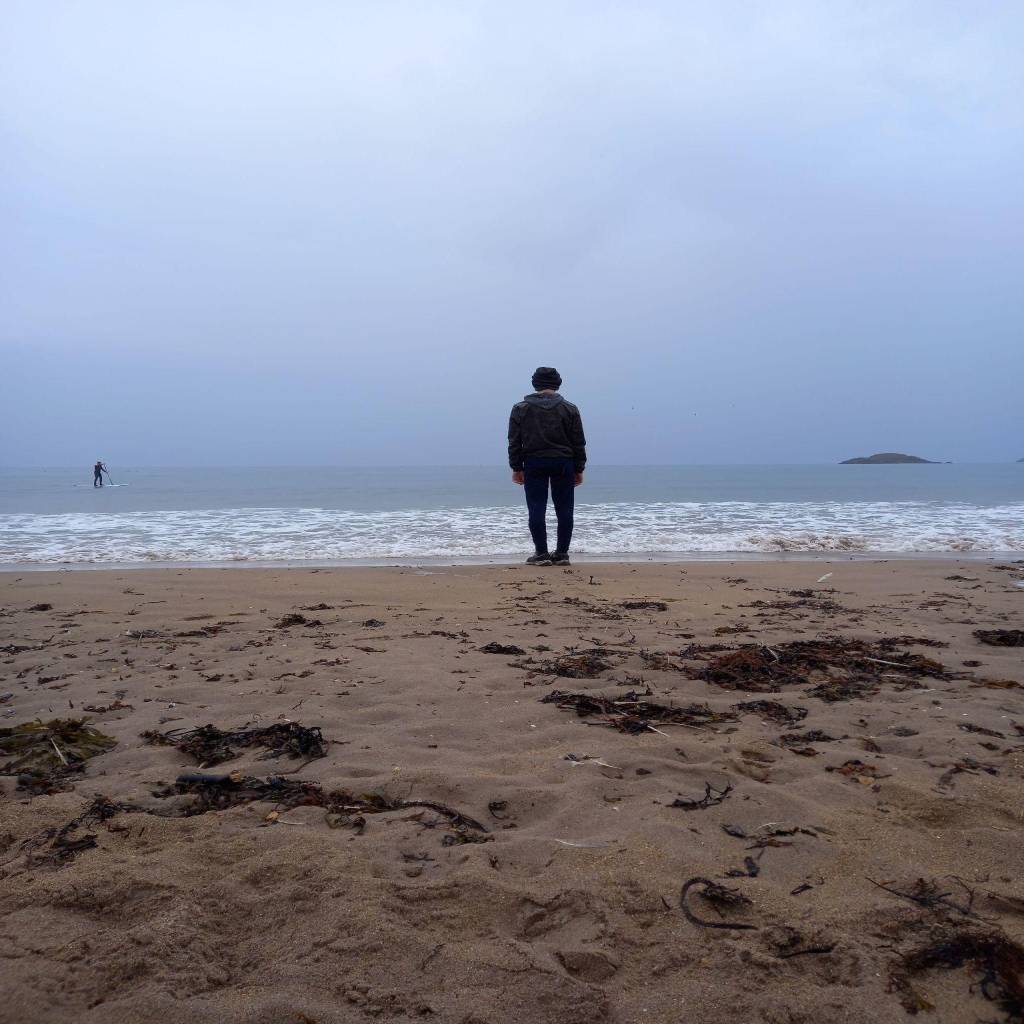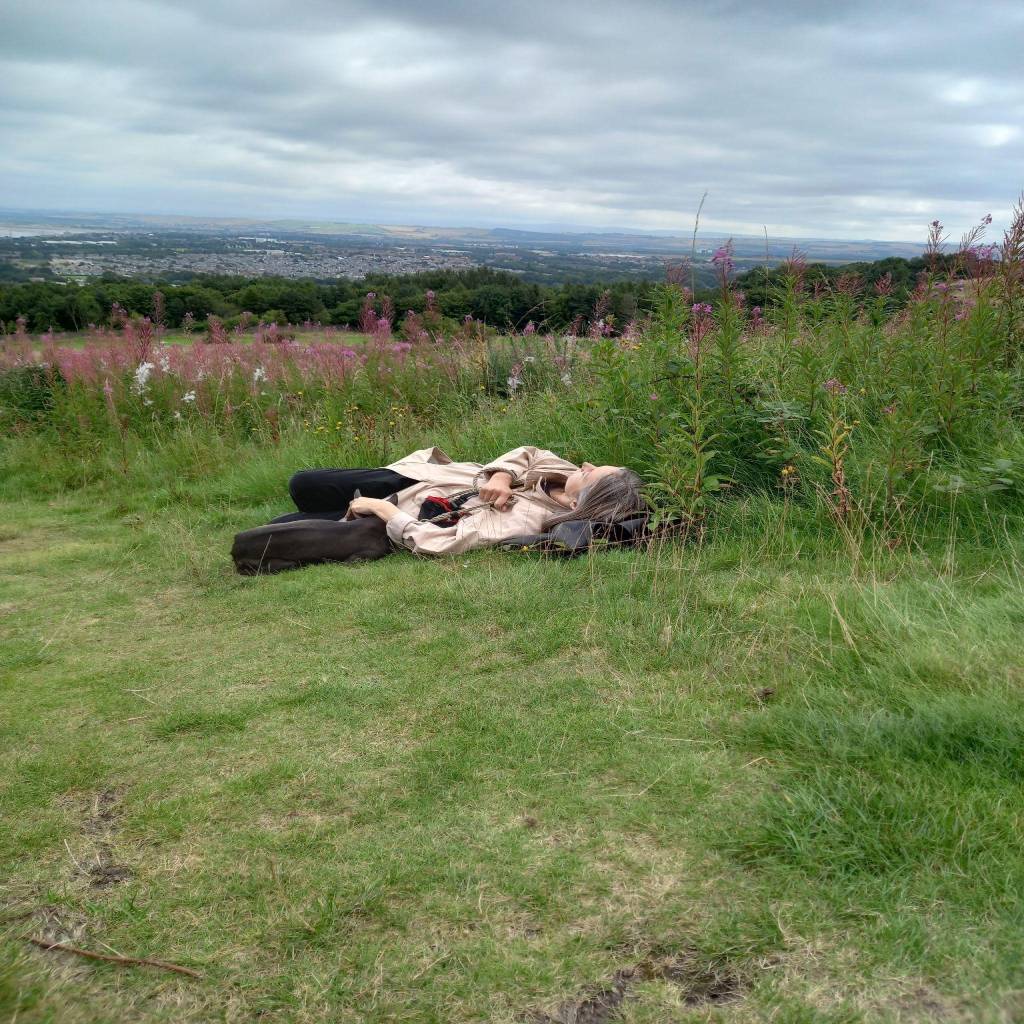 7. Climb a hill and feel on top of the world. Getting moving, getting the heart pumping makes you get in touch with your breath - it's so good for you to breathe deeply, using your whole lung capacity. Think about how shallow your breathing is in other life situations! They can do so much more for you! You are strong! Take in the beautiful views in this stunning piece of the world.
Try it here: Traprain Law & North Berwick Law, with some added wild horse fun!
8. Spend some time by a rock pool. Notice all the life that goes on in this little habitat. Isn't it fascinating? Notice the colours, movement and calm. Imagine what would change, once the tide comes in.
Try it here: At rocky parts of the coast, at low tide. For example at Longniddry Bents, East of North Berwick and Seacliff Beach.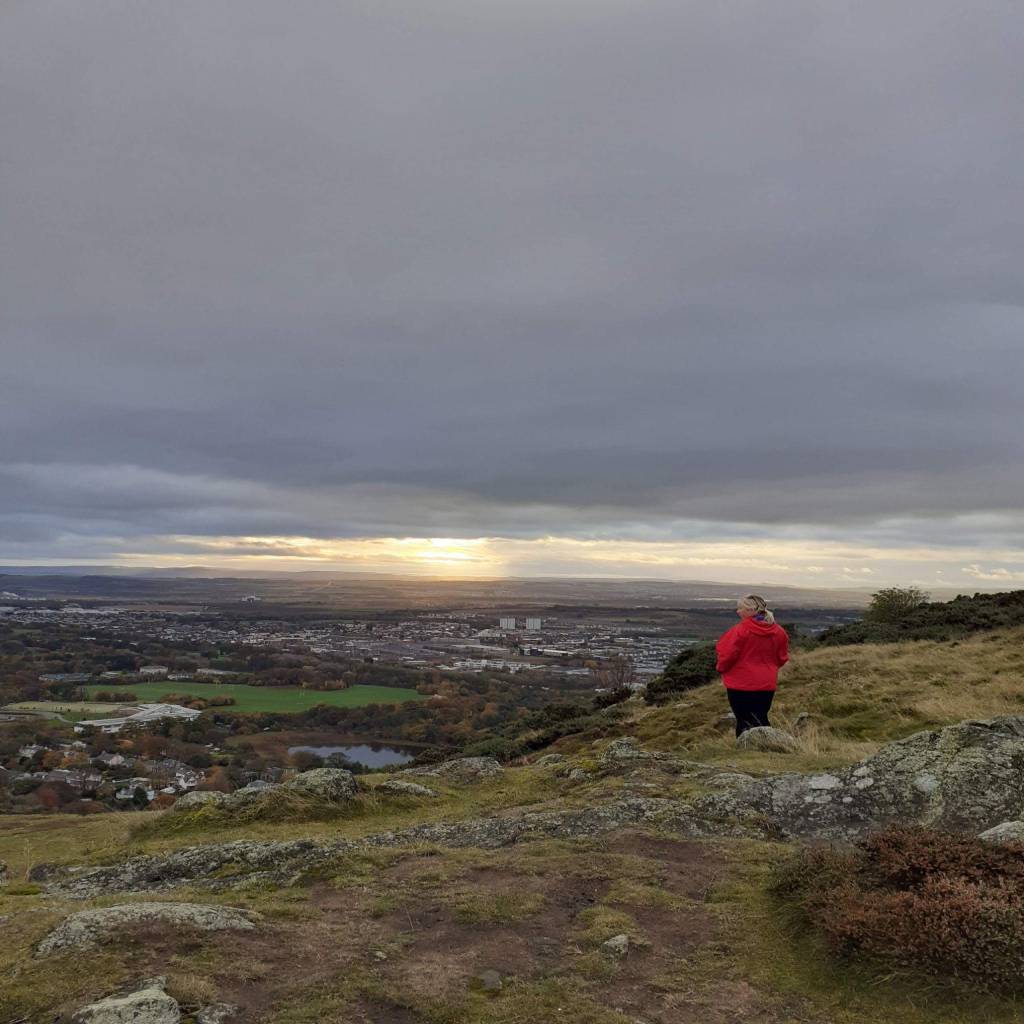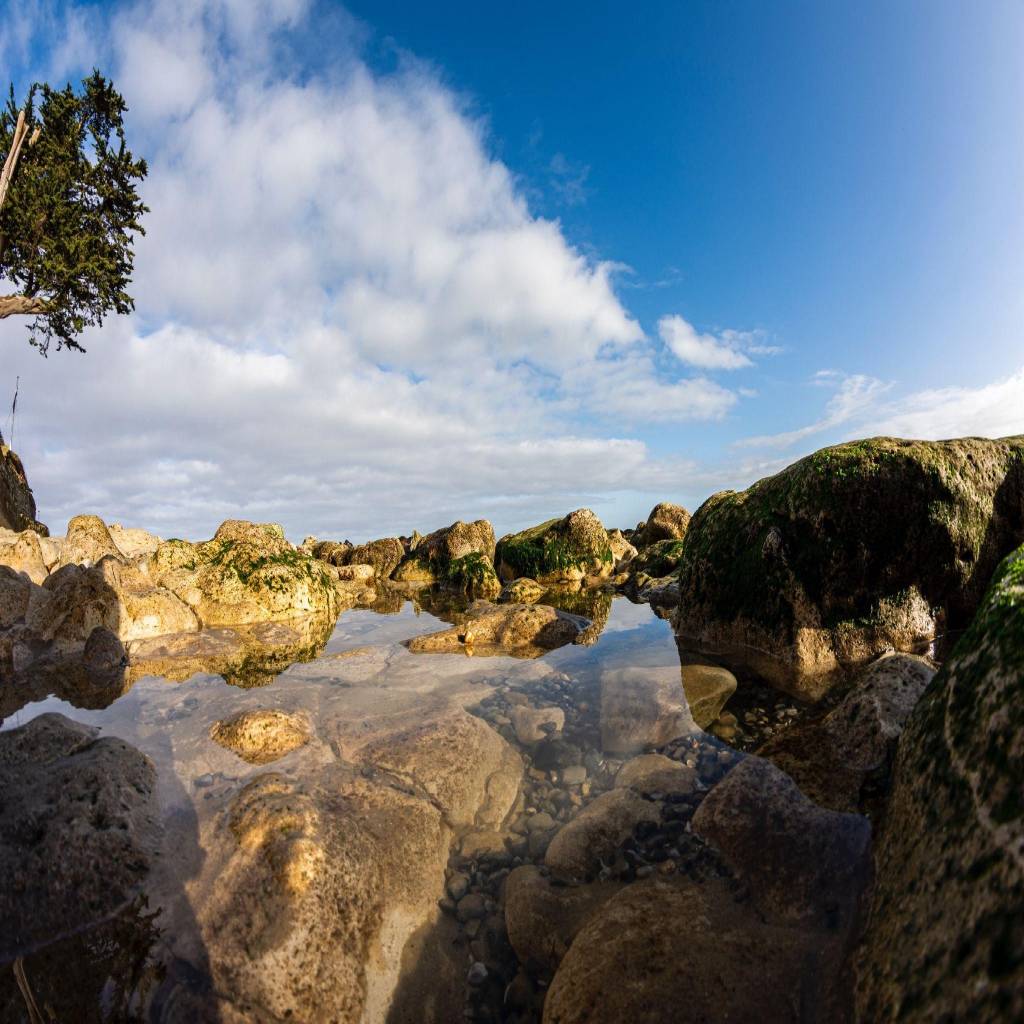 9. Make yourself a wild flower crown or pick some flowers to take home. Connecting with the plants and flowers makes you feel more connected to any place. Watch all the insects that love the plants, and be respectful to leave some for them to enjoy. Only take what you can use/what you need. Don't pick all the flowers from the same patch. Notice the scents, and think back to when you made flower crowns as a child. Did you use daisies or dandelions? Go and make one now. Or simply take some home to pop in a vase, to remind you of your special time outside.
Try it here: At field edges, by the side of paths. Anywhere in East Lothian. Once you pay attention you will see wildflowers and pretty weeds everywhere!
10. Forage some Seabuckthorn! Scotland's superfood is easy to spot - its orange berries can be found along many East Lothian beaches - Very distinctive, they are best to harvest in October and November. Because of it's thorny branches, bring secateurs and cut off a branch, which you then pop in the freezer overnight. The next morning you are able to get the berries off really easily. A handful thrown into a smoothie mix, or cooked down into a jam, you will benefit from all its antioxidants and vitamins. Raw, and on its own, it tastes very sour and tart, because of its high vitamin C content. Be healthy and feel good! Good fact - because it's not a native species, you can't over harvest Seabuckthorn. (with other foraging, you need to be more careful!)
Try it here: Most places near the beaches - Gullane Beach, Yellowcraig Beach, etc.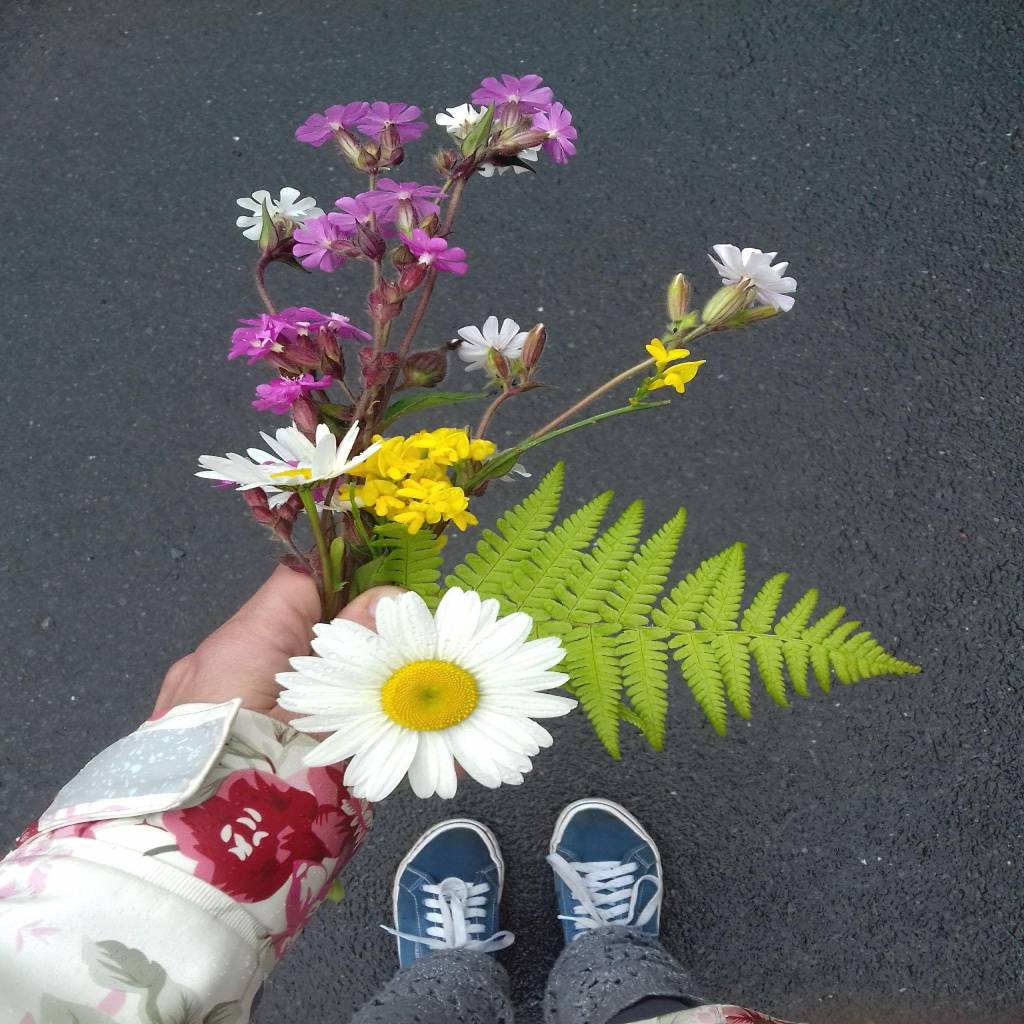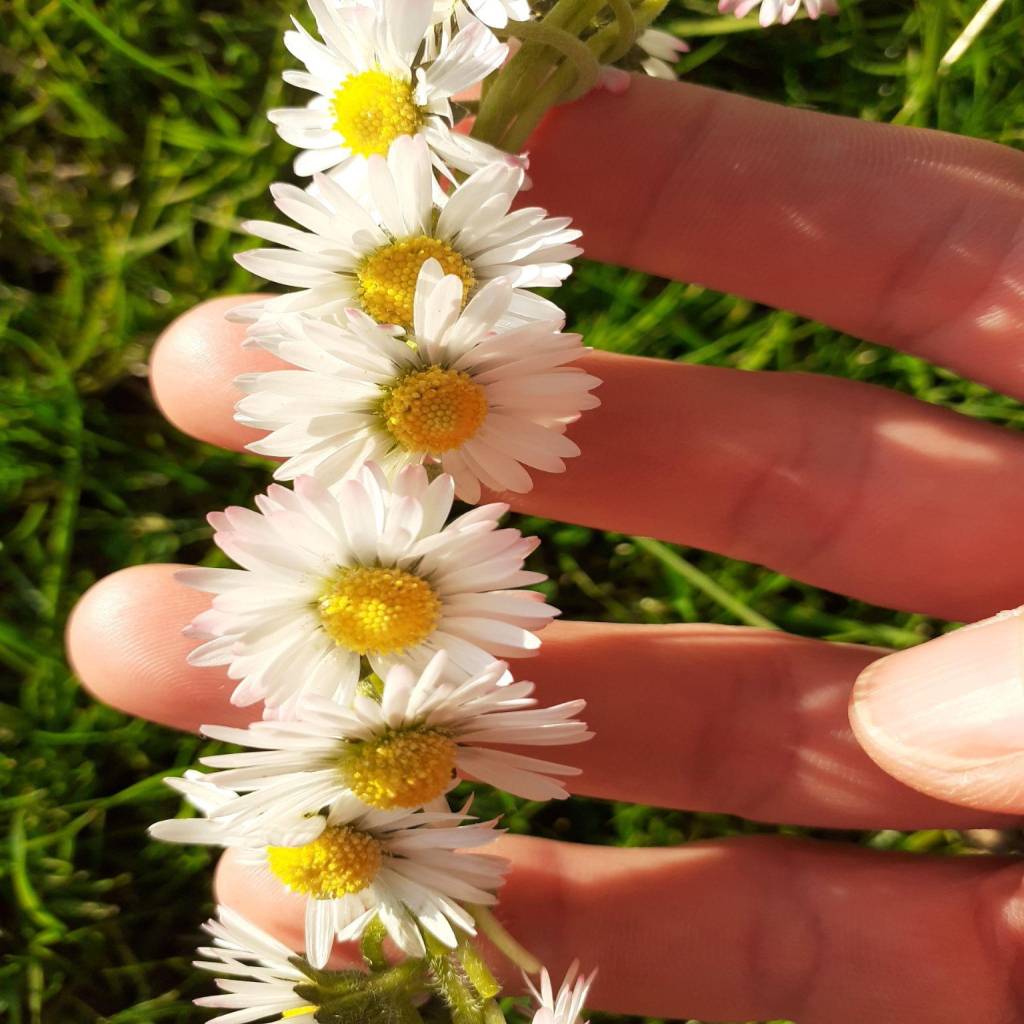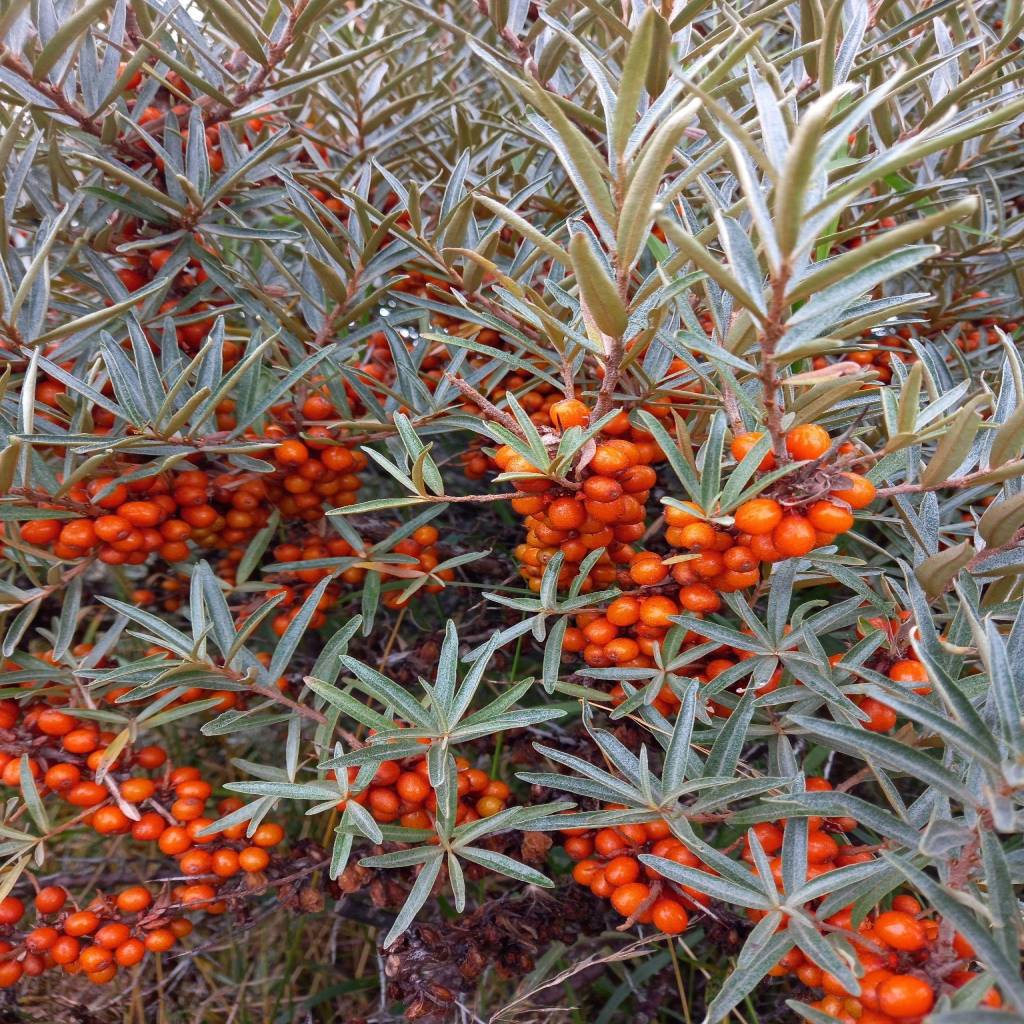 For more mindfulness and adventure, join WanderWomen's activities, with the added bonus of the company of small groups of like-hearted women and guidance and facilitation by Anna.
Find out more at www.wander-women.co.uk on Facebook Instagram and Twitter.                                 
Book yourself onto some Selfcare & Nature Connection now! Currently there is a 50% discount on tickets up to £40, too - use the Discount Code "DaysOutinScotland50" to make the most of the discount!
It's often hard to know where to begin looking for the best food and drink when visiting a new area, so we have compiled a list of our top places to eat in and around North Berwick!
We were lucky to visit the town over the space of a couple of days and believe that we found some wonderful eateries that we would love to share with you.
The Loft Cafe & Bakery
We stopped for breakfast at The Loft Café & Bakery which is in the town of Haddington, around a 20-minute drive from North Berwick.
If you have the good fortune of visiting on a bright day, they have a gorgeous outdoor seating area which is where we were lucky enough to find a table. Otherwise, if you prefer, you can always opt to sit indoors.
Ordering a Full Loft (full breakfast) and a Breakfast Toastie along with some coffees, we found the service to be quick and friendly. The portions were just the right size for us and it was really fairly priced for the quality of food that we received.
All of the food that we saw being served looked delicious and they have a great, varied menu. I would love to return and try some more of the offerings, especially one of their homemade sausage rolls!
Vegetarian and gluten-free alternatives are available for many of the menu items.
Bostock Bakery
We visited Bostock Bakery twice on our visit to North Berwick and I think that is a testament in itself.
They offer a selection of bread, pastries, cakes and coffee to take away.
On our first visit, we bought a Pastel de nata (Portuguese custard tart) and a savoury croissant. We sat in the nearby park to eat them and they were both so delicious that we made a mental note to return and buy a loaf of bread for our stay.
On our second visit, we chose a crusty white bread and a cruffin (thrown in for good measure). Again, both were really tasty. This was my first taste of both a Pastel de nata and a cruffin - highly recommended!
This is a very popular bakery and there was almost always a queue outside, so don't hesitate too much if you are looking to purchase something or they may just have sold out!
I would also say, yes, it's a little bit more expensive than the supermarkets but it is definitely worth it for the quality, the taste and the freshness of each item.
There was definitely a lot of love put into these recipes.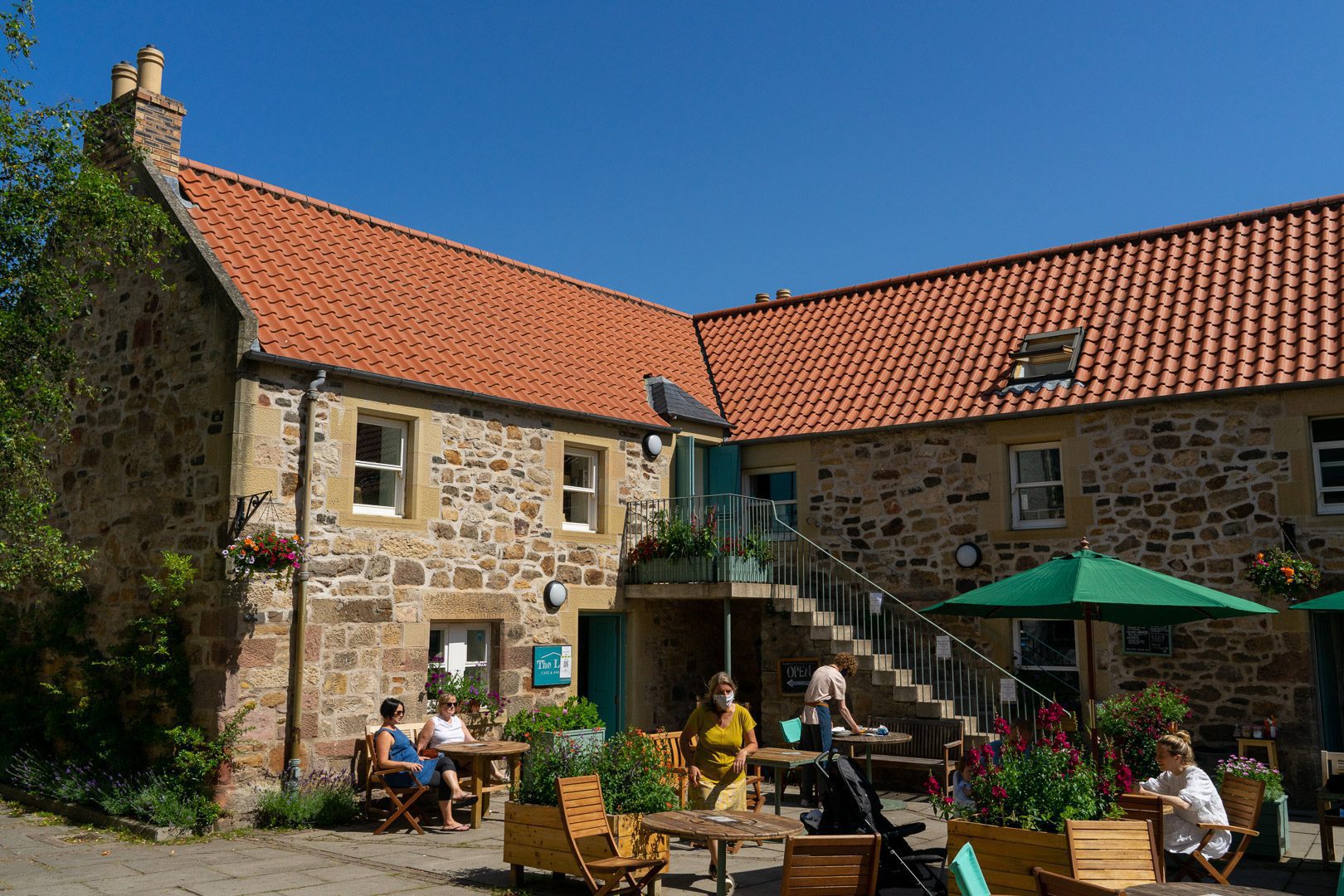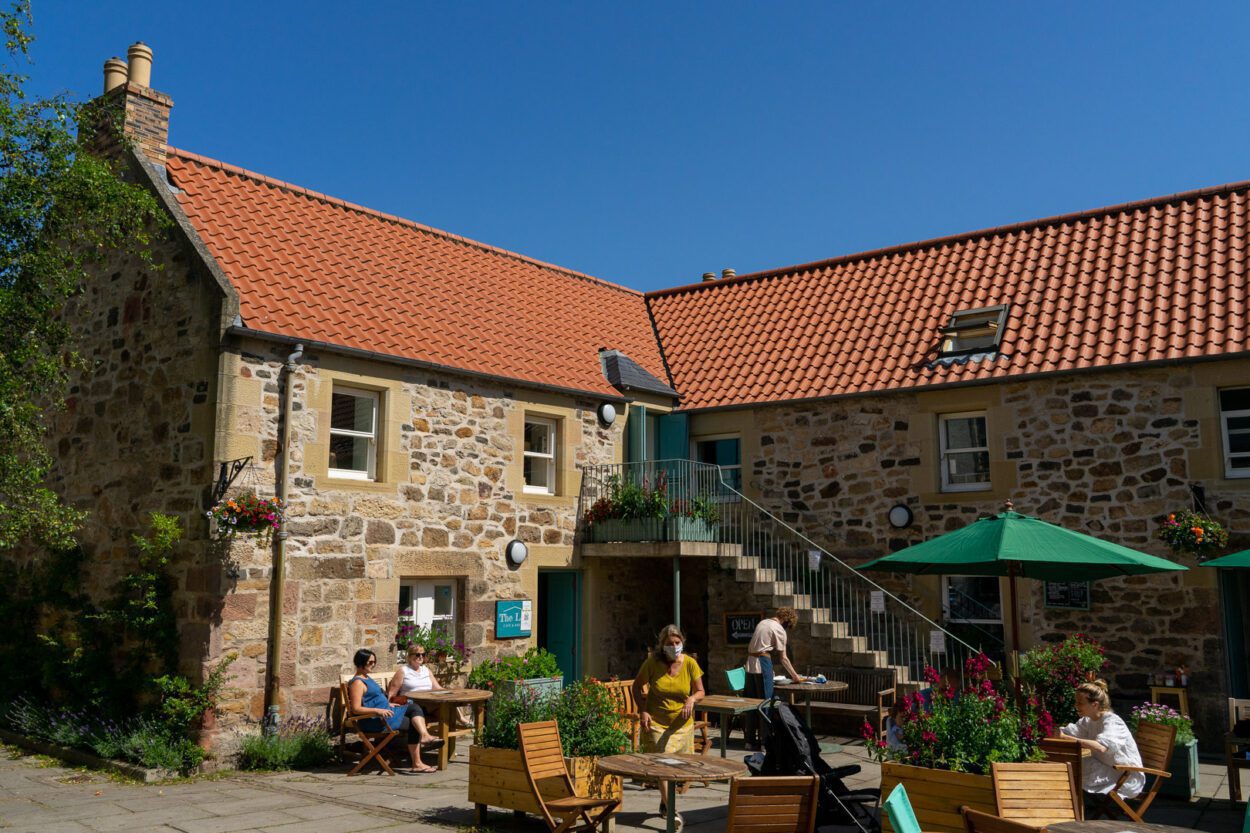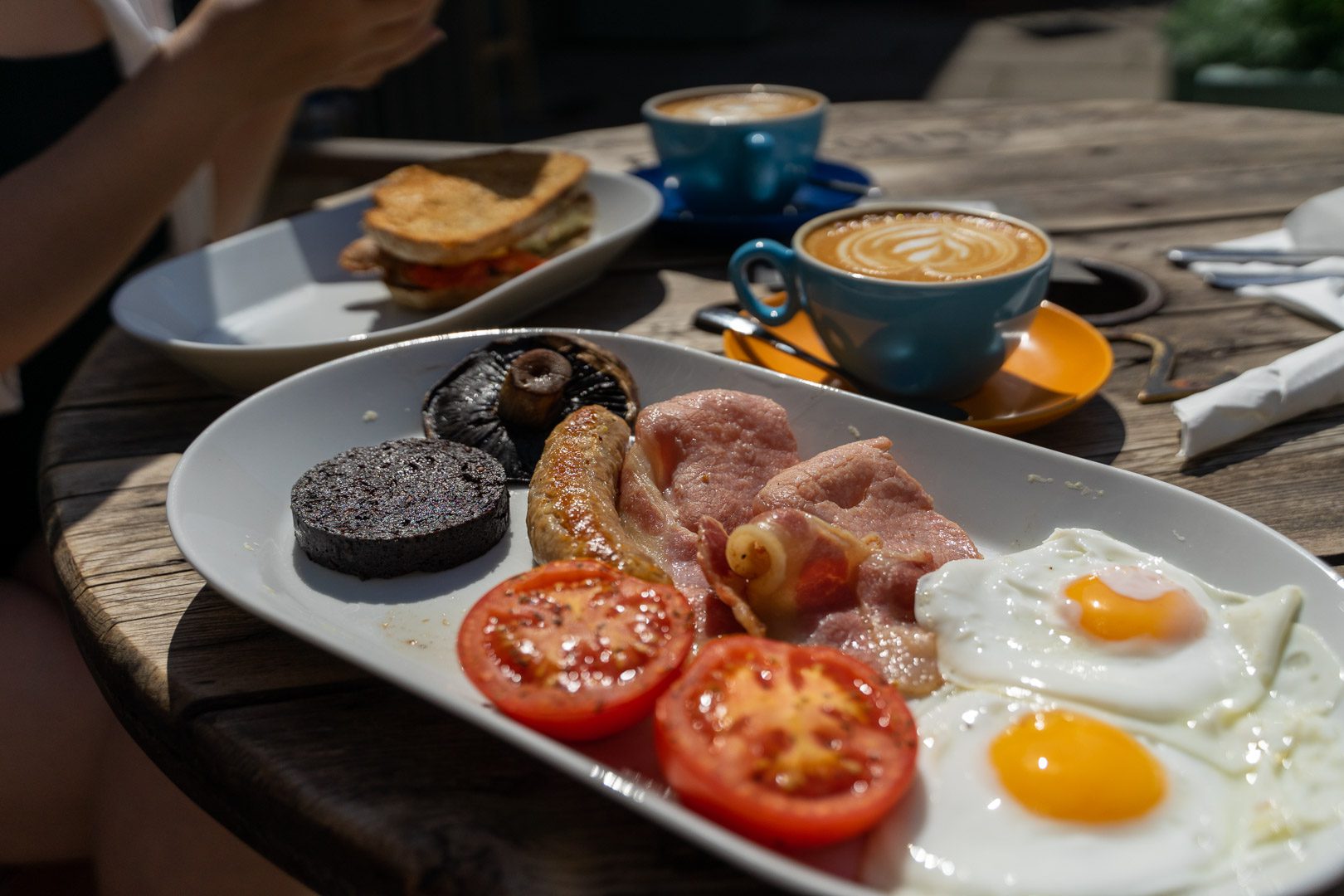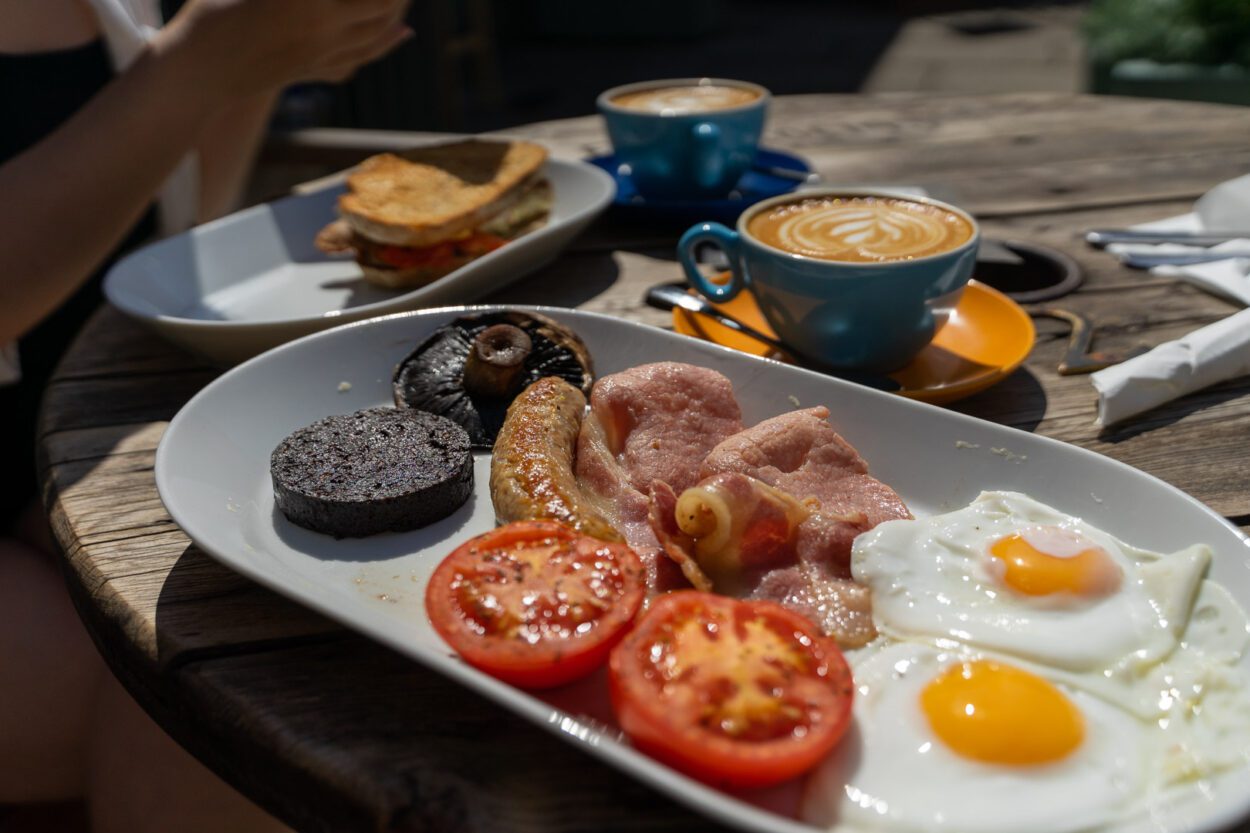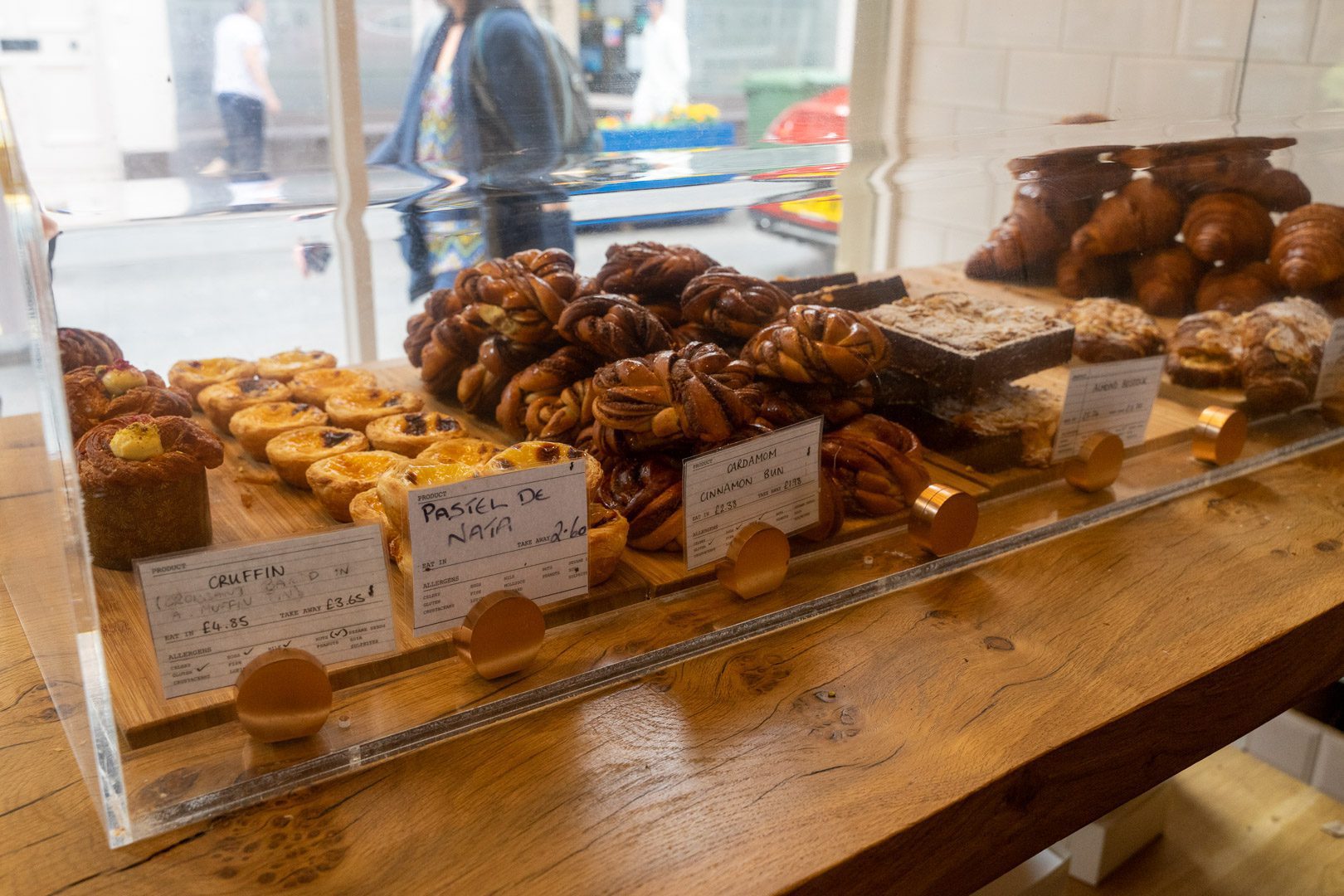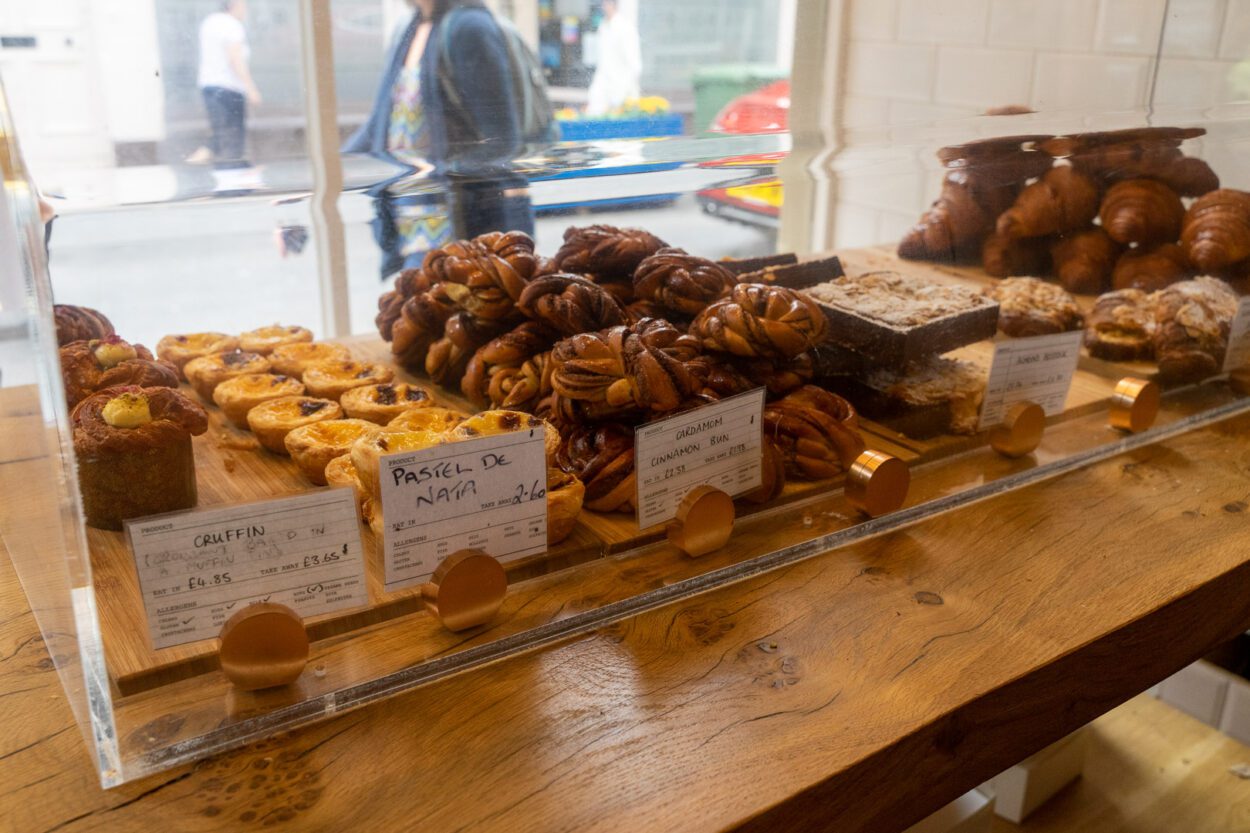 Drift
Drift is a great spot for breakfast, coffee, cake and lunch in North Berwick.
They use a lot of fresh, seasonal, Scottish produce but to me, it was the incredible cliffside views that really caught my attention. Using an upcycled shipping container with large floor to ceiling windows that overlook the water and the incredible Bass Rock, this is definitely food with a view.
The menu at Drift is erring on the side of accessible fine dining in my eyes. While you can still order the full breakfast, sausage roll or soup, the ingredients and flavours are somewhat richer and of a higher quality.
If you don't have the time to sit in but would still like to try the food at Drift, why not visit their Takeaway Trailer which can be found outside the restaurant, or order one of their Treat or Pick Me Up boxes to eat at home.
Steampunk Coffee
The premises are lovely but at the time of our visit, there was no hot food being served, it was back to basics, good coffee and some cake. I believe that the building was an old joinery warehouse and it looks fantastic, so I was sad that we couldn't have the full experience.
Nevertheless, we bought some iced coffees as the weather was so lovely and enjoyed them as we walked around the town and took in the sights.
Steampunk are coffee roasters first and foremost, coffee is clearly the passion, and it was great!
They obviously take a lot of pride in what they do and you can buy some of their coffee and/or equipment from the store.
The Lobster Shack
The Lobster Shack was the one place that I just had to visit. There was no question, this food van had been all over my news feeds for what felt like years.
Unbelievably, I didn't get the opportunity -  I was on a tight schedule and didn't have time to wait in the long queue; they were closed; awaiting food deliveries - for whatever reason, we couldn't make it work!
I was so disappointed because their menu and the pictures that I have seen, look so delicious.
One day…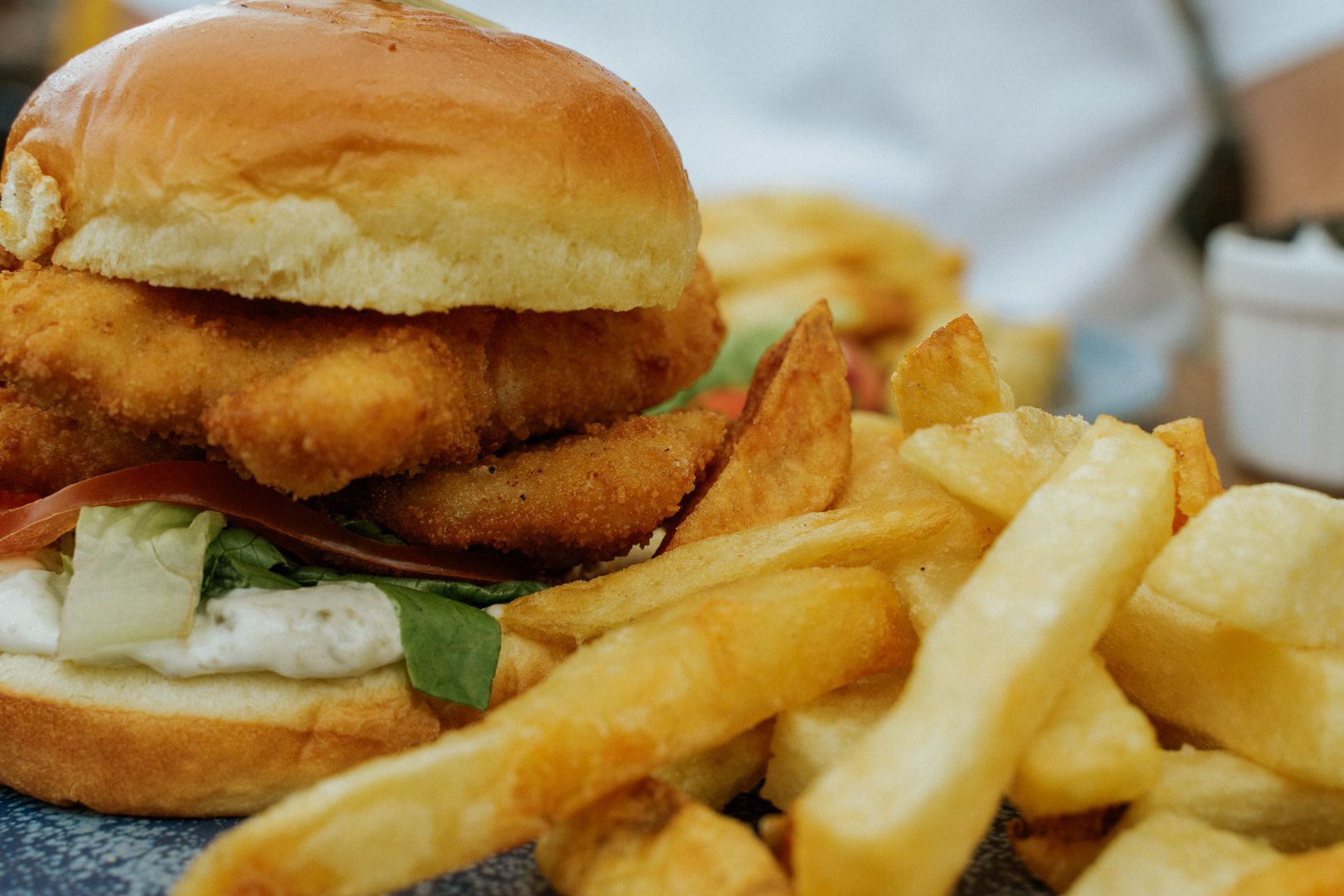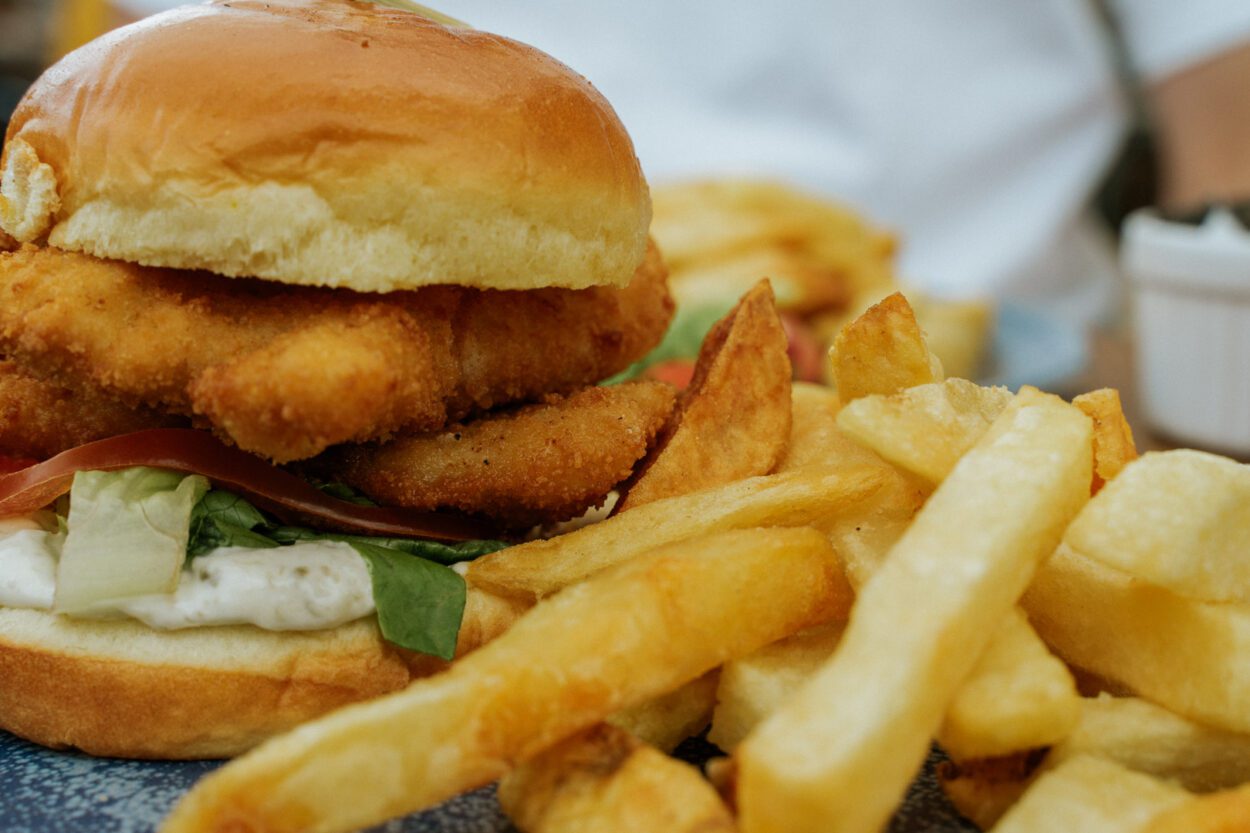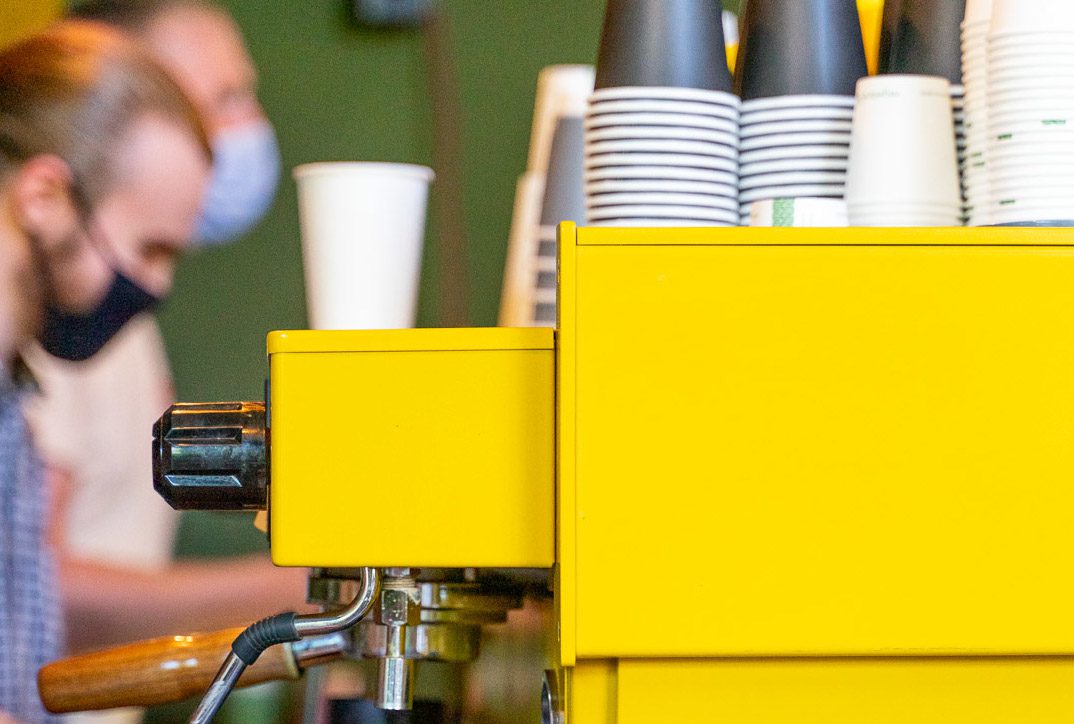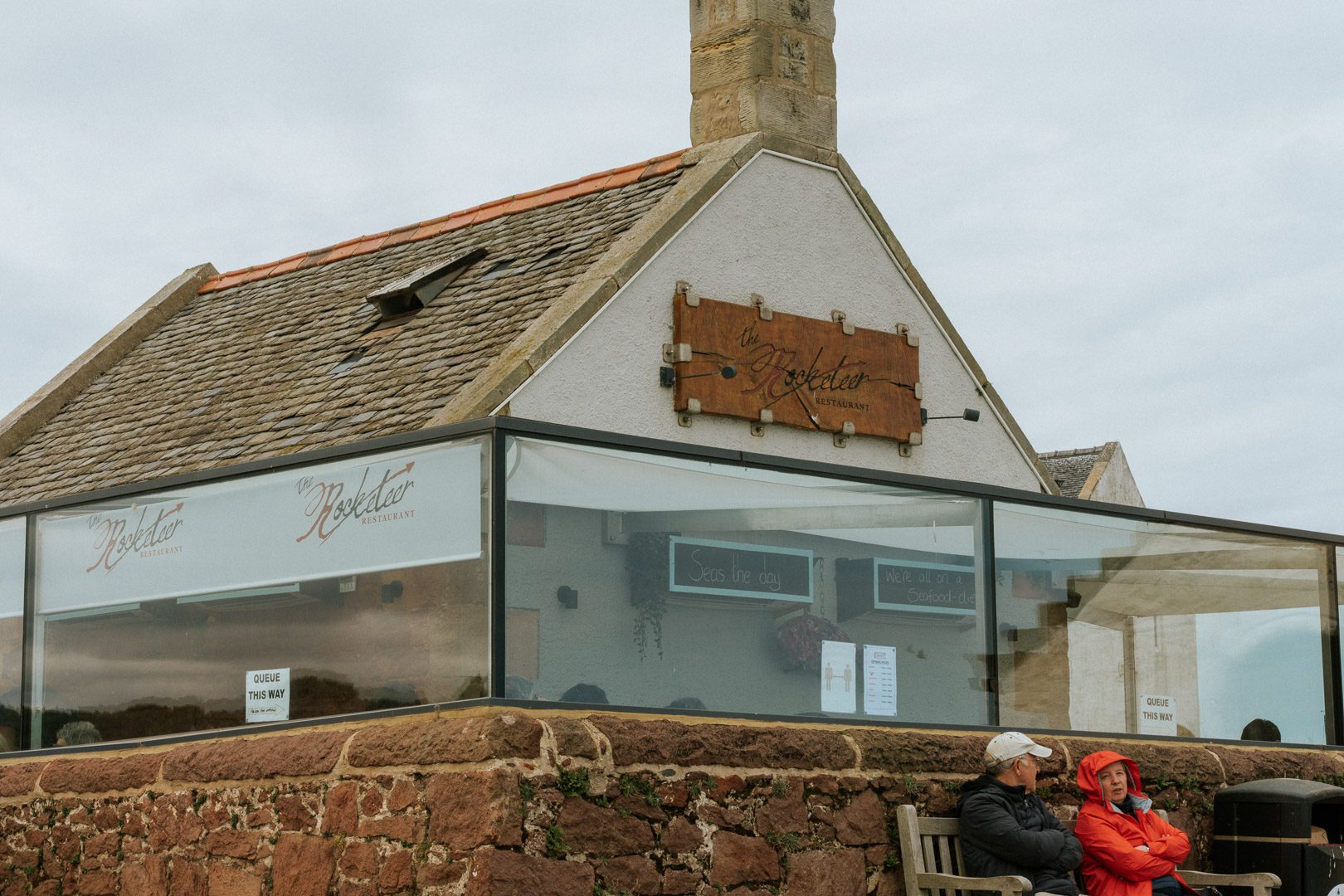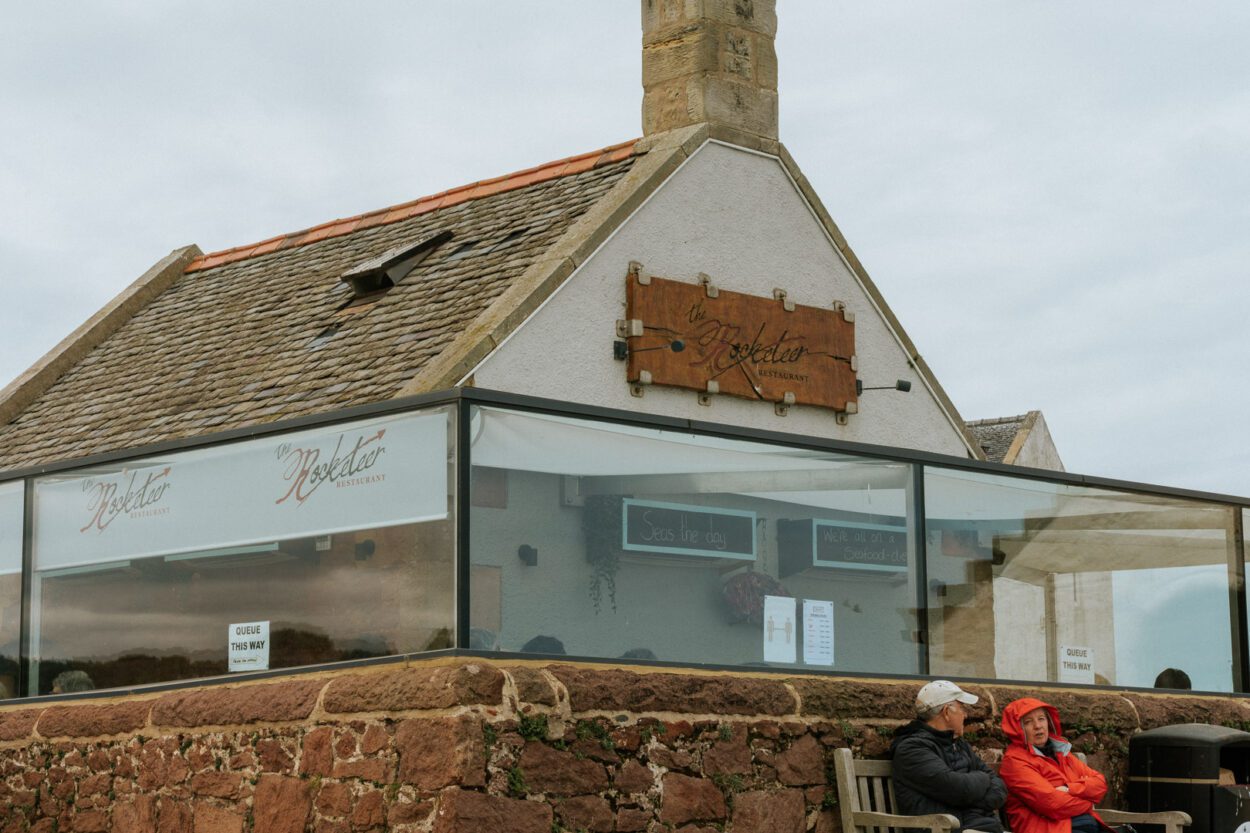 The Rocketeer
But fear not, because I discovered that The Lobster Shack and its sister The Rocketeer restaurant nearby, offer almost exactly the same menu.
The main differences being, that The Rocketeer has indoor seating and also offer some meat dishes. Now, I would advise you to make a reservation quite early if you would like to dine here, as there are only 10 or so tables.  Book ahead of time especially if you want a lovely beachfront view.
We visited over lunchtime and had two courses. Starting with the sharing platter, we had hot salmon and prawn fishcakes, two prawn fritters and some squid which came with 3 dips.
Each part was delicious and we even had comments from other tables exclaiming that they wished that they had ordered it, so the sharing platter is a must in my eyes!
For mains, we ordered the fish burger and the dressed crab, both came with double-dipped chips.
Both the food and service were brilliant, this is a must-visit.
North Berwick Fry
Sometimes, going out for a meal is not on the agenda, but you still want to treat yourself.
We felt this way after a long day of travel and we could not decide (or agree) on where to eat.
Frankly, we were tired and in desperate need of some rest, so we did what any tourist by the seaside does, and got some takeaway fish and chips!
The North Berwick Fry was the closest to us and had some great reviews. We visited the shop, ordered 2 standard fish suppers and received them almost immediately.
I was a little disappointed that they were served to us in boxes rather than being wrapped in paper as I wasn't sure how well they would retain the heat, but we got back to our cabin and all was well.
The food was still hot, the portions were large, definitely no complaints and it was really tasty.
Alandas Gelato
Another seaside treat is of course ice cream. You couldn't miss the long queue outside Alandas Gelato and to me, that's a great sign.
Using locally sourced ingredients, including milk and cream, there were a huge array of flavours to choose from.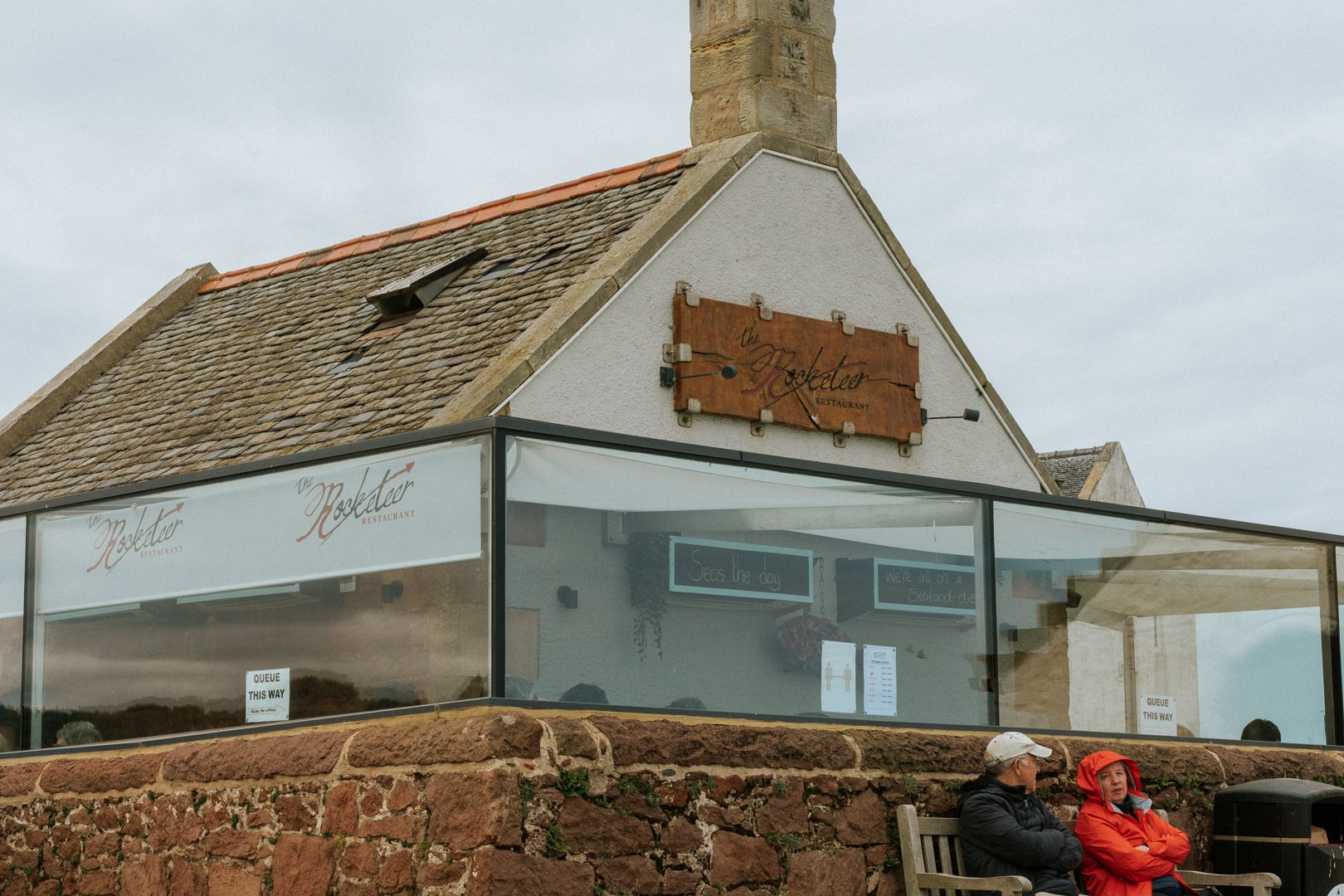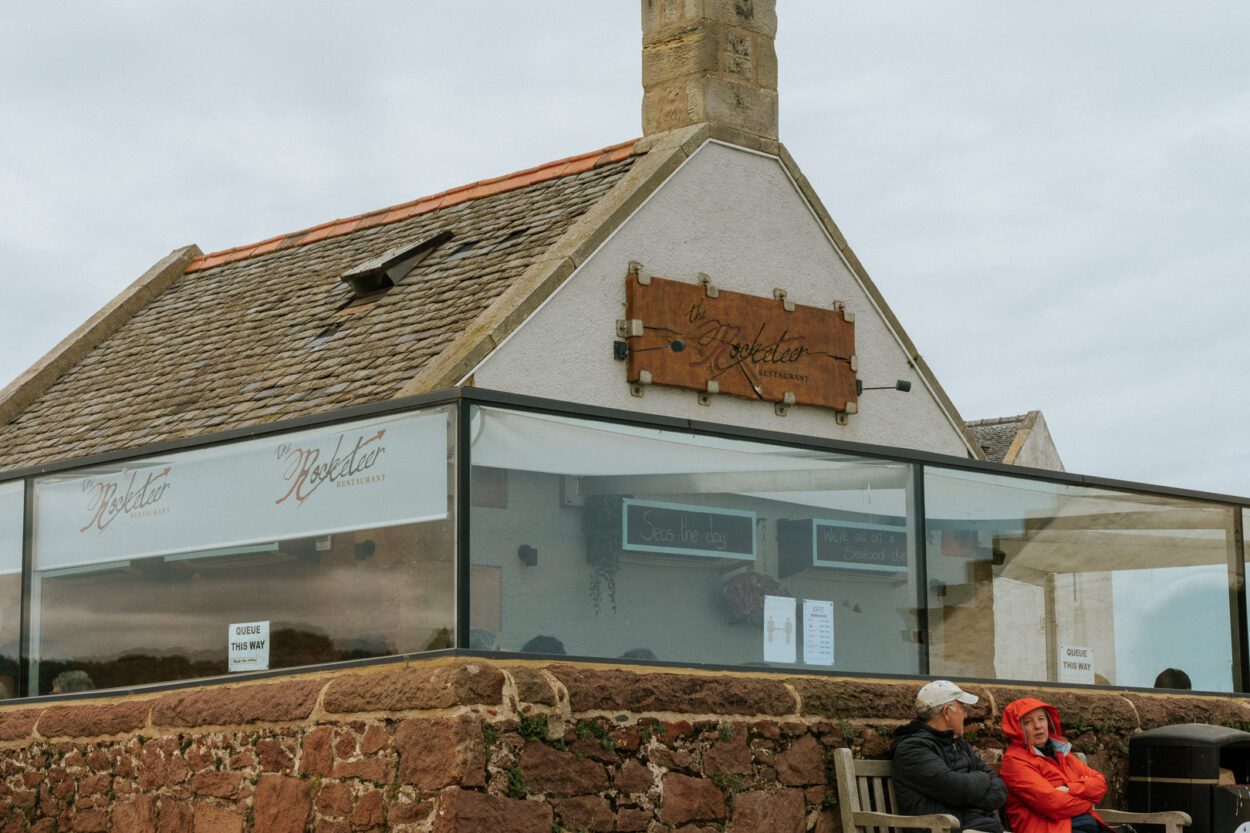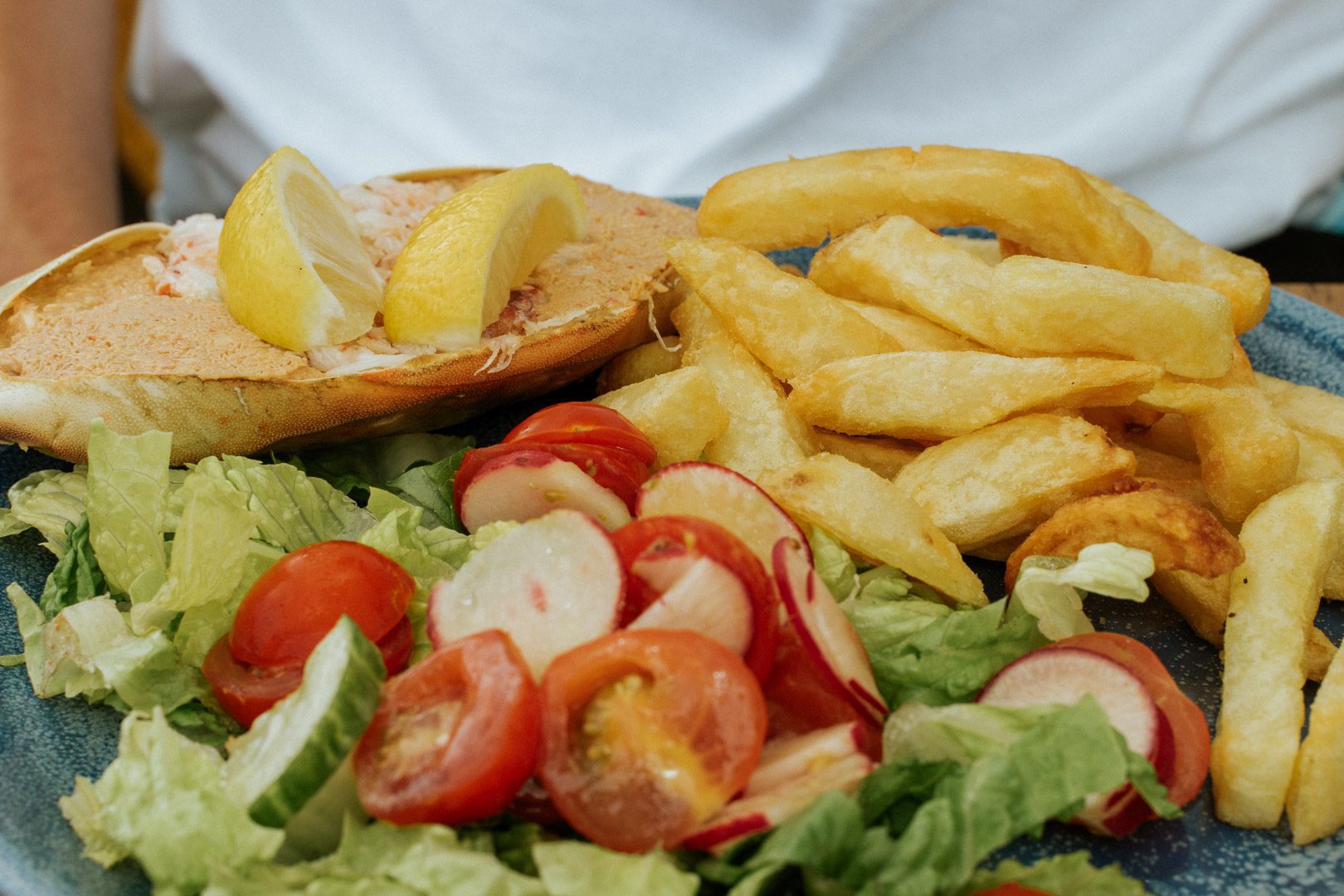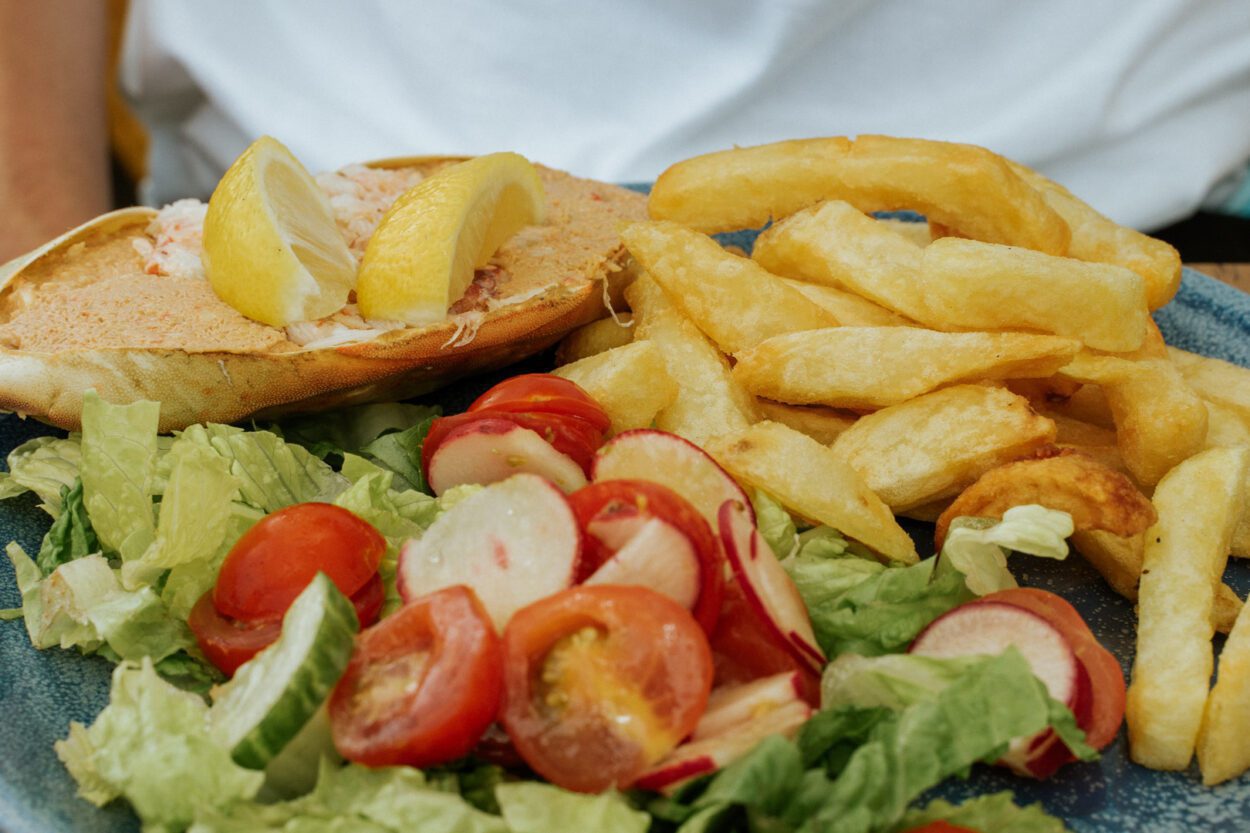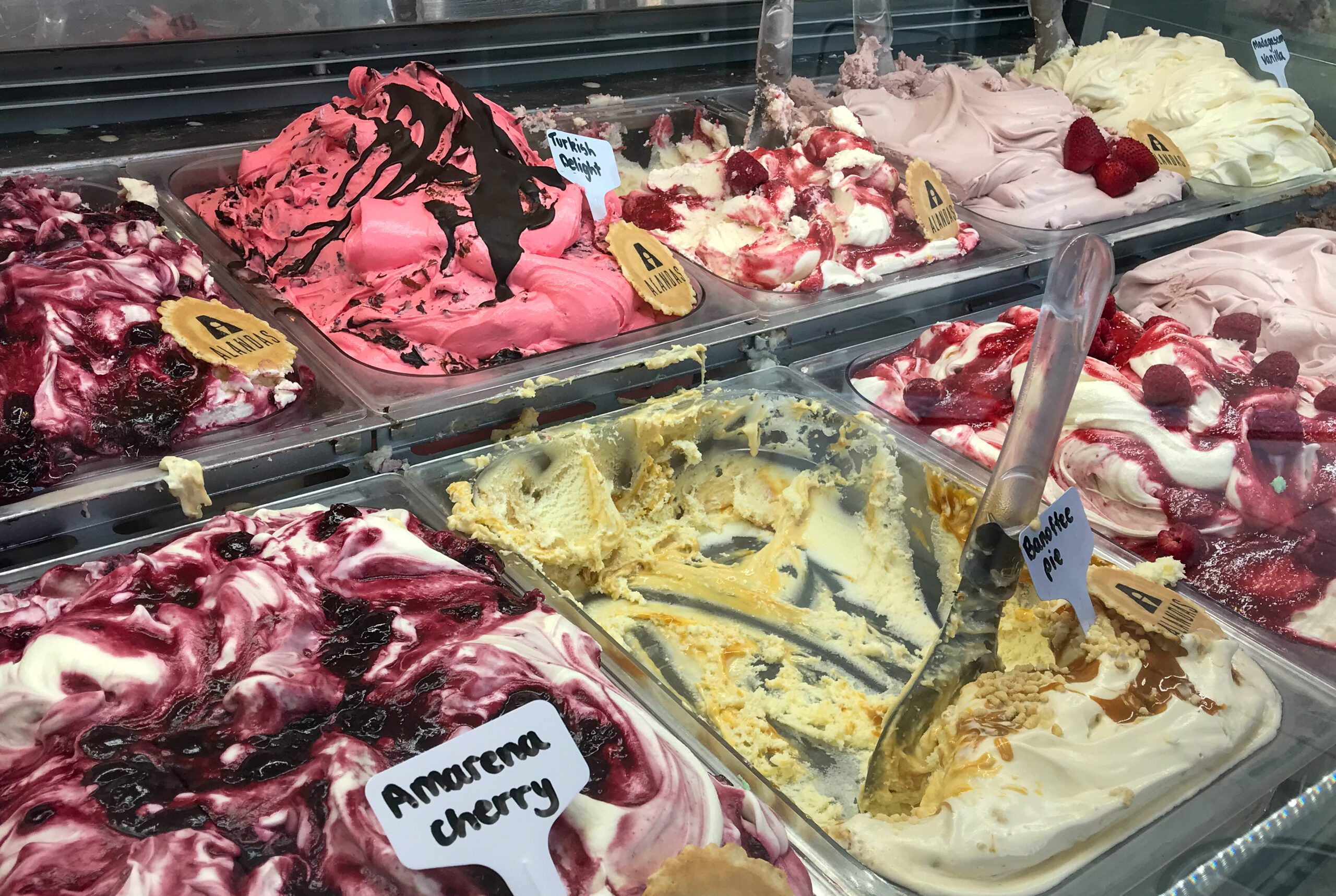 I picked the raspberry ripple, which had full frozen raspberries mixed through it and it was delicious! My mouth is watering at the thought of it!
A festival celebrating St Andrews Day and the very best of Scottish history, heritage, culture, film, music and food is set to take place in East Lothian (home of Scotland's iconic Saltire Flag) from 24 to 30 November 2021.
Just a short distance from Scotland's historic capital city of Edinburgh, The Saltire Festival will host a wide range of events and exhibitions, some of which are free, in leading venues throughout East Lothian.
As the original home of Scotland's iconic Saltire Flag, surrounded by stunning coastline, rolling countryside and vibrant towns and villages, the region is the perfect place to celebrate this important national day and the very best that Scotland has to offer.
It is said that The St Andrew's Cross or Saltire is Scotland's national flag (the oldest flag in Europe and the Commonwealth) originated in a battle between the Picts (with support from The Scots) and the Saxons close to the East Lothian village of Athelstaneford in the dark ages (believed to have been 832AD).
Fearing the outcome of the encounter, King Angus led prayers for deliverance, and was rewarded by seeing a cloud formation of a white saltire (the diagonal cross on which St Andrew had been martyred) against the blue sky. The king vowed that if he gained the victory with the saint's help, then Andrew would become to be the patron saint of Scotland. They did win and the Saltire became the flag of Scotland.
The Flag Heritage Centre at Athelstaneford is open from April to October where visitors can enjoy a short audio-video dramatisation of the traditional origins of Scotland's flag . Admission is free.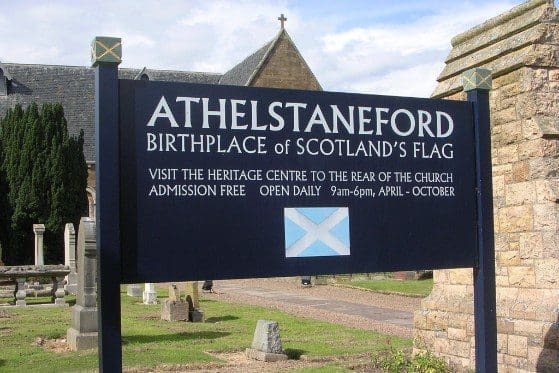 The programme includes events at The Brunton, a world-class theatre and entertainment venue located in the town of Musselburgh:
From Scotland's own highly acclaimed contemporary roots and folk musician, Kris Drever.  General admission price £17; to
West-End star Keith Jack and the MacDonald Bros, who will co-host an evening celebrating some of Scotland's greatest music icons – including The Proclaimers, Lewis Capaldi & Dougie Maclean.  General admission price £25.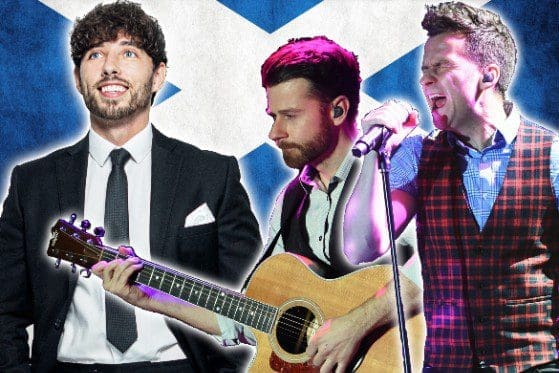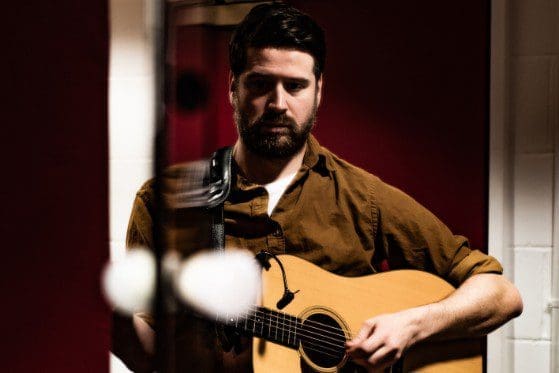 The festival will also celebrate Scotland in Film, with a special screening of the cult Scottish comedy-drama 'Local Hero' starring Peter Riegert, Burt Lancaster and Denis Lawson.  The film follows a young oil executive on a journey to Scotland to buy a whole village on behalf of the oil company he works for, which is run by Happer (Burt Lancaster).  Those who will be watching the film for the first time at the festival, will find out why to this day, visitors from all over the world come to Scotland just to find a phone box featured in the film.  Tickets from £7 to £8.
For fans of Diana Galbaldon's best-selling Outlander novels and hit global TV series, Dr Aaron Johnston will host a free Prestonpans Battlefield by Night walking tour.  The event will explore the forgotten story of the events that took place the night before the Battle of Prestonpans.  The battle in East Lothian was the first significant engagement of the Jacobite Rising in 1745, when Jacobite forces led by Bonnie Prince Charlie defeated the Hanoverian 'redcoats' army under Sir John Cope.  The battle lasted less than thirty minutes and led to the Jacobite's invasion of England. The first Outlander stories are largely based around the Jacobite rebellion and the events that followed.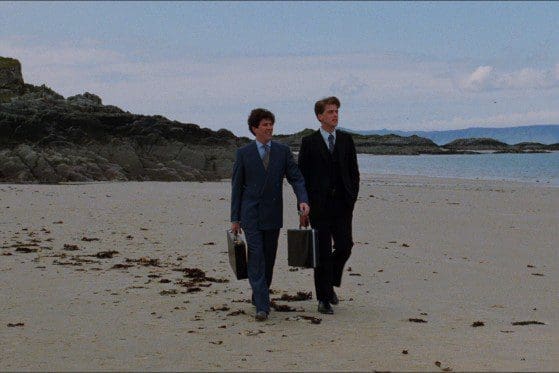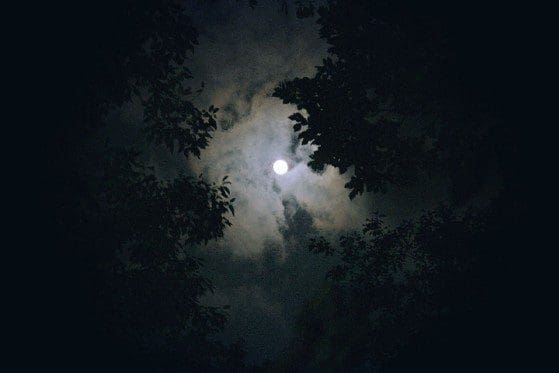 For foodies looking for a stress-free shopping experience, the Haddington Farmers' Market offers a wide range of local produce and seasonal food and drink.  It's the perfect place for festival goers to pick up some ingredients to cook their very own authentic St Andrew's Day meal at home.
Back at The Brunton, the 'Wherever a Scotsman goes...' John Muir and Robert Burns Exhibition will be free to view throughout November.  It tells the story of locally born global conservation pioneer John Muir and the role Scotland's national bard played in inspiring him.
Whether 'sauntering' in the Sierra foothills, exploring the Alaskan glaciers, rediscovering Scotland or travelling the World, Muir always had Burns with him.  As he said himself, he "had him by heart… On my first long walk, I carried a copy of Burn's poems and sang them all the way. All the country and the people, beasts and birds, seemed to like them."
Muir's knowledge and love of Burns appears throughout his letters and writing, some of which will be displayed in this free Saltire Festival exhibition.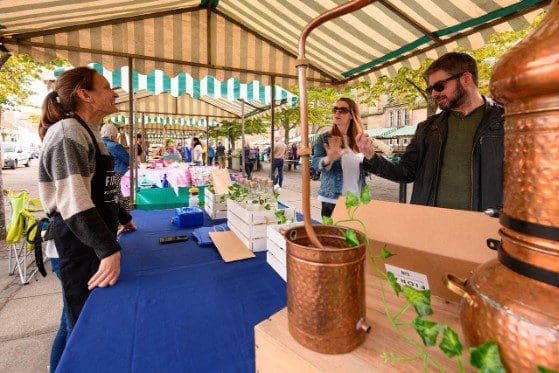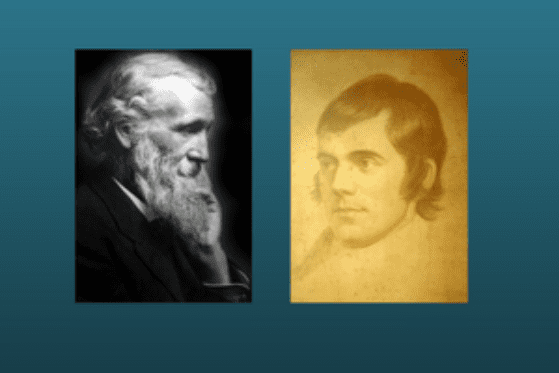 For more information about The Saltire Festival visit www.saltirefestival.com