Driving Routes
If you like to tour by car then East Lothian's Driving Routes will get you to the places you need to see and provide you with a unique insight into the region's fascinating history and heritage and bring you right up to date with modern East Lothian. There are three routes to choose from and if you have time we'd recommend doing all three! Each route has stopping points with interpretation boards which link to further information on things to see and do in the surrounding area. 
Choose The Coastal Trail and enjoy spectacular scenery, varied wildlife and top attractions.  Follow The Saltire Trail and delve into Scotland's rich history, heritage and culture. Meander along The Hillfoots Trail through glorious countryside and traditional villages and take in panoramic views.
For information on Electric Vehicle Charging Points in East Lothian.
Parts of the routes are also suitable for exploring by bike and on foot. Find out about our cycling routes for all abilities and there's plenty of options for walkers.
Please respect other road users when following the routes - Love East Lothian Responsibly!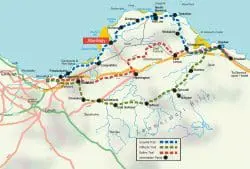 The Coastal Trail
Choose this route for - cliffs, beaches, wildlife spotting and historical attractions!
Length: 37miles
Locations: Bilsdean / Dunbar / Tyninghame / Whitekirk / North Berwick / Dirleton / Gullane / Aberlady / Longniddry / Prestonpans / Musselburgh
Millions of years ago today's landscape was being created. Molten rock erupted and left the remains of two volcanoes - North Berwick Law and the Bass Rock.
Today's scenery is more peaceful - apart from the herring gulls that can be heard overhead! They are just some of the thousands of seabirds that make this coastline special. Visit the Scottish Seabird Centre to find out about gannets, fulmars, puffins, kittiwakes and many more.
Along the coast, where harbours are full of pleasure craft, working fishing boats still land their catches. In days gone by coal was exported from Port Seton and horse dung imported from Edinburgh at Aberlady!
There were times of turmoil when Tantallon Castle defended the Firth of Forth, Dunbar Castle defied siege and Dirleton Castle fell to marauding troops. Mansions like Gosford House tell a less violent story while ancient churches - like Whitekirk - have seen it all go by.
Nowadays, the seashores draw families to the coastal towns of Gullane, North Berwick, and Dunbar. The many sandy 'links' attract golfers hoping for a perfect round and racegoers in search of a lucky wager head to Musselburgh.