Driving Routes
If you like to tour by car then East Lothian's Driving Routes will get you to the places you need to see and provide you with a unique insight into the region's fascinating history and heritage and bring you right up to date with modern East Lothian.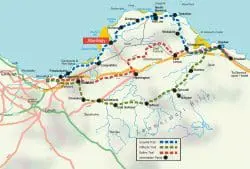 The Saltire Trail
Choose this route for - history, heritage & culture!
Length: 31miles
Locations: Bilsdean / Dunbar / East Linton / Haddington / Tranent / Musselburgh
East Lothian has played a key part in Scotland's history. Many friends and foes have journeyed through the county and generations of people have worked the land here in the 'breadbasket for Scotland'. Preston Mill and Phantassie Doocot are attractive reminders of agriculture in days gone by.
The rich soil brought prosperity and many landowners built fine new homes - or extended older fortified houses such as Lennoxlove. The elegant buildings in the 'capital' of Haddington are testimony to a town whose corn market was one of the busiest in Scotland.
East Lothian's climate is dry and sunny but, before the battle of Athelstaneford in the 9th century, a pattern of clouds in the sky made history. They formed a St. Andrew's cross and gave Scotland it's Saltire flag.
The latest piece of history along the Trail is the arrival of a Concorde at the Museum of Flight at East Fortune, an airfield that saw the huge R34 airship take off for the USA in 1919 and is now home to a fascinating collection of flying machines.