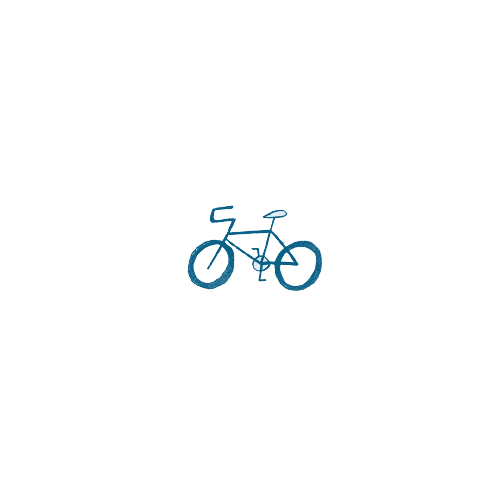 Plan your next adventure to conquer some of the best cycle routes in East Lothian.
The excitement is building as Scotland gears up to welcome the UCI Cycling World Championships, the biggest cycling event ever to be staged in Glasgow and across Scotland from 3rd-13th August.
If you're a keen cycling enthusiast seeking an adventurous experience, you might like to know that East Lothian offers an array of thrilling cycle routes. Discover diverse landscapes, tranquil countryside, panoramic views and secluded paths as you embark on an unforgettable cycling adventure. Here are just some of East Lothian's routes to whet your appetite.
This route starts and finishes at Musselburgh Fisherrow Harbour and offers a multiday gravel adventure that combines the remoteness and solitude of the Lammermuir Hills with the stunning East Lothian coastline. Over a distance of 169km (105m), enjoy the refreshing sea breeze as you pedal past golden beaches, grassy dunes and beautiful countryside with lots of places to stop and explore.
Find out more about this route.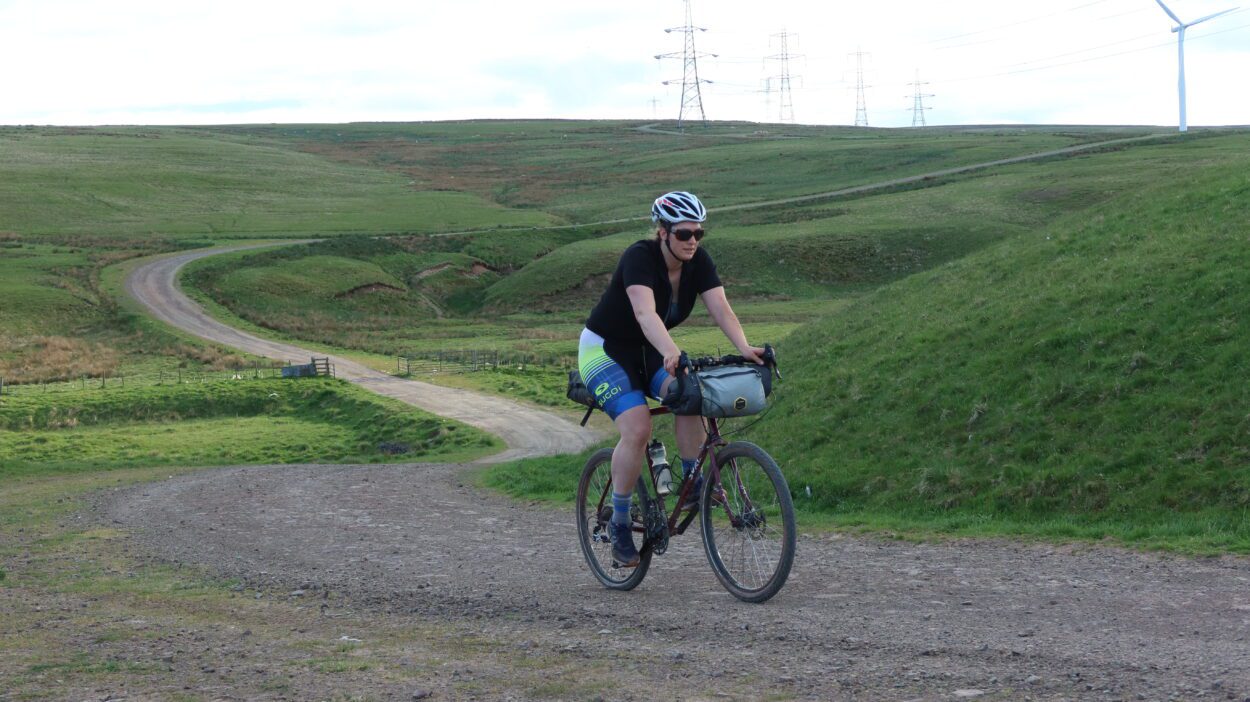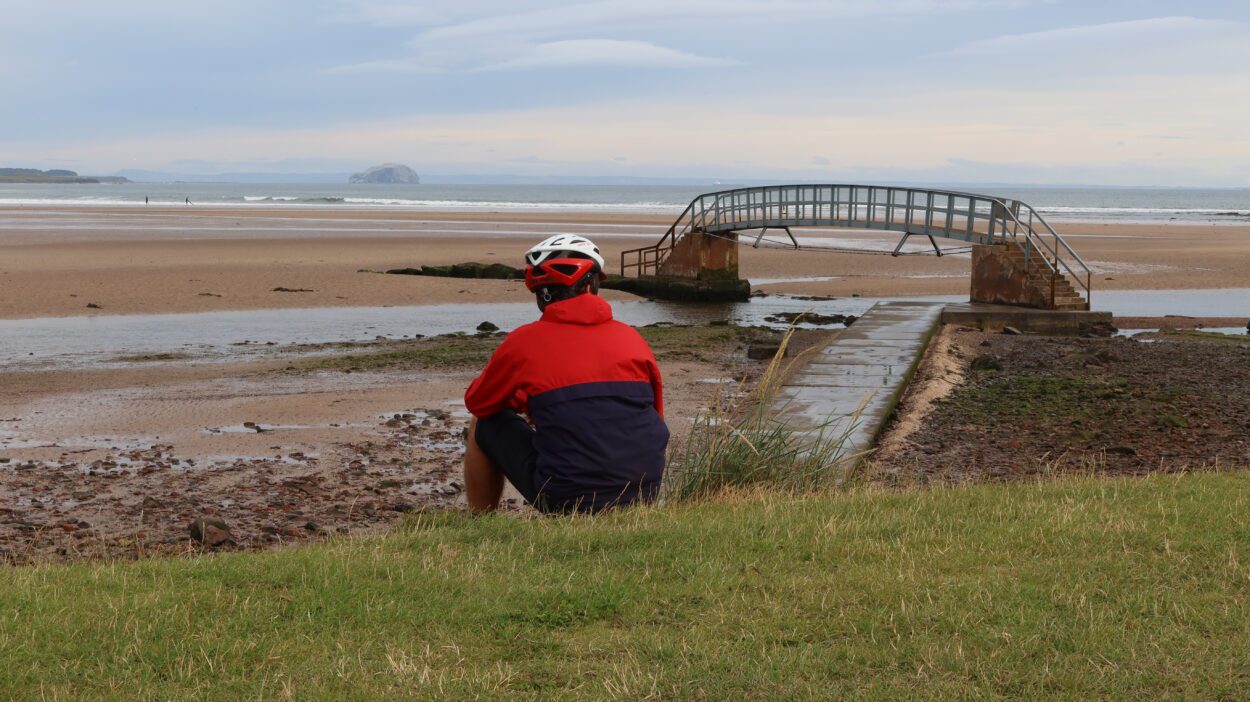 A longer gravel adventure over 53.5km (33.24m), connecting the popular seaside town of North Berwick with Haddington, combining some of the best gravel tracks East Lothian has to offer. The route starts at the Scottish Seabird Centre in North Berwick joining onto the John Muir Way and then follows the River Tyne through Haddington connecting with the Longniddry Railway walk, through the pretty village of Aberlady then back to North Berwick.
Find out more about this route.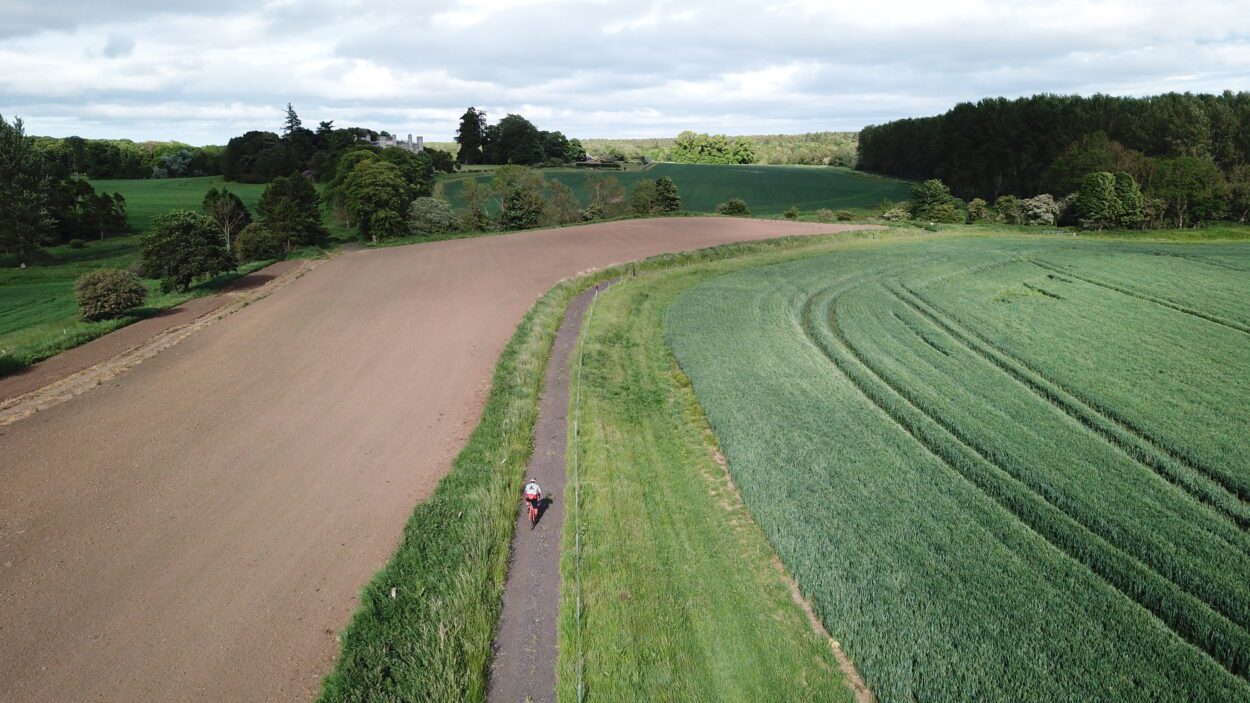 A distance of 105km (65.24m) and just a few kilometres short of the official Gran Fondo distance, this route starts and finishes in Prestonpans and offers a road bike adventure exploring many of the stunning castles and big houses along some of the most beautiful roads in East Lothian.
Find out more about this route.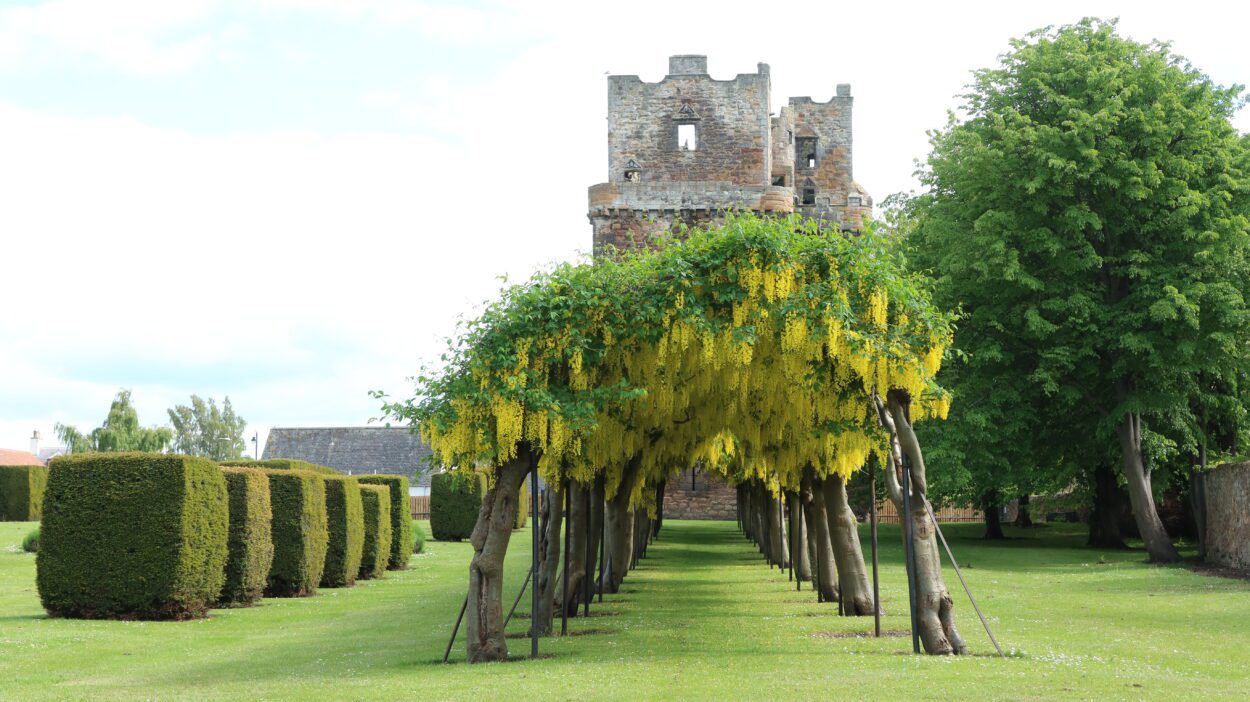 Cycling can build up quite an appetite, and East Lothian offers an array of fantastic food stops to refuel and recharge. For the perfect energy boost before hitting the road, stop at Steampunk Coffee in North Berwick and enjoy their range of speciality coffees, teas and delicious baked goodies. If you're planning to venture into the Lammermuirs, stop off in the village of Gifford and visit Lanterne Rouge named after the award given to the last place cyclist in the Tour De France. The Loft Café & Bakery in Haddington is popular with cyclists, you can sit outside in the courtyard with your bike or you can use their click and collect service.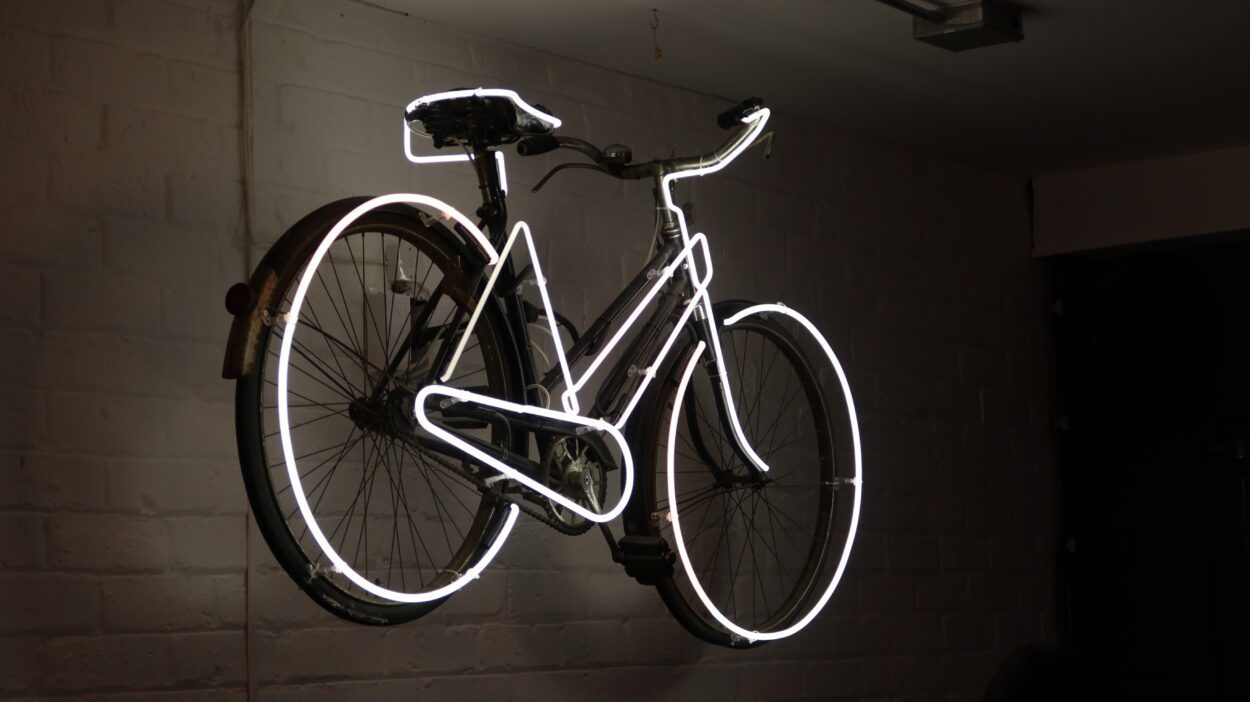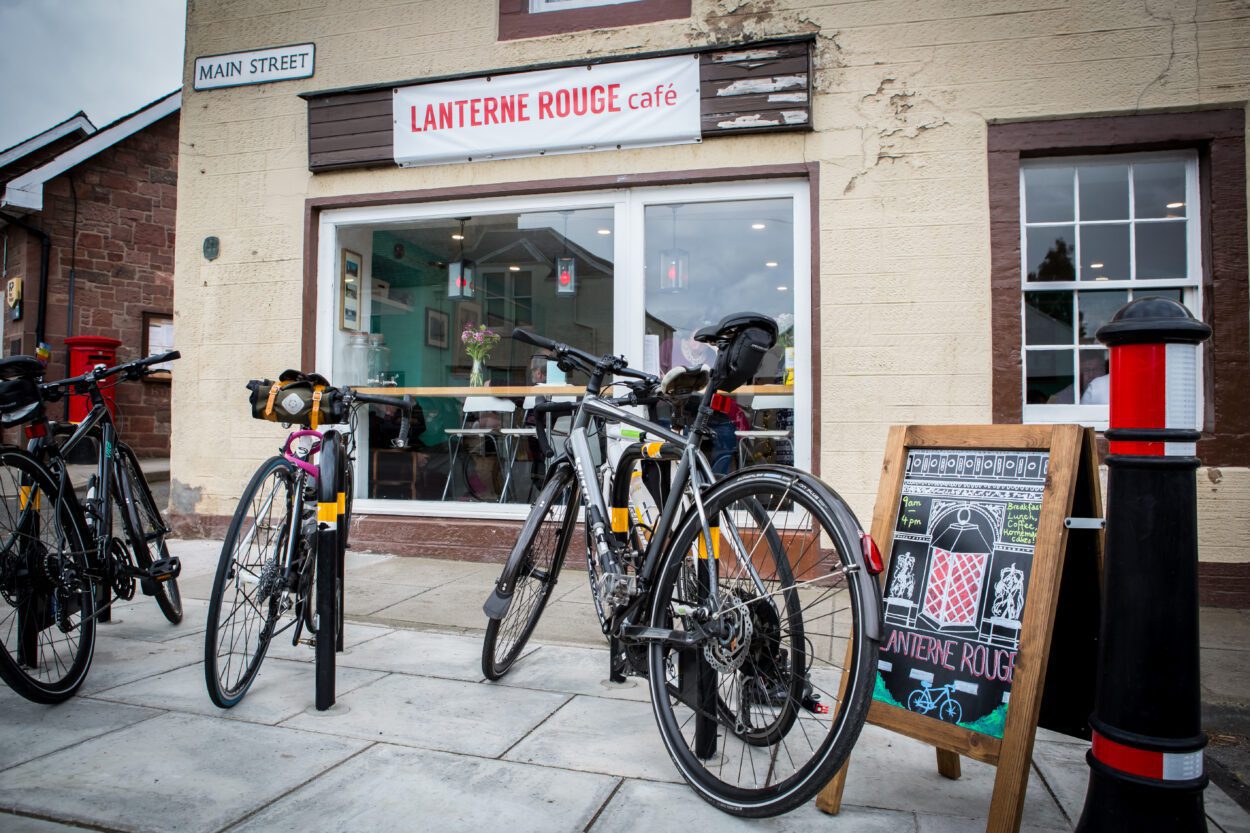 Taking your bike on public transport to East Lothian couldn't be easier, the towns of Musselburgh, Prestonpans, North Berwick and Dunbar are all served by trains from Edinburgh and bikes are free! Borders Buses operate a number of bike friendly buses and you can track which bus is bike friendly the day before your visit using their app.
Before setting off on a bike ride, know the code before you go - Scottish Outdoor Access Code and please respect the beautiful countryside and love East Lothian responsibly.
East Lothian does have cycling routes for all abilities especially if you're a bit of a notice or want to go out on a leisurely cycle with the family. Find out more.
Images: Markus Stitz & Tom Duffin
Information correct at the time of publication.
Route Description
Leaving from North Berwick pier, this route takes in clifftop sights, an ancient castle with a dramatic setting and sandy beaches. From the Scottish Seabird Centre, cross Milsey Bay and take the track across the golf course, leading to the main Tantallon Road. Heading east, you'll quickly turn south onto quiet back roads, with a short off-road track leading to Whitekirk. It's then onto the coastal road leading to Seacliff Beach, before turning back towards the imposing Tantallon Castle. Enjoy a coffee shop overlooking the cliffs and Bass Rock, once a formidable prison, and now an important seabird sanctuary, on your way back towards North Berwick town.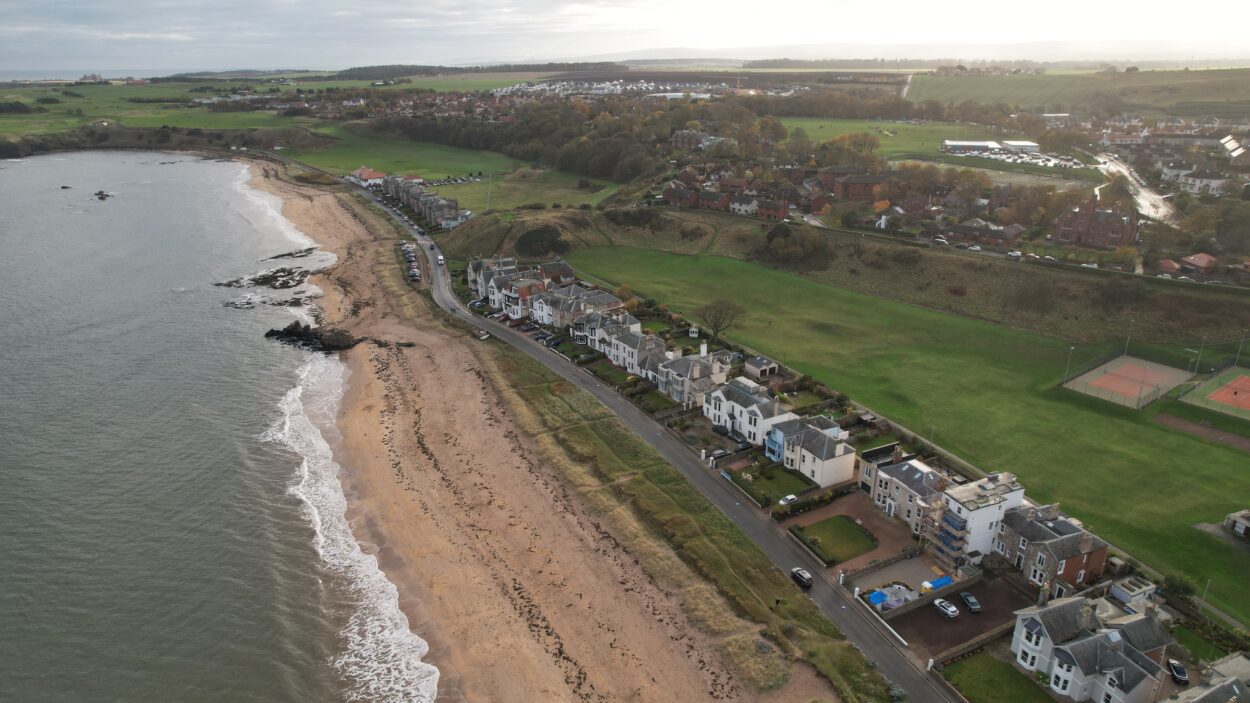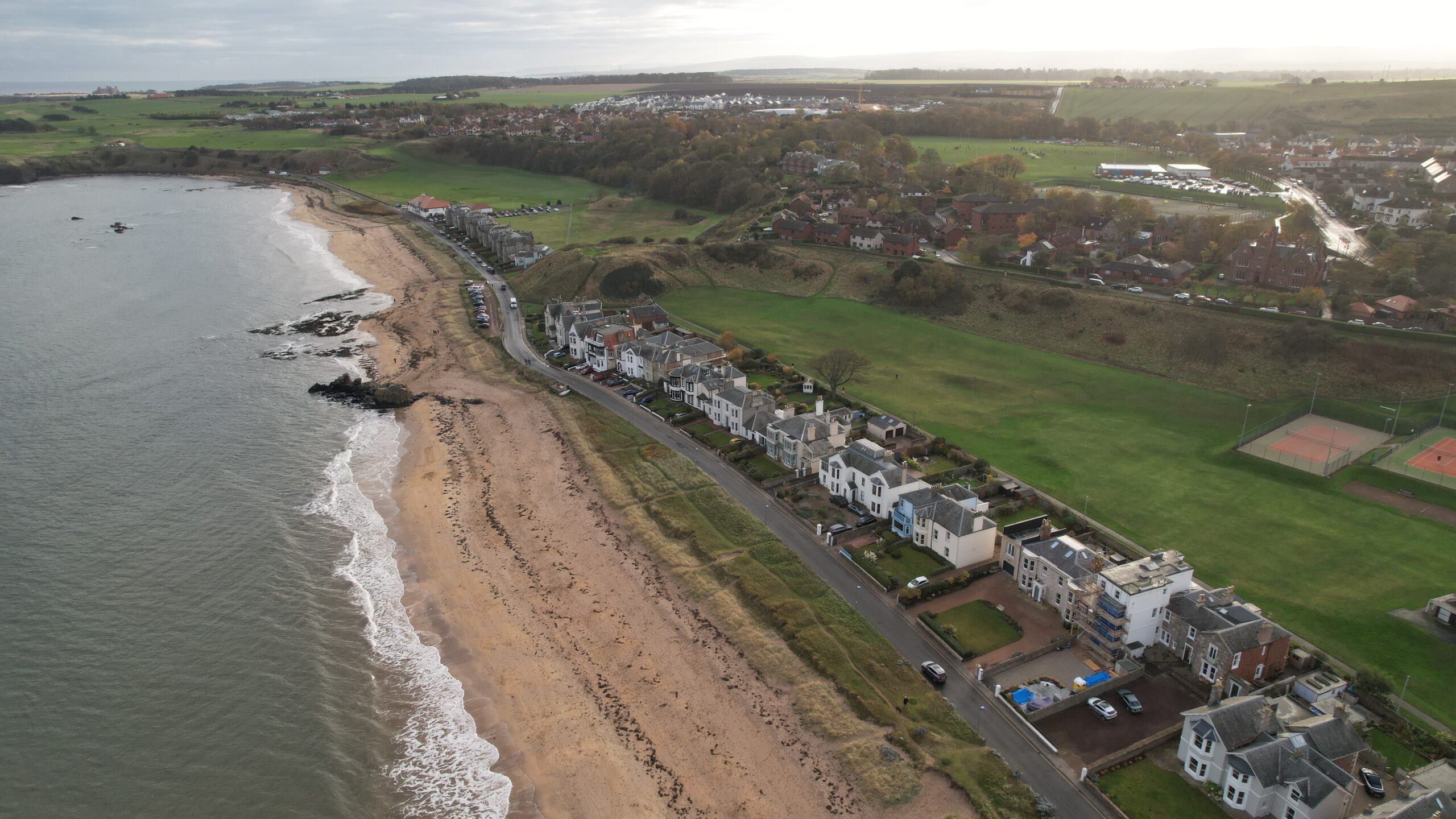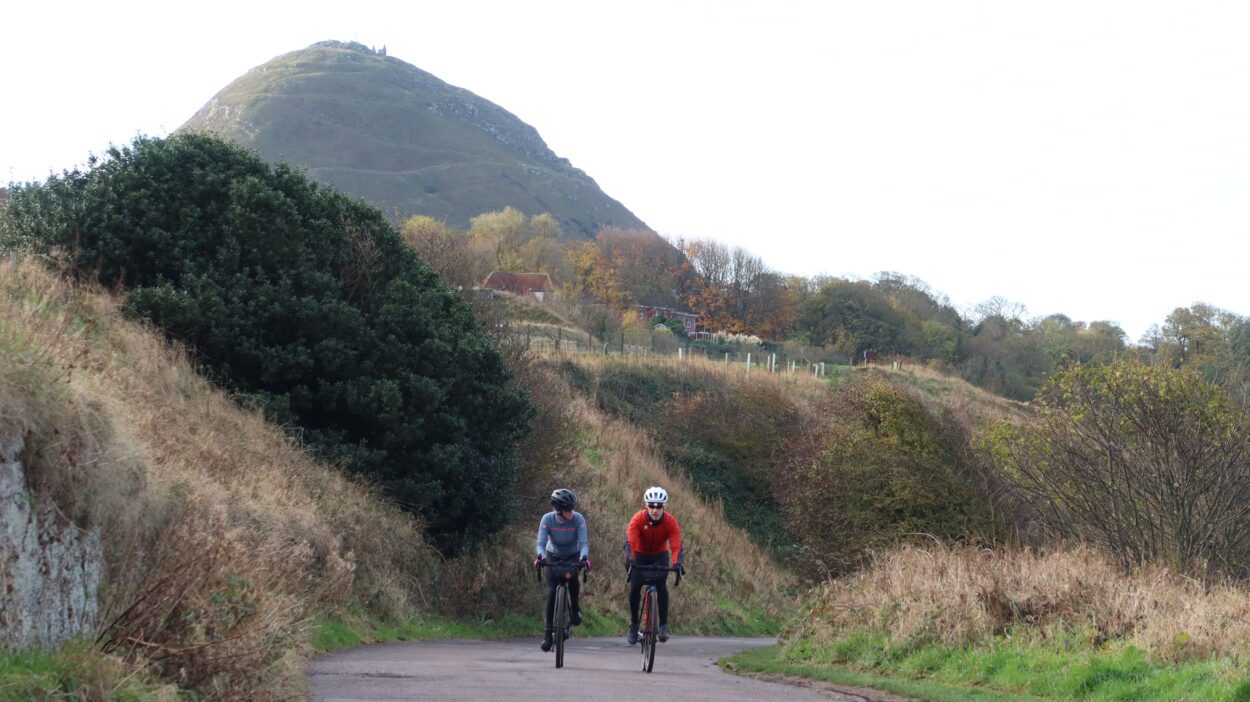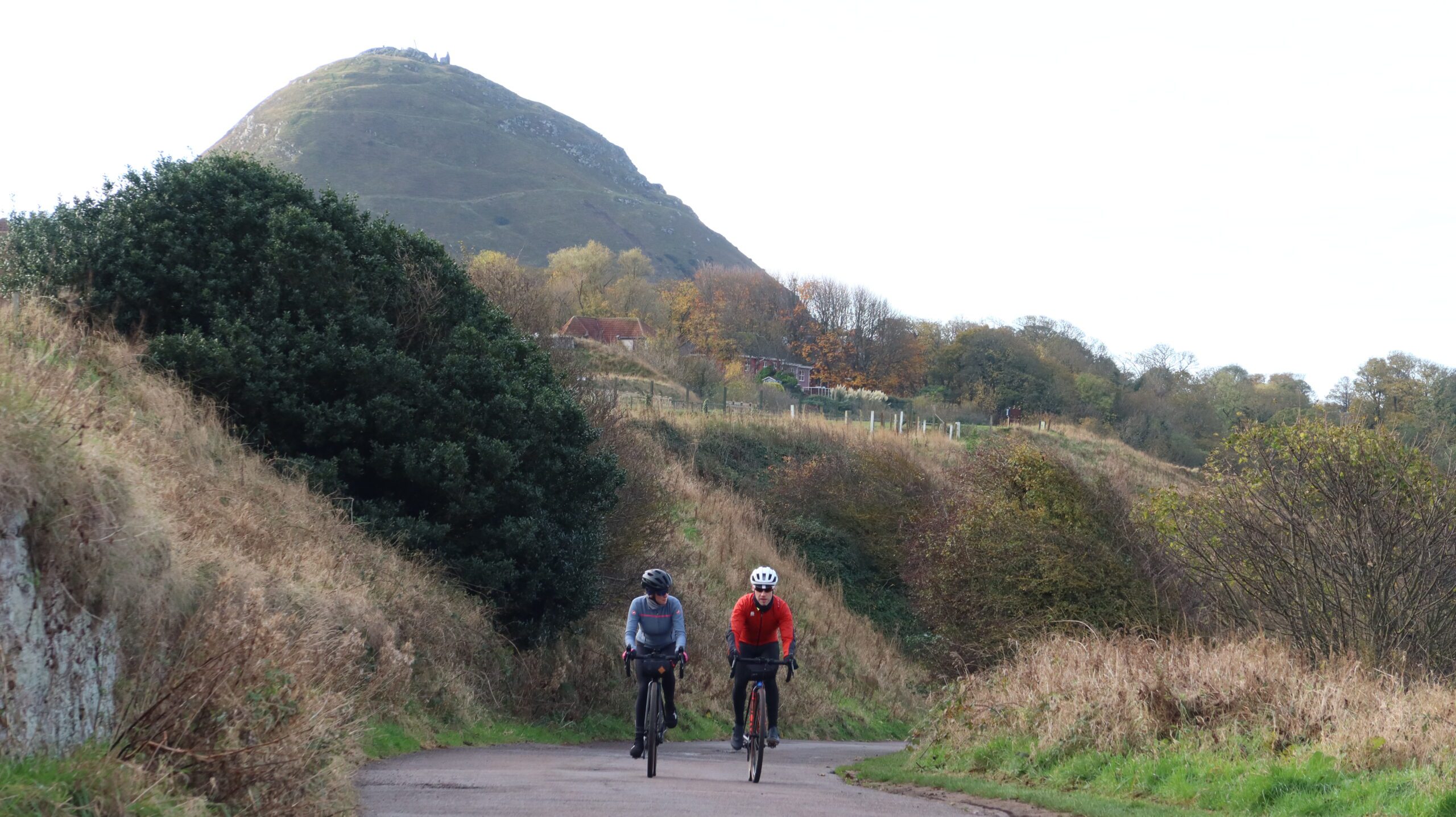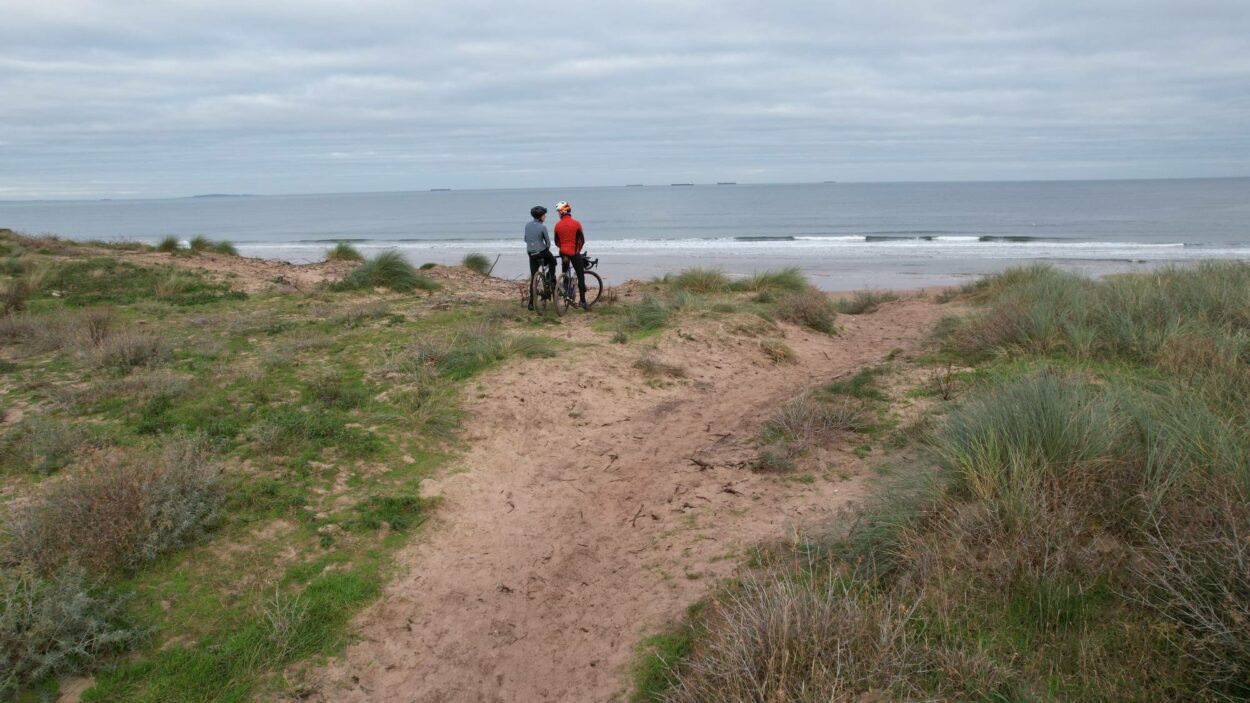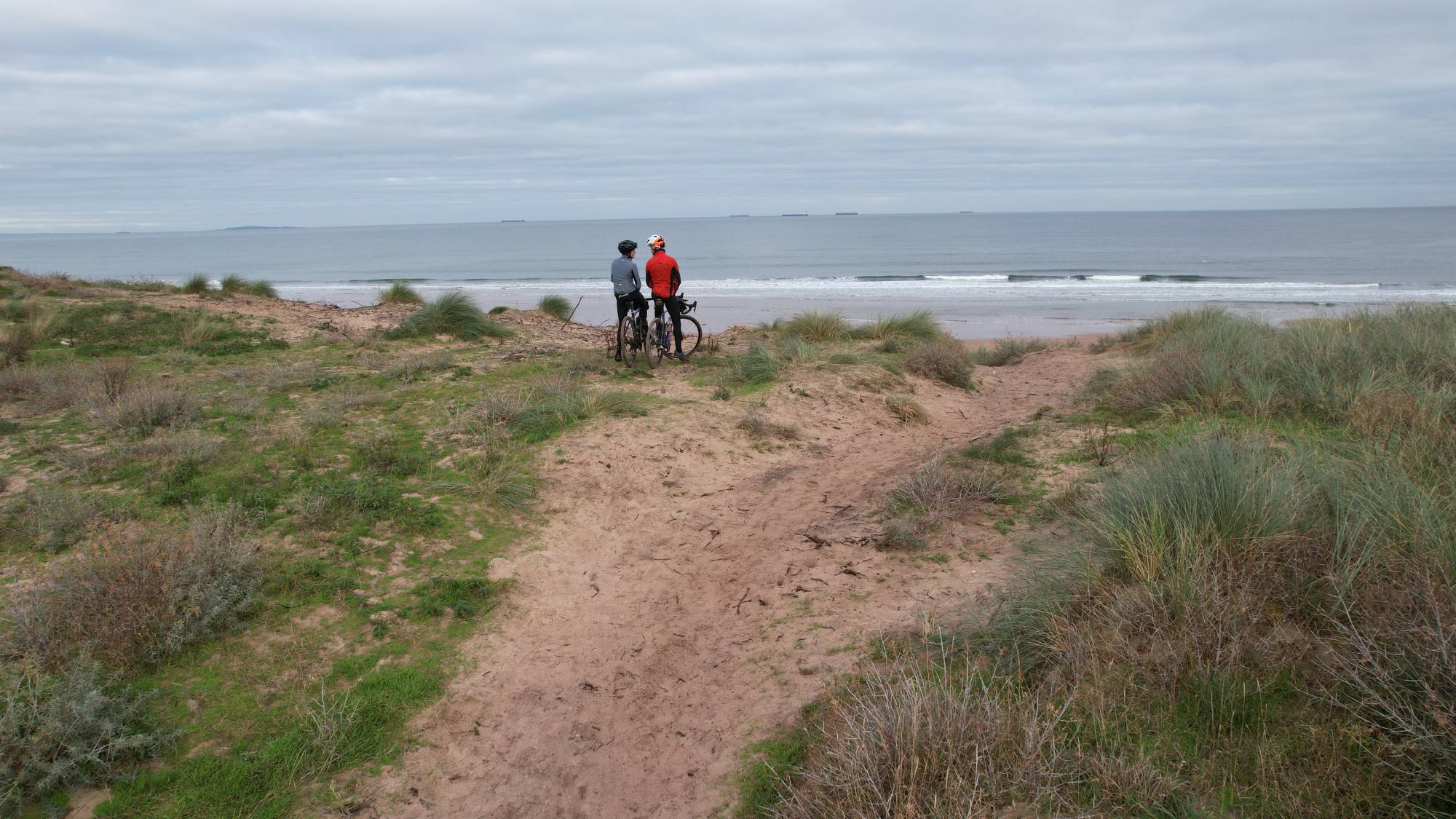 Route Details
Level: Intermediate Description: Flat or rolling terrain along quiet roads and tracks with a short main road section Time: 2.5 hours Profile: Total Ascent 109m / Highest Point 49m
Route Level Classifications
Introductory: Distance <15km / Terrain few to no hills Intermediate: Distance 15-35km / Terrain some hills Challenging: Distance >35km / Terrain hilly The distances may vary slightly from the classification depending on the amount of hills and the nature of the route.
View Points / Attractions Along the Way
Scottish Seabird Centre
- explore the wonder of Scotland's marine environment at the centre's 5-star Discovery Experience. Or take a boat trip to see stunning seabirds and marine life, from endangered puffins to the world's largest colony of Northern gannets, and maybe even dolphins.
North Berwick Law
- take a walk up Berwick Law, an ancient volcanic plug that erupted over 300 million years ago. At the top, enjoy the views under the whale's jawbone which marks North Berwick's seafaring past. You will also see part of an old look-out shelter from the Napoleonic Wars.
Seacliff Beach
- discover this hidden gem which is home to the UK's smallest harbour with spectacular views of the Bass Rock and Tantallon Castle.
Tantallon Castle
- climb the walls of the this imposing castle perched upon a clifftop with magnificent views across the Firth of Forth.  There is currently no visitor access to the castle or Doocot.  The castle grounds are open -
for more information
.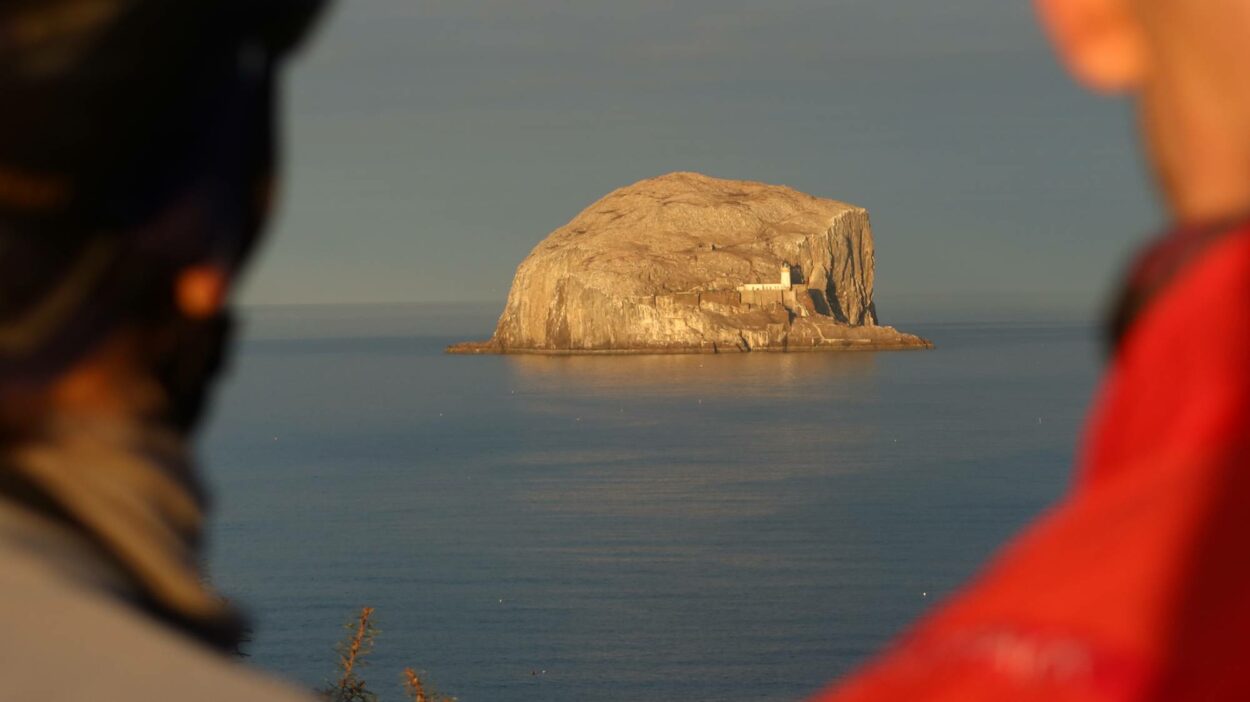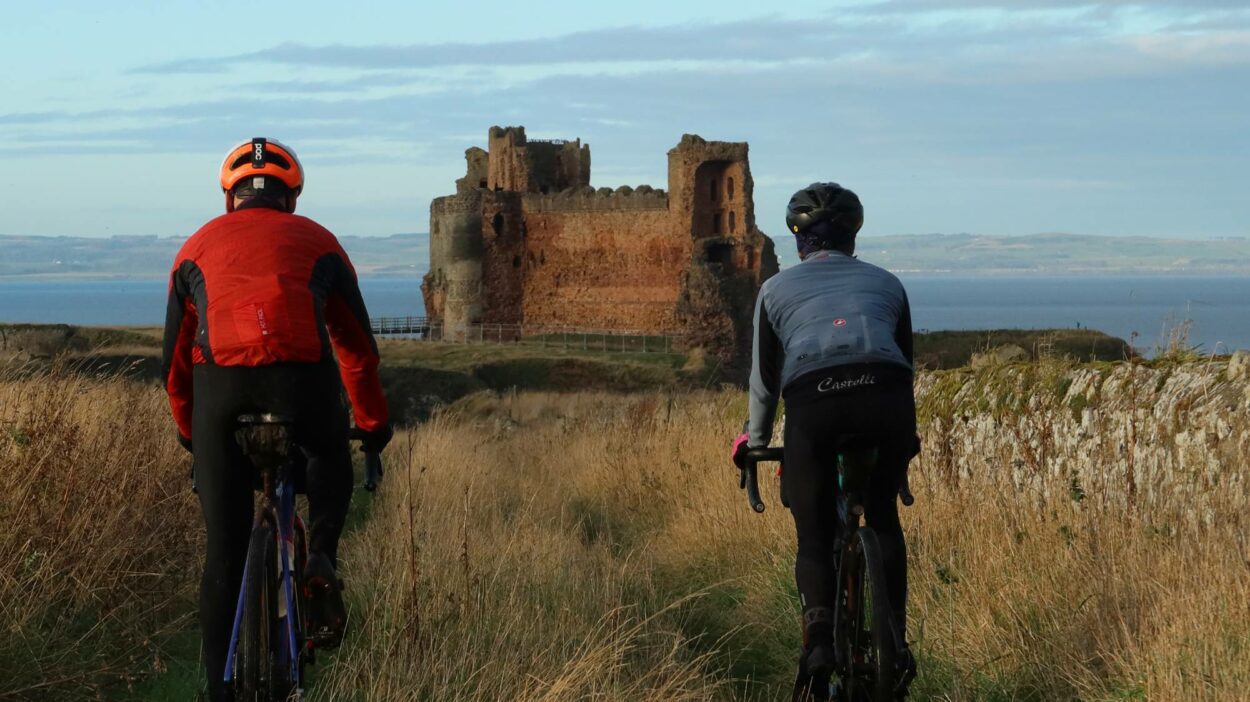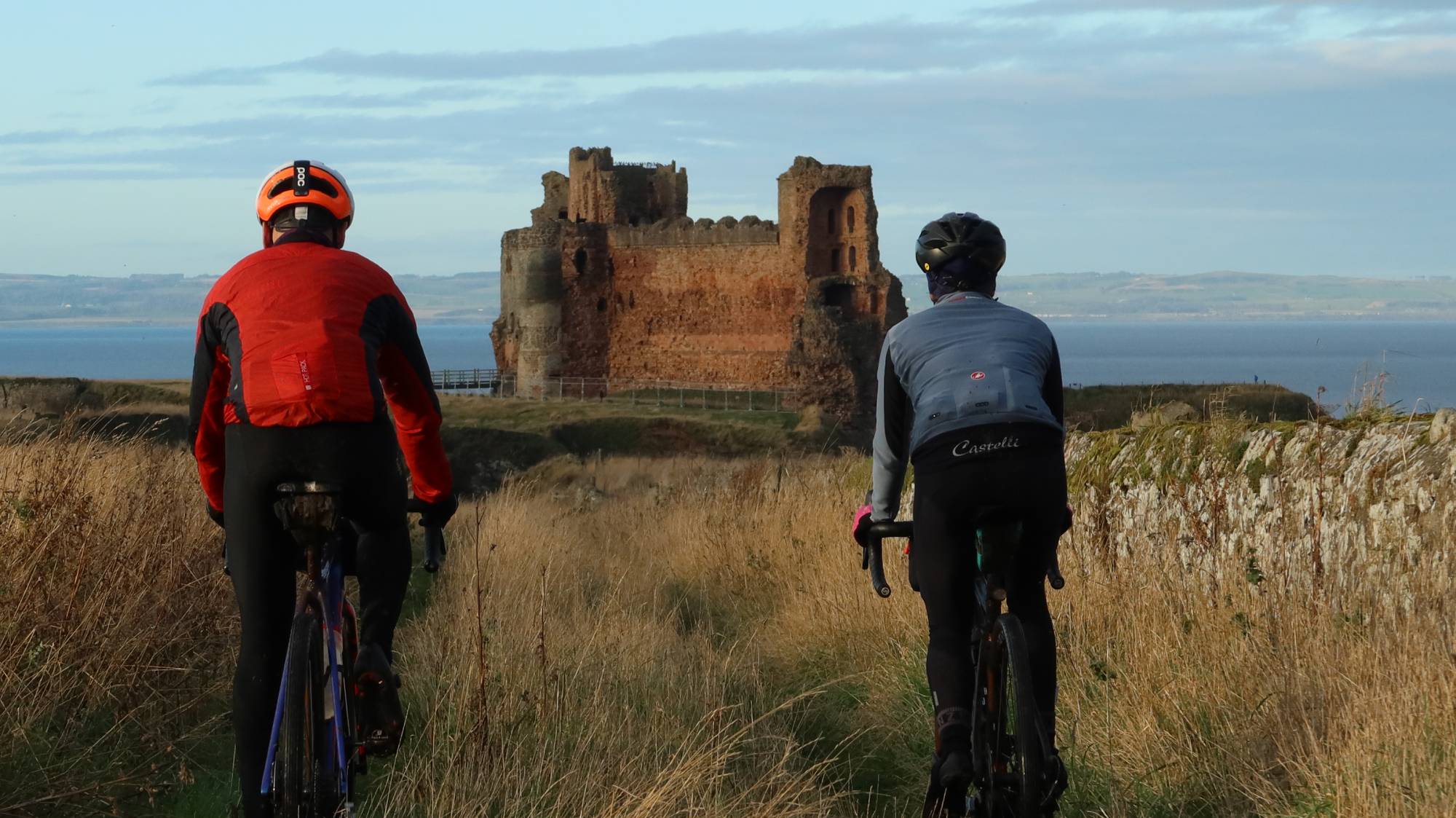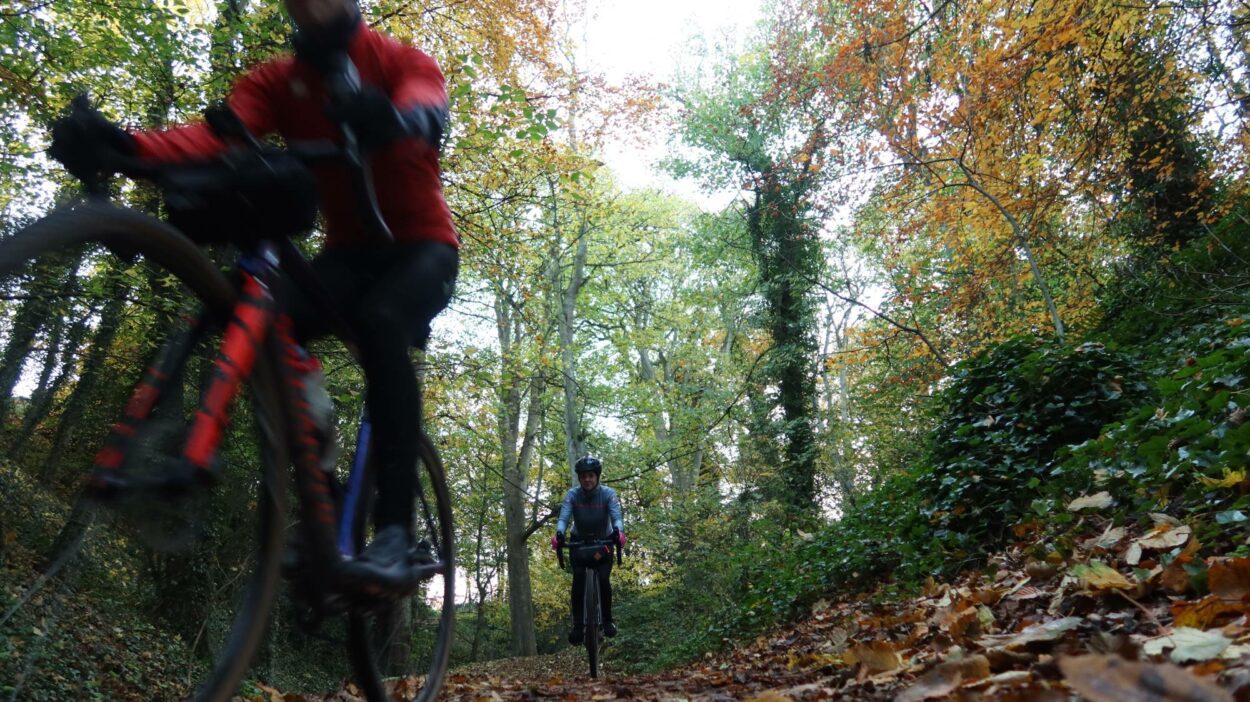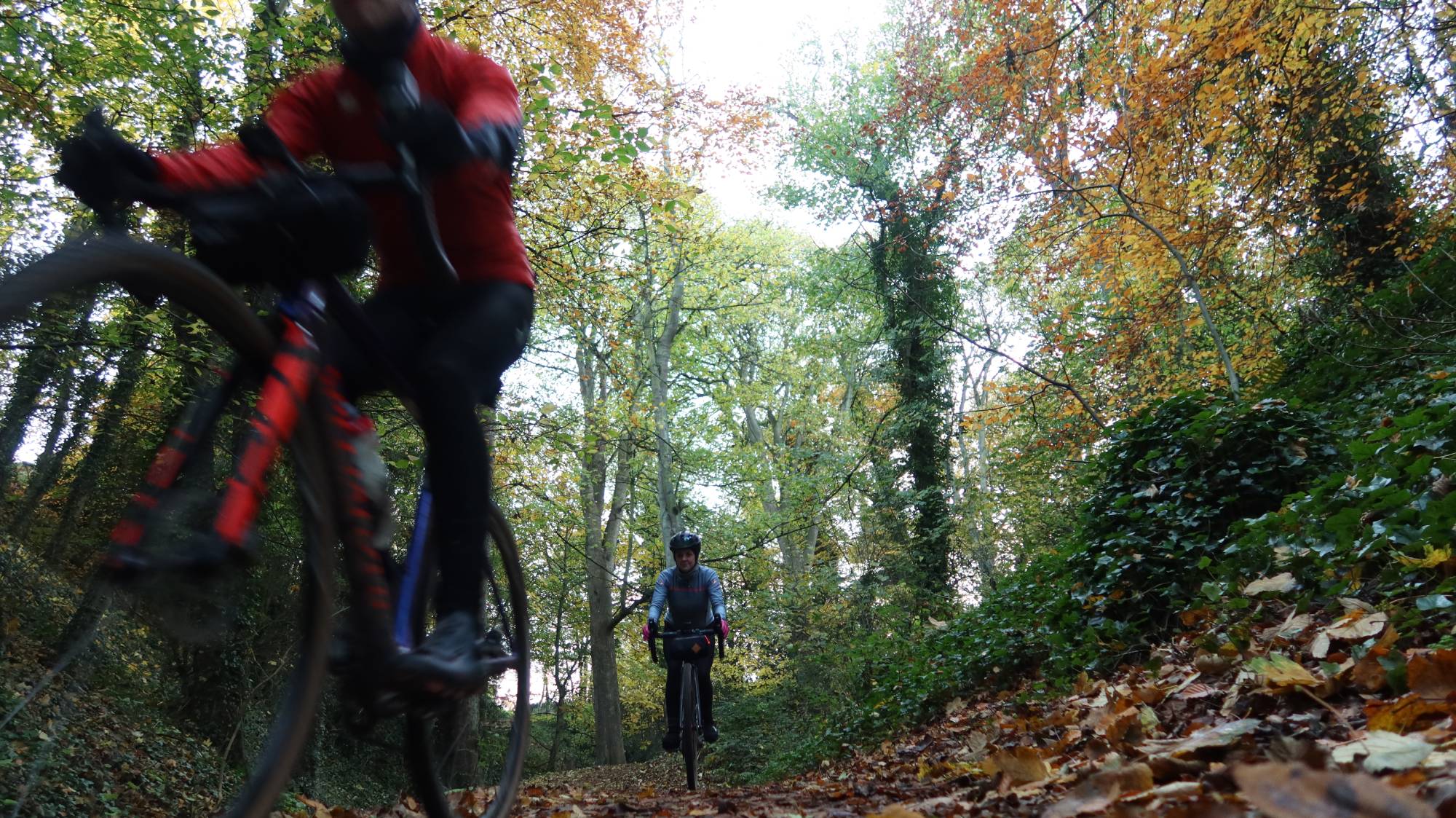 Friendly Stops Along the Way
Law Cycles, 2 Law Road, North Berwick, EH39 4PL - Tel 01620 890643
- offers a selection of cycle parts, accessories and professional cycle repair and cleaning service.
Drift Cafe - Canty Bay, North Berwick, EH39 5PL, Tel 01620 892817
- perfect for a pit stop, this unique coffee house situated upon the clifftops with breathtaking views across the Firth of Forth coast and the Bass Rock. Everything on the menu is freshly made using locally sourced or Scottish produce and champions all that is great about Scottish agri-tourism.
EZ Riders - Castleton Farm, North Berwick, EH39 5PN - Tel 07407 039747
- specialising in E-bike rental, leasing, tours and sales and can recommend loads of amazing routes, both on and-off road.
Scottish Seabird Centre - The Harbour, North Berwick, EH39 4SS - Tel 01620 890202
- enjoy locally sourced food and drink and soak up the amazing coastal views.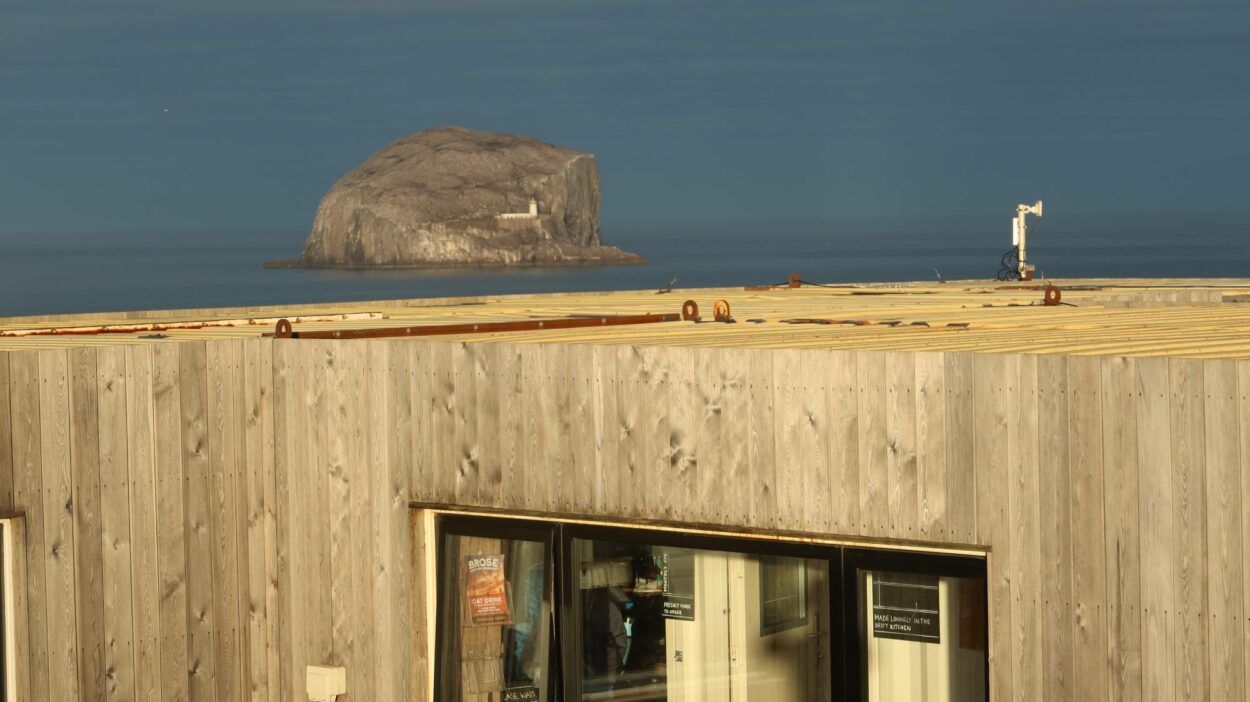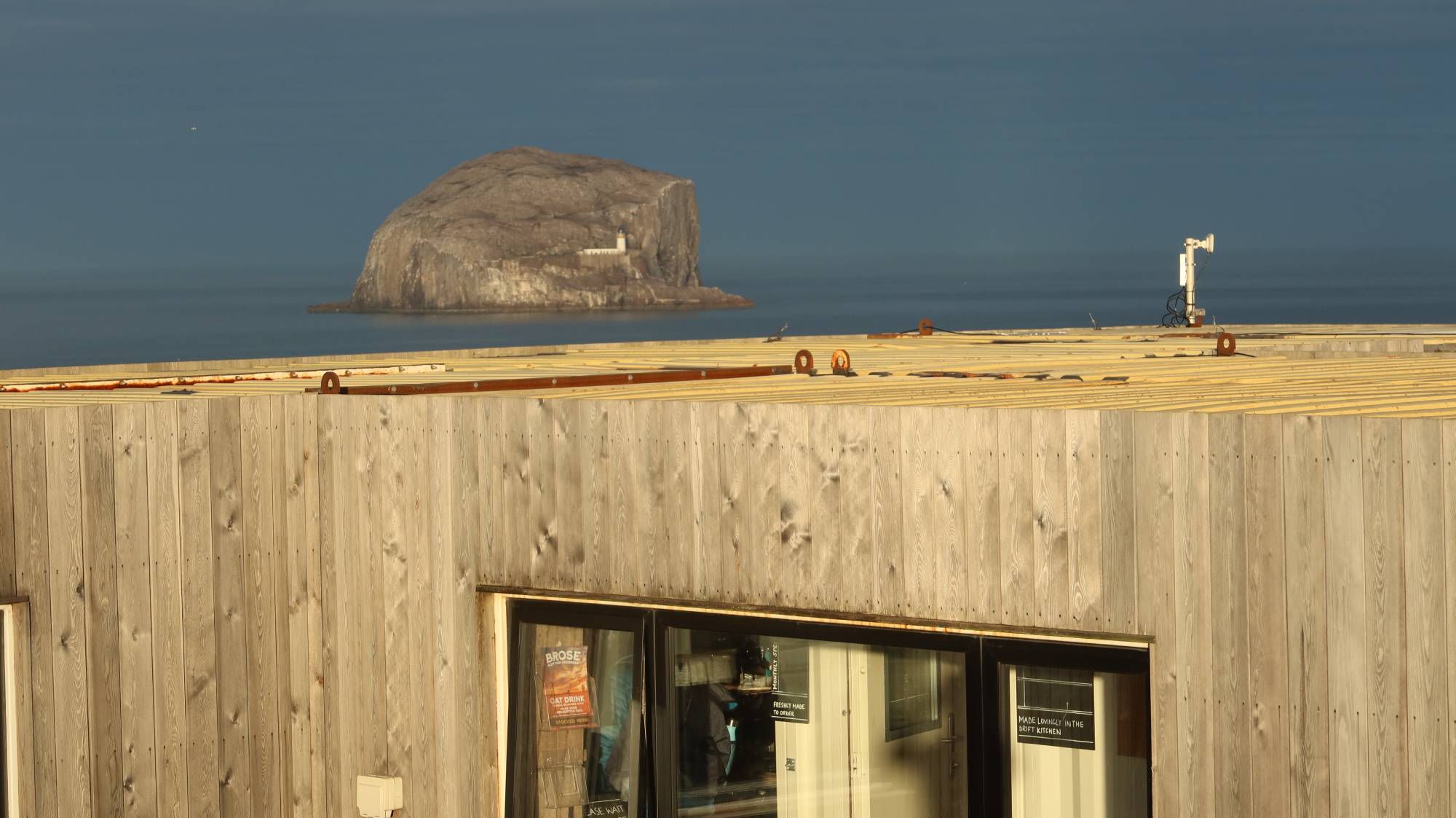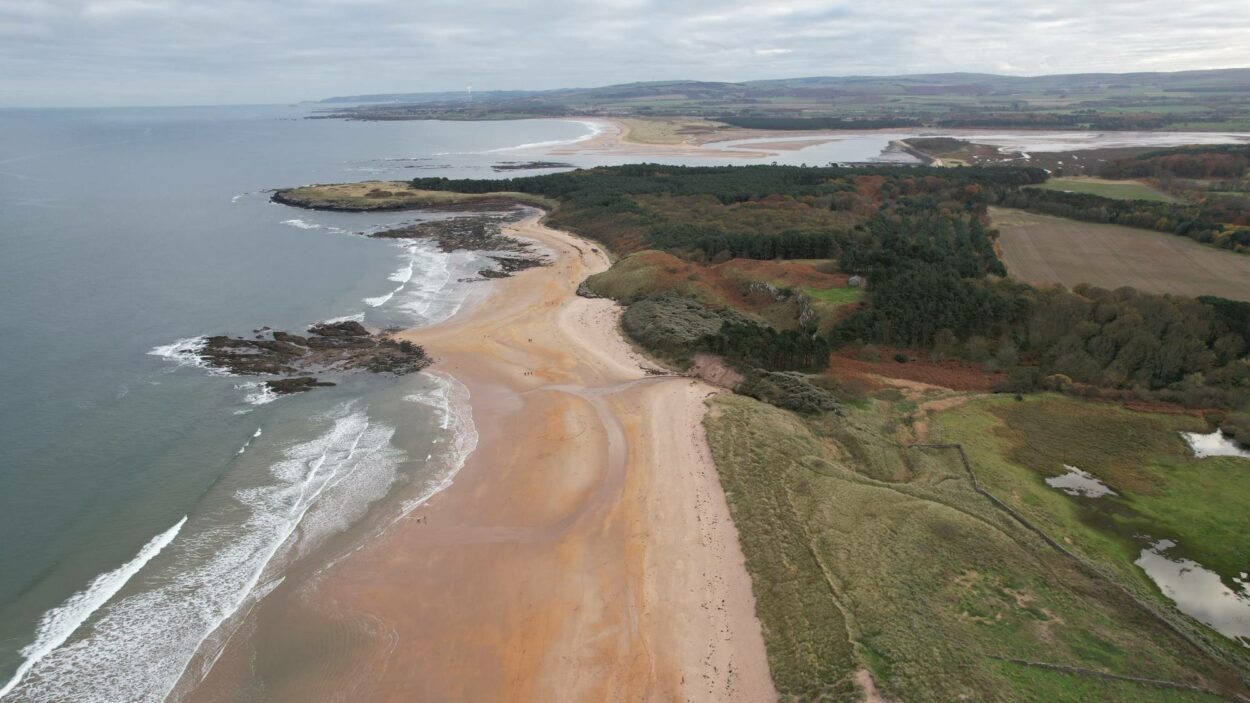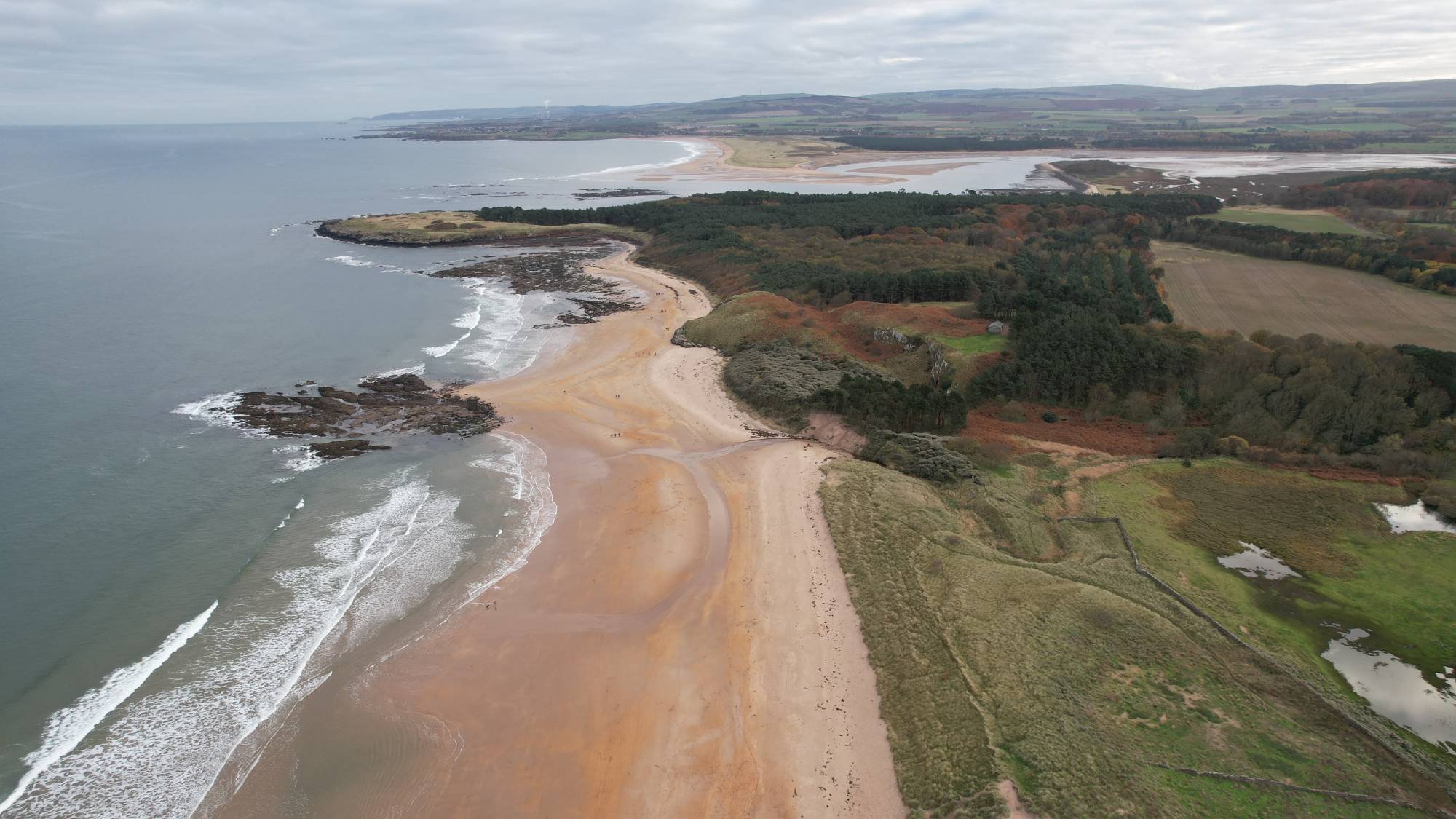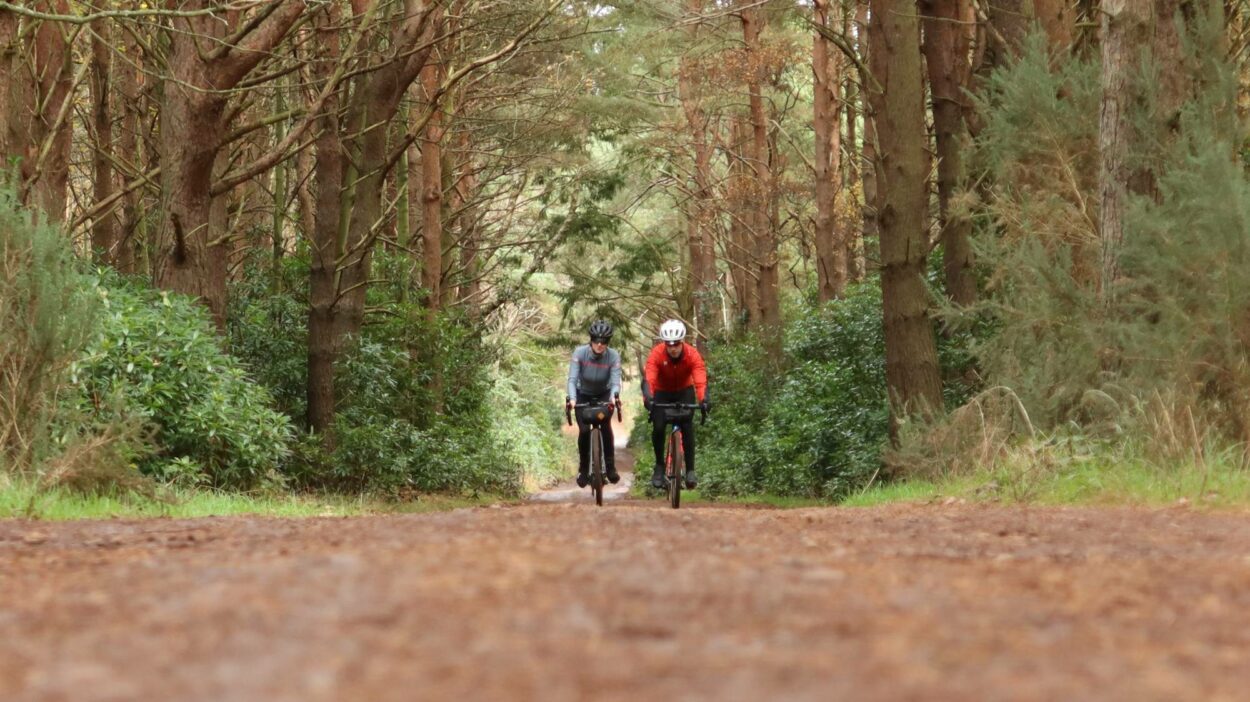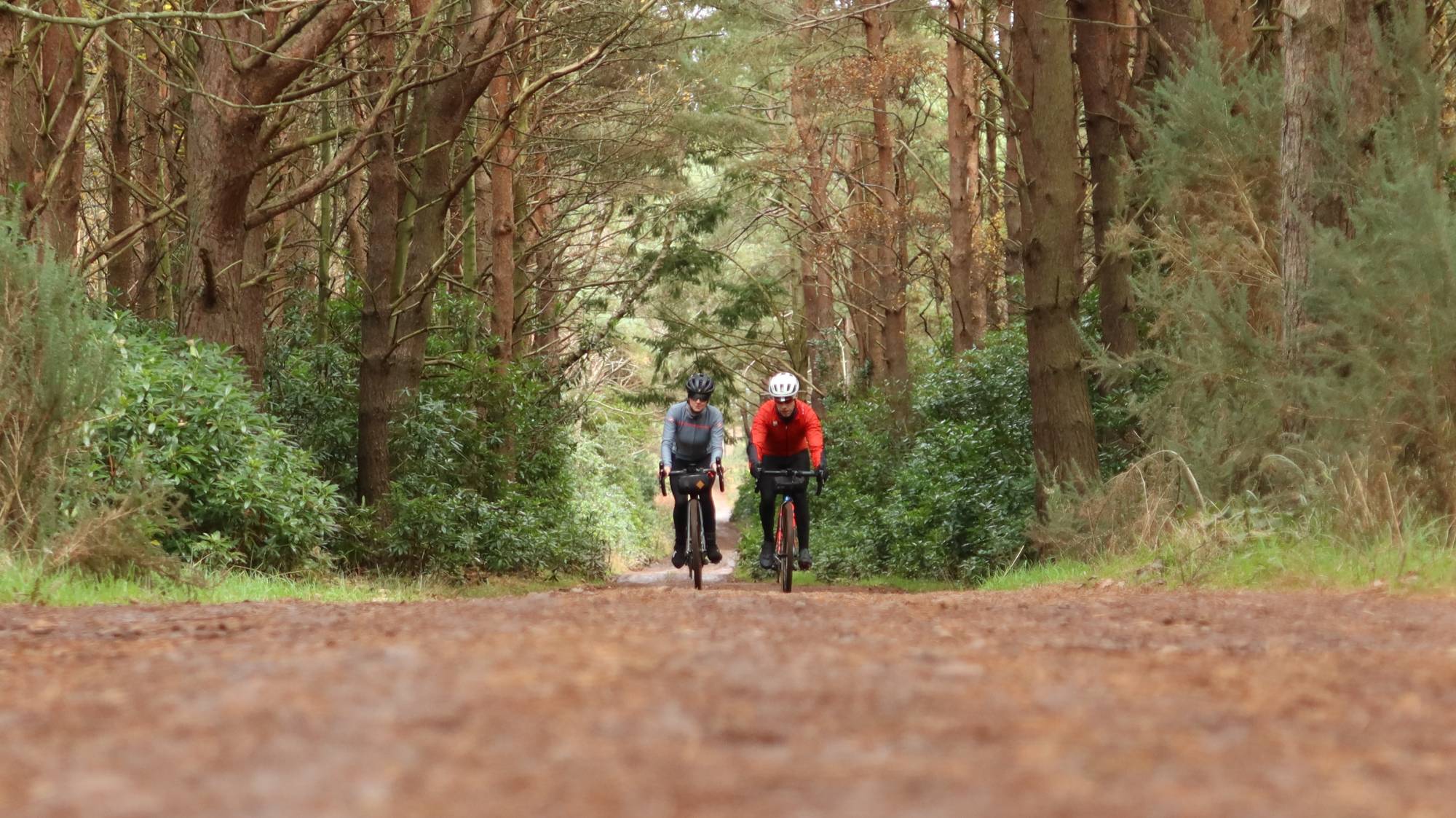 Check out the route highlights in the video below. For more East Lothian cycling inspiration visit
here.
Looking after our health and wellbeing has come to the fore during the Covid-19 pandemic.  And as we strive to find open spaces and places where we can relax, take time to reflect and look after ourselves, it is encouraging to see new ideas for outdoor activities and exploration.
Dunbar in East Lothian is the start or end point of the John Muir Way, one of Scotland's Great Trails linking Helensburgh in the west with John Muir's birth place Dunbar in the east. 
The 134 mile route takes you on a journey through Scotland's central belt exploring a rich and varied landscape, history and heritage.  East Lothian is home to three sections covering 41.5 miles and taking in some of the country's most scenic coastline from Musselburgh to Dunbar.  
For 2021 and Scotland's Year of Coasts and Waters, East Lothian is pleased to partner with the John Muir Way to bring a range of coastal off route itinerary suggestions for those looking to explore further.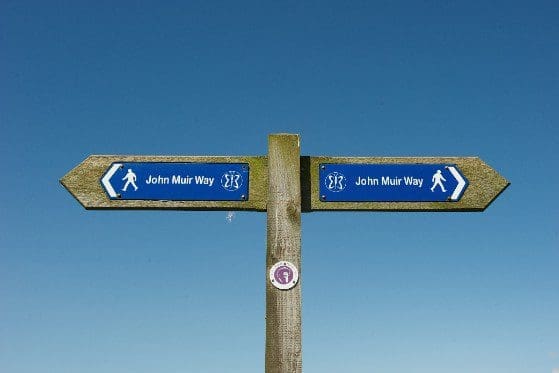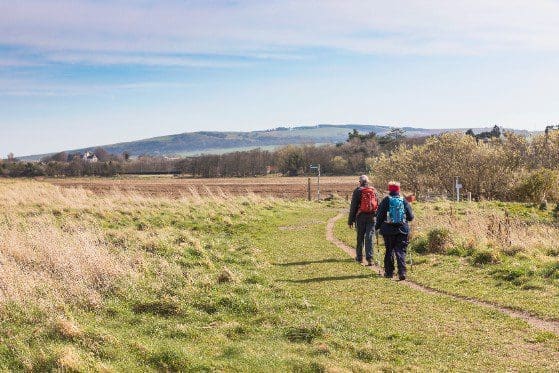 There are four walking routes and two cycling routes to try...
Walking routes:
Fisherrow to Port Seton - Just east of Scotland's capital city Edinburgh, lies Fisherrow Harbour in Musselburgh.  From here you can walk to the traditional fishing village of Port Seton, enjoying the rich birdlife as you go.
North Berwick Sandcastles - One of East Lothian's best loved seaside towns is North Berwick.  This route takes in sandcastles at the stunning Yellowcraig beach and an impressive Historic Environment Scotland castle with beautiful gardens at Dirleton.
North Berwick Law to Tantallon Castle - For amazing views you can't beat The Law in North Berwick and the vista from Tantallon Castle perched dramatically upon a cliff top.
Dunbar to East Linton - For some of the finest views on the whole route you need to walk the coast between Dunbar with its harbour, cliffs and miles of golden sand and the picturesque village of East Linton.
For more information on Walking In East Lothian
Cycling Routes:
Fisherrow to Aberlady - The Firth of Forth coastline from Musselburgh makes for a scenic cycle to Aberlady Bay nature reserve.
Dunbar to North Berwick - This loop takes you along quiet roads and sandy pathways covering East Lothian's most popular towns to visit. Cycling in East Lothian
For more information on Cycling in East Lothian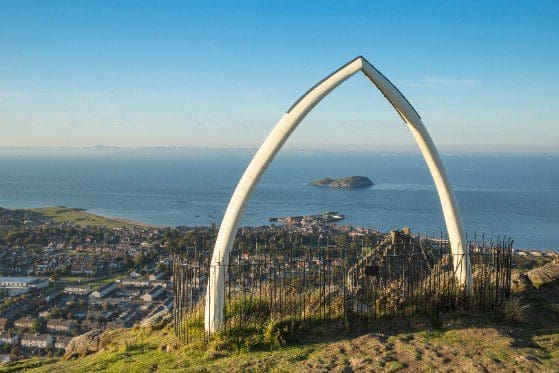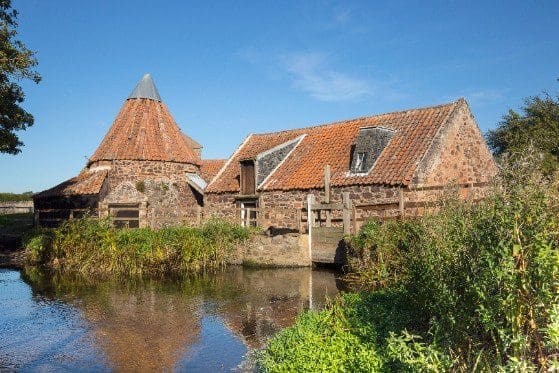 Speaking of the new itineraries, Elaine Carmichael spokesperson from Visit East Lothian, the region's destination marketing and management organisation, said: "As the birthplace of John Muir, East Lothian works closely with the partners on the john Muir Way and is particularly pleased with these new off route itinerary ideas.  We hope that they will inspire those who have already walked or cycled the route to explore further and enjoy East Lothian's great outdoors."
Gavin Morton, Marketing Development Officer for the Green Action Trust (the charity behind the John Muir Way) said, "It's been great to see the growth in popularity of the John Muir Way among walkers and cyclists taking on this coast to coast trail in recent years. Now, with the addition of 20 day trip ideas across the country, even more people can enjoy the landscapes, sights and sounds of central Scotland's great outdoors, whether it's a day spent exploring their local area, or a weekend trip further afield."
Visit here to plan your East Lothian John Muir Way micro adventure!
Like so many others, I go through fleeting phases of active fitness and gym-going, but what I really enjoy, and something that never wears thin, are long walks through some of Scotland's greatest landscapes.
More so, it's heading out with a friend (even better if they have a dog!), walking for miles at our own pace whilst chatting away, stopping for the occasional picture and visiting new locations!
The fresh air and sense of accomplishment that I feel when I come home, hand in hand with memories of incredible views and picturesque stops, is hard to beat. And for this reason, I was really excited to take on part of the John Muir Way.
If you aren't familiar with the name John Muir, he was born in Dunbar, Scotland before immigrating to America. He became a very well-revered conservationist among many other things and is often referred to as 'The father of national parks in the United States', keen on preserving natural wonders like the Sierra Nevada and Yosemite and protecting them from exploitation.
The John Muir Way is a 134 mile, walking and cycling route that connects coasts, villages and towns across Scotland, from Helensburgh all the way to John Muir's birthplace, Dunbar.
Obviously, that is a mammoth distance to undertake and can take several days to complete. Unfortunately, this is time that we did not have available, but thankfully, there are many smaller routes on the trail that you can complete at your leisure.
The trail has been split into 10 sections, each with its own incredible offerings. So, not only can you enjoy the captivating scenery but you can also learn more about the culture and history of Scotland, whether that's by travelling through our first National Park, Loch Lomond and The Trossachs, experiencing nature and beaches, visiting The Falkirk Wheel and The Kelpies, admiring The Forth Bridges in South Queensferry or climbing Arthur's Seat in Edinburgh.
I have already experienced some of the things mentioned above, so we decided to travel somewhere entirely new to us both and chose to visit East Lothian, particularly, North Berwick. There were a few reasons why we decided to visit East Lothian but primarily, we wanted to see the Bass Rock, Tantallon Castle, Preston Mill and Phantassie Doocot.
Hiring a Bike
Upon arriving in North Berwick, we sought out one of the many bike hire shops in the area. I know it's not always an option to take your own, or perhaps you don't own your own, so this is a really easy and accessible way to partake in some outdoor activities without the added stress or packing.
The first shop that we came across was Law Cycles who not only sell bikes and bike equipment for children and adults but offer bike and electric bike hire. You can hire bikes for as little as £20 for a 1/2 day which includes your safety equipment such as helmets.
We had definitely taken the time to plan our chosen path as we really wanted to make the most of our visit. For us, we knew that the route itself would be very scenic but we were particularly keen to visit as many of the points of interest as we could manage, and as we struck lucky with the weather, we chose to set off early to achieve this.
Climbing North Berwick Law was initially high on our agenda of places to visit but we didn't feel that we would have enough freedom in the time that we had, so we are going to save this as a walking route for another visit.  However, if you do have the time, I think this would be a great one to add to the list!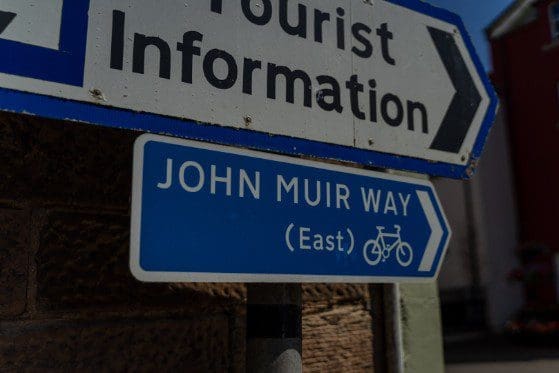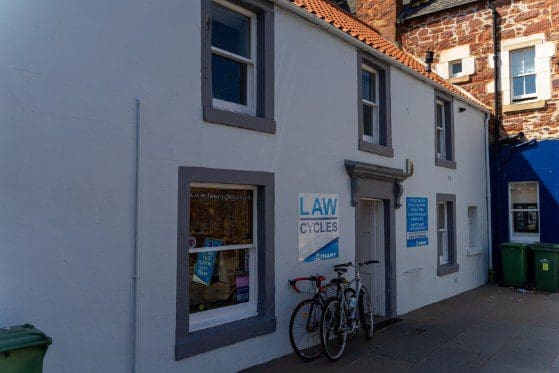 Tantallon Castle
First off, we stopped at Tantallon Castle.  Our accommodation was near Tantallon Castle, we had driven past it numerous times, I had seen it in the distance whilst on our trip to the Bass Rock and I just knew that it had to be top of the list of places to visit.
I think there's something so bewitching about cliffside castles, but sadly, at the time of visiting there were some structural checks happening and we couldn't gain entry to the castle itself. However, this is somewhere that we will definitely return to complete that experience and although we couldn't enter the castle, we did have access to the surrounding grounds.
This was still ideal for us, we had a lovely sunny day, with barely even a breeze and as the first people to arrive, we had the grounds to ourselves. We took the time to walk around, reading the many signs and taking it all in. If you are a fan of history, I would highly recommend visiting the castle but I also think it would be an exciting stop for families because it is so enchanting, with plenty of space to run around.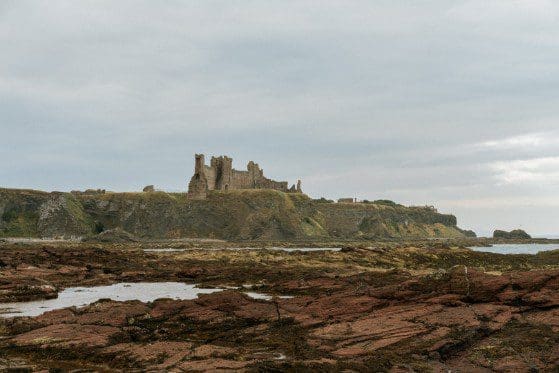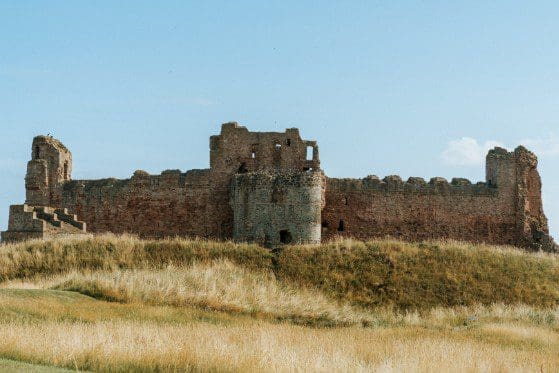 Dunbar
Last up on our John Muir Way journey, was a trip to Dunbar.  As John Muir's birthplace, it seemed a fitting place to end our experience.  It meant turning back on ourselves from Preston Mill and took just over half an hour to reach but again, it was a lovely day and we got to pass some amazing sights.
If you are visiting with children, friends or family, another stop you might want to make on your trip, is to Foxlake Adventures which sits on the edge of the John Muir Way. This looks great for water sports, ziptrails and some segway fun.
John Muir Country Park
We ended our trip with a visit to John Muir Country Park.  John Muir Country Park is a wonderful place to visit if you love the outdoors and seeing more of the nature John Muir was so passionate about.  From the grasslands, saltmarsh, bird watching, spotting wildflowers and finally the beach at Belhaven Bay and the 'Bridge to Nowhere' – you won't be disappointed.
Pictures of 'The Bridge To Nowhere' have appeared on my social media over many years and it was great to finally visit. People were learning to surf and canoe around this area, especially the bridge when we arrived, and I couldn't help but feel that this would be a very idyllic location to grow up.
We took some time to sit on the sand and soak it all up before we had to leave. It brought a real sense of calm and serenity. Many happy memories!
When I mentioned to friends and family that we were initially looking to visit North Berwick, I was met with many coos of envy. It's a funny thing, we have all heard such wonderful things about the area, yet many of us had never been before.
I have done nothing but recommend visiting since my return. What an adventure!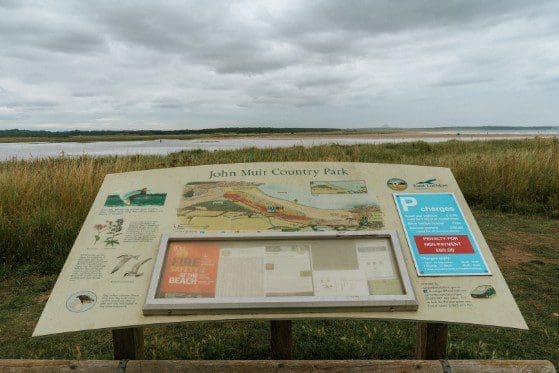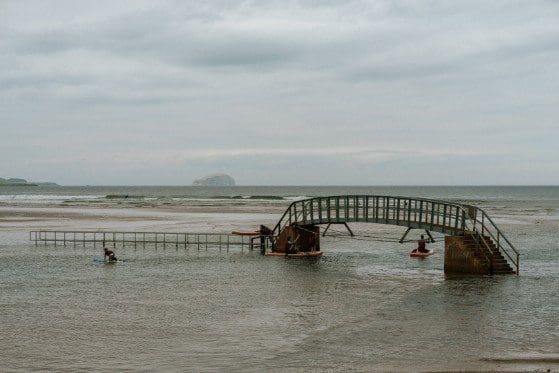 On 21st April 1838, East Lothian's most famous son John Muir was born in the town of Dunbar.  Muir became known the World over as a farmer, inventor, botanist, geologist, explorer, mountaineer, writer and pioneer of nature conservation.
His early formative years were spent in East Lothian, and it was there exploring the countryside and coastline that he developed a lifelong love of nature and the great outdoors. A love which would earn him the names 'John of the Mountains' and the 'Father of National Parks'.  
He left Scotland aged 11 with his family to start a new life in Wisconsin, America.   His introduction to Yosemite Valley, California, resulted in his campaign to preserve wilderness for wilderness' sake. This led to the establishment of the world's first national park system. Today he is remembered as a pioneer of the modern conservation movement.
John Muir Day
On 21st April, we remember John Muir who would have been 180 years old this year.  A range of celebrations are taking place across Scotland including some special events in his birthplace of East Lothian.  Look out for offers and activities at Newhailes House & Garden, Belhaven Bikes, Archerfield Walled Garden, John Muir Birthplace, East Links Family, East Lothian Museums, Historic Environment Scotland and Youth Enterprise Trust.  For more information visit here.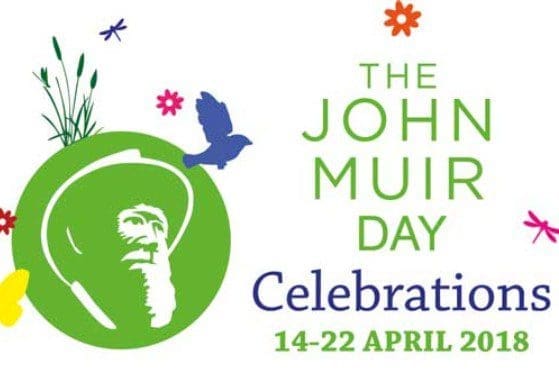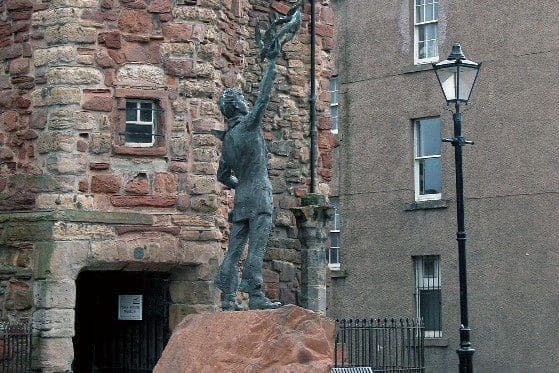 The John Muir Way
The John Muir Way was opened in 2014, to coincide with the centenary of his death. The 134-mile, long distance walking and cycling route starts in Helensburgh on Scotland's West Coast. This is where the young John Muir sailed off on a ship with his family, to begin a new life in America. From Helensburgh the route winds eastward, eventually passing through Edinburgh, before reaching East Lothian and ending fittingly in Dunbar.
If the thought of a long-distance walk makes your feet hurt, you could try one of the ten shorter sections of the route instead. The final 15-mile stretch runs from North Berwick to Dunbar. It passes through some stunning countryside and coastline, skirting by North Berwick Law, which can be climbed as an optional detour for those feeling particularly energetic. The walk to the summit is short and steep and the views are rewarding, so it's well worth a little extra effort to climb. For Outlander fans, there's the historic Preston Mill , where a certain Highlander called Jamie Fraser bathed in the river by the mill in a scene that's become a firm favourite with fans! The John Muir Way ends on Dunbar's High Street at the house where he was born, which is now a museum.  A must for anyone with an interest in Muir's life is a visit to his Birthplace Museum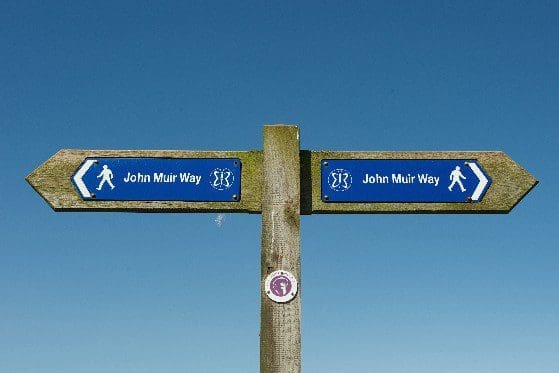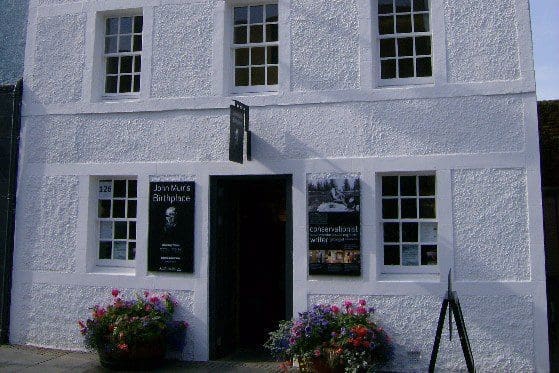 Dunbar today
Dunbar remains popular with visitors today. It's a vibrant harbour town with a good mix of tourist accommodation, shops, eateries and things to do. It's a town where the great outdoors lies directly on the doorstep in the form of rugged cliffs, beach and parkland. It's a wonderful place to enjoy a short break or day trip. Why not pay it a visit to get better acquainted with its most famous son and discover the wildlife, countryside and coastline that sparked his lifelong love of nature. You never know it may even ignite something in you too.