Three Days Discovering East Lothian's Hidden Gems
East Lothian is the perfect place for travellers seeking a relaxing rural retreat, with the added option of plenty of active adventures to throw into the mix!
Known as "Edinburgh's coast and countryside", East Lothian boasts over 40 miles of beautiful coastline complemented by rolling countryside that's studded with attractions to satisfy every type of explorer.
Of course, there are plenty of well-known spots of interest that are worth exploring. You can wander around North Berwick with all its wonderful attractions, go to the fascinating National Museum of Flight and enjoy stops in quaint towns and villages you'll find on your journey.
But while the term "hidden gem" may seem overused elsewhere, East Lothian truly is full of lesser-known places that are fantastic to visit!
Planning a short stay in the region is easy and can be as relaxing or action-packed as you would like. We would recommend at least two nights and three days to make the most of your time to adventure and relax, and get a real feel for the area.
Below is our ideal short itinerary for East Lothian for those seeking to visit the just as interesting but less widely known spots in the area.
Day One
To ease you into your break and help you de-stress, your first day in East Lothian should be a relaxed and easy affair! How long you have to spend exploring will depend on the length of your journey so take some time to settle in too.
We suggest visiting two spots near the town of Haddington, plus a further one or two if you have the time and feel the urge.
Hailes Castle
Dating back to the early 1200s and perched on the banks of the River Tyne, Hailes Castle is one of the oldest stone castles in Scotland.  It was extended through the 1300s and 1400s, but its days as a stronghold ended in 1650 when Cromwell invaded from England. 
The castle also has a connection to Mary, Queen of Scots, and it's believed her third husband, James Hepburn, 4th Earl of Bothwell, was likely born there. He and Mary stayed there when travelling from Dunbar to their wedding at Holyroodhouse in Edinburgh in 1567.
Visiting Hailes Castle is free, and while it may not be the most impressive castle ruins in Scotland, it's a wonderfully peaceful location that's perfect for a stroll or a riverside picnic, and a lovely introduction to the historical sites that East Lothian has to offer.
Butterdean Wood
Butterdean Wood makes for an easy but picturesque walk through woodlands that are often teeming with wildlife, including birds like the wren, chaffinch, and goldcrest, known as the king of birds due to its crest of golden feathers. 
The woods are also home to roe deer, foxes and even badgers. You're most likely to spot the latter three at dawn or dusk.
If you're travelling in spring, look out for the beautiful wildflowers and butterflies that thrive at that time of year.
There are two marked routes at Butterdean Wood, the longest of which takes around 1 to 1.5 hour and provides a pleasant escape from the hustle and bustle of a busy life.
From here you can venture into Haddington to one of the many cafes and restaurants, or if the weather is good, consider a picnic at nearby Longniddry Bents on the coast. At Longniddry Bents, car park 3, you'll find the mobile Alandas Fish & Chips. Their handmade chips are especially delicious!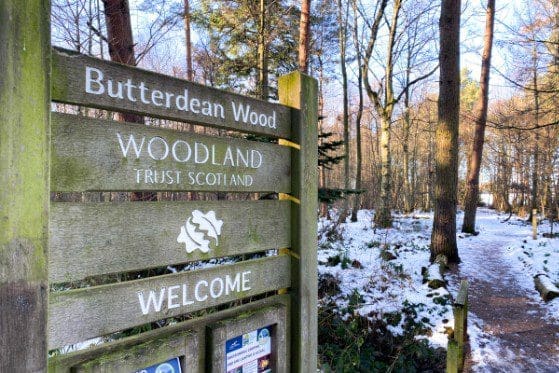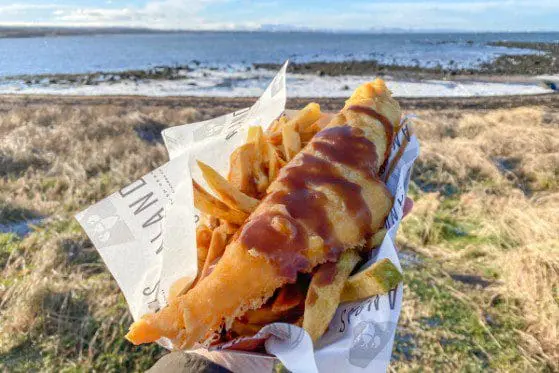 Day Two
For your second day in East Lothian, we have two options, depending on your idea of fun!
John Muir Link Walkway
The first option is to walk the John Muir Link, a lesser-known trail that spans from Dunbar to Cockburnspath, taking in almost 17 kilometres of coastline while walking along grass paths, beaches, and tracks across fields. It's a little steep at times and does involve some stairs, but the coastal views are absolutely worth it. A fantastic way to clear away any cobwebs!
The John Muir Link had initially been part of the famous John Muir Way, which starts in Helensburgh and is named after the author and naturalist born in Dunbar, where the coast to coast trail now officially ends.
The John Muir Link is now the connection between that route and the Southern Upland Way and Berwickshire Coastal Paths.
We recommend taking your lunch with you as there's not much in Cockburnspath by way of shops, except for a quaint Village Hall Cafe with limited opening days and hours. Also, be sure to time your walk so as not to miss the return bus to Dunbar. Expect to spend about 4.5-5 hours walking the trail, allowing for photo breaks and rests too!
Pressmennan Wood & Beaches
If you want to escape into the countryside but you're not so keen on a full day of walking, visit Pressmennan Wood instead. The longest route takes about 1.5 hours, but there is a shorter version too. You'll walk alongside Pressmennan Lake, one of only two official "lakes" in Scotland, before circling into the forest to return.
Keep an eye out for carvings of woodland creatures and their homes (Glingbob and Tooflit doorways) in the trees! It can be muddy at times, so wear suitable footwear.
After your walk, head to some of the easterly East Lothian beaches like Thorntonloch, Whitesands, or Tyninghame.
If you're ready for a refreshment then the Tyninghame Smithy nearby has lovely homemade cakes and tasty food with tables available both inside or out if the weather is good.  If you're heading further north be sure to pop into Drift, a stunning cafe built inside converted shipping containers and with breath-taking views from the cliffs across to Bass Rock. 
Complete your day with a visit to Dunbar and its many independent shops and eateries, plus the excellent John Muir's Birthplace museum.  It's free to enter and perfect if you'd like to learn more about the town's most famous son.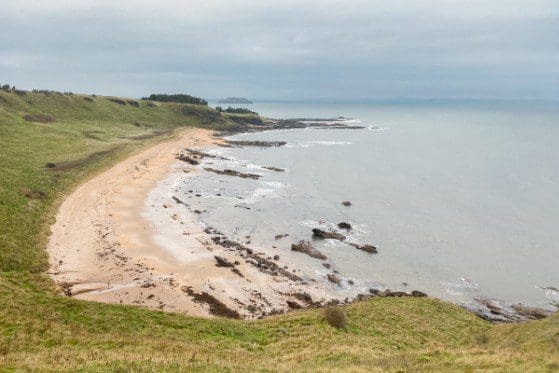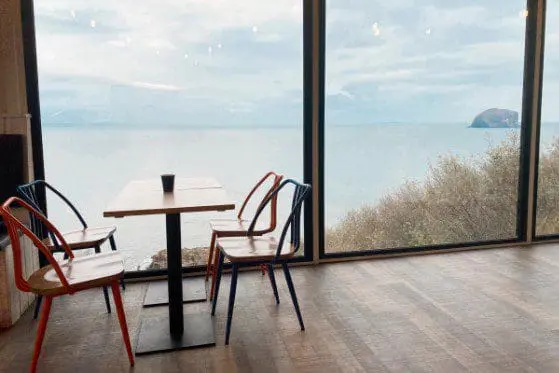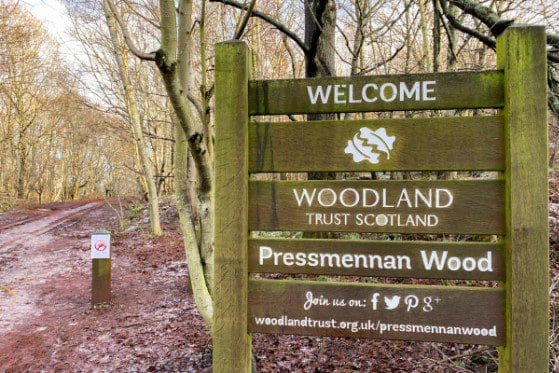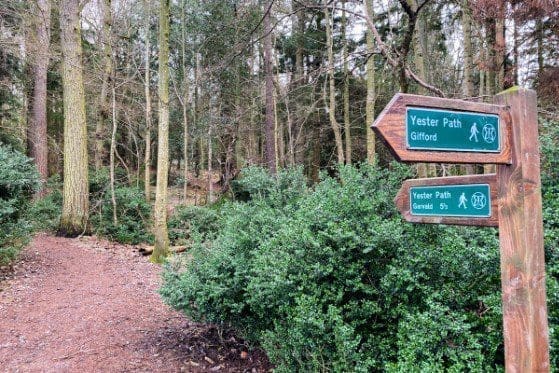 Day Three
Your last day in East Lothian also offers a wealth of options. The first is a little more adventurous (and mysterious!), or if that's not for you, then we have some suggestions for more well-known East Lothian highlights.
Gifford Village & Yester Castle
Gifford Village is a small picturesque village just south of Haddington.  It was developed on the former site of the village of Bothans, outside the gates of the Yester Estate.  It's worth visiting simply to wander the pretty streets, visit the church (between Easter and October), and enjoy some coffee and cake at the excellent Lewis & Clarke cafe or the Lanterne Rouge cafe.  Both have delicious homemade food!
However, we're also sending you to Gifford for another adventure!  When you get there you may notice that there is a pub hotel called the Goblin Ha, which is an intriguing name to say the least.  It's actually named after a hall in the nearby Yester Castle, and your adventurous destination for the day. 
Yester Castle was built by Sir Hugo de Giffard, the grandson of the first Laird of Yester, and the so-called Wizard of Yester. He was reputed to be a necromancer, someone who communicates with the dead, and rumour has it that the castle was even built by Goblins! De Giffard built an underground hall called the "Goblin Ha", which had a further staircase down to a well known locally as the "Staircase to Hell".
Although much of Yester Castle now sits in ruin, the Goblin Ha remains well preserved, including its stunning Gothic ceiling. And you can go and visit!
It is a free attraction and therefore unattended and not looked after, so we have to warn you that you should visit with caution, and it can only be reached on foot by various walking routes around the town of Gifford.
Once there, you'll venture down a small tunnel into the hall itself, which is lit by two ground level windows. It's a little dark so it's worth bringing your own light source. We also suggest uploading an ordnance survey map of the area to your phone to help you in your search for the ruins as the Google Maps location isn't entirely accurate.
The ruins are found in the middle of woodlands and can be accessed by three different routes. Route one is from Gifford itself, where you can walk through the town and then along Yester Path, watching out for the castle ruins. Route two is from the other end of the Yester Path at Danskine Loch, and is a shorter option, but there is limited parking at the start of the path. Route three is via the Castle Park Golf Course.
Here are some more detailed directions:
Route one From Gifford: Park in the village centre and walk along The Avenue. Before the gates at the end of the avenue, you'll see a small path on the right hand side with signs towards Park Road. Follow this and turn left along Park Road, and at the end of the road, you'll see a gate through which the Yester Path begins. It follows a route through the woodland in the Yester Estate and alongside Gifford Water towards Danskine Loch. If you were to complete the whole walk, it's 3.5km one way, but you'll want to start looking around for the castle on your right at about halfway, hence the need for an OS map! After exploring the castle, you can return via the way you came to Gifford.
Route two from the Danskine Loch end of the Yester Path: There's space for around 1 or 2 cars at the junction Danskine Lodge B6355 (be careful not to block access), and from here it's about 3km/2miles return to Yester Castle. The track will take you along the Gifford Water until just before Hopes Burn, where you can descend on the path to the right and then continue ahead until you cross a bridge across Hopes Water to Yester Castle.
Route three from Castle Park Golf Course: You may need permission to park and walk this option as you'll be walking alongside the golf course. Follow the stone wall around the perimeter until you see a path that veers off to your right through the woods. At the end, take the right-hand side again and keep right until you cross an old stone bridge and find the castle. Once again we'd suggest a map just in case!
To get to Goblin Ha: Some people have trouble finding the Goblin Ha even when they reach the Yester Castle ruins. You need to look for the Curtain Wall opposite the main remaining tower, go through this and then follow a steep path down towards the river. There's a small door with a passageway that leads to the Goblin Ha. Watch out for the further staircase inside.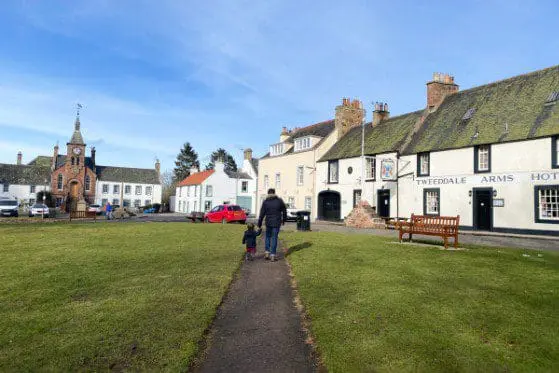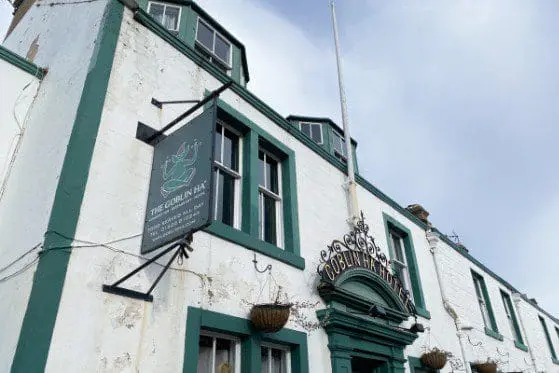 More Popular East Lothian Spots
We really do think Gifford is a charming place to visit and a lovely spot for a walk, but if it's not for you, then you can consider some more well-known sights around East Lothian.
The Glenkinchie Distillery is the Lowland home of Johnnie Walker, and their Edinburgh Malt provides one of the four whiskies blended to make up this iconic brand. 
Their newly refurbished Victorian distillery provides whisky tours and tastings, a lovely gift shop, and a beautifully designed bar area where you can enjoy drinks and platters curated from Scottish produce.
You can relax and enjoy yourself while overlooking the peaceful gardens and stream outside.
Scotland's National Museum of Flight is located at the East Fortune Airfield and is home to one of the 18 remaining Concorde in the world, as well as a Vulcan from the Falklands War, a de Havilland Comet, the world's first commercial jet plane, and hangars full of military aircraft and those used throughout the years in civil aviation.  It's a fantastic place for the young and old with so much to see and learn about!
The Scottish Seabird Centre at North Berwick provides another opportunity to learn, this time about the seabirds and mammals found in the surrounding sea. You can also go on one of their wildlife boat trips and enjoy an hour-long cruise to Bass Rock, home to the world's largest colony of Northern gannets, and around the island of Craigleith. 
Where to Stay
To add to your unique experience exploring East Lothian's lesser-known parts, we would recommend the following quirky accommodation.
Secret Cabin, Seacliff
Their tagline is "Switch off and unwind", and that's precisely what you can do in this picturesque cabin nestled amongst the woodlands at Seacliff. The cabin may be compact, but it has everything you need, with a double bed, full kitchen, and shower room.
There's even a log burning stove for chillier nights or a BBQ/fire-pit to enjoy outside if the weather's nice. Stargaze from the cabin or walk down to the nearby beach. You won't forget this unique and secluded accommodation experience anytime soon!
Harvest Moon Holidays
Harvest Moon offers various glamping options at their beachside location, including tree houses and beach cabins as well as a cottage. The treehouses have two bedrooms and an ensuite bathroom with an octagonal living area and a fully kitted kitchen. While they do have electricity there's no wifi or TV, so you can relax without distraction. A raised deck area provides excellent views across to Bass Rock out at sea or to the woodland behind.
The beach cabins are unsurprisingly located right next to the beach with sand dune and farmland views from the veranda. They include two bedrooms and a cosy "cupboard" for extra sleeping space, as well as a living area, kitchen, and ensuite bathroom.
There's no direct power, but there are charging facilities on-site and lanterns are provided for light, plus ice packs for the coolers that act as your fridge.
Staying at Harvest Moon will enhance your restorative weekend away and provide a real sense of escapism.
For more places to stay in East Lothian
---
East Lothian is the perfect place to visit for a getaway where you can enjoy some more active adventures but also give yourself plenty of time to relax and enjoy the peaceful surroundings.
Please always check opening arrangements direct with businesses and follow the current guidelines #loveeastlothian