EV Travellers Roadtrip to East Lothian
EV traveller Joana Kruse recently visited on a roadtrip in her electric Fiat 500 and here's what she had to say about the sights, charging points and plant-based eating out during her trip to East Lothian.
5 months photo road trip of at least 10,000 miles. Sounds epic? OK.
But 5 months in an electric vehicle? In a small Fiat 500e.
Sounds crazy? You may be right...
But as a passionate electric car driver and as a vegan, I wanted to prove that it's possible without suffering of too much range anxiety. I work as a travel photographer, which usually involves a lot of flying. I'm trying to find out if I can do my job (at least within Europe) in a more sustainable way. More green. With less guilty conscience.
My trip itinerary starts in Italy, where I currently live, to Germany, the Netherlands, Scotland including all the remote isles, Northern Ireland, the Republic of Ireland and North Wales. And back to Italy.
If you are interested - here is a small trailer of the trip.
The first month of the journey took me to East Lothian.
I've been to Northumberland before. And to Edinburgh.
But somehow I left East Lothian out.
And now I'm wondering why.
OFF THE BEATEN PATH...
Sustainable travel also means avoiding the typical hotspots that are overcrowded and each additional tourist is a burden for the locals.
And that's what I loved about East Lothian. It's a bit off the beaten path but still beautiful and there are many places to explore (plus easy reachable daytrips to Northumberland or Edinburgh).
No matter where I went - it was never crowded. Never spoiled by mass tourism. Always easy to find parking. No battle for electric vehicle charging stations. OK, I travelled in May and July/August might get a little worse. But it will never be as crowded as other spots, I'm sure.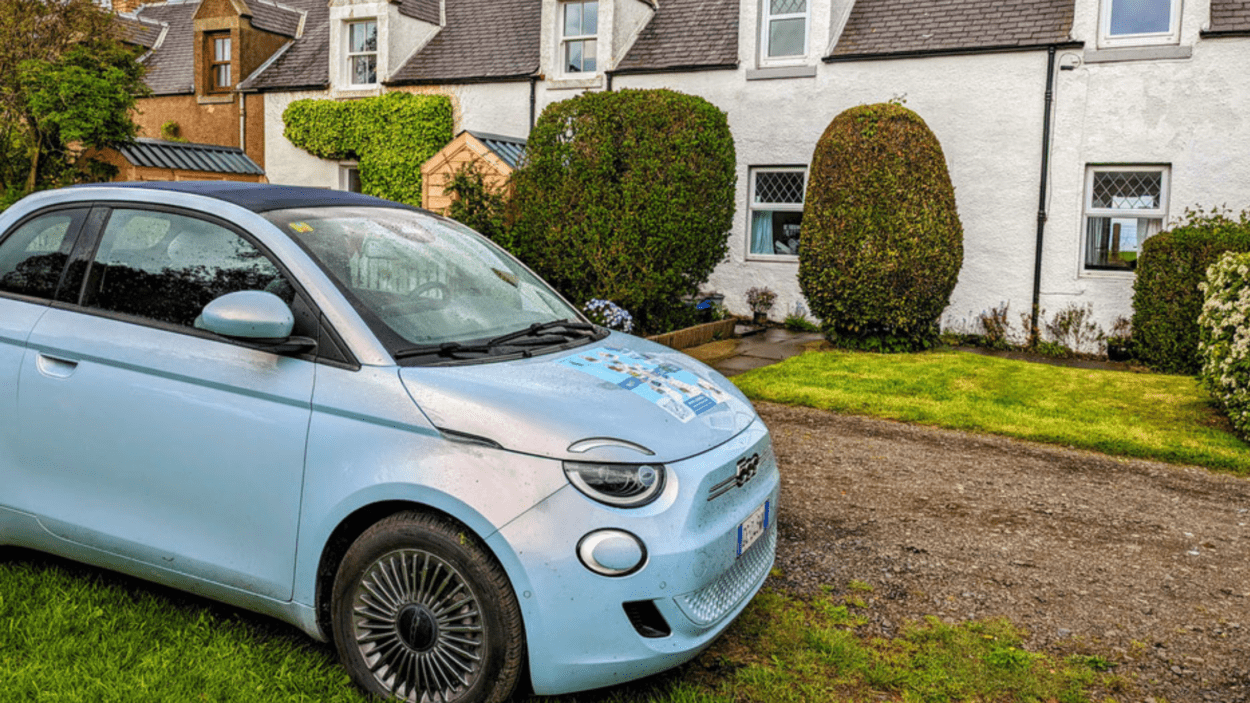 THE BRIDGE TO NOWHERE...
One interesting spot was the Belhaven Bridge, also known as 'The Bridge to Nowhere' and at high tide you'll understand why. It's a nice place to enjoy a walk on the sandbanks of the North Sea with a beautiful view.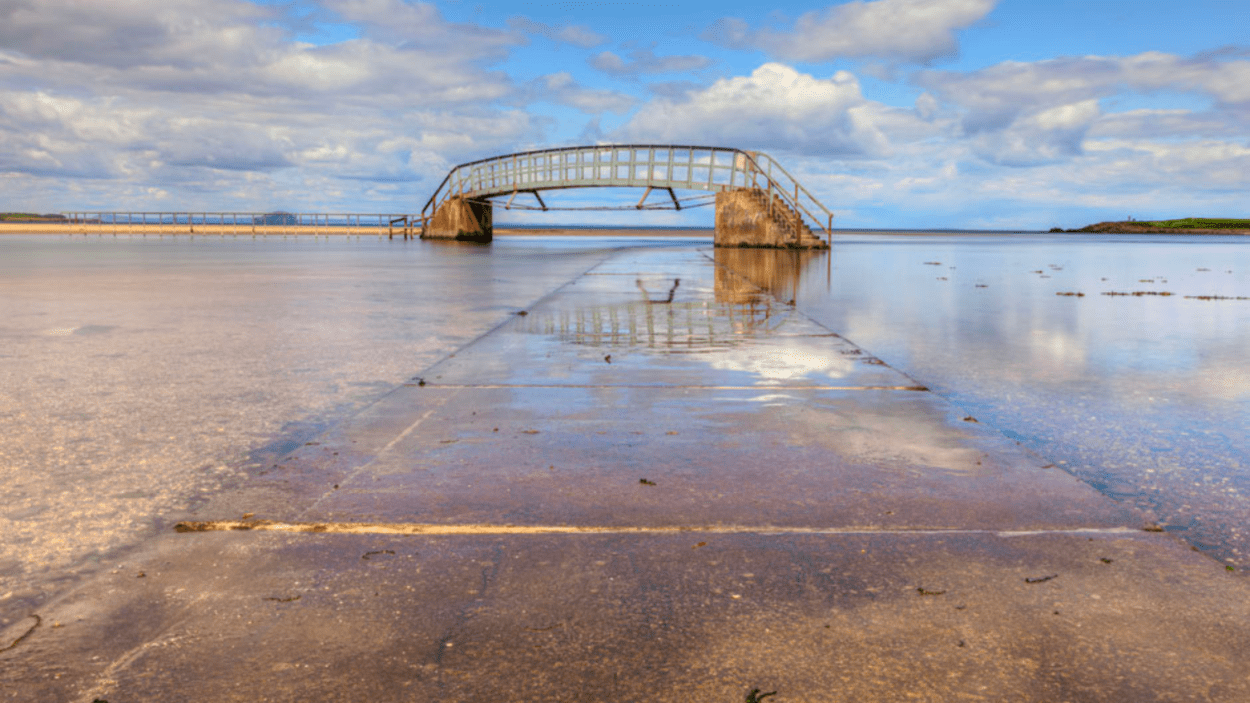 CHARGING, EATING, ENJOYING...
Near the bridge and beach is the town of Dunbar.
The picturesque old fishing harbour, the ruined castle and the esplanade with views of sea stacks and rocks are all worth a visit.
The charging stations in the middle of Dunbar are very convenient.
I charged my electric vehicle and meanwhile ate a delicious vegan wrap from Parker's Dunbar (on the High Street, just 5 steps from the charging station).
It's cool and thoughtful to place charging stations near town centres or tourist attractions rather than (as is often the case) in the middle of nowhere with nothing to do or see.
It's a win-win for both sides - the charging persons will certainly spend some money while waiting to charge their vehicle's e-juice!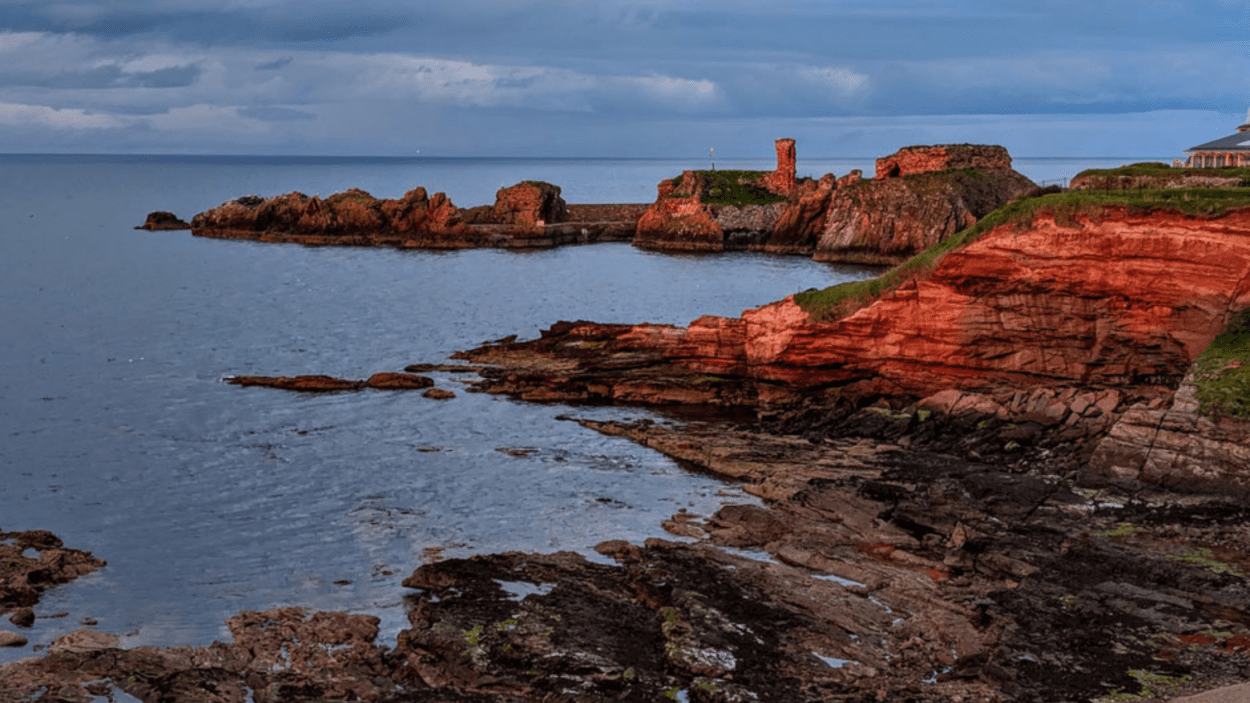 MEDIEVAL CHARGING...
Ditto for Dirleton Castle.
It is a medieval fortress, ruined and impressive, with a lovely Victorian garden.
There is a charging station in the parking lot next to the castle so I was able to top up the 500e while I visited the castle and had a cuppa and a vegan lunch (yes they serve haggis but when I asked for a vegan option I had no problems at all) at the pub across the street.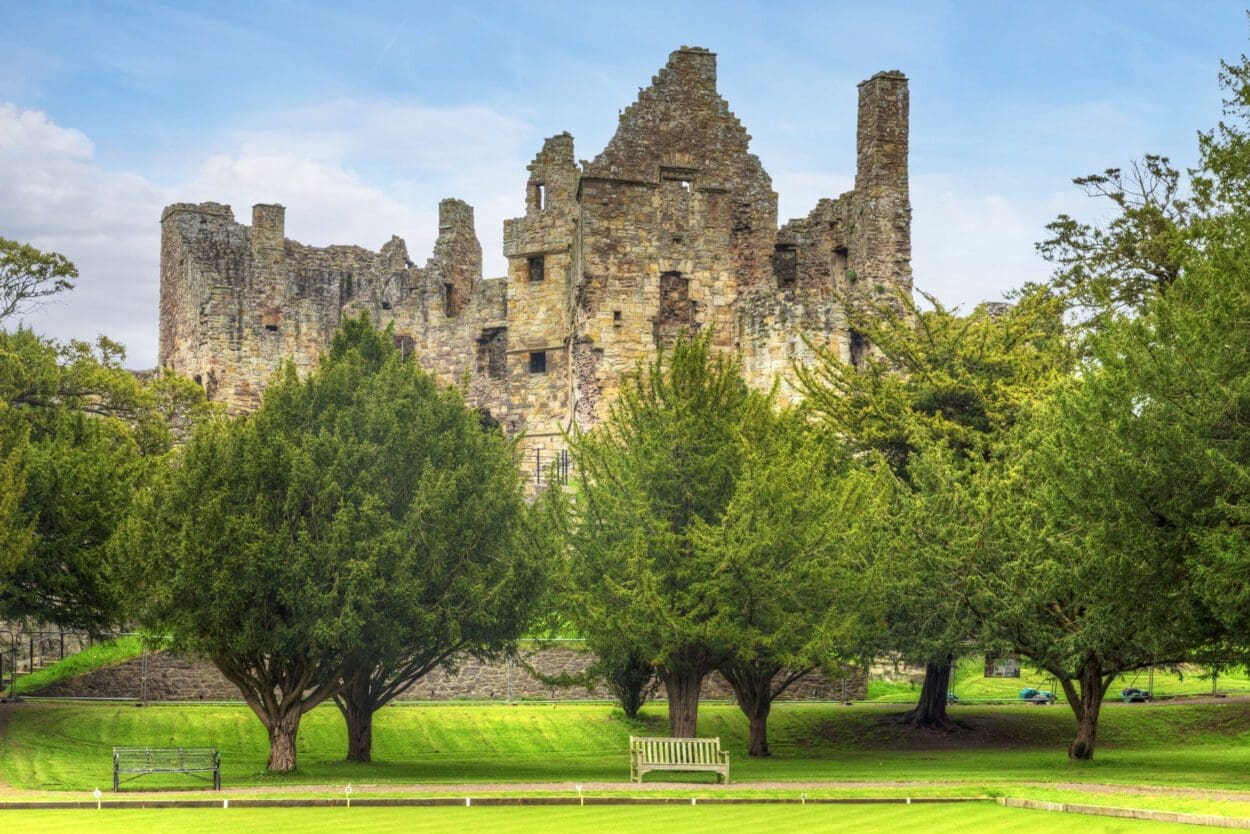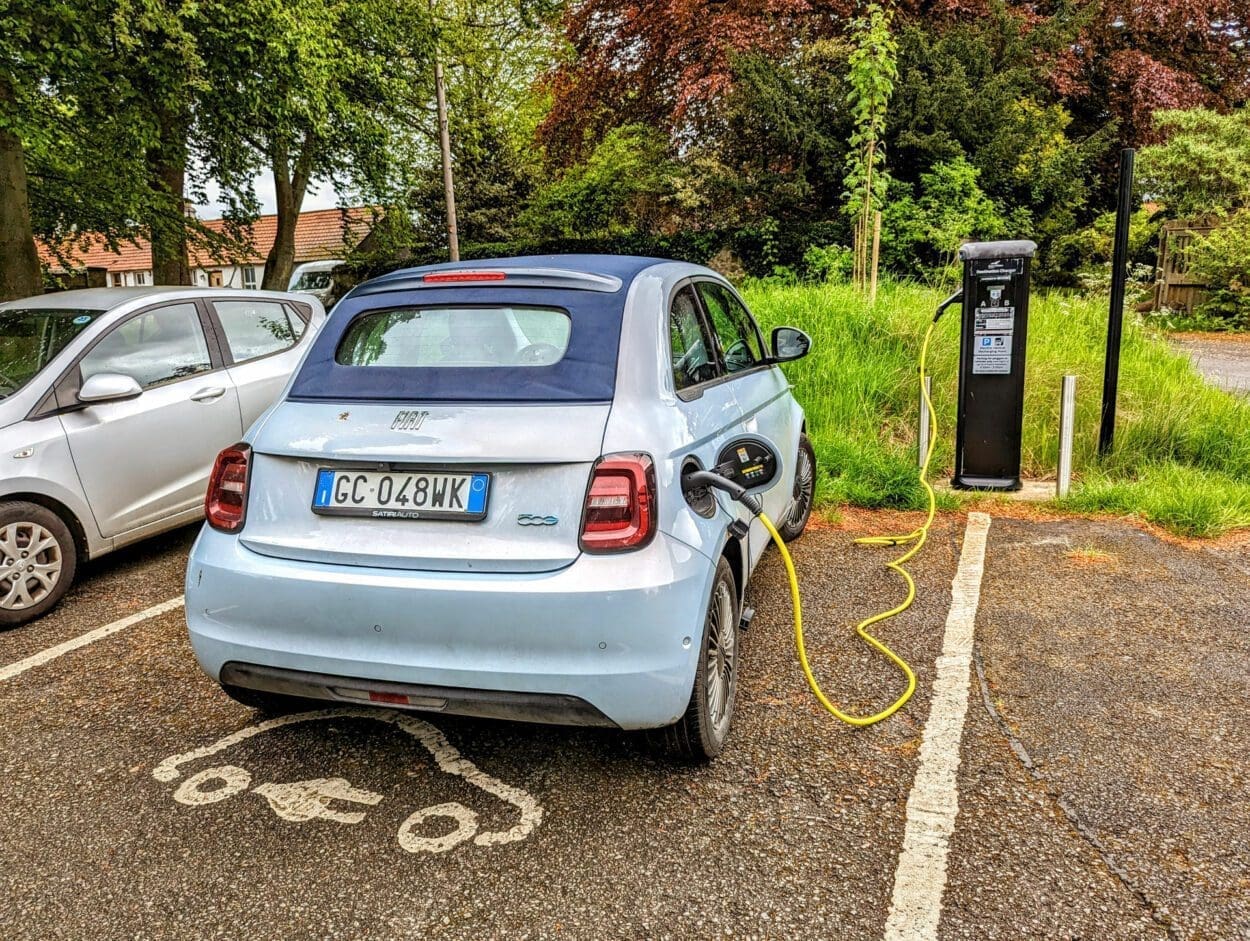 FOR OUTLANDER FANS...
For all Outlander fans, a visit to Preston Mill in the village of East Linton is a must!
It doubles as Lallybroch's Mill in the first season of Outlander.
Remember the scene when Jamie had to hide underwater when the Redcoats arrived?
Without Redcoats however a really peaceful place with picnic tables to enjoy a packed lunch.
You can then easily charge your electric vehicle in the village itself (Station Road).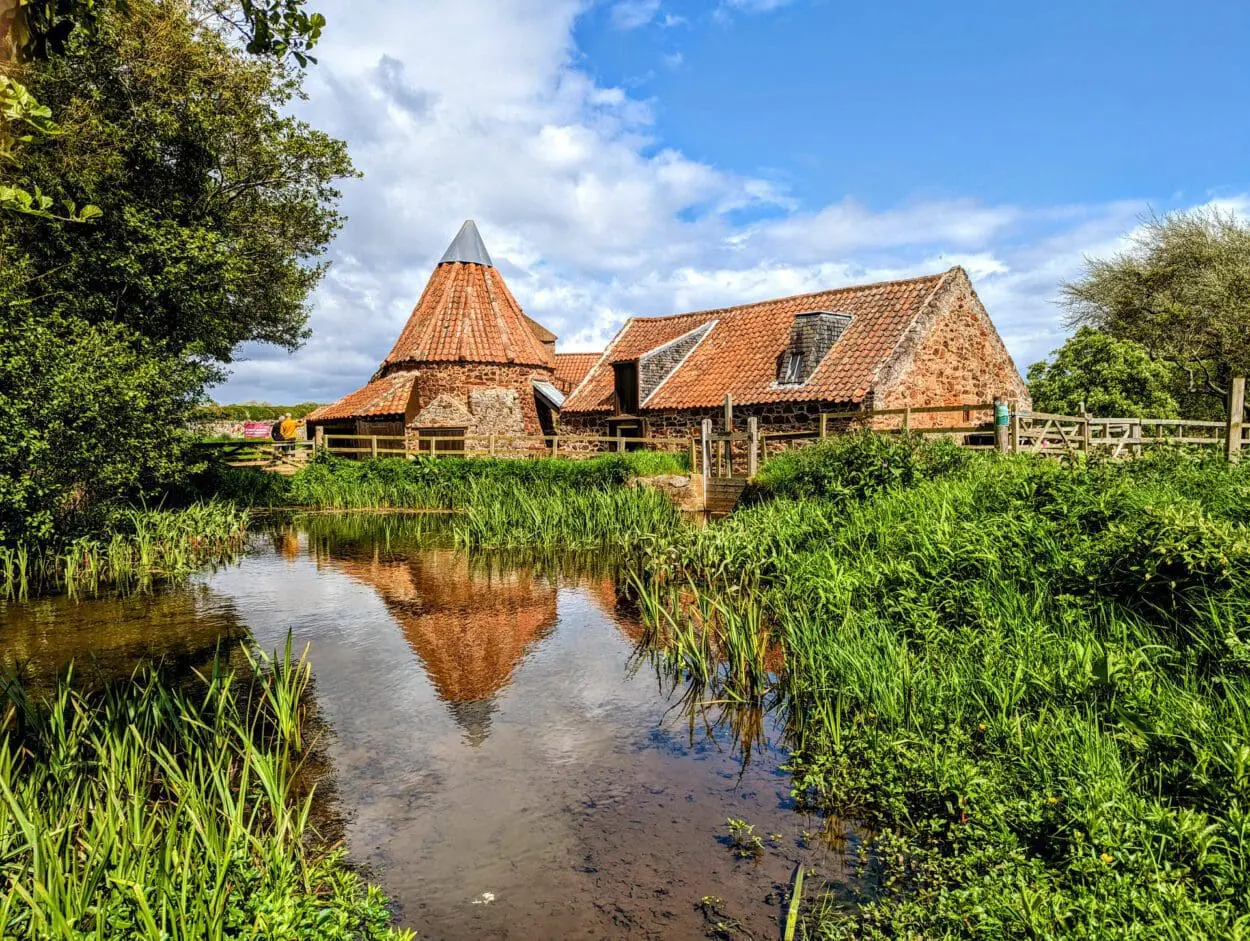 SANDY BEACH WITH VIEW...
A true highlight of my visit in East Lothian was Seacliff harbour with amazing views of Tantallon Castle and Bass Rock.
To get there you drive and park for a small fee (3 pounds, make sure you have the coins ready, no cards and no change accepted) on a private road.
Not many tourists know about this beautiful sandy beach.
When we arrived in the late afternoon, we almost had the beach to ourselves.
A short walk to the rocky harbour (inaccessible at high tide + and - one hour but safe the rest of the time) and you have fantastic views of the castle and Bass Rock.
Having lived in the South West of England for a long time, I know that a place like this would be crowded with photographers and other sunset admirers every evening. Here we were on our own. It's so nice to be able to enjoy the beauty of nature and history in peace...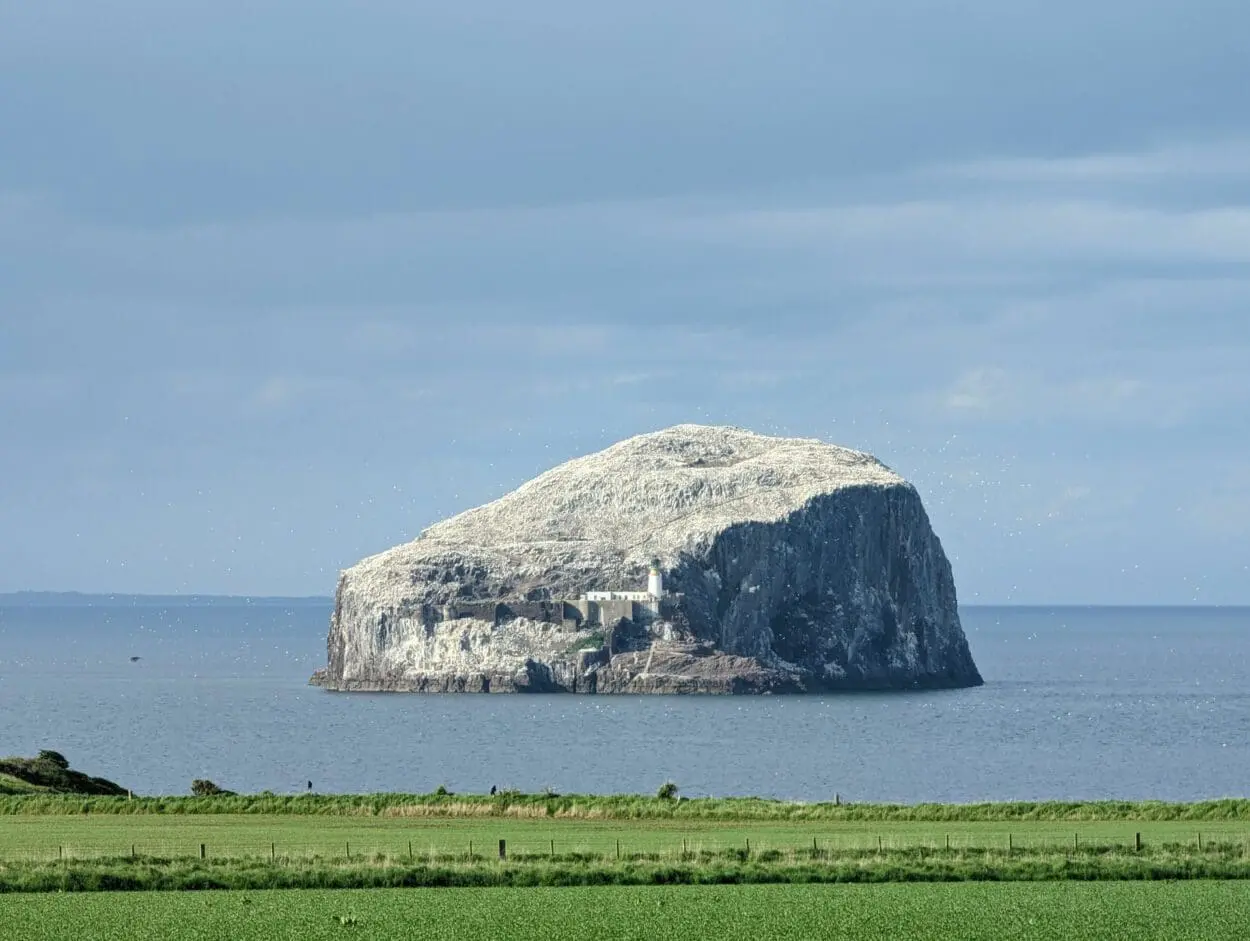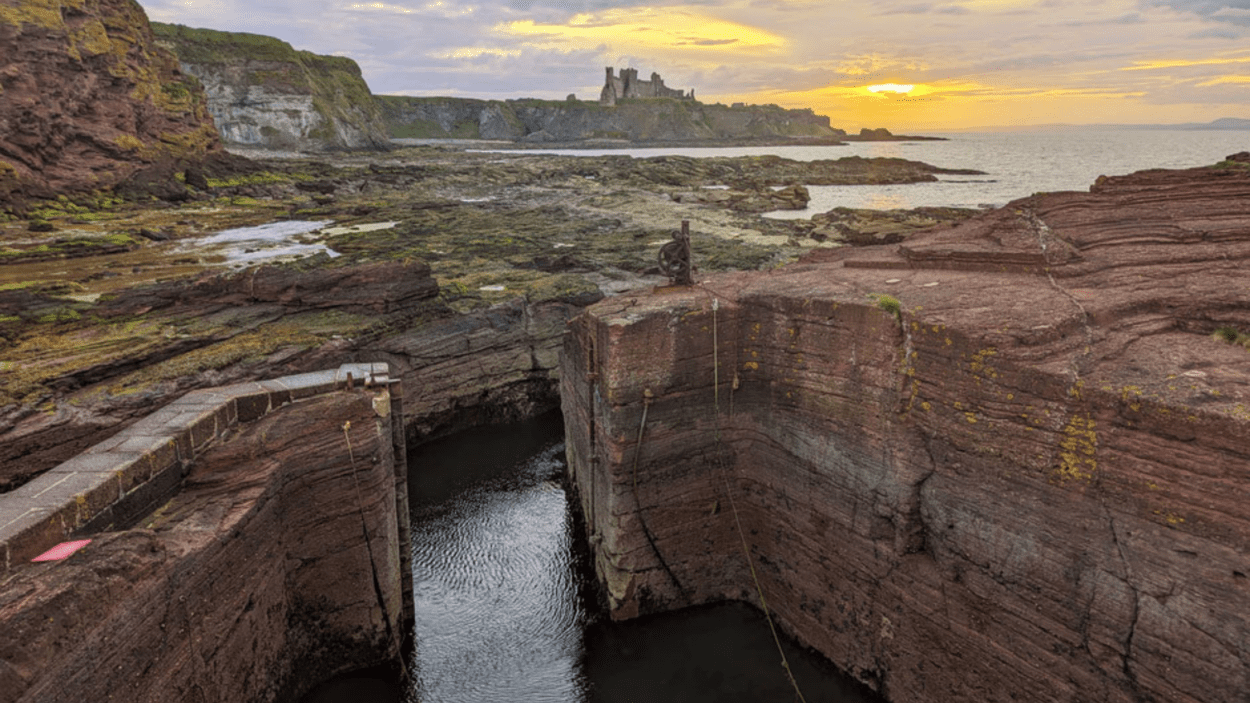 RANGE ANXIETY...
I truly enjoyed my stay in East Lothian.
It was still authentic, not overcrowded and you could travel as sustainably as possible.
As a vegan, I was able to shop for groceries in the supermarkets that are well stocked with plant-based food. And almost every pub or cafe offered vegan options.
Range anxiety never got the better of me.
EV charging stations were well placed, often near tourist attractions or town centres.
And although not too many fast chargers are installed, I really liked the "slow charging" in parking lots when visiting attractions.
However, please always be respectful of other electric vehicle drivers when charging and remove your car from the charging station as soon as it is fully charged. Don't use the charging stations as a convenient parking space, as your fellow EV driver may be in dire need of some kW...
To find charging stations in the UK I mainly use Zap-Map, an app that makes it easy to find your nearest charging stations.
If you are interested how my 5 month trip with the 500e continues (or started), you can follow my travels here: https://findpenguins.com/ev-phototours/trip/ev-photo-tour-2023
Joana is a vegan EV driver and a travel photographer for many years.
With German roots, she lived for a long time in the UK and is now for a few years based in Italy.
Her photos won several awards and are published worldwide.