Castle Exploring in East Lothian
With the school holidays in full swing, you may find you're struggling to think of things to do to keep your little darlings occupied.
Well fear not, as East Lothian has lots to keep them, and you entertained this summer.  In this blog, we're going to look at some of the region's wonderful castles to explore managed by Historic Environment Scotland.  
There's no better time to explore East Lothian's rich history either, as 2017 is Scotland's year of History, Heritage and Archaeology.
Tantallon Castle
The spectacular, sandstone ruins of Tantallon Castle stand high on a clifftop, three miles east of the town of North Berwick.  Even in its ruinous state the medieval fortress has a commanding presence.  
Dating back to the 14th century, the castle was once a stronghold of the mighty Red Douglas family.
Tantallon makes a great stage for children to explore, helping to bring Scotland's medieval history to life. They can battle mythical dragons, defend the castle from invaders or become king or queen for the day. You'll find lots of useful props on sale in the castle's gift shop, including excellent dragon slaying swords!
Not only does Tantallon offer a fascinating insight into what life was like living and working in a castle, it also boasts one of the most amazing views in East Lothian. If you have a head for heights you can climb up to the battlements and enjoy a stunning view across the Firth of Forth to the Bass Rock and beyond.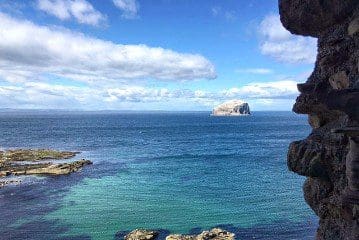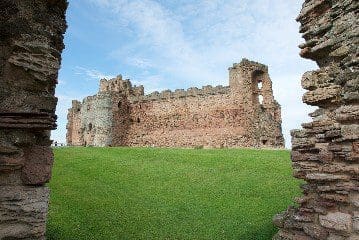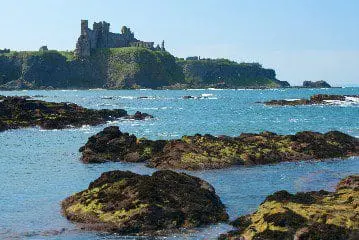 Dirleton Castle
Three miles west of North Berwick stand the imposing ruins of Dirleton Castle, another of East Lothian's fantastic fortresses. 
Dirleton is a great castle to visit, as not only do you get to explore well-preserved medieval ruins, you're also able to visit the gorgeous castle gardens. In summer when the borders are in full bloom the garden is a riot of colour, attracting butterflies and bees. On a sunny day, the grounds make the perfect spot for a family picnic.
Inside, see if you can find the 'murder hole' – once upon a time intruders approaching Dirleton would be in for a nasty shock when hot oil, tar, rocks and arrows would rain down on them from the 'murder hole' located above the castle's entrance. Today you're perfectly safe to approach without fear of attack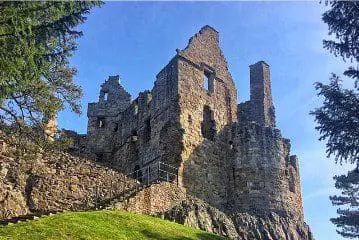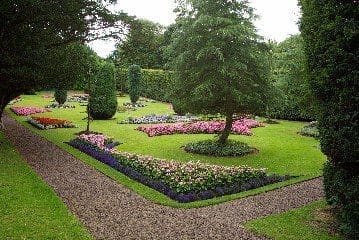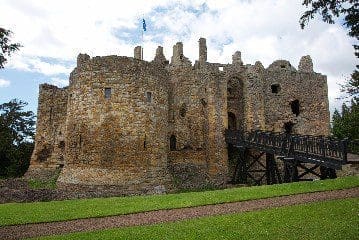 Hailes Castle
We appreciate that the school holidays can be an expensive time, so our next castle is free to visit, and the good news is that it's every bit as interesting as the others.
Hailes Castle stands on the banks of the River Tyne, one mile south of the village of East Linton.  It's a beautiful place to visit on a summer's day – leafy, and with the relaxing sound of the river flowing by, it's hard to imagine that it could ever have been anything other than a tranquil haven.  Yet history tells us that it was subjected to several violent sieges over the years.  Also, a quick peep inside the dank, claustrophobic pit prisons hint at a not so peaceful and idyllic past.   
All budding castle explorers worth their salt will love exploring this ancient, East Lothian gem.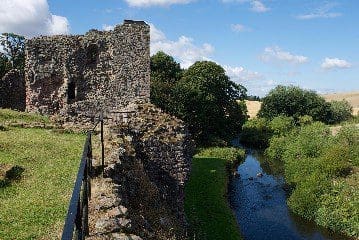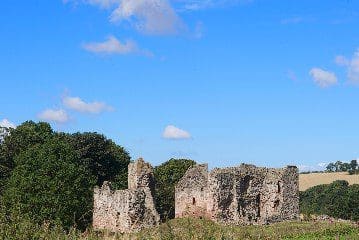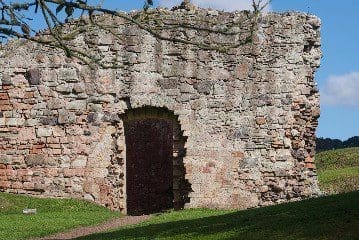 East Lothian's other castles
While this blog focusses on castles in the care of HES, East Lothian has several other castles with an equally fascinating past, so here are a few more to whet your appetite:
Why not seek out the mysterious ruins of Yester Castle near the village of Gifford, and discover the 'Goblin Ha' or Goblin Hall if you dare?! Legend has it that goblins helped build the castle.
If goblins are too scary for you, there's always the pretty, pink Fenton Tower. If you're familiar with the TV show Balamory, you may recognise it as Archie the Inventor's house. While it's not open to the public for tours, you can still get a good view of it and snap a photo from the roadside.
If you pay Seacliff Beach a visit, you could try to find the hidden ruins of Auldhame Castle. They're a mere stone's throw from the sand if you know where to look. Little is known about the castle's history, but the ivy clad ruins are charming and they offer a fantastic view of the beach.
We hope that this post inspires you to get involved in Scotland's year of History, Heritage and Archaeology. Happy castle exploring if it does!