Traprain Law - history, geology, wildlife and more
In this blog, we're going to focus on a fascinating and beautiful site in the care of our team of Countryside Rangers. We're a little jealous as they get to spend lots of time outdoors, working in beautiful, rural East Lothian. They're responsible for conservation and monitoring, and are knowledgeable in all things countryside. Their job remit covers everything from sandy beaches, to hills, monuments and country walks.
Traprain Law lies under 4 miles east of Haddington. For anyone unfamiliar with the Scots language we should explain that the word law means hill in Scotland, so Traprian Law is a hill. It stands at a modest height of 221 meters and is surrounded by flat countryside, making it appear taller.
History
The hill is one of Scotland's most important historical sites. Due to it being a great vantage point it was once home to an extensive hill fort, and is likely to have been the ancient capital of the Votadini Tribe. The Votadini seem to have coexisted quite peacefully with the Romans during their occupation of the surrounding area. In 1919 one of the most significant hoards of Roman silver ever found was discovered on the hill. The Traprain Law Treasure consists of around 250 pieces of 'hacked up' Roman silverware, weighing 22kg. Today pieces from the impressive collection can be viewed in the National Museum of Scotland in Edinburgh.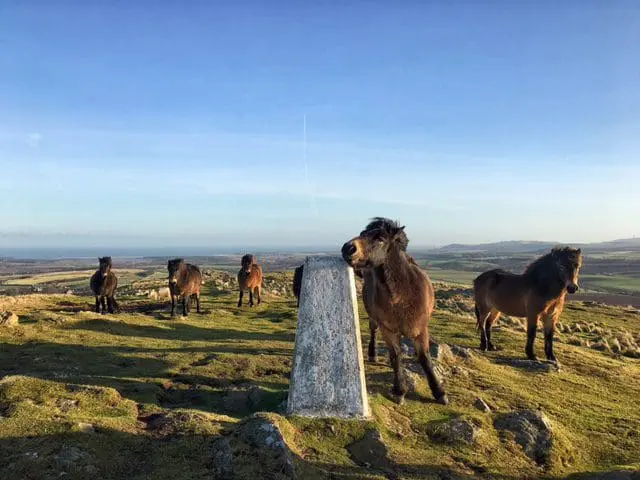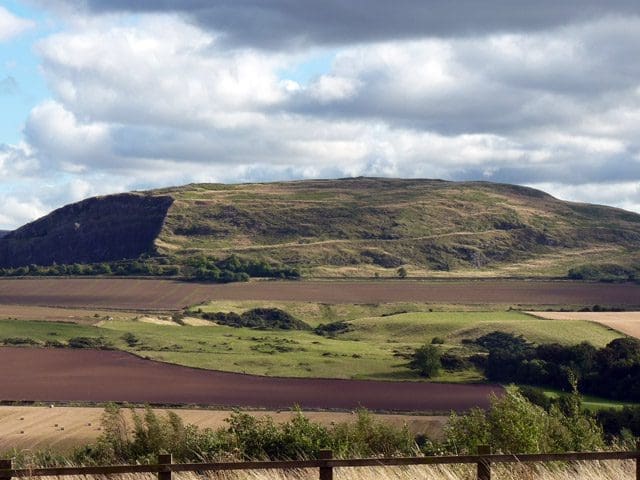 Wildlife
An abundance of wildlife exists on and around Traprain Law with foxes, badgers, newts, barn owls, skylarks and peregrine falcons all in evidence. The highlight of any visit though is undoubtedly a meeting with the friendly Exmoor Ponies who call the hill home. The ponies play an important role in keeping the wild grasses on the hill under control, which in turn encourages wild flowers to grow and helps to prevent wildfires from spreading. Human visitors are greeted warmly, but don't be fooled by these equine charmers as their motive is food!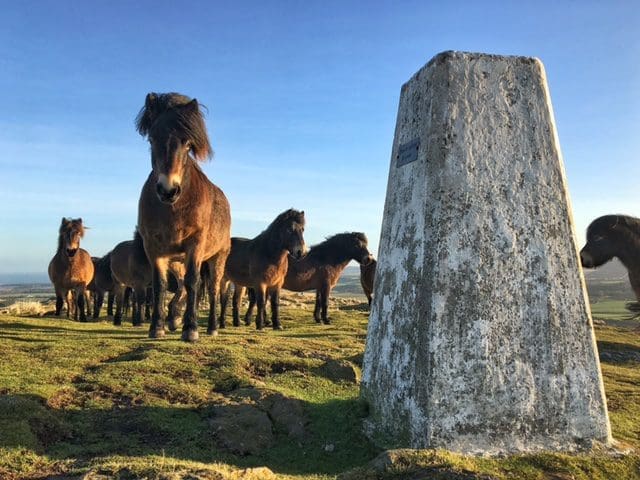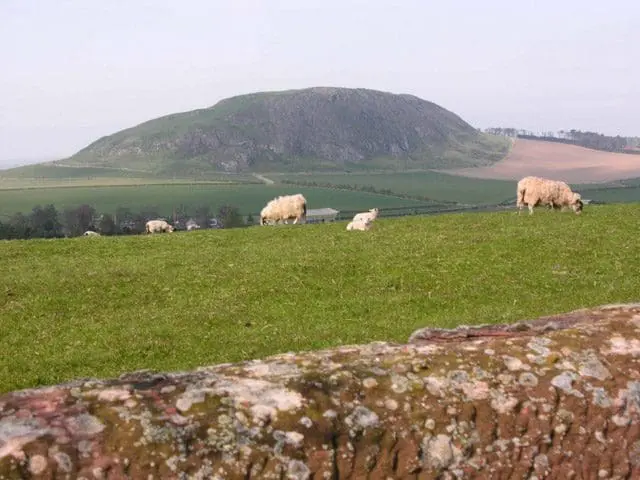 Plantlife
The law is rich in plant life too with wild flowers, grasses and plants such as Primrose, Saxifrage, Crested Hair-grass and Meadowsweet all found growing there. When the wild gorse blooms with yellow flowers in spring, the air is filled with the distinctive smell of coconut. It's impossible to pass without thinking of summer holidays. Lichens also flourish on the hill, including several rare and scarce species.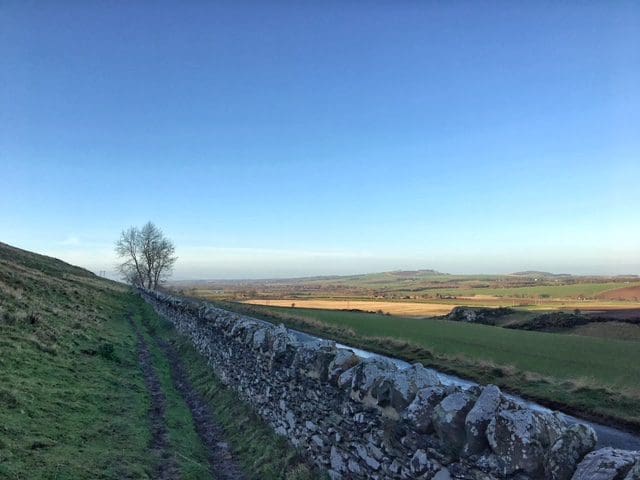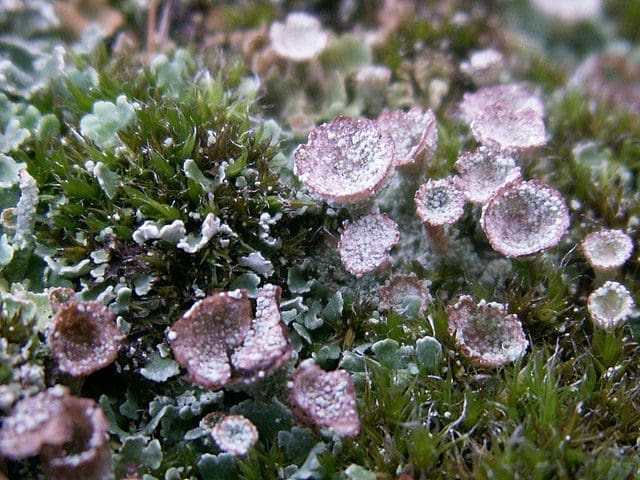 Geology
Traprain Law is a Laccolith which was formed during volcanic activity in the Carboniferous period. It's made of a type of rock called phonolite, which isn't commonly found in Scotland. Glacial erosion during the ice age shaped the law into a crag and tail formation, just like the hills Edinburgh Castle and the Wallace Monument stand on today.
Like all Scottish places worth their salt Traprain Law has a fascinating legend attached to it. It's said that a 6th century king called Loth or Lot once lived there. He became outraged when he found out his daughter was pregnant and threw her off the hill to her death – or so he thought. Instead she survived, escaping across the Firth of Forth to Culross in Fife where she gave birth to a son. Her son later became St Mungo, Glasgow's patron saint. Legend has it that Lothian as in East Lothian derived from the name Loth.
We hope you've found this whistle-stop tour of Traprian Law interesting. In addition to the monitoring and conservation work our Countryside Rangers do, they also organise events throughout the year, such as long distance hikes, guided activities and conservation tasks. You can find out more here. They publish a quarterly newsletter too 'Mud in Your Eye' where you can read about local wildlife, places to explore and the changing of the seasons.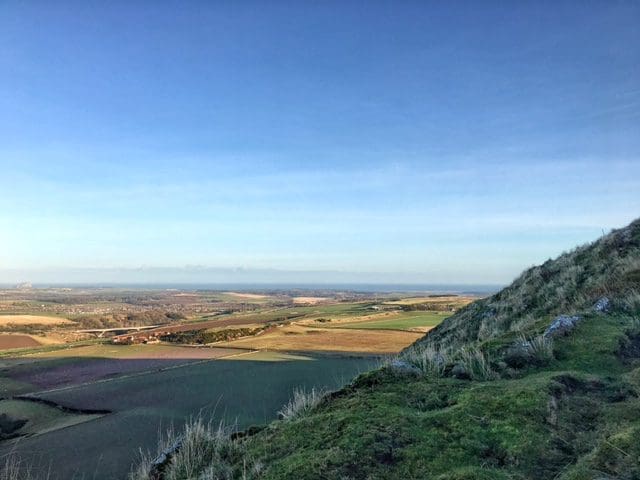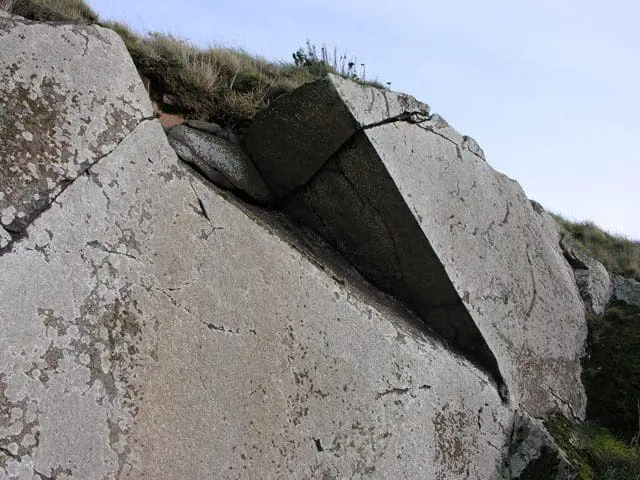 Visiting Traprain Law
Getting there: From East Linton, take the turning off the A199 that goes under the A1. Turn right at the junction and head uphill, passing a couple of farms. Traprian Law is signposted from a turning on the right-hand side.
Facilities: Free car parking, on-site information boards, Ranger service.
Accessibility: Traprain Law is suitable for walkers of all ages, but requires sensible footwear and a moderate level of fitness and mobility.
Samantha Grant, February 2017
Scotland with the Wee White Dug