Seacliff Beach - The Secret's Out
Reluctantly, we're going to let you in on one of East Lothian's best kept secrets. You see, we love Seacliff Beach so much that we'd like to keep it to ourselves but that would be selfish, so we're going to share it with you and ask you to keep it a secret too - deal?
Seacliff Beach can be found just off a private road, reached via the A198 at Auldhame. There's a £3 toll to access the beach and car park, but it's worth every penny as Seacliff is a tranquil haven, where you can enjoy a quiet stroll by the sea and hardly bump into another soul. It's the perfect escape from the hustle and bustle of everyday life. On a clear day, you could be forgiven for thinking you were in the Hebrides, as the golden sand and azure blue sea gives the place a real Hebridean hue. It's only the Bass Rock looming in the Firth of Forth that gives away the true location.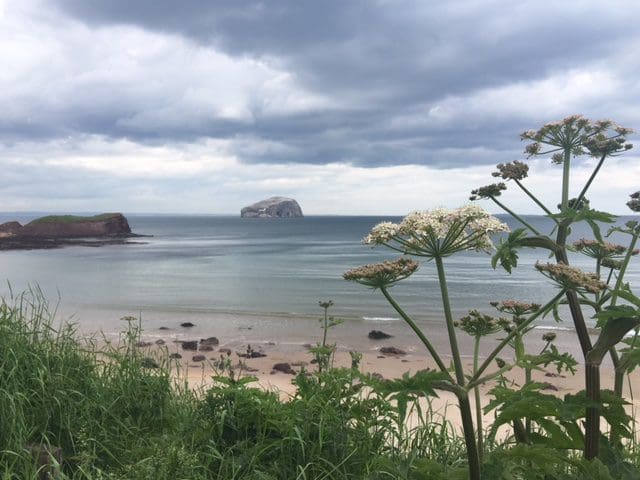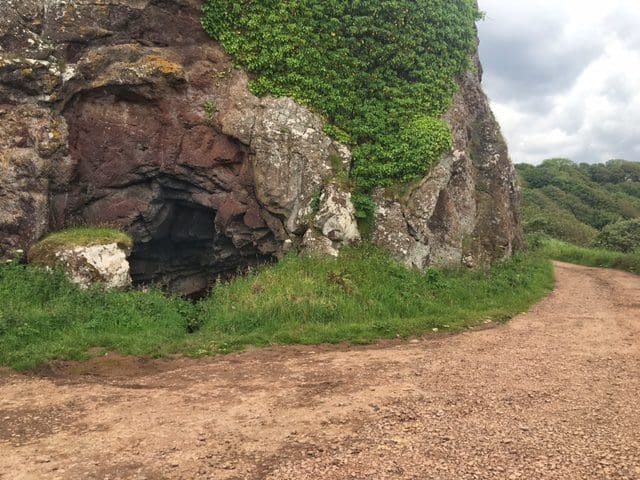 Seacliff is a beach with interesting features too. To the west of its sandy, sheltered bay sits a tiny harbour built in the Victorian era. It was hewn, painstakingly out of a large lump of sandstone known as Ghegan Rock. The tiny harbour has access to the sea via a narrow, sandstone channel. It's a real feat of Victorian engineering.
From the harbour the mighty, medieval fortress and one time Douglas family stronghold, Tantallon Castle can be seen looming from its clifftop seat. Another castle ruin sits hidden, and all but forgotten nearby. Concealed on a leafy incline, behind the west side of the beach lie the ruins of the 16th century Auldhame Castle. Only a vaulted cellar and some tower walls remain today. Unlike its famous next-door neighbour, little is known of its history.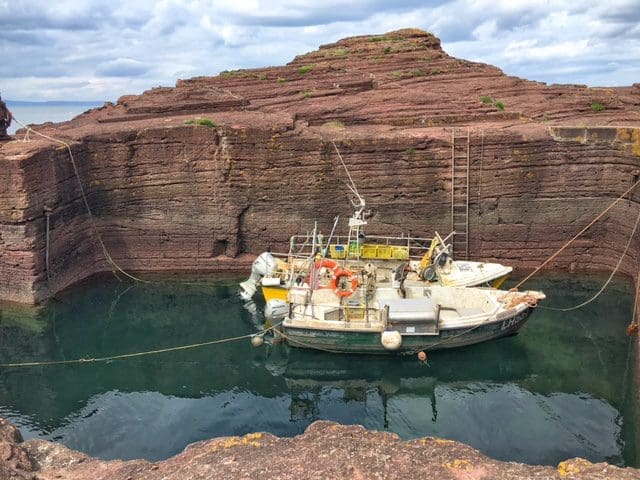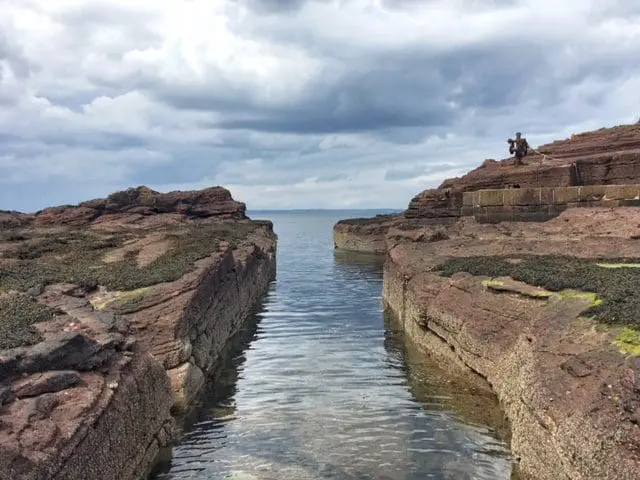 On the east side of the beach a rocky outcrop known as St Baldred's Boat, protrudes into the sea. At its tip a conical stone pillar, topped by a cross can be seen rising from the water. The cross commemorate the 8th century hermit, St Baldred of Tyninghame. This part of East Lothian has strong links to the saint who is thought to have arrived in East Lothian from the Holy Island of Lindisfarne in Northumberland.
In true hermit fashion, St Baldred loved nothing better than a bit of solitary confinement. Sitting above the beach in the car park, is a small cave known as St Baldred's Cave. Local legend says that St Baldred lived in the cave from time to time. Excavations of the cave led to the discovery of a large rock, thought to have been used as an altar. Human and animal remains, pottery fragments and a bone knife were also unearthed, but they dated to the Iron Age and not the 8th century.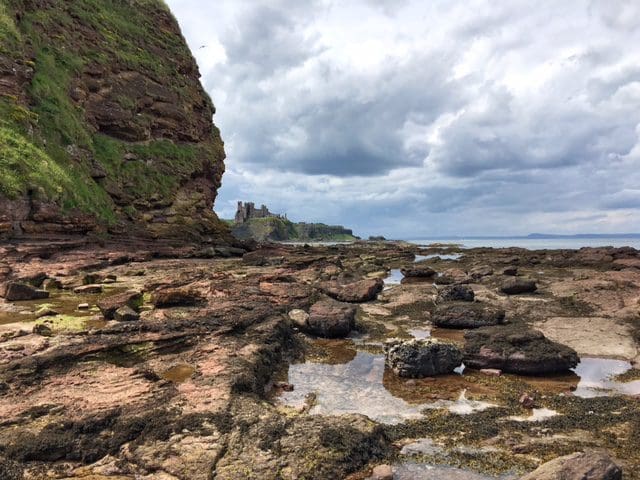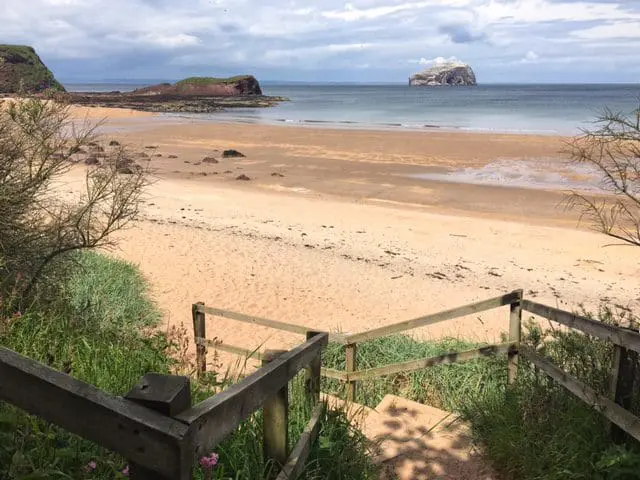 Seacliff has much more to offer than pretty scenery and history though. It's an excellent place to take children to explore rockpools, build sandcastles and paddle in the sea. Older children will love clambering up Ghegan Rock to enjoy a bird's eye view of the beach. Seacliff is a wonderful subject for photographers too, with lots of interesting features to snap. Wildlife lovers can watch thousands of seabirds swarming around the Bass Rock. Its sheltered location also makes Seacliff the perfect spot to enjoy a good old fashioned picnic by the sea, and who doesn't love a picnic?
So, that's Seacliff Beach, one of East Lothian's best kept secrets and finest hidden gems. Please remember to keep it to yourself, as we don't want everyone to know about it!
Visiting Seacliff Beach
Location: Accessed via a private road, just off the A198 at Auldhame. Postcode for sat nav EH39 5PP.
Entry fee: £3 charge, paid at an unmanned toll barrier
Facilities: On-site parking, toilets
Access: The beach is located right next to the car park and toilets, and is accessed via some wooden steps with handrails.
Samantha Grant, February 2017
theweewhitedug.com