Eat & Shop Local In East Lothian
Local East Lothian blogger Sonja Bolger shares her family's top tips for eating and shopping this Christmas.
What does it mean to eat and shop local? It's all about supporting independent retailers and hospitality near where you live, rather than branded chains. By supporting these locally run businesses you're investing in your own community and helping it thrive. 
You know, the people that might remember your name if you pop in a few times, or ask after your little one. They remember your favourite drink or just how you like your pizza. The people that started their business because they have an unquenchable passion for what they do and wanted to step out on their own.
Independent shops help to bring a unique character to a high street and often bring a more intimate shopping experience. And the best thing about supporting these shops is that they stick around and we get to experience something a little bit different. 
In East Lothian, we're so lucky to have a large number of people running amazing independent ventures, from great places to shop to delicious places to eat. In the spirit of encouraging people to shop local, we want to share some of our favourites! 
North Berwick
North Berwick is always a pleasure to visit!  It's been one of our regular weekend ventures ever since we moved to Edinburgh years ago and now we live in East Lothian this quaint seaside town is right on our doorstep. 
The perfect blend of nature and nourishment makes North Berwick popular with both visitors but also locals. While the beach, walks and scenery are obviously a draw we also love the wealth of the little shops and amazing places to eat as well. 
Here are a couple of our favourites:
Westgate Galleries
Westgate Galleries is a little bit of everything we've mentioned! Somewhere to shop local but eat local too! 
As well as displaying a wide collection of art for sale they have lots of other gifts like jewellery, homewares, and cards. 
But we also love their cafe, the Orangery, the perfect place to pause in between browsing. They serve soups and sandwiches and a delicious array of homemade cakes. On our last visit, Phil had the chocolate orange cake and I had a Cranachan sponge cake. So good!
Definitely one to seek out when you're in North Berwick. 
Lockett Bros
Just along the High Street is another of our North Berwick independent favourites. Locket Bros are specialists in wine and whiskies, but also beers and other spirits too. 
The store has a relaxed European feel that perfectly suits the pace of North Berwick, with cushioned window seats offering a space to stop and have a drink. Yes, that's right, Lockett Bros is much more than your usual off-licence, they're also licensed for tastings and drinks, and they have a whole cabinet filled with mouth-wateringly good cheeses so that you can have a nibble alongside your tipple too. 
The staff, besides being very friendly, are also really knowledgeable and can recommend different brands with similar tastes to ones you like, or something new altogether. If you want to discover something for yourself or surprise a loved one then they'll definitely be able to help. 
North Berwick Fry
You can't pay a visit to the seaside without having some fish and chips.  You will not be disappointed if you decided to pay North Berwick Fry a visit! 
We have often gone to North Berwick just to share some fish and chips as we wander along the beach. It's an excellent way to spend a day but does require a good chip and Fry won't let you down. They often have a queue but it is well worth the wait, we promise.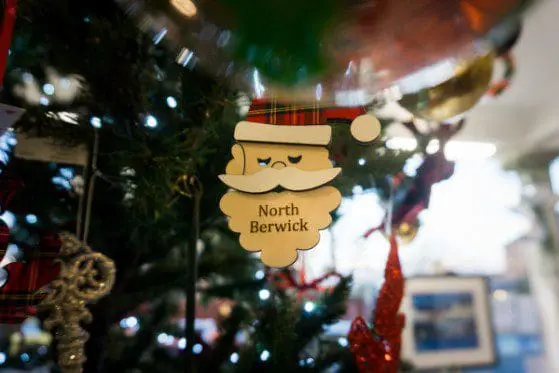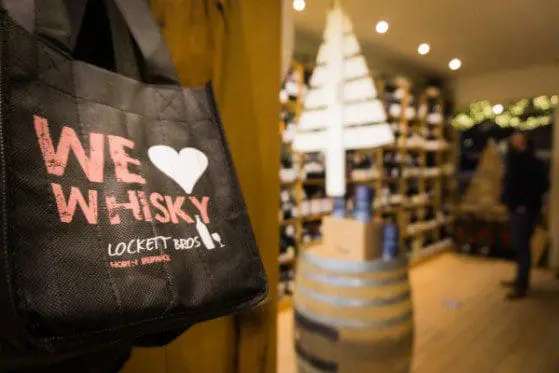 Dunbar
Dunbar is a hidden gem, tucked away in the east of the region. It's known as the birthplace of John Muir, an influential naturalist who moved from Scotland to the United States, and is known there as the 'Father of the National Parks'. The John Muir Way, a coast to coast walk or cycle route starting in Helensburgh and ending in Dunbar is also named for him. 
However, there's more to Dunbar than its most famous son. It's the wide-open High Street packed with independent stores that draw us there now too! 
Flux
We're familiar with Flux because we used to frequent the sister store of the same name in Leith, although the one in Dunbar is a little larger so offers even more lovely things to peruse. The shelves are packed with beautiful gifts, clothing, and homewares. It really was our go-to for unique gifts and it's great to discover that East Lothian has its own Flux! 
One of our favourite things about Flux is their own brand of candles. They make the shop smell absolutely divine as soon as you walk through the door. We've tried several of their various scents, although we have many more to go! We can recommend the Oats & Honey and Rhubarb & Ginger in particular. 
Flux also has a great range of unique gifts for babies and young children. It's nice to be able to pick out something and not worry someone else will have got it too. It's pram friendly as well which is a real winner with our family, though keeping small hands off all of the colourful toys and books was a challenge - he wanted it all! 
Dunbar Garden Centre
This is probably the biggest store on our list but that doesn't mean it's not a great place to shop (and eat) local. It's much more than just a place to shop for garden essentials! 
The Dunbar Garden Centre has a large gift department that sources from local suppliers (check out North Berwick Candles) and also a restaurant and farm shop that seeks to use East Lothian produce and producers as well. 
We'll happily stop in for a bite to eat and a browse whenever we're nearby, and our little boy loves running around and seeing all of the different garden adornments and furniture. There's even a little playground next to the restaurant too!
At Christmas time they have large displays with lots of beautiful decorations to choose from, and a Santa's Grotto where the kids can meet Santa too. It makes for a fun day out to get in the Christmas spirit!
Graze Coffee & Chocolate House
Graze looks unassuming from the front, but they have a large cafe seating area and courtyard out the back, where they serve homemade soups, sandwiches and other light lunches, as well as ice cream from Giaccopazzi's down the coast in Eyemouth. It's the perfect place to stop for a bite to eat while shopping in Dunbar. 
However, as you can tell by the name, they also offer a great range of coffee, cakes, traybake, and chocolates! Their menu even boasts a "chocolate soup" which is a bit like chocolate fondue and is not to be missed. 
They have various chocolate and coffee-related gifts for sale as well. Buy for yourself or treat someone else! 
More recently Graze began offering homemade donuts to order, and scrumptious takeaway savoury platters that would make a great treat for a night in.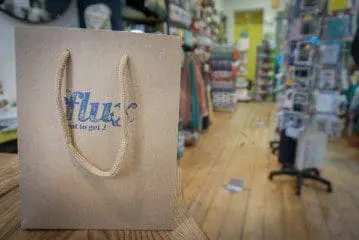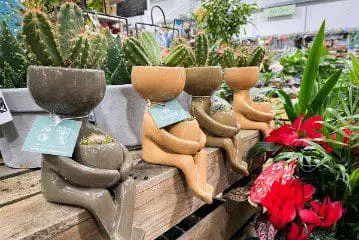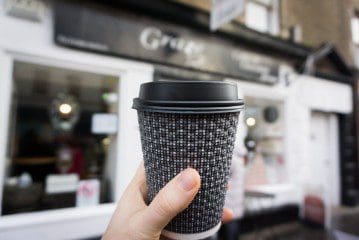 Haddington
Haddington is a picturesque town with a real feel of history and tradition. It's often referred to as 'the hidden toun' thanks to its surprising position amongst the agricultural fields of East Lothian rather than on the coast. 
It's what's known as a 'market town', which is a small town in a rural setting that would have hosted a regular market for the local area. This tradition of local independent retailers has continued in Haddington, which is home to many excellent independent shops and eateries. 
Gibsons of Haddington
Gibsons celebrated their 25th year as a family business in 2020, and it's not hard to see why they've stuck around and proved so popular over the years. The staff we've met are lovely, and they really care about their customers and want everyone to have a wonderful shopping and gift experience both online and in-store.
The shop truly caters for everyone, with jewellery, homewares, kids' toys as well as backpacks, lovely scarves, luxury beauty products, a huge array of candles and scents, and plenty of other cute knick-knacks - especially Christmas ornaments!
They even offer a service to wrap and post your gifts UK-wide for you so you don't need to wait at the post shop in the busy season! Alongside free delivery in the East Lothian area for orders over £15, click and collect, an online shop, and special evenings for vulnerable people to come in and shop with time slots, you can see what we mean by going above and beyond!
The Malt Kiln
The beautiful shop windows at the Malt Kiln invite you in for a further look. They carry a variety of gifts from scents and candles to cards, unique children's clothes and gifts, beauty products, stationery, handbags and jewellery. For a small shop, it really is filled to the brim with plenty for you to choose from!   You can also shop online on their website with delivery available around the UK, or do a click and collect order as well. 
The Loft
The Loft may look unassuming from the outside, but it's home to a spacious and light cafe loft cafe that aims to share simple but great food. We love stopping by whenever we're in Haddington, especially for their homemade sausage rolls! 
Everything is prepared freshly on-site, and they use lots of local suppliers who really care about their products too, so it's a double opportunity to support local. 
If you don't have time for a sit-down meal then be sure to stop by the Little Loft Shop which offers takeaway drinks and food. 
Haddington Wines & Whiskies
Haddington Wines & Whiskies pride themselves on stocking beers, wines and spirits from small independent producers who have their own story to tell, and really care about the products they're producing. This means you can trust that choosing something from their store is going to top quality! 
They also aim for customer satisfaction, providing not only recommendations for new things to try but also what beers will work best with your evening meal of choice. Hampers and gift sets are also available which make for great gifts! If you live in East Lothian there's free delivery on orders of over 24 bottles, in the radius of 10 miles from the shop. You can mix and match too!
It's these extra touches and innovations that set all of the places we've enjoyed in East Lothian apart from the major chains that, after shopping locally, feel a little impersonal and bland. 
Glenkinchie Distillery
Known as the Lowland home of Johnnie Walker, and the "Edinburgh Malt", Glenkinchie has just reopened after extensive renovations. The Victorian distillery is set amongst beautiful gardens where you can stroll along and read the story of the distillery. 
You're met at the front door by the Johnnie Walker Striding Man himself, before entering the newly renovated visitors' area, complete with a lovely gift shop, and a stunning cafe and bar upstairs that overlooks the gardens. 
They offer excellent distillery tours for the whisky-lover in your life or even those that are just curious about how exactly it all works. You learn more about the rich heritage of the brand, the importance of the location and people involved throughout the distilleries extensive history as well as getting to sample some whisky of course, but they also do cocktail samples too!
While Phil took a tour, our little boy and I (mostly I) enjoyed a delicious platter of smoked salmon, St Andrews cheese, olives, nuts, sun-dried tomatoes, and oatcakes. The hardest part was choosing what to have from the plentiful menu options including seafood, meat, and vegetarian options! They had highchairs available and were very family-friendly. We can't wait to pop back.
Glenkinchie offers a lovely experience, a really modern take on the distillery tour, that you can give as a gift to someone else, or treat yourself by enjoying some time out in beautiful surroundings.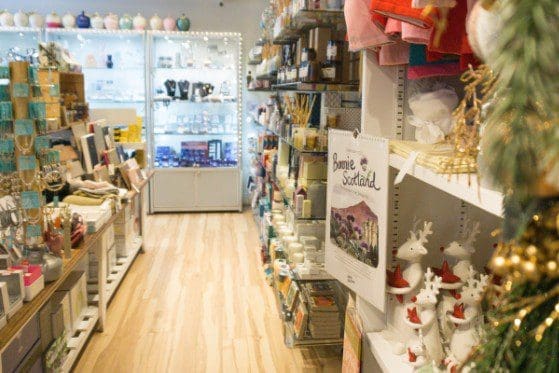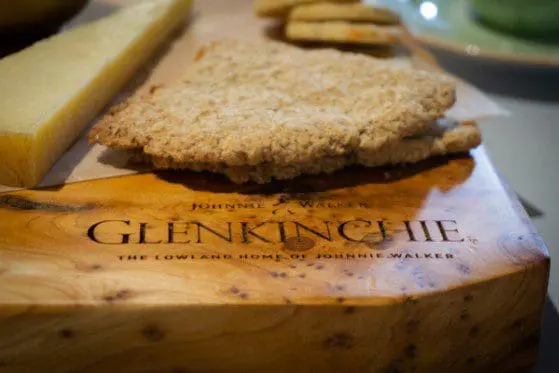 Musselburgh
Musselburgh is a historic town, known as the 'honest toun'  but maybe better known for its golf and racecourse, and it's lovely seaside position - interestingly it gets its name from the mussel beds that can be found along its shore. 
It's the largest town in East Lothian and only 5 miles away from Scotland's capital and, of course, there are some great independent retailers on the High Street too.
Blueberry Gifts
We were so excited to discover Blueberry Gifts, tucked away at the end of the High Street. It's so good to have a lovely local shop to buy gifts and knick-knacks from. 
For a small shop, they carry a great range of jewellery, cards, gifts, and sweet treats. You can find everything from candles and mugs to Scottish tablet and delicious chocolate. 
They really showcase the benefit of having small independent shops in the high street as they always have something unique, including some Musselburgh branded items which you wouldn't find elsewhere.
S. Luca 
To say that Luca's is a Musselburgh institution would be an understatement. They've been making and serving ice cream for over 100 years and a queue can often be seen coming out of the door, even in winter. Imagine the quality of the ice cream to be that popular in a Scottish winter!
Officially named S. Luca after its founder, Luca Scappaticcio, the ice cream parlour was first opened in 1908. The ice cream is still produced in the same factory as it was then, next to the parlour, and to the original recipe. There are a number of seats to the rear of the store where friendly staff will help you navigate the range of sweet and savoury treats on offer. At the front of the store is the ice cream parlour where you can choose from a wide range of flavours to take away with you.
Miros Village
A personal favourite of our sons, since we have popped into Miros Village enough now that he is recognised and is happy to chat with the staff! 
Miros serves possibly the best coffee in Musselburgh and offers a great family-friendly menu. As well as this you can pick from an excellent range of traybakes and cakes. This is often our downfall, even when we only pop in for a flat white!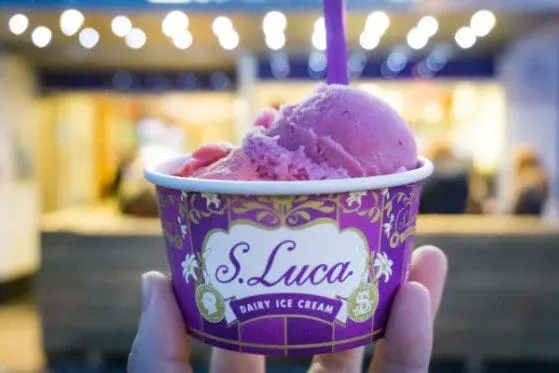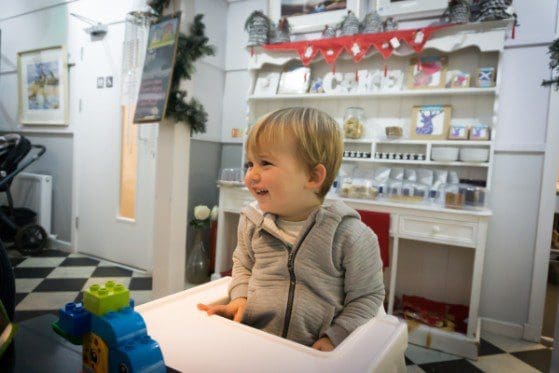 The East Lothian Gift Card
Shopping local for yourself means getting to enjoy the experience of shopping in smaller independent retailers who stock unique wares, but as you can see you can also find lots of great gifts and treats for your loved ones too. 
However, if you have someone who's a little harder to buy for, or you want to give them the choice for themselves, then the East Lothian gift card is the answer. It means still supporting local businesses while at the same time giving someone else the gift of choosing whatever they want from a large number of retailers in East Lothian who accept the card, rather than limiting a gift card to just one place. 
How does it work?
It works in the same way as a gift card would for just one store, but it can be used in over 130 independent businesses across East Lothian. 
You choose the card amount, gift it, and then the receiver can spend it across any one of those businesses, or even multiple places. For example, they may want to buy a little gift from a shop, but then also eat out somewhere nearby too. 
Nearly all of the businesses that we mentioned above accept the East Lothian Gift Card, along with over 100 others, so they definitely won't be short of places to use it, or struggle to find something that suits. You can find the list here.
And there you have our suggestions on where you might like to pop into next time you're shopping in East Lothian! This list is by no means definitive and part of the fun of exploring each town and village in the area is finding these hidden gems that offer so much to the community, run by lovely people who are just waiting to say hello and help you with whatever you need.