A North Berwick Day Trip from Edinburgh
Blog by Hannah Henderson www.hannahhendersontravel.com
Easter holiday activity idea
There is nothing better than taking one of your precious weekend days off and doing a day trip!  Even better if you are on holiday this Easter and have a lot of days to fill! For us, that involves anywhere within reach from Edinburgh, and one of our favourites is a day trip to North Berwick.  North Berwick is a town 25 miles east of Edinburgh, in the region of East Lothian.  Only 30 minutes by train from Edinburgh, it makes for an easy day excursion, and has lots to offer.  This coastal town really is a delightful spot to visit.
Main Street
The main street in North Berwick is lined with small independent shops, cafés, gift shops and restaurants.  There is also an old-fashioned sweet shop, a pet shop, and various general stores.  There is a real village feel to this main street.  At the beach end is an award winning public toilet – an absolute essential facility in a seaside town!
The Beach
North Berwick has two bays with beaches – Milsey Bay and West Bay.  Milsey Bay is a sweeping soft white sandy curve, stretching from the Scottish Seabird Centre at the east end to the Glen Golf Course at the west end.  There is a tidal swimming pool, and there is often an ice-cream van sitting nearby, waiting to feed the hardy Scottish beach-goers!  Milsey Bay is also dog-friendly, for those of us with four-legged furry friends.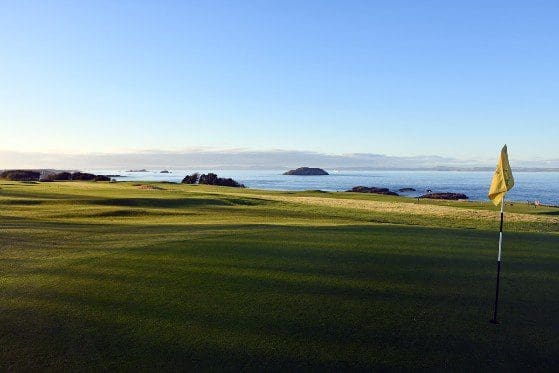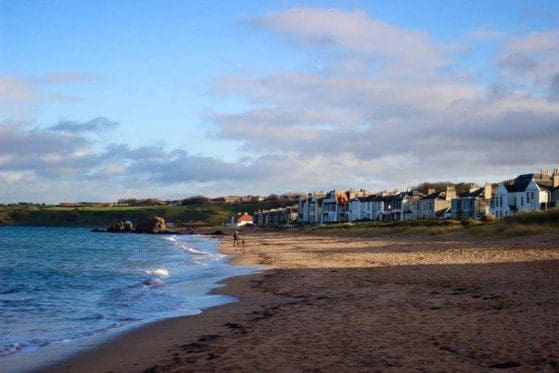 Wildlife
Two kilometres off the coast is the uninhabited island of the Bass Rock.  Home to a huge gannet colony, this rock is often a shining white with the nesting birds.  You can take boat tours in the summer months out to the islands for some bird and other wildlife watching – you can often spot seals and dolphins!
At the west end of Milsey Bay is the Scottish Seabird Centre.  This award-winning conservation and education charity is a fabulous place for kids (and kids at heart), and all animal lovers.  You can have a go at controlling some of the many cameras set up to let you observe various wildlife in the area, learn about conservation, and book thrilling boat trips.  Visit here for more information and booking details.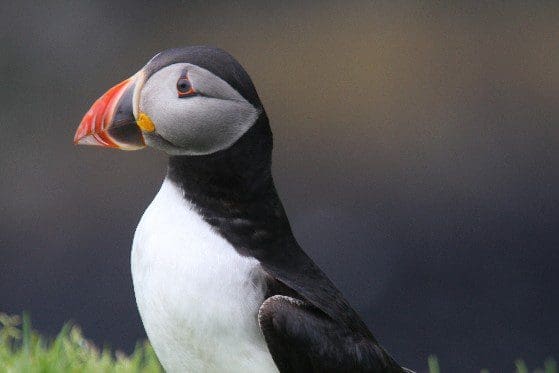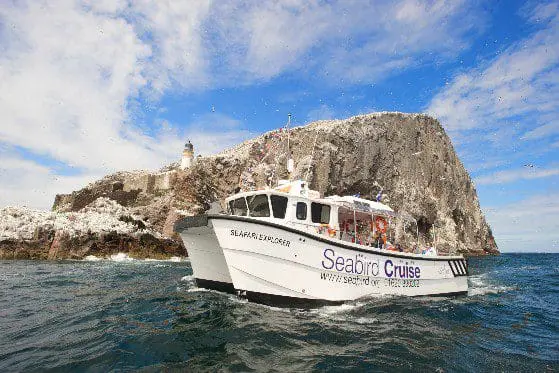 Food
Like any good coastal town in Scotland, there is a fish & chip shop.  Even on dreich days, there is nothing better than getting yourself a fish supper and sitting on the sea wall with your dinner!  Your dinner may get sandy, and your dog may very well steal your piece of fish, but it all adds to the charm of seaside al fresco dining.  Afterwards, try a visit the dog-friendly pub, The Ship Inn, where you can sample a great selection of beer and gin, and a diverse menu of hearty fare.
North Berwick is such an easy day trip from Edinburgh, and it couldn't be a sweeter destination.  With just the right combination of accessibility, amenities and wild coastline, North Berwick has it all.  If you need to get out of the city, or to clear the cobwebs, I recommend a North Berwick day trip.