A Foodie's Paradise
There's a perception that Scottish food and drink is unhealthy - think fried foods and sugar-laden fizzy drinks.  Scotland may be responsible for the deep-fried Mars Bar but what's missed is the fact that the country has one of the World's healthiest and most bountiful natural larders.  There's a plentiful supply of seafood caught fresh from the sea, meat from animals that live a free-range existence, and fruit and vegetables grown on rich, arable farmland.  Then there's rain (lots of it) which we creatively turn into amber nectar, or whisky as it's more commonly known!
Scotland is a foodie's paradise, and a country that punches well above its weight when it comes to producing high quality food.  East Lothian has long held a reputation as a haven for foodie's when it comes to eating out – we've already featured some fabulous places to eat in an earlier blog, so to balance things up we're now going to look at a few of the gastronomic delights that are produced in the region. 
Food
With January diets now in full swing it's probably not fair of us to entice you with chocolate, so apologies but we couldn't keep the Chocolate Tree all to ourselves!   The Chocolate Tree has shops in Edinburgh and Haddington and a chocolate factory in East Linton.  That's right a chocolate factory, just like Willy Wonka!  The Chocolate Tree lovingly craft small-batch, and award-winning, artisan chocolate using cocoa beans.  They're one of only a handful of producers in the UK who make chocolate using the bean to bar method.  It's a fascinating process which luckily you can find out more about as they offer chocolate tasting sessions at their East Linton factory.  For £20 you'll receive a complimentary glass of bubbly, get to sample some lovely chocolate and find out how it's made.  Now where do we sign up?
If you're not ready to face chocolate again so soon after Christmas, how about some smoked salmon instead?  On the edge of the John Muir Country Park you'll find the Belhaven Smokehouse.  The smokehouse takes great pride in producing, and selling wholesome foods which are produced locally.
The smokehouse opened in 1980 and originally sold fresh and smoked trout which they farmed in East Lothian.  Later, they diversified adding delicious smoked salmon, caught fresh from the waters around Shetland.  Today, you'll find mouth-watering pates, smoked Lammermuir cheese and lots of other delights to tempt you, in their farm shop which opens seven days a week. 
At Archerfield Walled Garden they make, serve and sell quality foods, many of which are local.  Watch this space as they recently welcomed the arrival of some resident bees.  Look out for Archerfield honey coming to a breakfast table near you soon!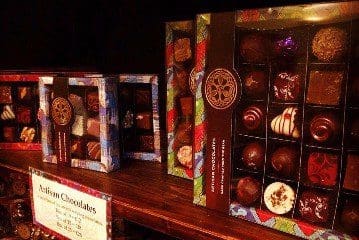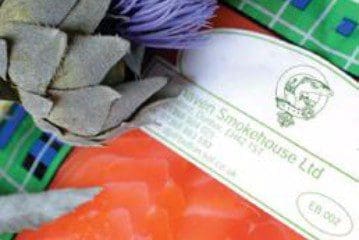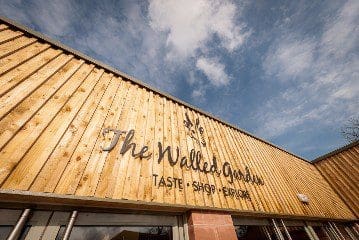 Drink
We may be biased, but we think that Scotland makes the World's best gin!  By utilising the country's unique botanicals Scotland's gin makers are gaining a competitive edge over rival producers when it comes to creativity and taste.  Scottish gin is earning accolades Worldwide, and we're delighted that our very own NB Gin is amongst the gins that aficionados are raving about.  Better still, as of 25th January NB Distillery will be offering tours.  The tours which are sure to be popular, promise learning, luxury and the opportunity to sample World-class products.
Thistly Cross Cider is another great East Lothian success story.  Founded in 2008 in a venture between a local farmer and an artist come cider maker, Thistly Cross Cider very quickly became synonymous with quality.  Producing a selection of creative flavours ranging from whisky cask, to ginger and strawberry it's hardly a surprise that this small local producer quickly gained the attention and respect of cider lovers.  
Alcohol isn't the only drink we excel at in East Lothian - we make a mean cup of coffee too.  At Steampunk Coffee Roasters in North Berwick not only will you find a hugely popular coffee shop, you'll also find a roastery where they roast carefully selected coffee beans to create delicious and flavoursome coffee.  Steampunk embrace the ethos of Fairtrade by ensuring that the coffee beans they buy come from green coffee merchants.  So, if you pop in for a cuppa you'll be safe in the knowledge that it's been ethically produced.   
Apologies if this blog has made your mouth water and your taste buds tingle.  If it has, then hopefully it's also shown you what a foodie's paradise East Lothian is.  Don't take our word for it though, pay us a visit and find out for yourself?