Summer's not over yet - Top Wildlife to See in East Lothian
Get out and about in East Lothian and seek out those bits of the countryside that might offer some respite on a hot sunny day. – maybe a nice soggy ditch or a pond to stick your feet in.
Look out for Meadowsweet, a common plant of damp grassland, ditches and bogs. It's a member of the rose family; and is a medium to tall plant with delicate sprays of creamy-white flowers and dark green leaves. It has a number of uses associated with its taste and smell. Not only can it be added to stewed fruits and jams, historically it was also strewn across floors to give rooms a pleasant smell and has been included in pot pourri.
Meadowsweet contains a chemical called salicylic acid, which is essentially the basic ingredient of aspirin. 
It is known by a number of other, quirkier, names. One of the most entertaining, and cynical, is "courtship and matrimony". The smell of the freshly cut flowers is sweet, with hints of honey – this represents the sweetness of courtship and falling in love. Over time, the flowers and especially the leaves give off a sharper, more bitter scent – you can probably work the rest out yourselves.
A common sight around ponds and lakes this month will be damselflies and dragonflies. These are a very diverse bunch, often named after their preferred method of hunting. Skimmers fly low over the water's surface, while darters and chasers tend to perch on plants before ambushing their prey. The largest of our dragonflies are the hawkers, fast and powerful fliers, which can often be seen above head height.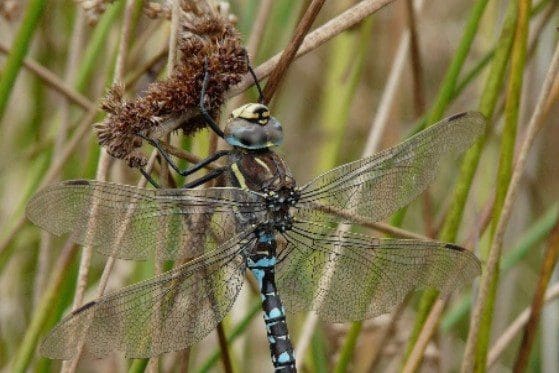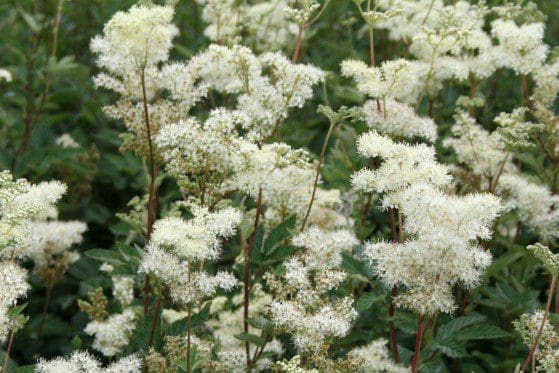 The Common hawker is certainly worth looking out for at the moment. Males are mainly brown around the head and thorax, but with greenish-yellow markings and big blue eyes. The long, thin abdomen is black with light blue spots. Females tend to be less showy, and are mostly brown, but common hawkers of either sex are very handsome dragonflies. They tend to prefer moorland habitats, but can also be found in woodlands where they might be seen hunting along tracks and in clearings near water.
Unlike their daintier relatives the damselflies, dragonflies can be quite noisy in flight. Sometimes the first thing that alerts you to their presence is the whirring of their wings as they pass overhead. Either that or you're being followed by a small military drone.