Enjoy a great day out exploring the dramatic East Lothian coastline and countryside on quiet country lanes on this route along the John Muir Way from North Berwick to Tantallon Castle.
Route Description
Leaving from North Berwick pier, this route takes in clifftop sights, an ancient castle with a dramatic setting and sandy beaches.
From the Scottish Seabird Centre, cross Milsey Bay and take the track across the golf course, leading to the main Tantallon Road. Heading east, you'll quickly turn south onto quiet back roads, with a short off-road track leading to Whitekirk.
It's then onto the coastal road leading to Seacliff Beach, before turning back towards the imposing Tantallon Castle.
Enjoy a coffee shop overlooking the cliffs and Bass Rock, once a formidable prison, and now an important seabird sanctuary, on your way back towards North Berwick town.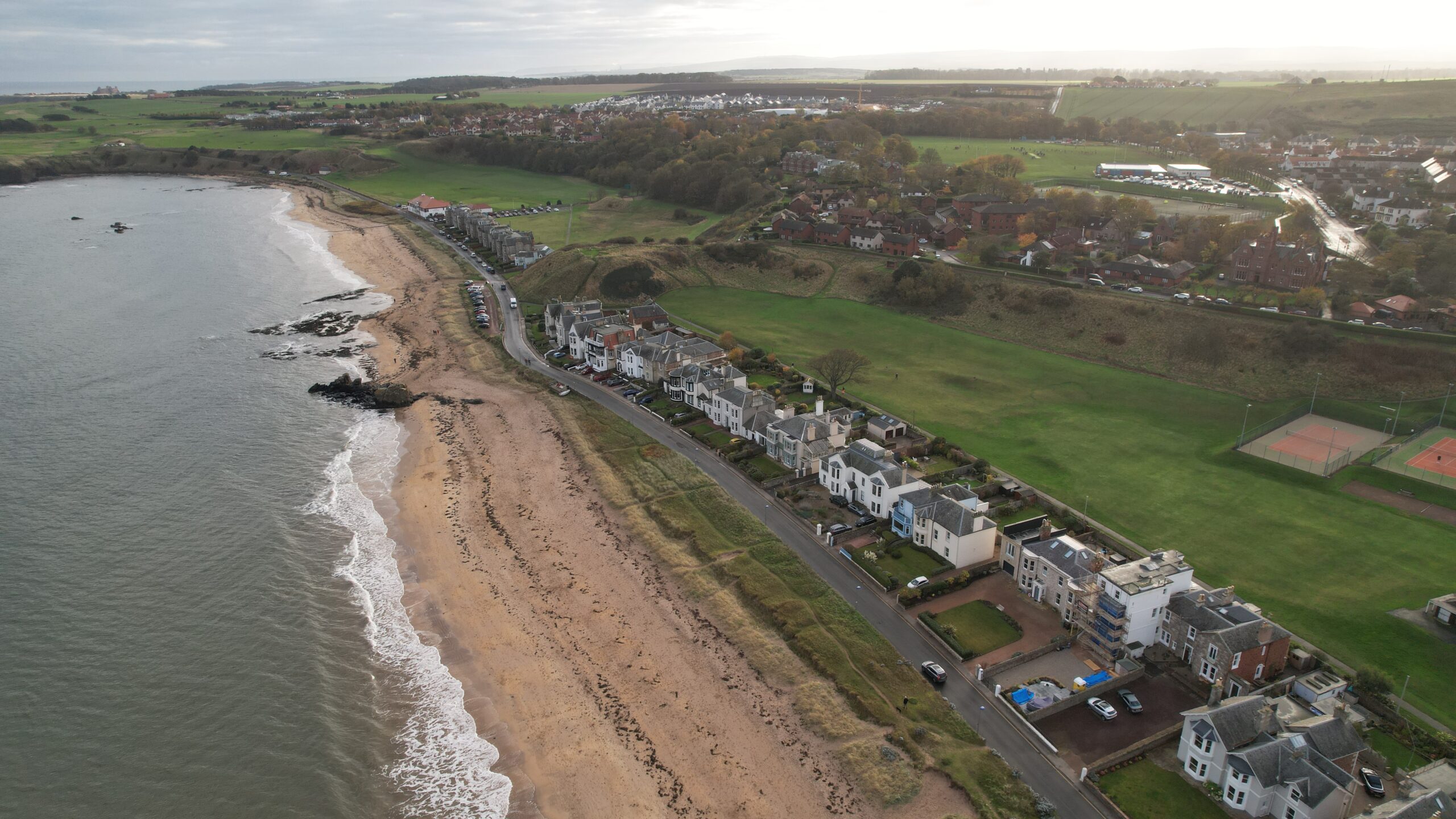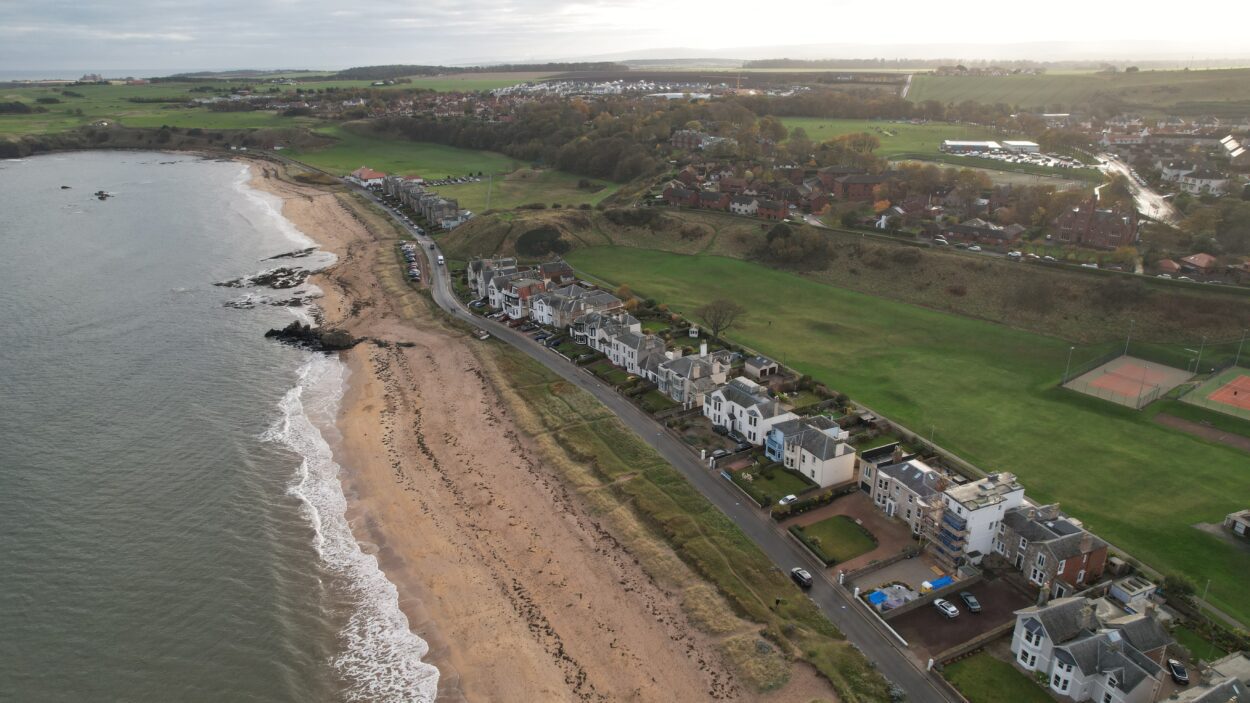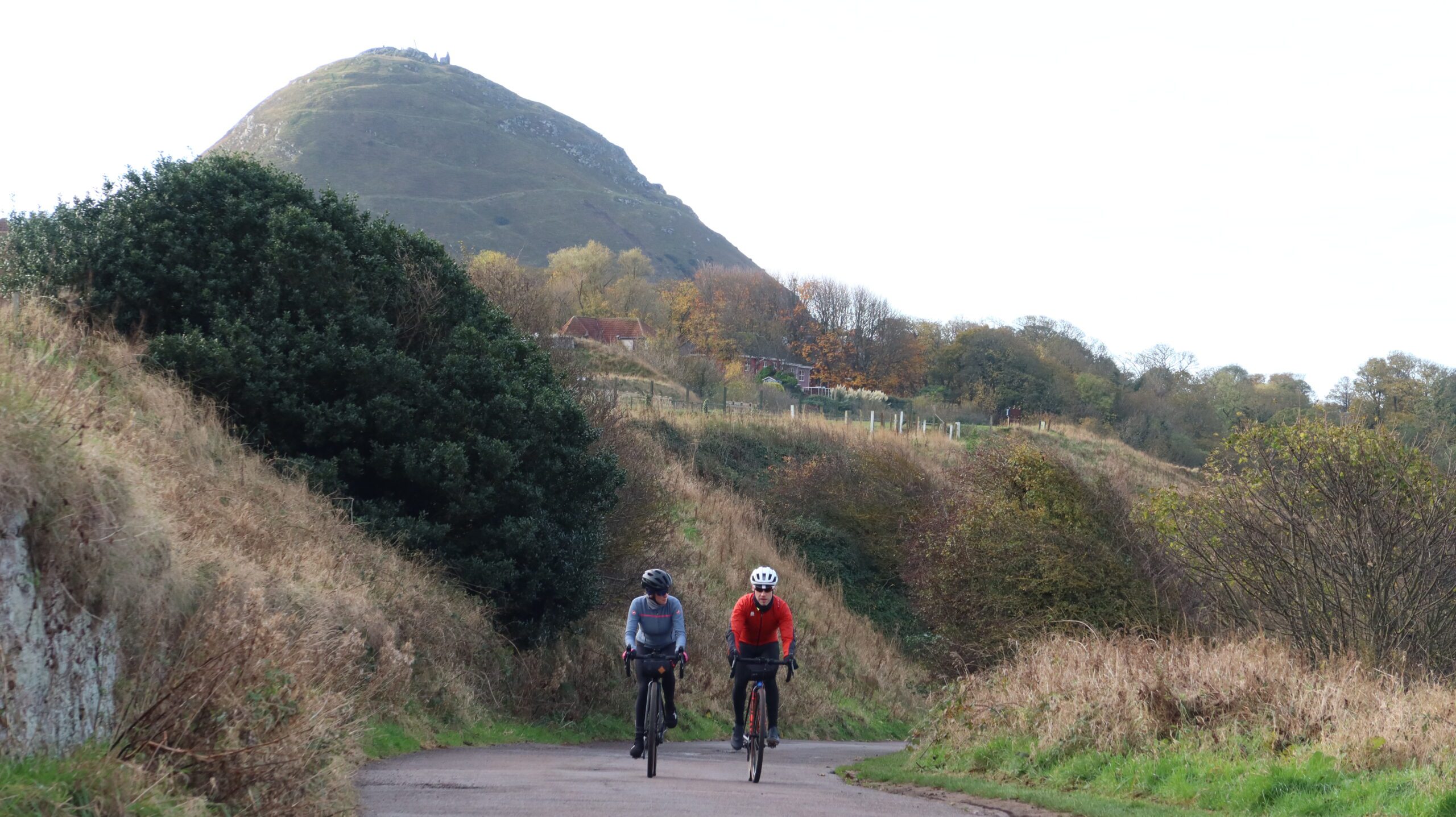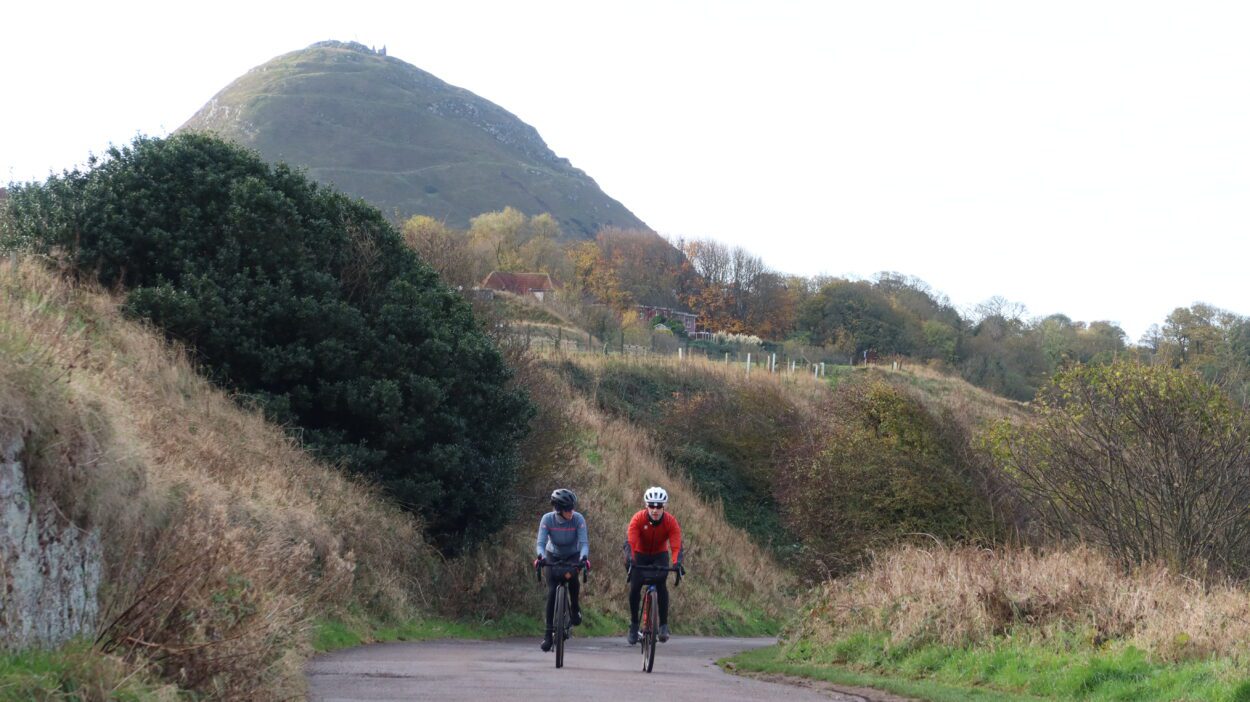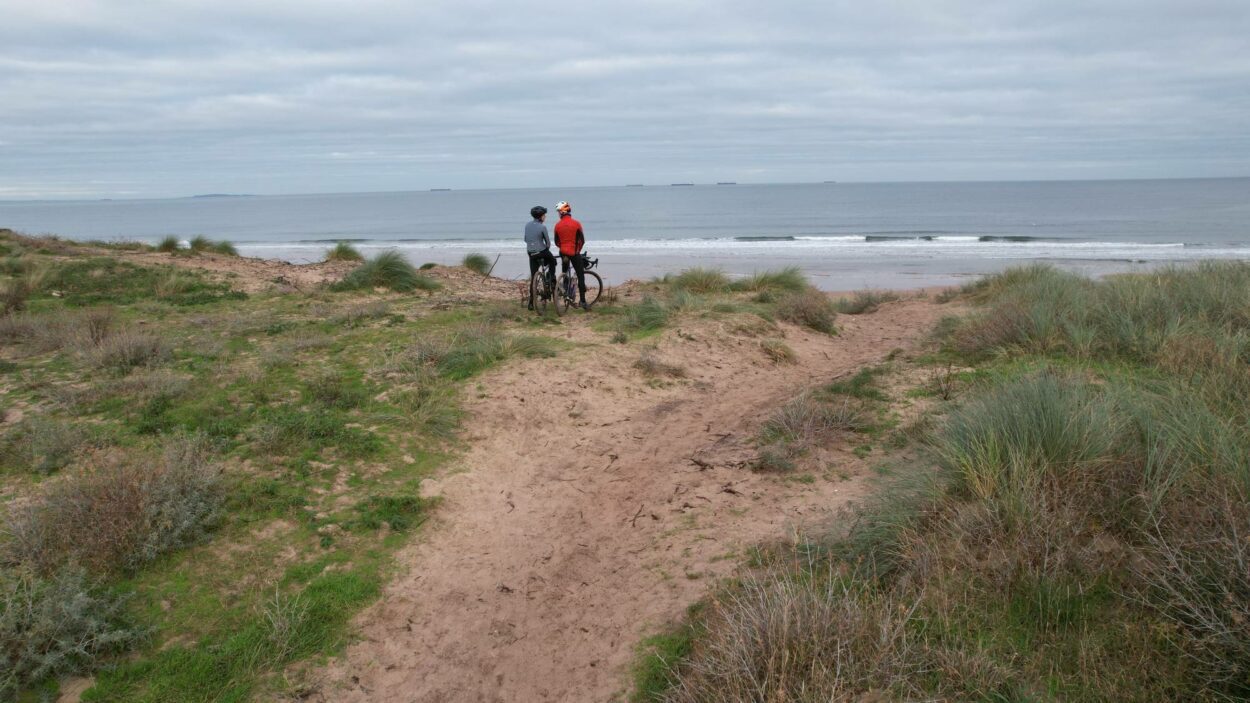 Route Details
Level: Intermediate
Description: Flat or rolling terrain along quiet roads and tracks with a short main road section
Time: 2.5 hours
Profile: Total Ascent 109m / Highest Point 49m
Route Level Classifications
Introductory: Distance <15km / Terrain few to no hills
Intermediate: Distance 15-35km / Terrain some hills
Challenging: Distance >35km / Terrain hilly
The distances may vary slightly from the classification depending on the amount of hills and the nature of the route.
View Points / Attractions Along the Way
Scottish Seabird Centre - explore the wonder of Scotland's marine environment at the centre's 5-star Discovery Experience. Or take a boat trip to see stunning seabirds and marine life, from endangered puffins to the world's largest colony of Northern gannets, and maybe even dolphins.
North Berwick Law - take a walk up Berwick Law, an ancient volcanic plug that erupted over 300 million years ago. At the top, enjoy the views under the whale's jawbone which marks North Berwick's seafaring past. You will also see part of an old look-out shelter from the Napoleonic Wars.
Seacliff Beach - discover this hidden gem which is home to the UK's smallest harbour with spectacular views of the Bass Rock and Tantallon Castle.
Tantallon Castle - climb the walls of the this imposing castle perched upon a clifftop with magnificent views across the Firth of Forth.  There is currently no visitor access to the castle or Doocot.  The castle grounds are open - for more information.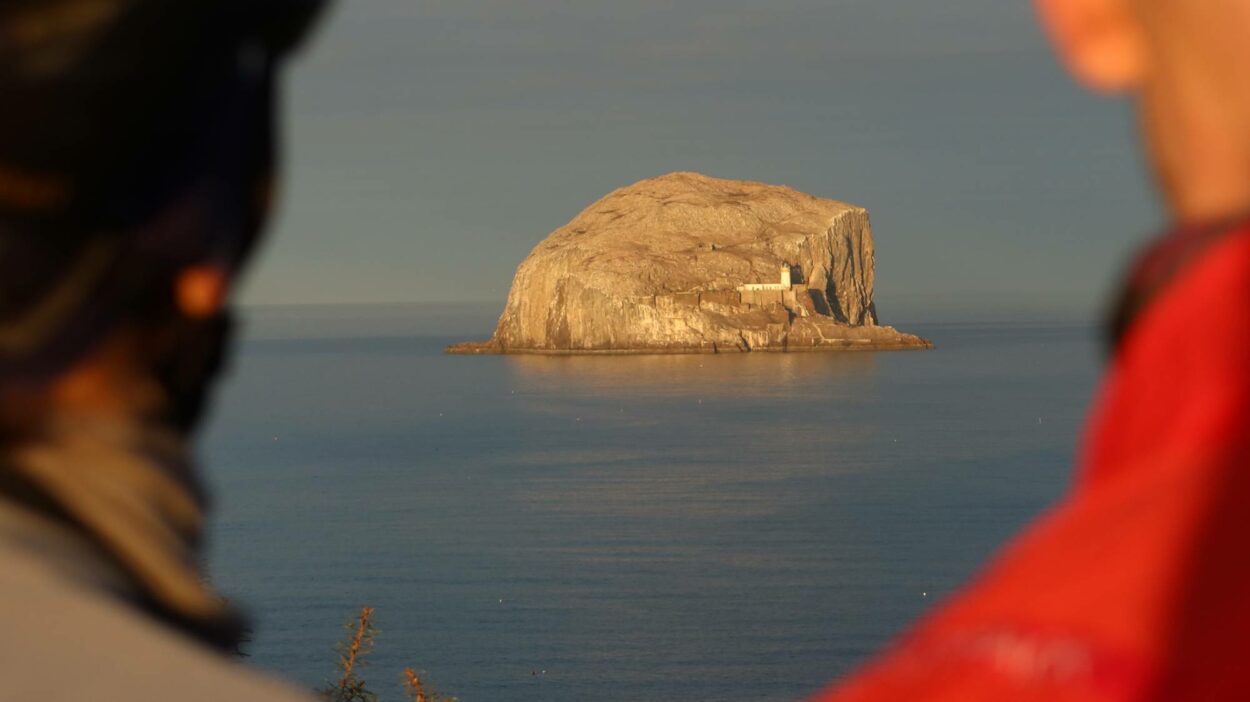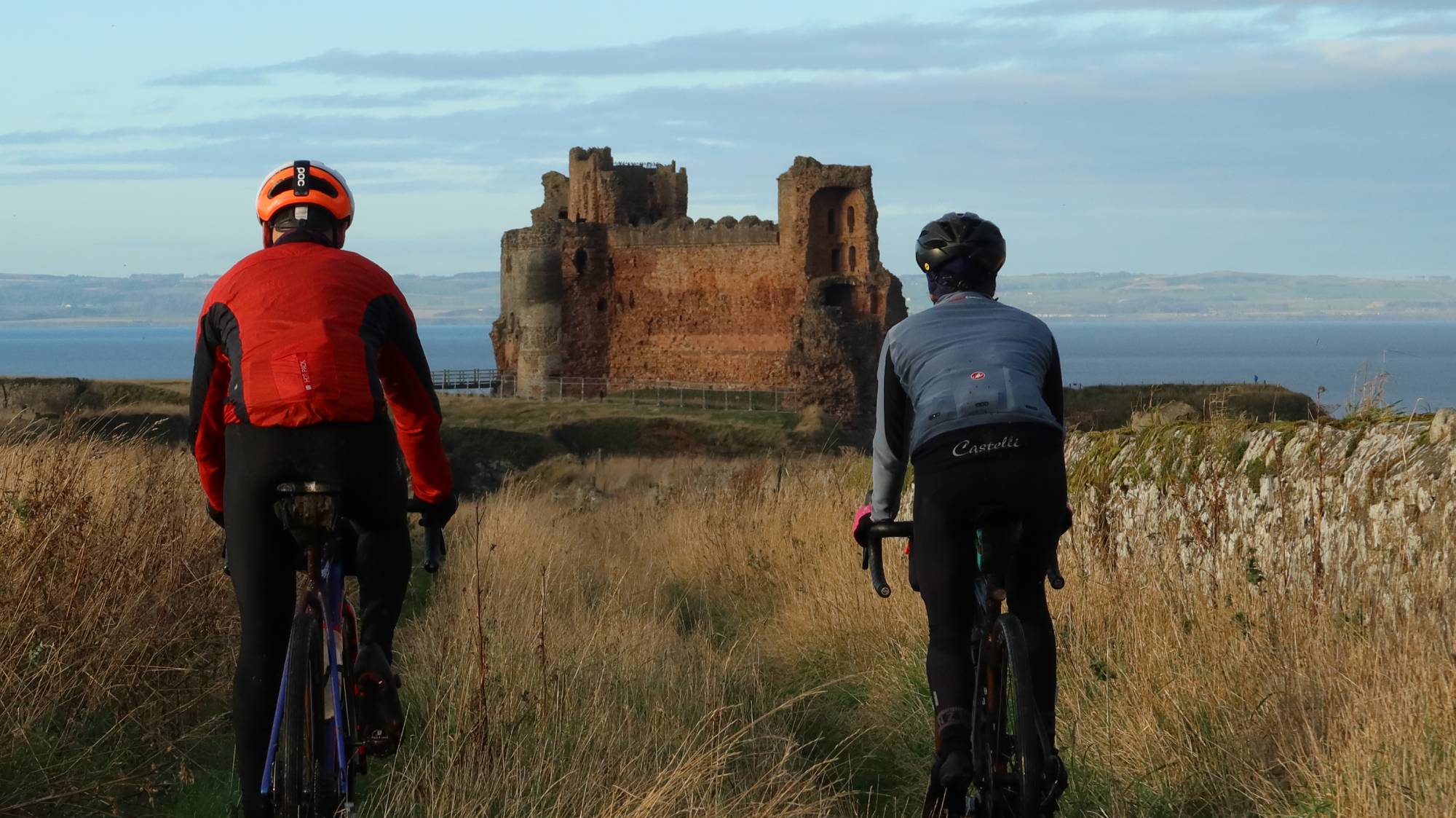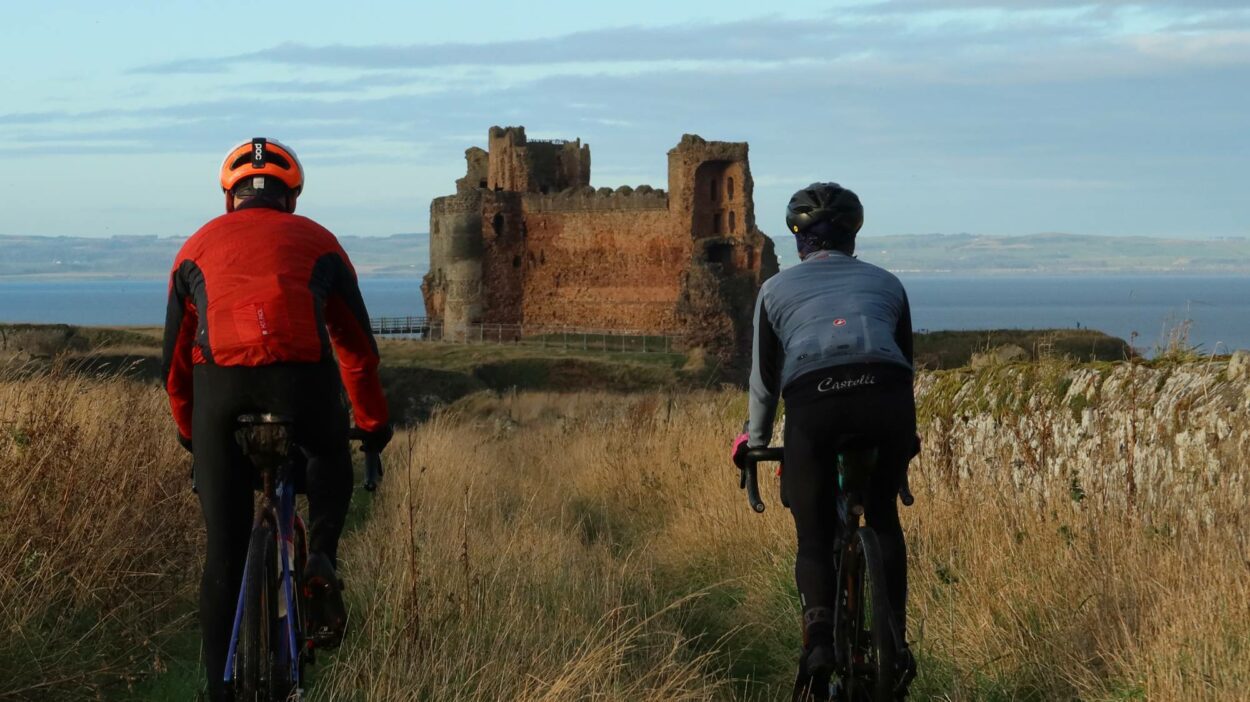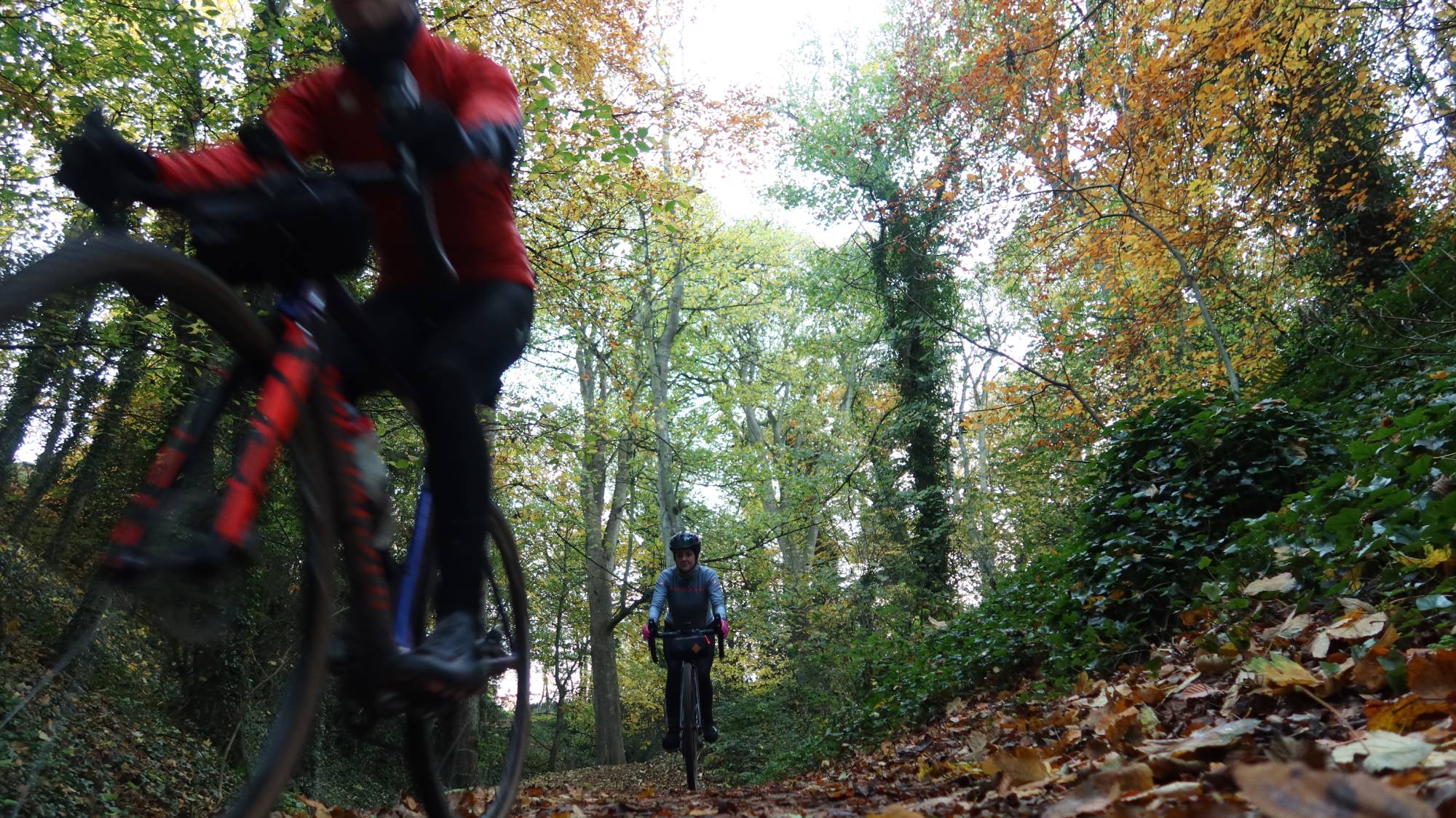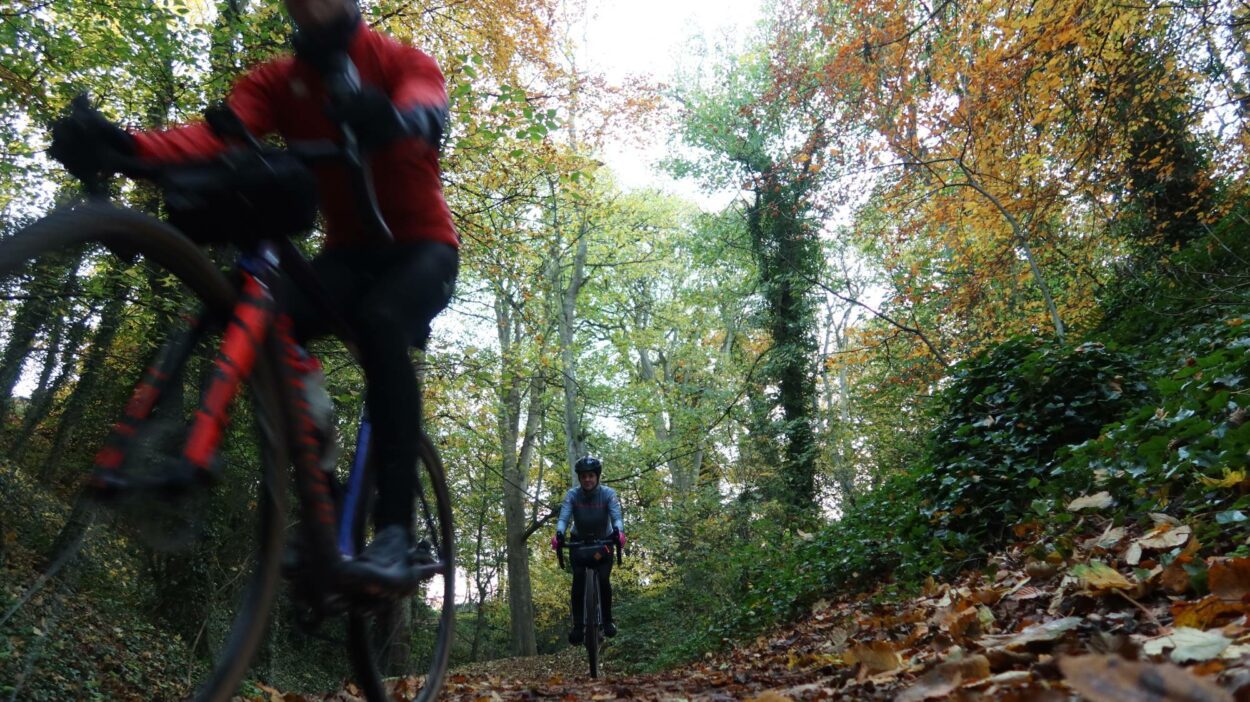 Friendly Stops Along the Way
Law Cycles, 2 Law Road, North Berwick, EH39 4PL - Tel 01620 890643 - offers a selection of cycle parts, accessories and professional cycle repair and cleaning service.
Drift Cafe - Canty Bay, North Berwick, EH39 5PL, Tel 01620 892817 - perfect for a pit stop, this unique coffee house situated upon the clifftops with breathtaking views across the Firth of Forth coast and the Bass Rock. Everything on the menu is freshly made using locally sourced or Scottish produce and champions all that is great about Scottish agri-tourism.
EZ Riders - Castleton Farm, North Berwick, EH39 5PN - Tel 07407 039747 - specialising in E-bike rental, leasing, tours and sales and can recommend loads of amazing routes, both on and-off road.
Scottish Seabird Centre - The Harbour, North Berwick, EH39 4SS - Tel 01620 890202 - enjoy locally sourced food and drink and soak up the amazing coastal views.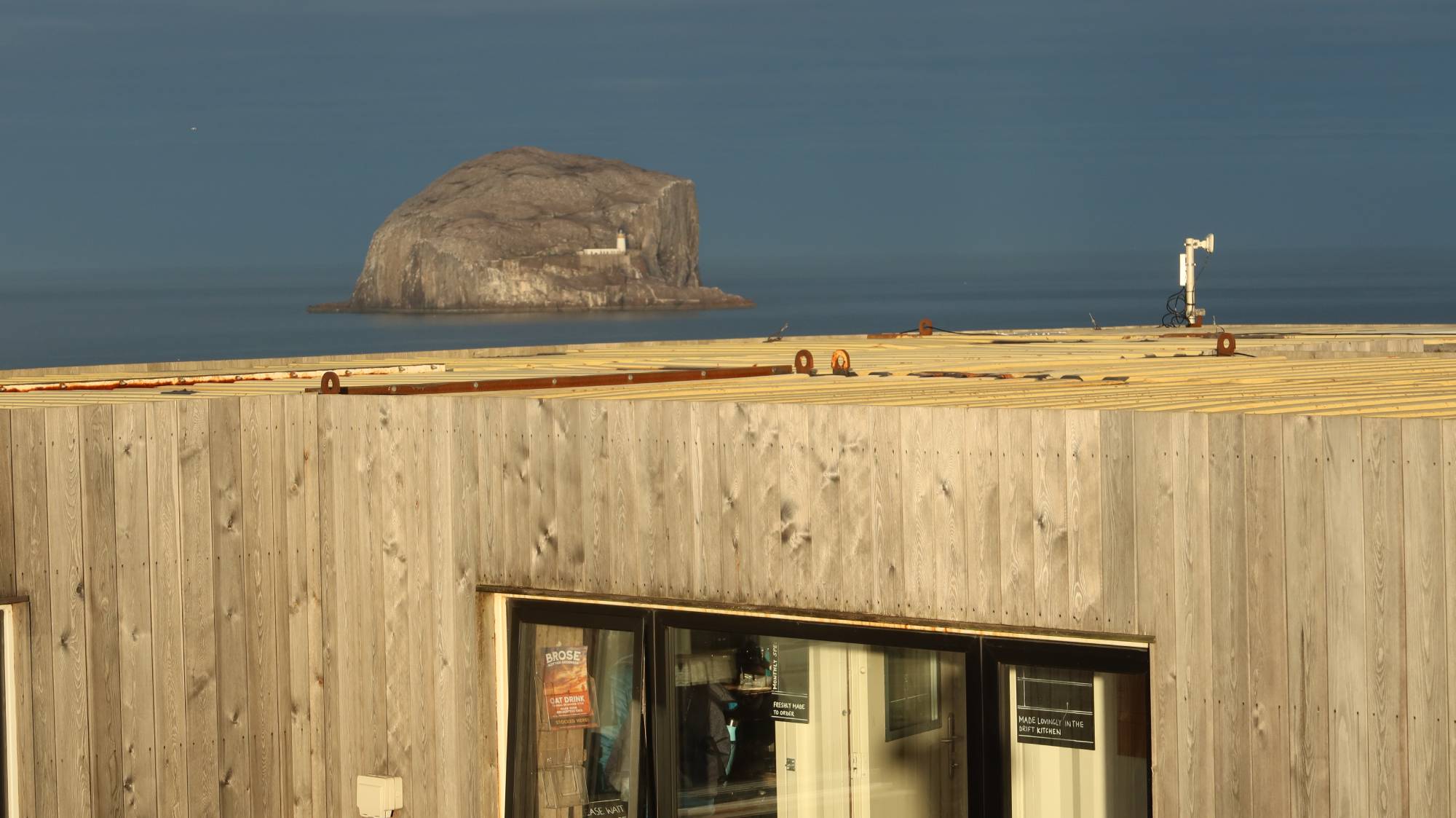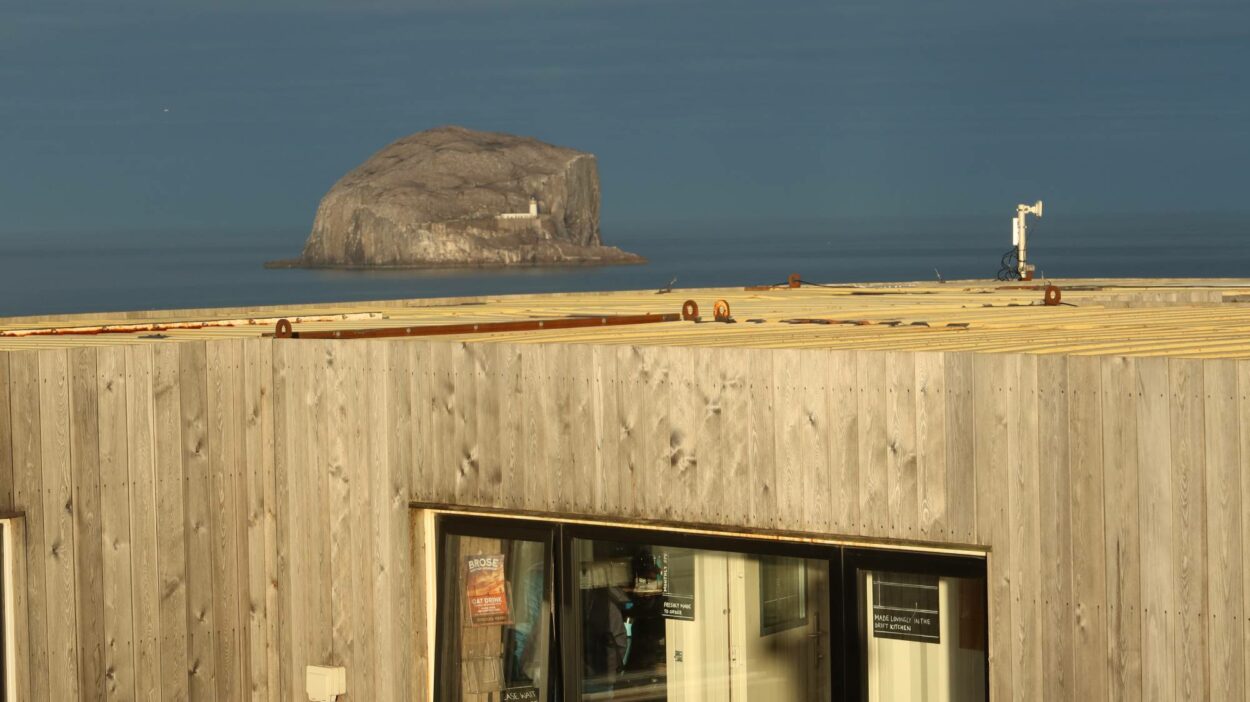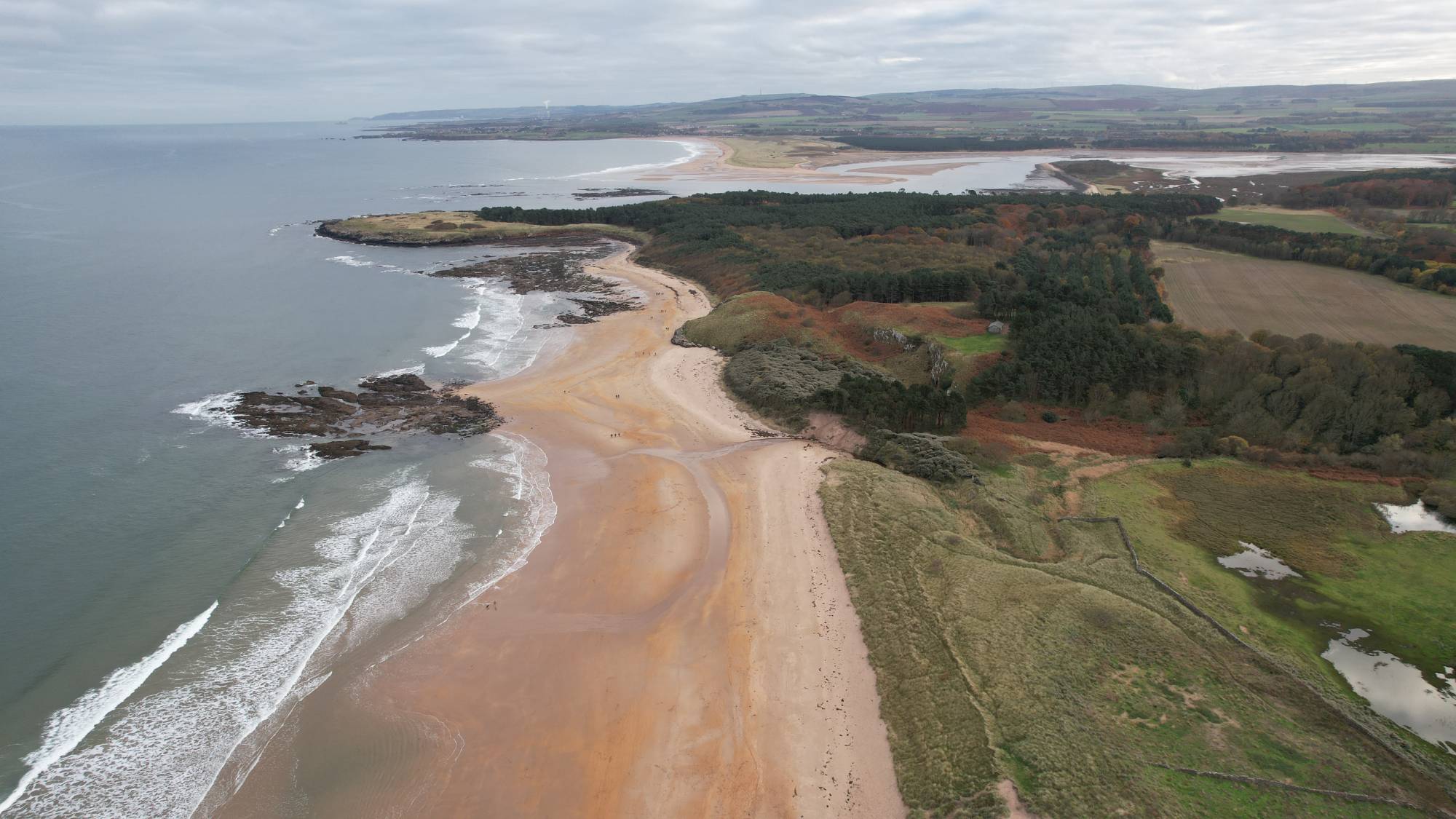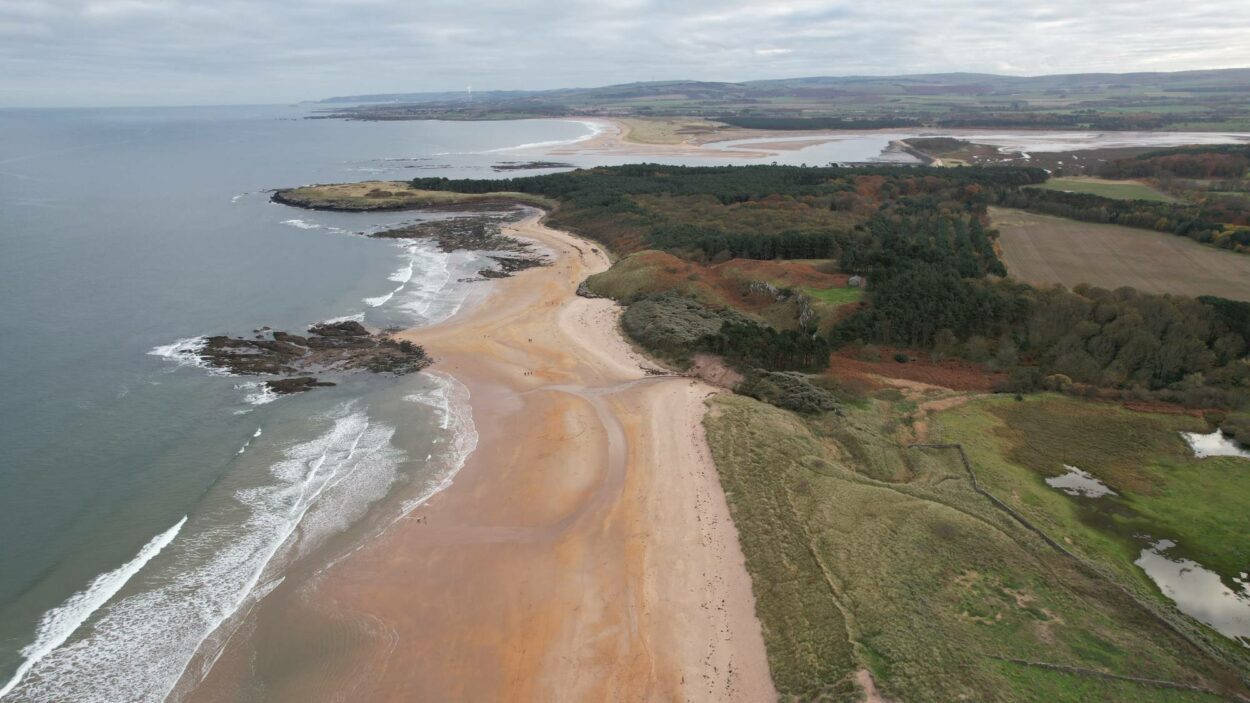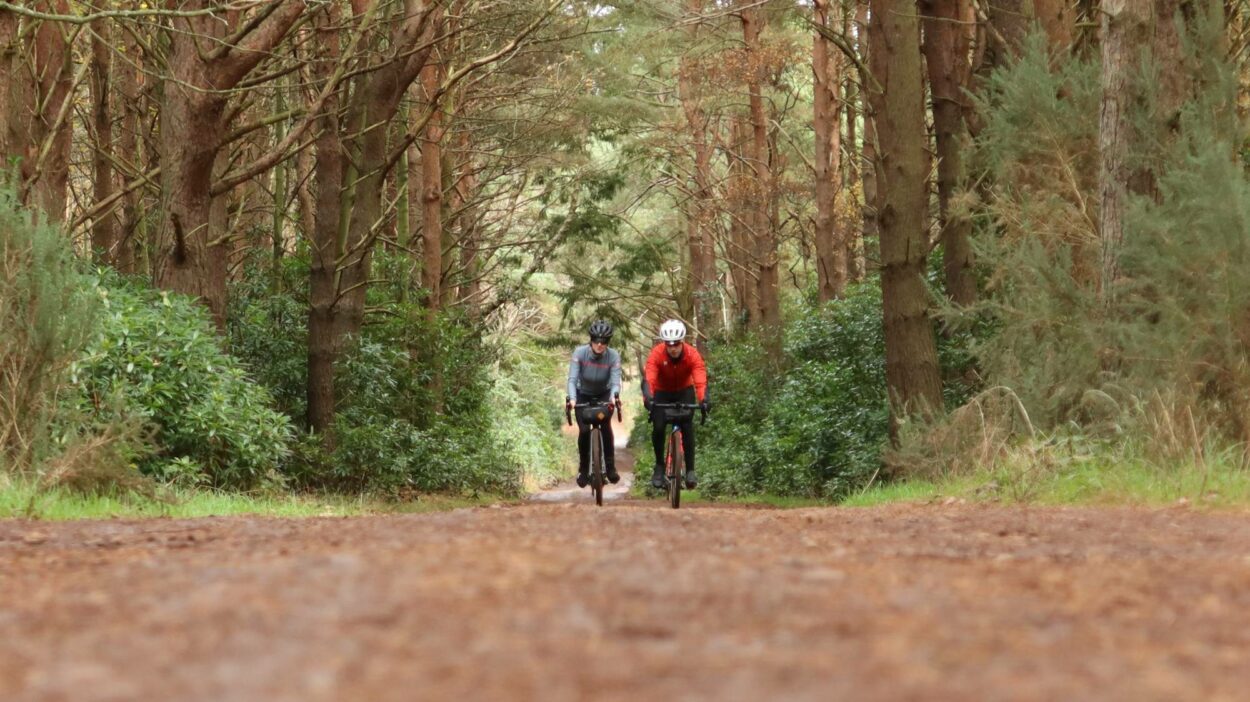 Check out the route highlights in the video below.
For more information about the John Muir Way and National Cycle Network visit https://visitscotland.com/cyclingroute
For more East Lothian cycling inspiration visit here.
by Anna Neubert-Wood, WanderWomen Scotland Ltd
1. Walk barefoot at the beach. Barefoot walking is really good for you, not just does it slow you right down, helping you de-stress, but it's also free reflexology, it grounds you, and gives you a sense of freedom and adventure.
Try it here: any sandy beach in East Lothian will be perfect. We love Tyninghame Beach for it. Add a few rocks for the advanced barefoot experience.
2. Spend some time with a tree, and listen to the sounds around you, notice all the life around you - what do you notice? Can you spot any animals? Can you tell different birdsong apart? Whether you are standing or sitting with a tree, notice how unconditionally the tree has your back, how it supports you, how you can trust it with your weight, and how being around trees calms you.
Try it here: Blinkbonny Wood, Gifford Community Woodland are some of our favourites.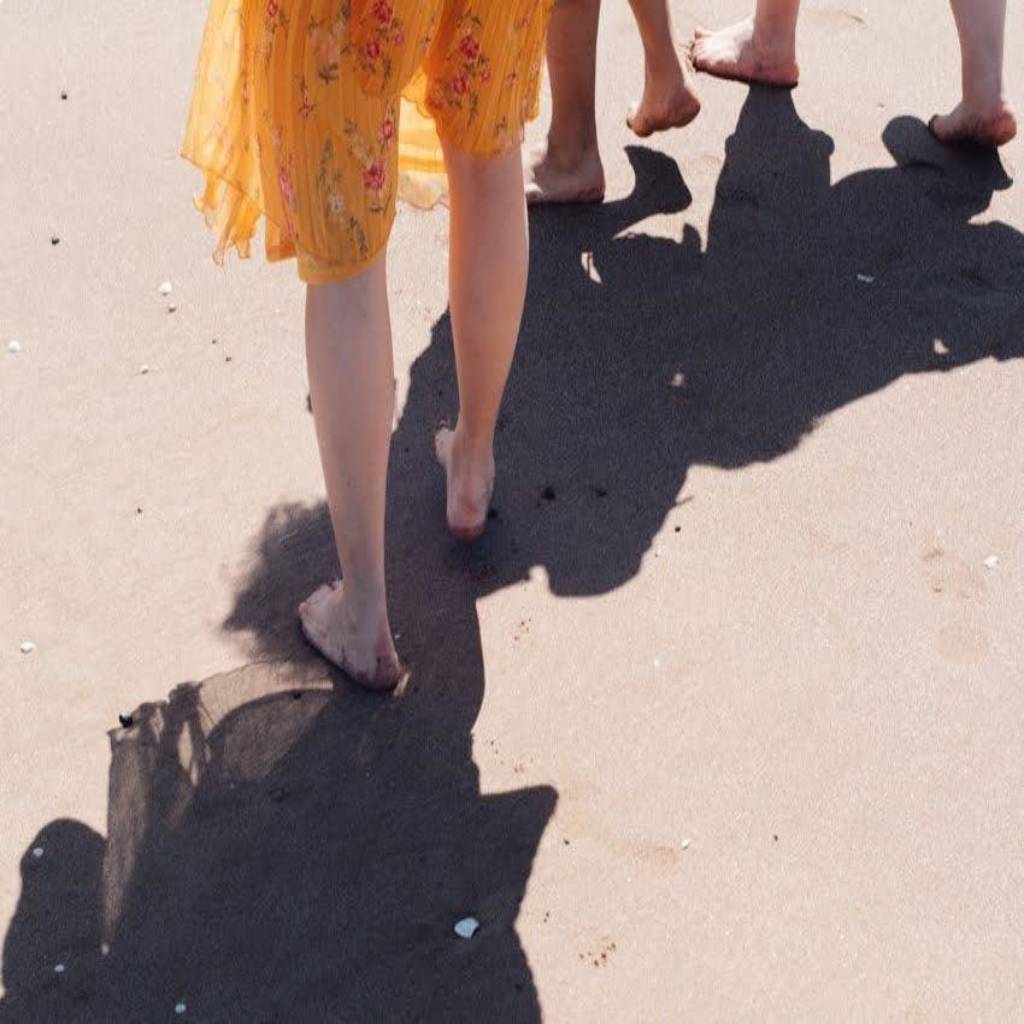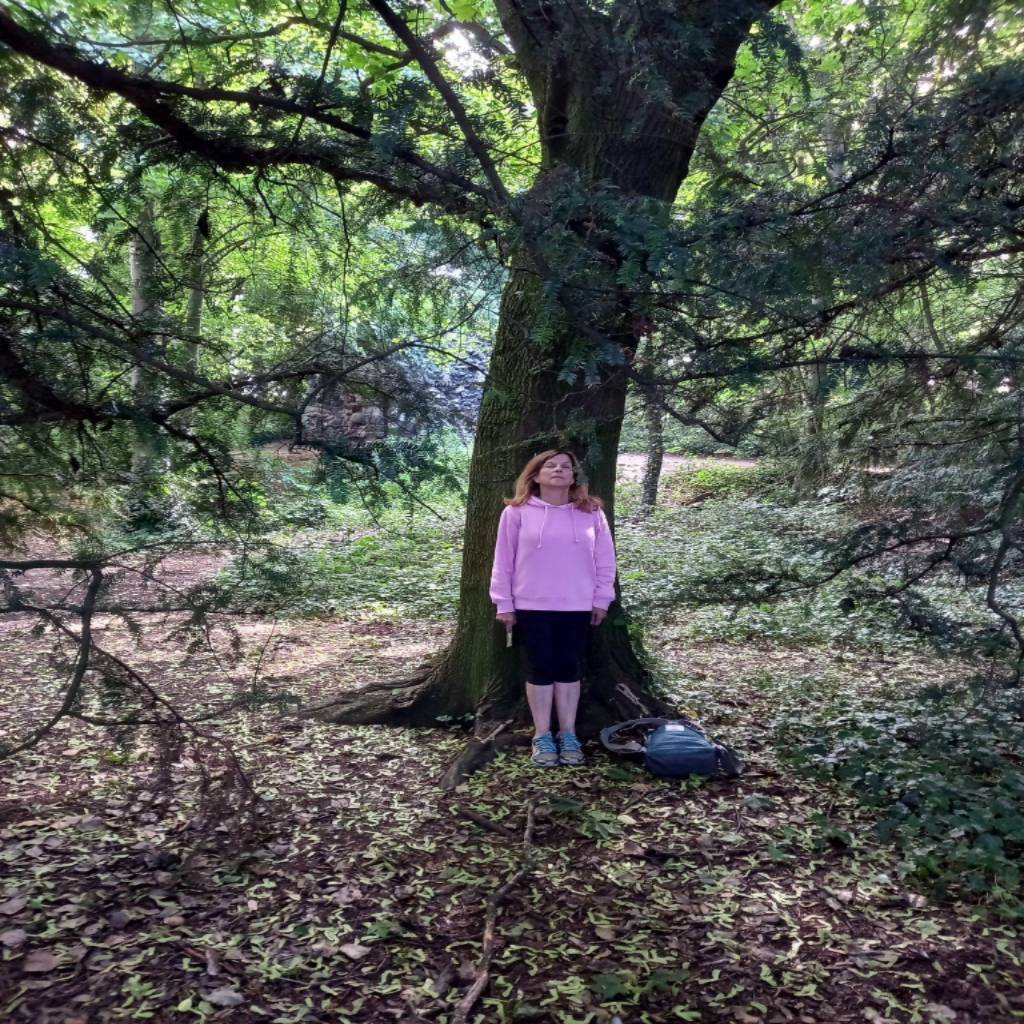 3. Search for sea treasures (sea glass or sea pottery), and build rock stacks. Finding flow in a playful activity, being present and finding joy in the simple things, is beautiful mindfulness. Once you slow down, you will be amazed at all the colours by your feet, shapes and sizes of washed up treasures. Building rock stacks requires a steady hand, balancing skills and a calm mind. Practice, practice, practice - how high can you stack your tower?
Try it here: Morrison's Haven and Prestonpans Beach.
4. Create some nature art. Wherever you might be on a walk, pick up things that catch your eye - colours, textures, shapes…those might be rocks, shells, feathers, sticks. Collect with a child-like mind. It will make you pay more attention to what's around you. Eventually, create something nice with it, whether it's a mandala, a face, a little landscape or anything else that makes you feel creative!
Try it here: Any walk in any East Lothian location will do - beach, woodland or hills!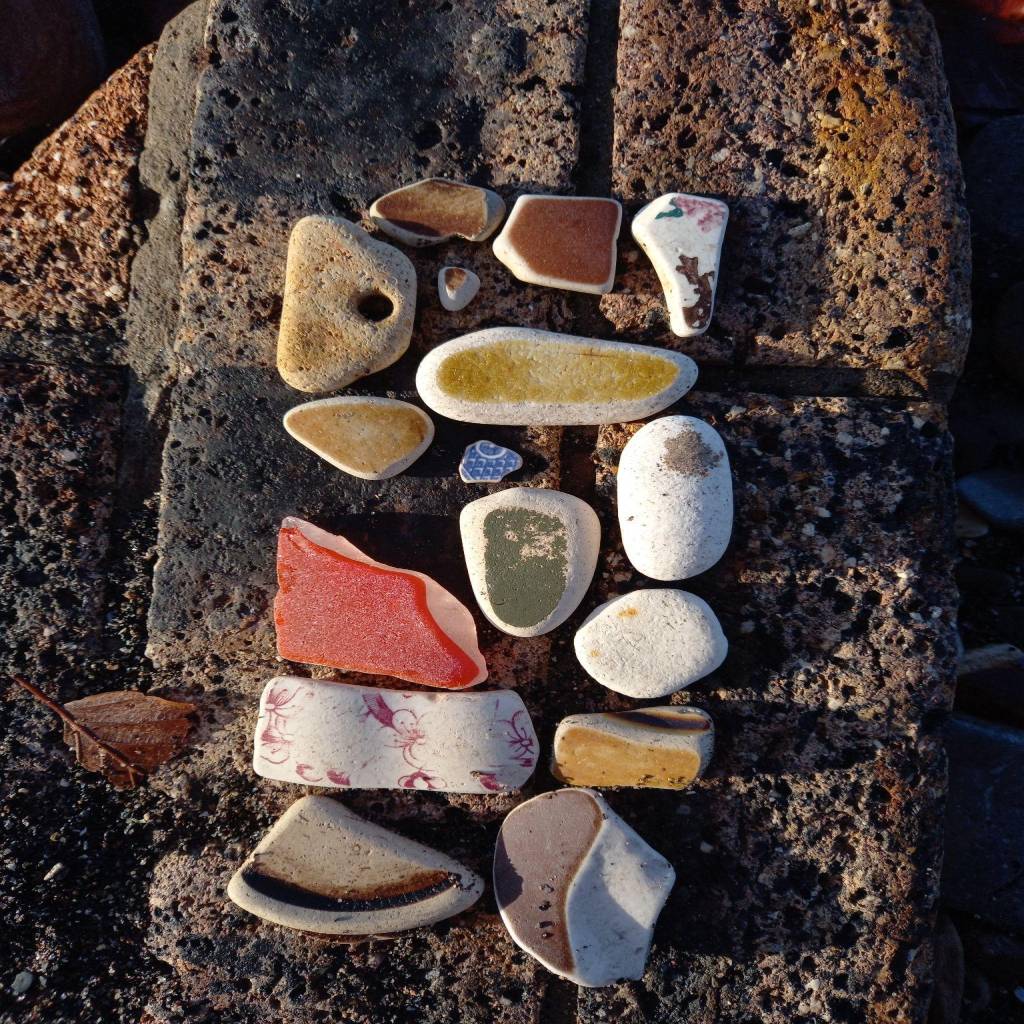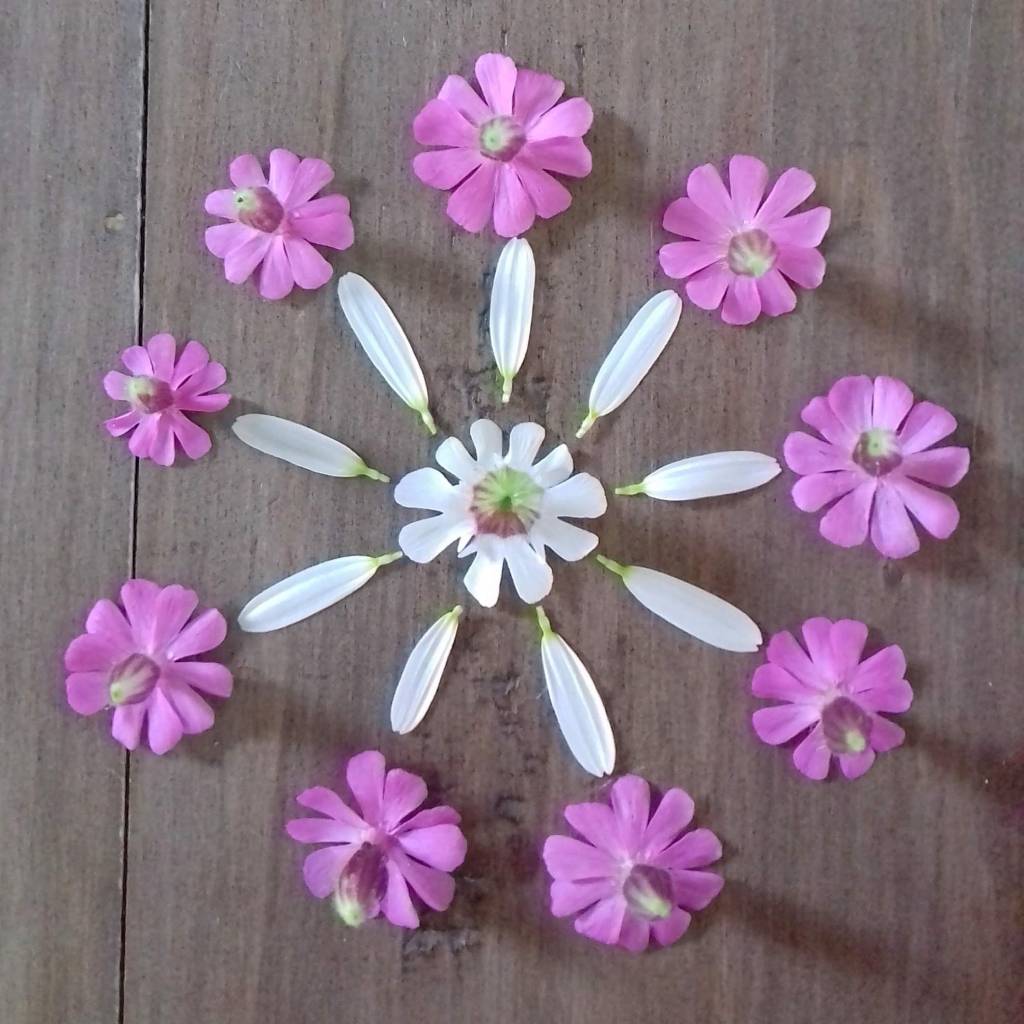 5. Sea meditation: Sit or stand facing the sea. Become aware of the space. The colours, the sounds. Focus your mind on the sound of the crashing waves and notice it for a while. Eventually try and synchronise your breathing with the rhythm of the waves. Breathing in with the incoming wave, breathe out with the crashing and the retreating of the wave. In and out. Nature makes you feel so good!
Try it here: Anywhere on East Lothian's beaches. The louder and powerful the waves, the better!
6. Skygaze. Take some time to lie down somewhere comfy - on the sandy beach or a grassy area. Relax. Watch the sky and the clouds, notice whether it's a still day with slow moving clouds, or whether it's wild and clouds shapeshift quickly. What shapes can you notice? What stories can you come up with? Become aware of the big space above you - are the clouds far away? Or are they quite low? Which way does the wind blow? Can you touch the sky? Be playful and enjoy!
Try it here: We like Yellowcraig Beach or the grassy plain behind the dunes for this!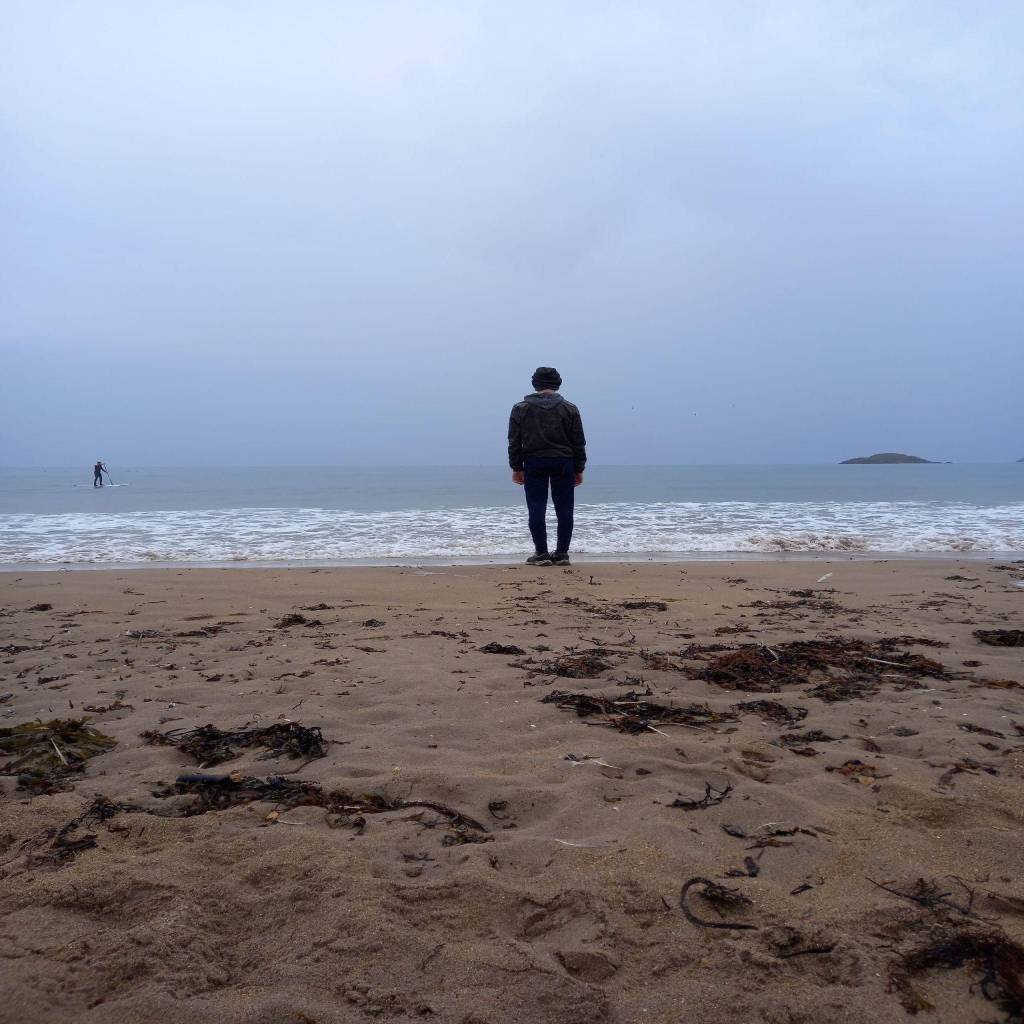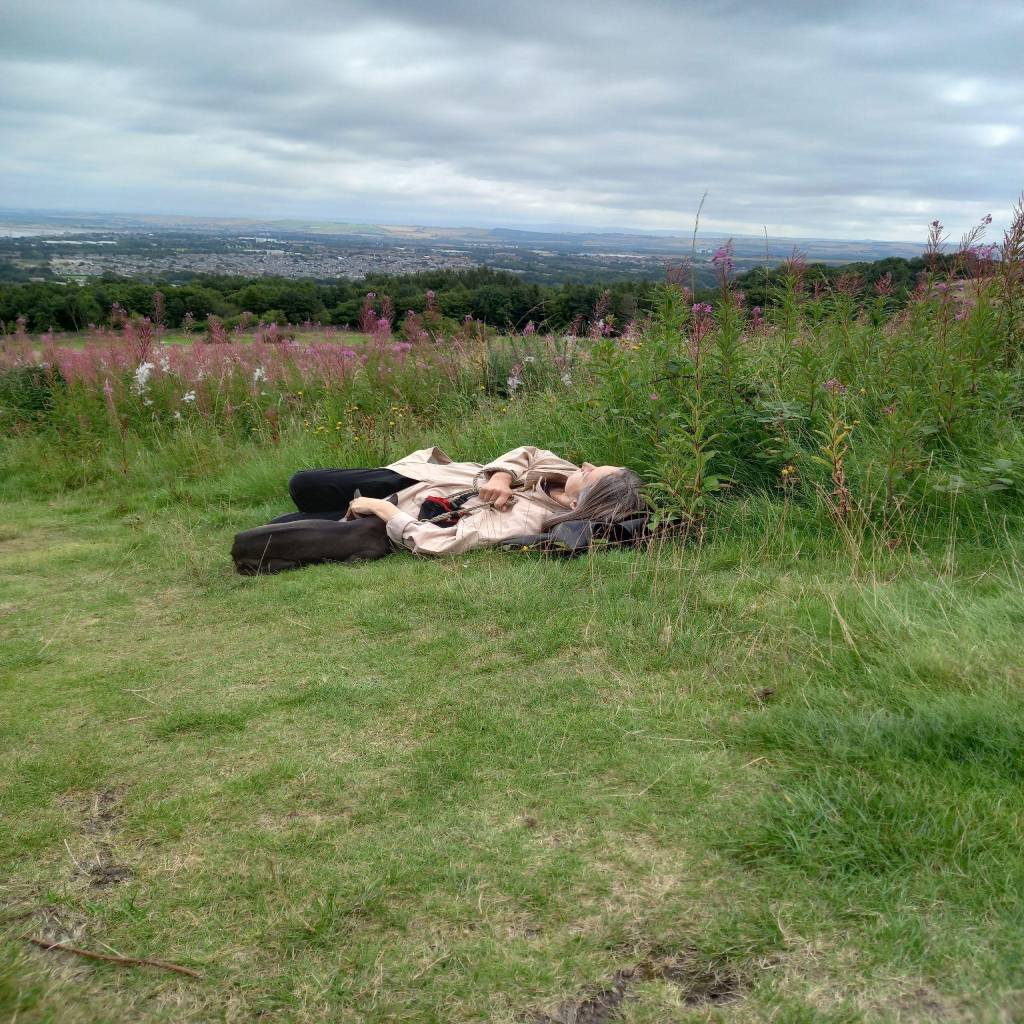 7. Climb a hill and feel on top of the world. Getting moving, getting the heart pumping makes you get in touch with your breath - it's so good for you to breathe deeply, using your whole lung capacity. Think about how shallow your breathing is in other life situations! They can do so much more for you! You are strong! Take in the beautiful views in this stunning piece of the world.
Try it here: Traprain Law & North Berwick Law, with some added wild horse fun!
8. Spend some time by a rock pool. Notice all the life that goes on in this little habitat. Isn't it fascinating? Notice the colours, movement and calm. Imagine what would change, once the tide comes in.
Try it here: At rocky parts of the coast, at low tide. For example at Longniddry Bents, East of North Berwick and Seacliff Beach.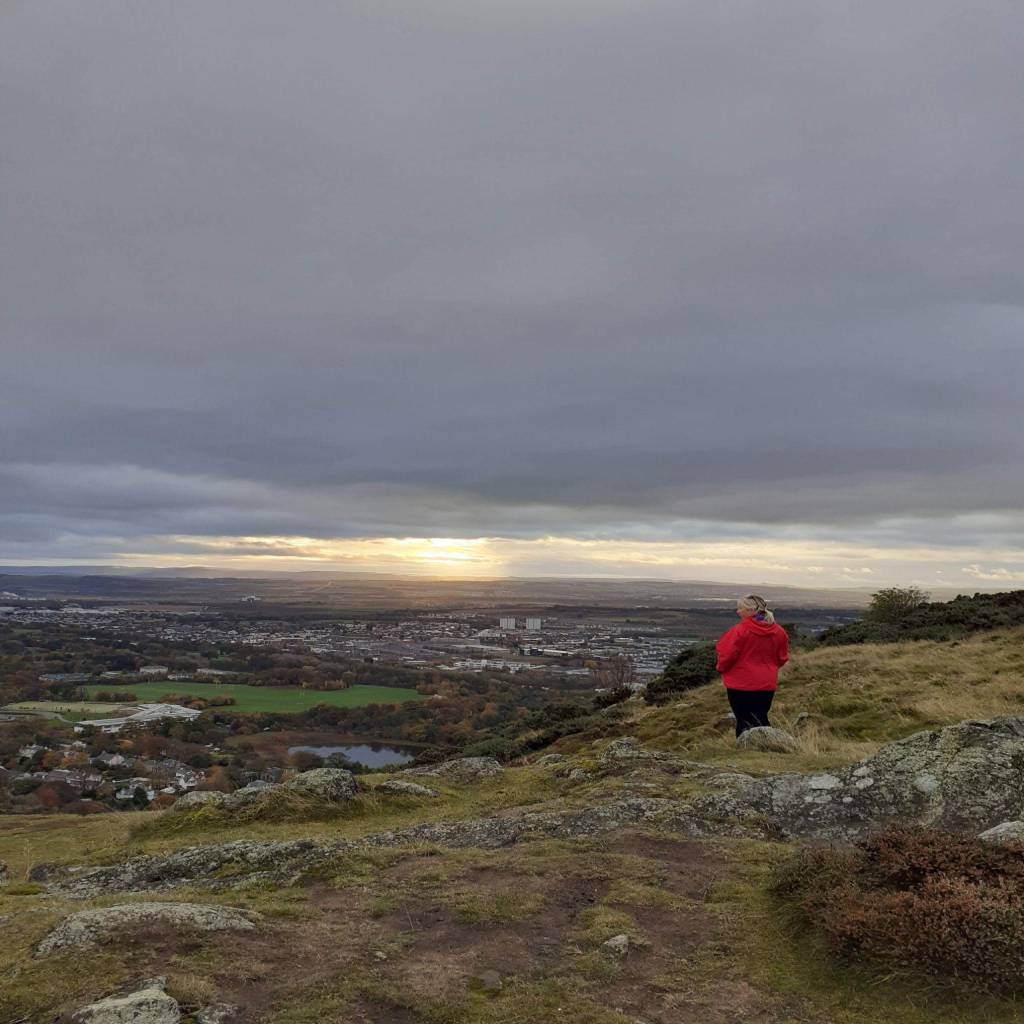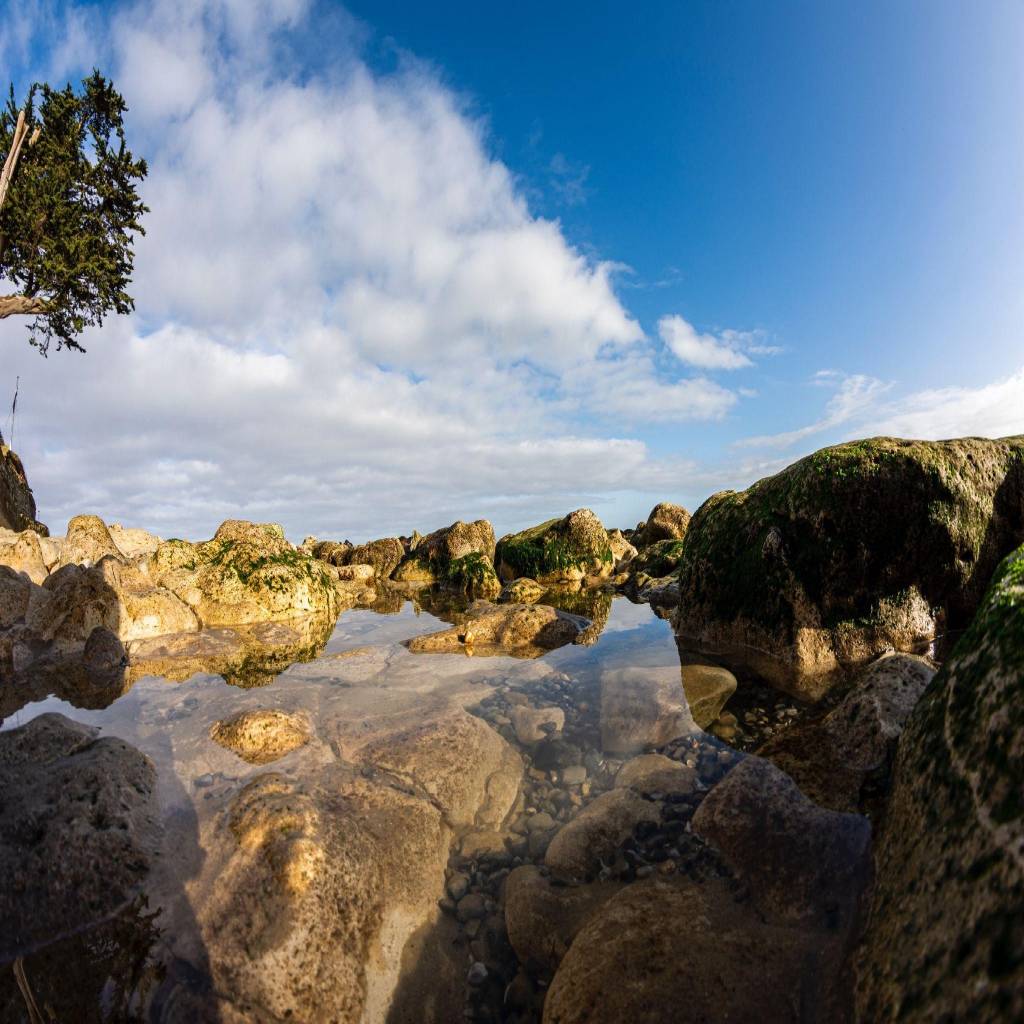 9. Make yourself a wild flower crown or pick some flowers to take home. Connecting with the plants and flowers makes you feel more connected to any place. Watch all the insects that love the plants, and be respectful to leave some for them to enjoy. Only take what you can use/what you need. Don't pick all the flowers from the same patch. Notice the scents, and think back to when you made flower crowns as a child. Did you use daisies or dandelions? Go and make one now. Or simply take some home to pop in a vase, to remind you of your special time outside.
Try it here: At field edges, by the side of paths. Anywhere in East Lothian. Once you pay attention you will see wildflowers and pretty weeds everywhere!
10. Forage some Seabuckthorn! Scotland's superfood is easy to spot - its orange berries can be found along many East Lothian beaches - Very distinctive, they are best to harvest in October and November. Because of it's thorny branches, bring secateurs and cut off a branch, which you then pop in the freezer overnight. The next morning you are able to get the berries off really easily. A handful thrown into a smoothie mix, or cooked down into a jam, you will benefit from all its antioxidants and vitamins. Raw, and on its own, it tastes very sour and tart, because of its high vitamin C content. Be healthy and feel good! Good fact - because it's not a native species, you can't over harvest Seabuckthorn. (with other foraging, you need to be more careful!)
Try it here: Most places near the beaches - Gullane Beach, Yellowcraig Beach, etc.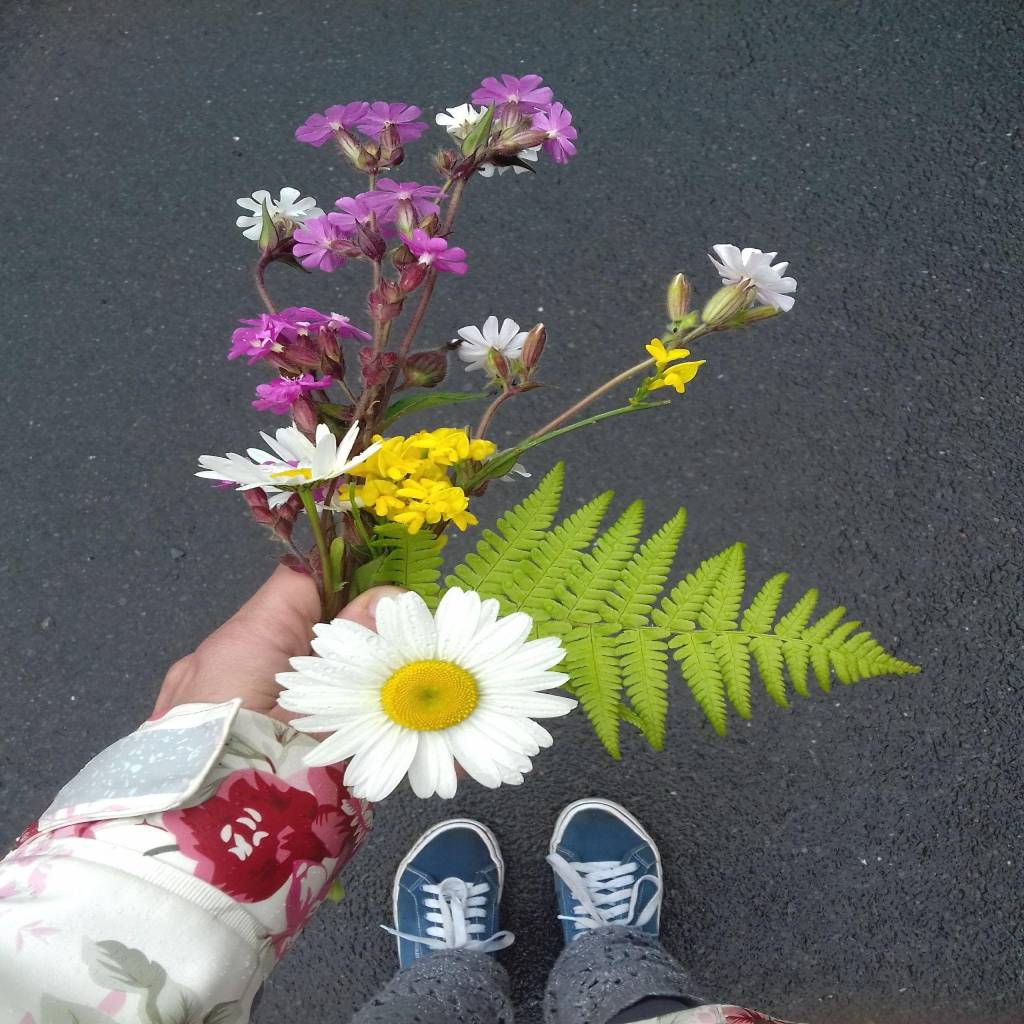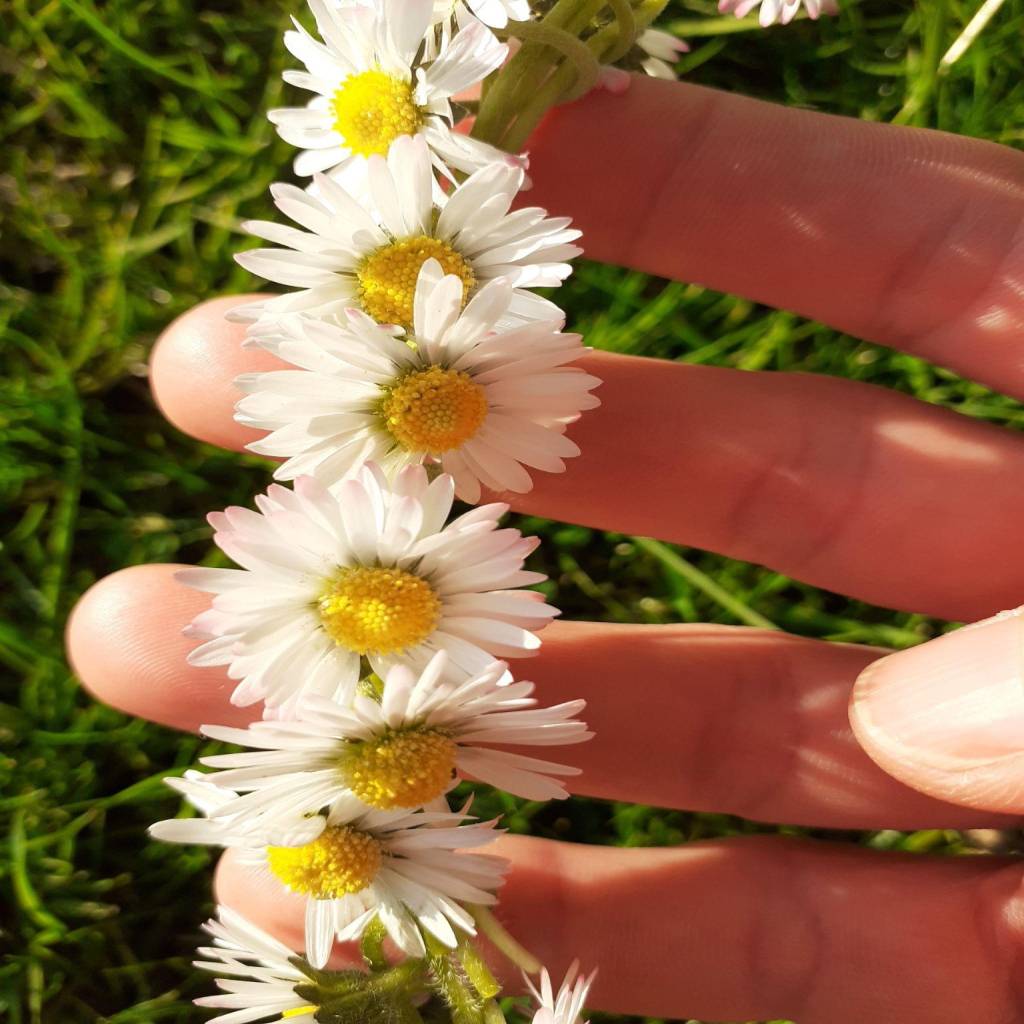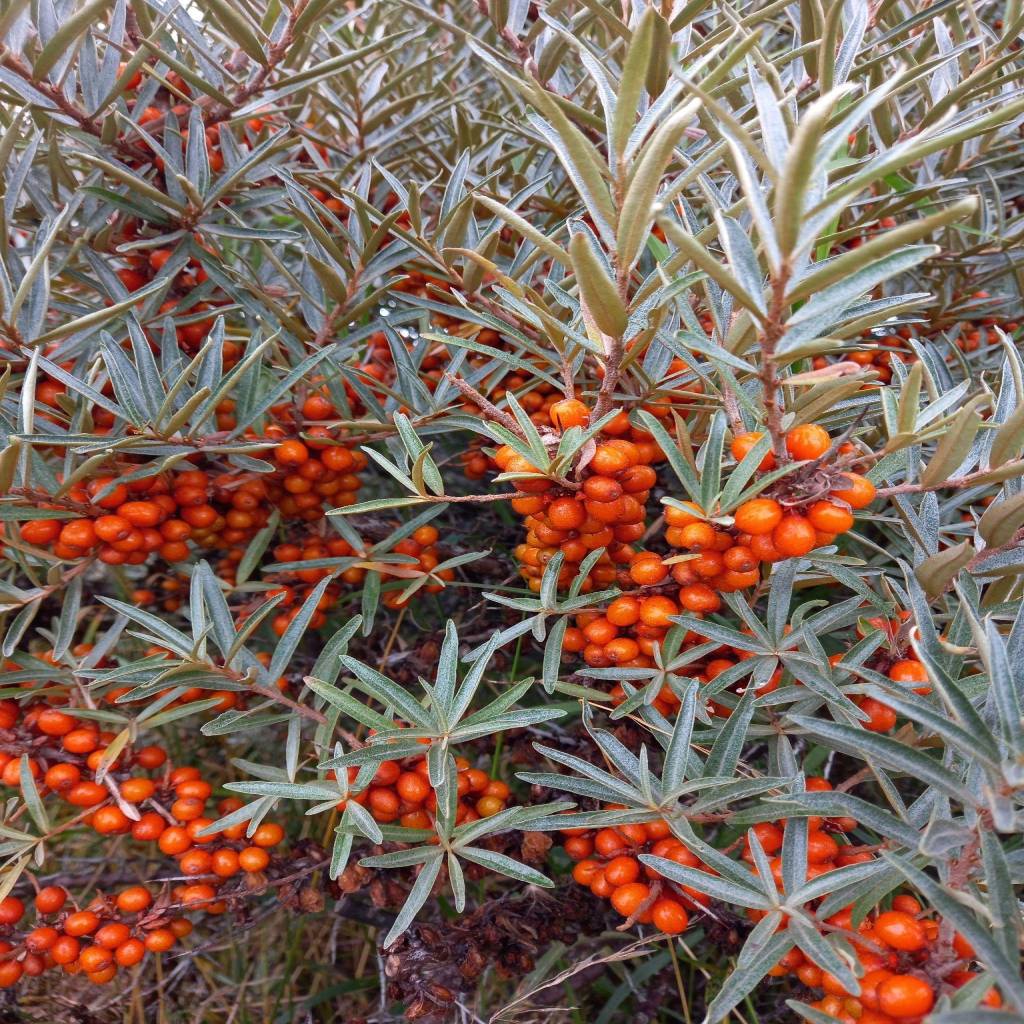 For more mindfulness and adventure, join WanderWomen's activities, with the added bonus of the company of small groups of like-hearted women and guidance and facilitation by Anna.
Find out more at www.wander-women.co.uk on Facebook Instagram and Twitter.                                 
Book yourself onto some Selfcare & Nature Connection now! Currently there is a 50% discount on tickets up to £40, too - use the Discount Code "DaysOutinScotland50" to make the most of the discount!
It's often hard to know where to begin looking for the best food and drink when visiting a new area, so we have compiled a list of our top places to eat in and around North Berwick!
We were lucky to visit the town over the space of a couple of days and believe that we found some wonderful eateries that we would love to share with you.
The Loft Cafe & Bakery
We stopped for breakfast at The Loft Café & Bakery which is in the town of Haddington, around a 20-minute drive from North Berwick.
If you have the good fortune of visiting on a bright day, they have a gorgeous outdoor seating area which is where we were lucky enough to find a table. Otherwise, if you prefer, you can always opt to sit indoors.
Ordering a Full Loft (full breakfast) and a Breakfast Toastie along with some coffees, we found the service to be quick and friendly. The portions were just the right size for us and it was really fairly priced for the quality of food that we received.
All of the food that we saw being served looked delicious and they have a great, varied menu. I would love to return and try some more of the offerings, especially one of their homemade sausage rolls!
Vegetarian and gluten-free alternatives are available for many of the menu items.
Bostock Bakery
We visited Bostock Bakery twice on our visit to North Berwick and I think that is a testament in itself.
They offer a selection of bread, pastries, cakes and coffee to take away.
On our first visit, we bought a Pastel de nata (Portuguese custard tart) and a savoury croissant. We sat in the nearby park to eat them and they were both so delicious that we made a mental note to return and buy a loaf of bread for our stay.
On our second visit, we chose a crusty white bread and a cruffin (thrown in for good measure). Again, both were really tasty. This was my first taste of both a Pastel de nata and a cruffin - highly recommended!
This is a very popular bakery and there was almost always a queue outside, so don't hesitate too much if you are looking to purchase something or they may just have sold out!
I would also say, yes, it's a little bit more expensive than the supermarkets but it is definitely worth it for the quality, the taste and the freshness of each item.
There was definitely a lot of love put into these recipes.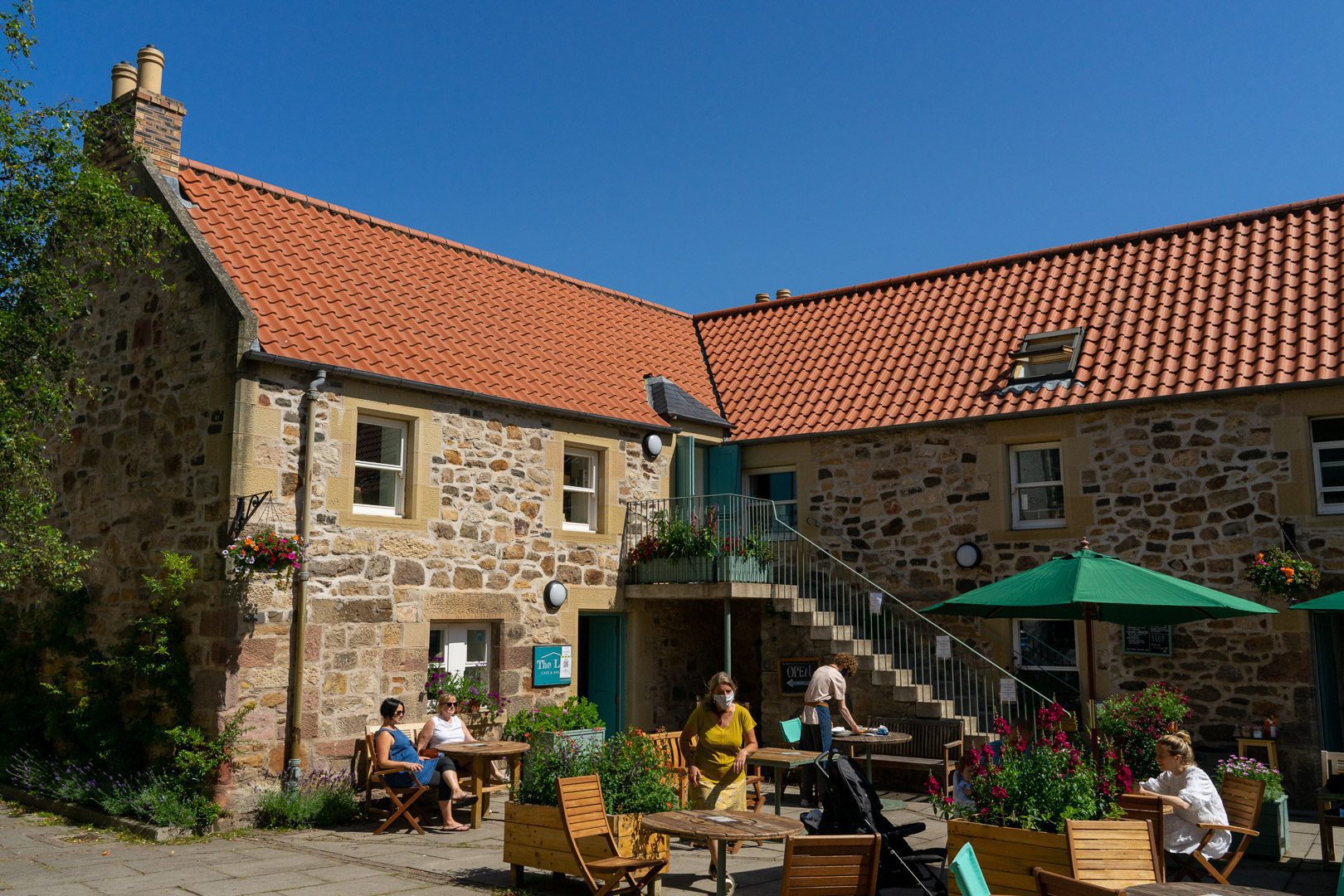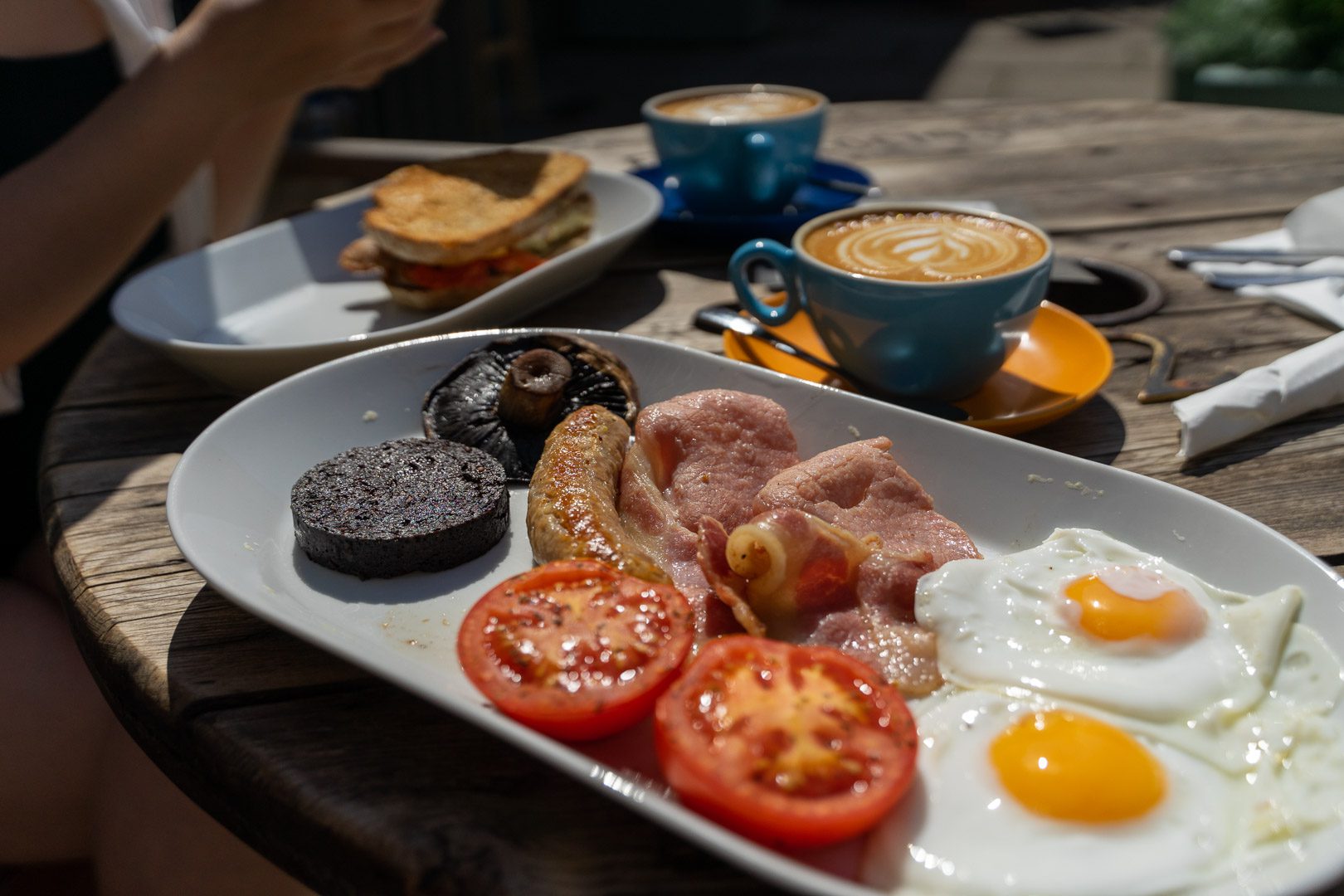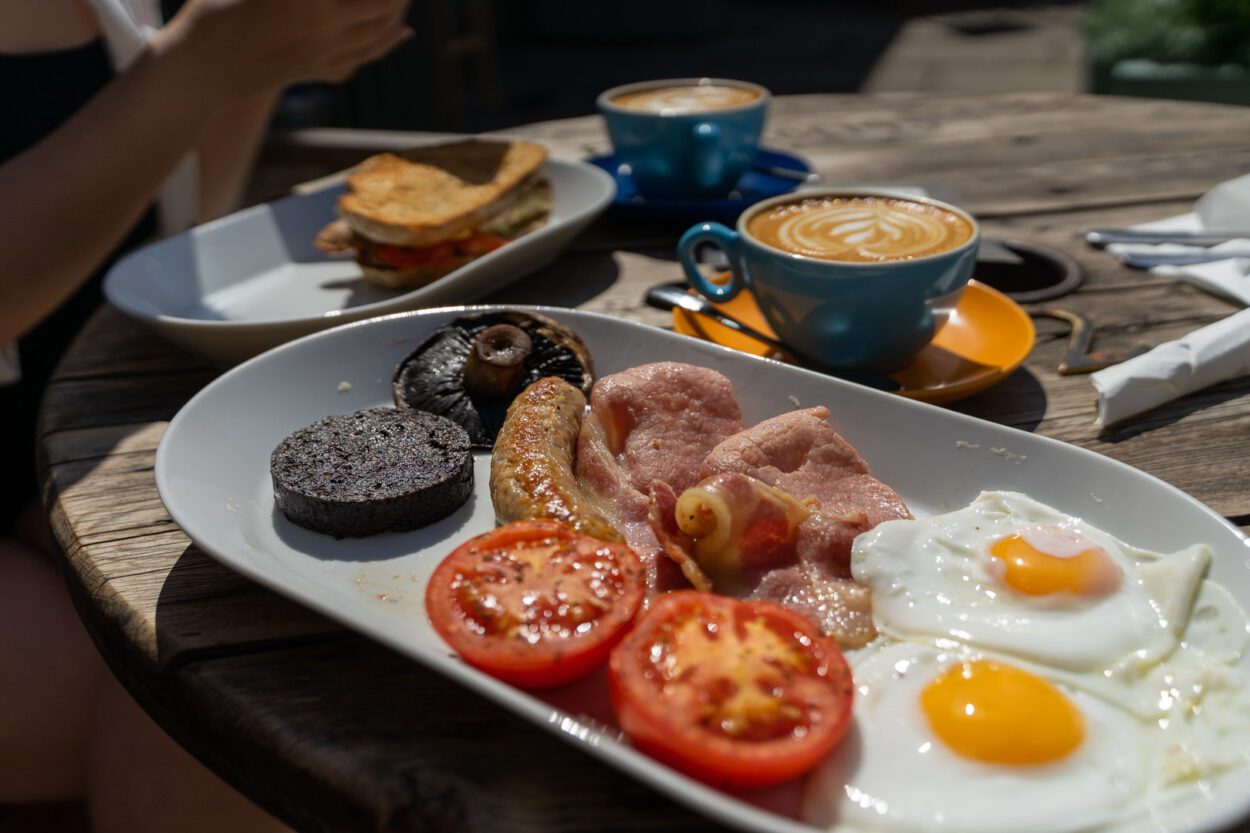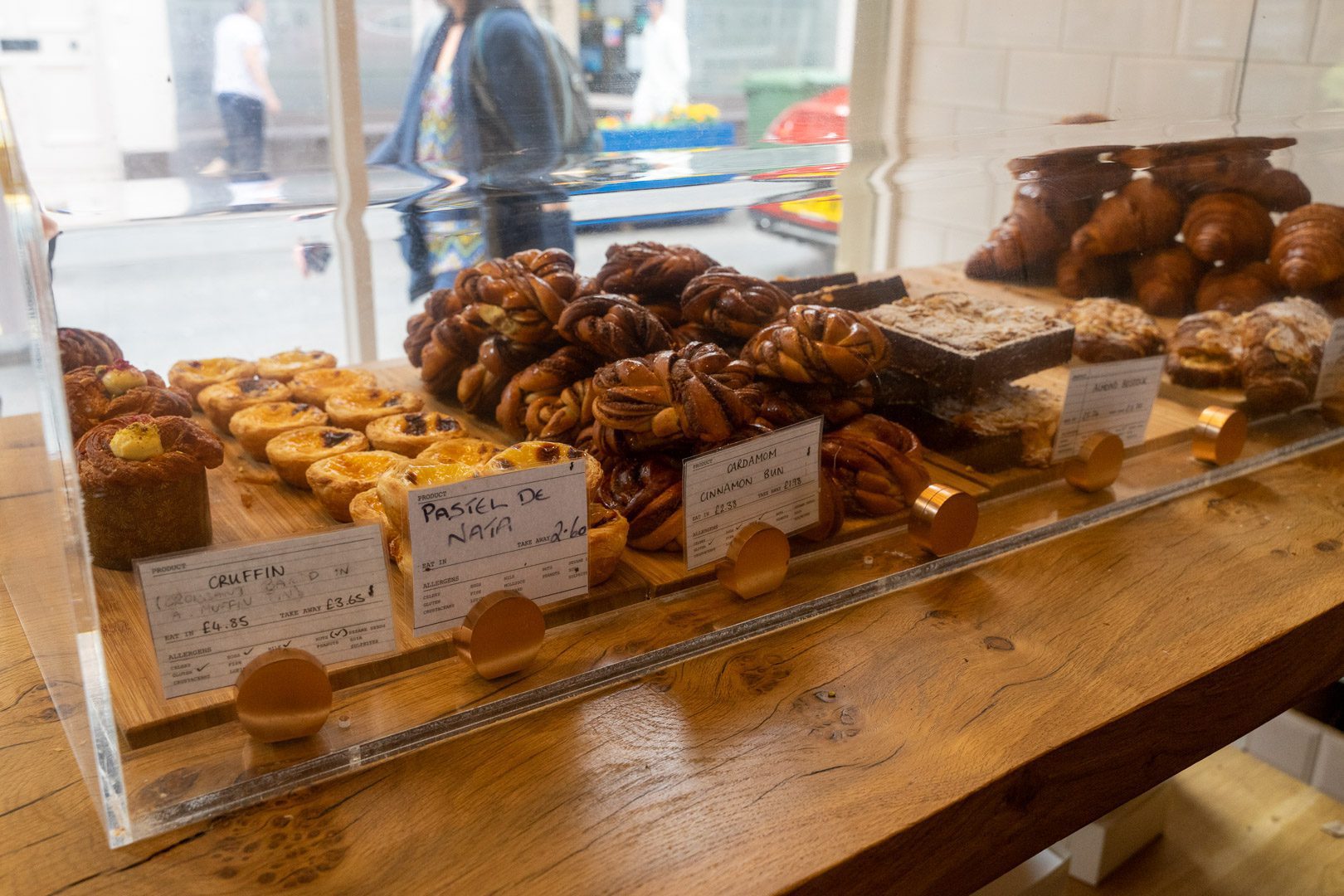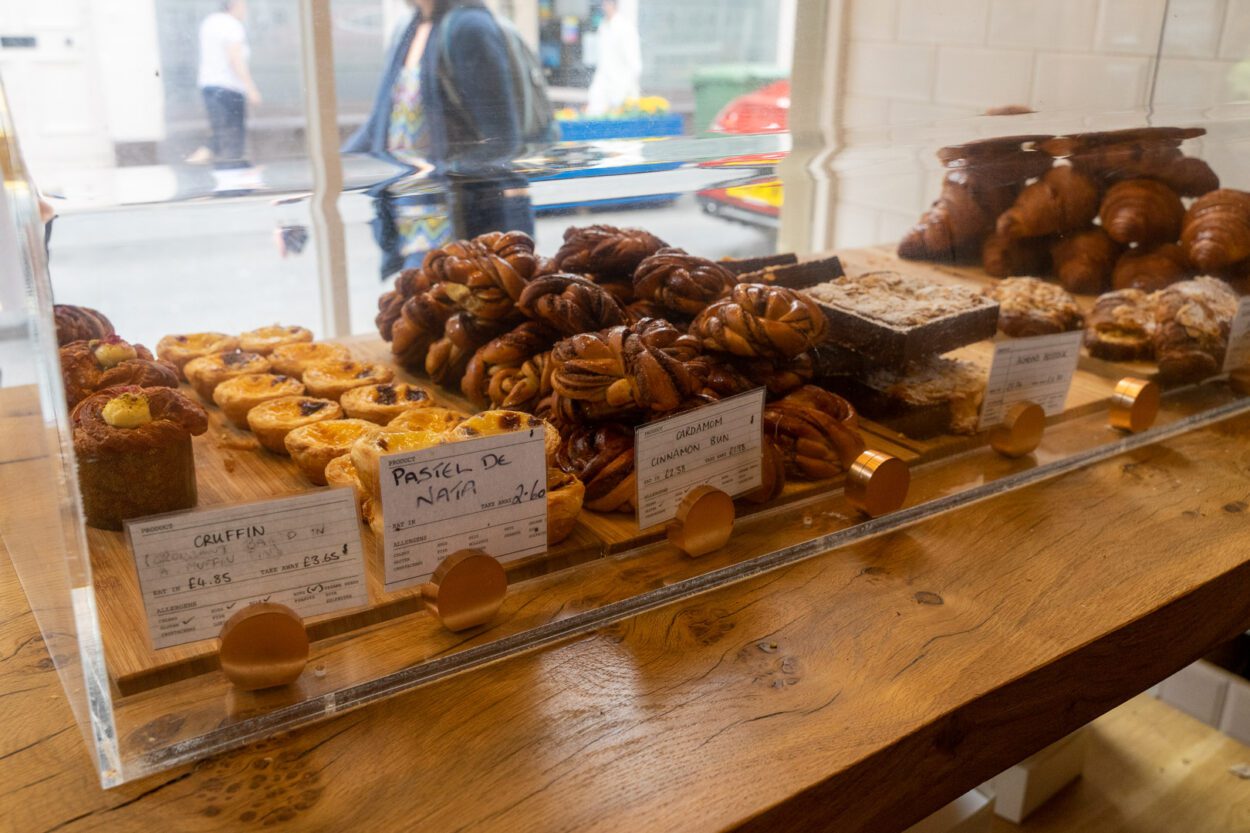 Drift
Drift is a great spot for breakfast, coffee, cake and lunch in North Berwick.
They use a lot of fresh, seasonal, Scottish produce but to me, it was the incredible cliffside views that really caught my attention. Using an upcycled shipping container with large floor to ceiling windows that overlook the water and the incredible Bass Rock, this is definitely food with a view.
The menu at Drift is erring on the side of accessible fine dining in my eyes. While you can still order the full breakfast, sausage roll or soup, the ingredients and flavours are somewhat richer and of a higher quality.
If you don't have the time to sit in but would still like to try the food at Drift, why not visit their Takeaway Trailer which can be found outside the restaurant, or order one of their Treat or Pick Me Up boxes to eat at home.
Steampunk Coffee
The premises are lovely but at the time of our visit, there was no hot food being served, it was back to basics, good coffee and some cake. I believe that the building was an old joinery warehouse and it looks fantastic, so I was sad that we couldn't have the full experience.
Nevertheless, we bought some iced coffees as the weather was so lovely and enjoyed them as we walked around the town and took in the sights.
Steampunk are coffee roasters first and foremost, coffee is clearly the passion, and it was great!
They obviously take a lot of pride in what they do and you can buy some of their coffee and/or equipment from the store.
The Lobster Shack
The Lobster Shack was the one place that I just had to visit. There was no question, this food van had been all over my news feeds for what felt like years.
Unbelievably, I didn't get the opportunity -  I was on a tight schedule and didn't have time to wait in the long queue; they were closed; awaiting food deliveries - for whatever reason, we couldn't make it work!
I was so disappointed because their menu and the pictures that I have seen, look so delicious.
One day…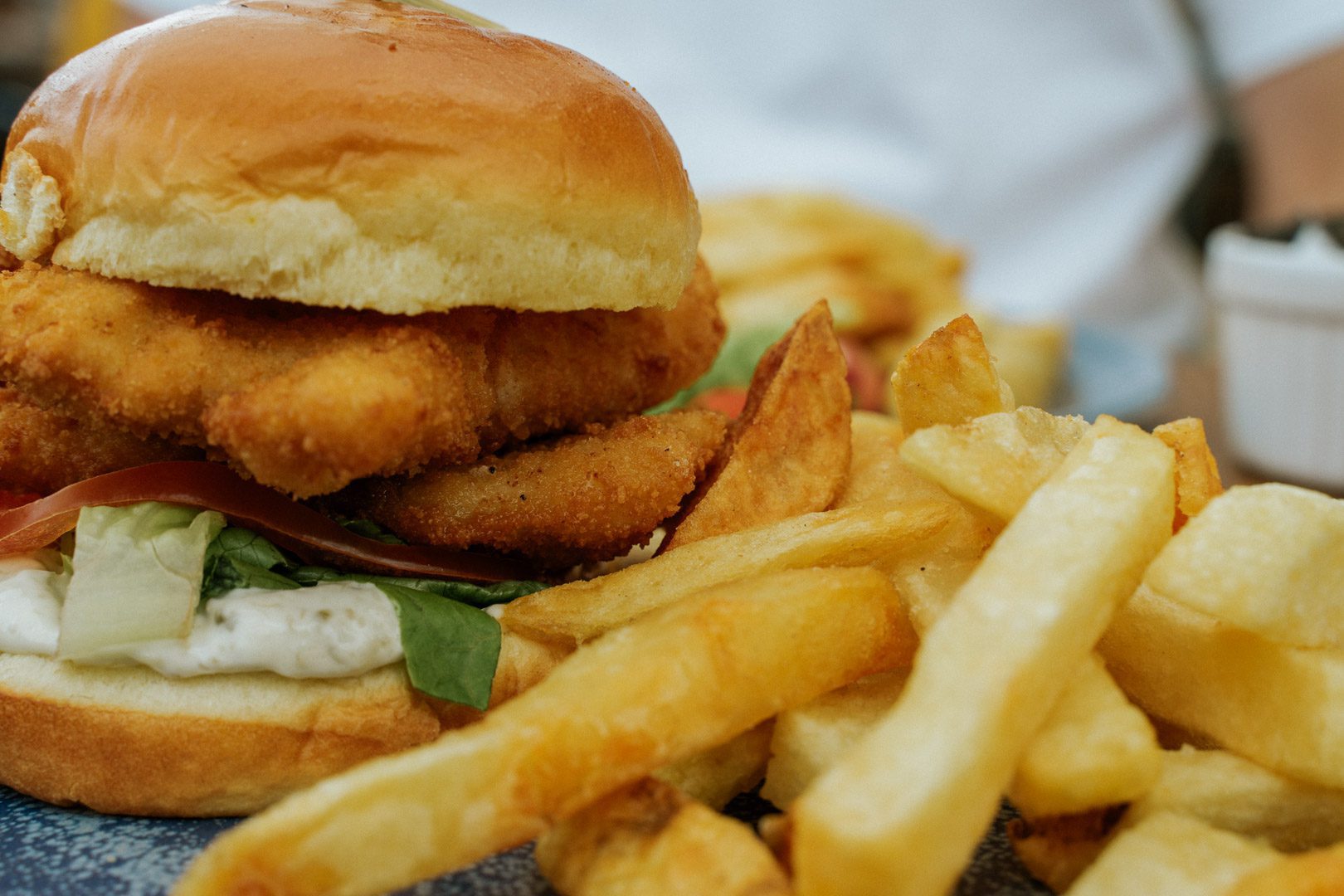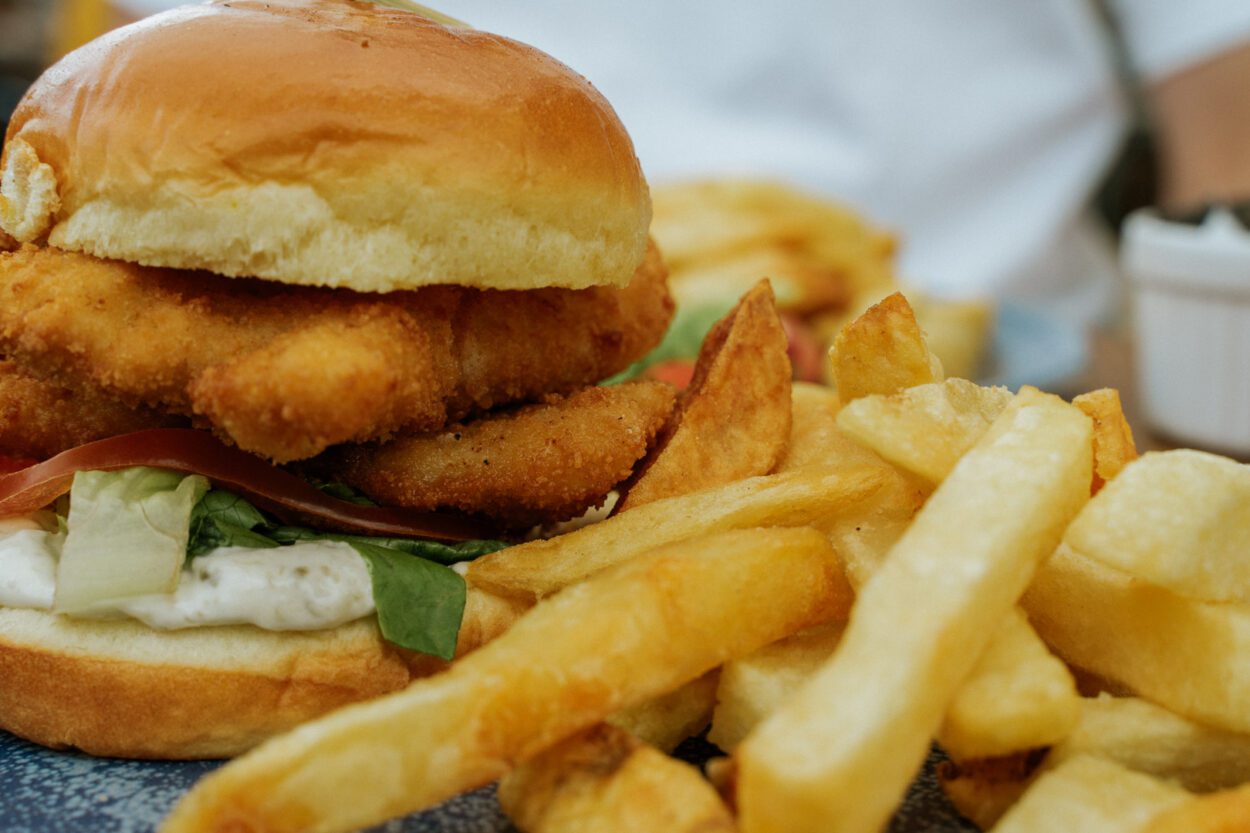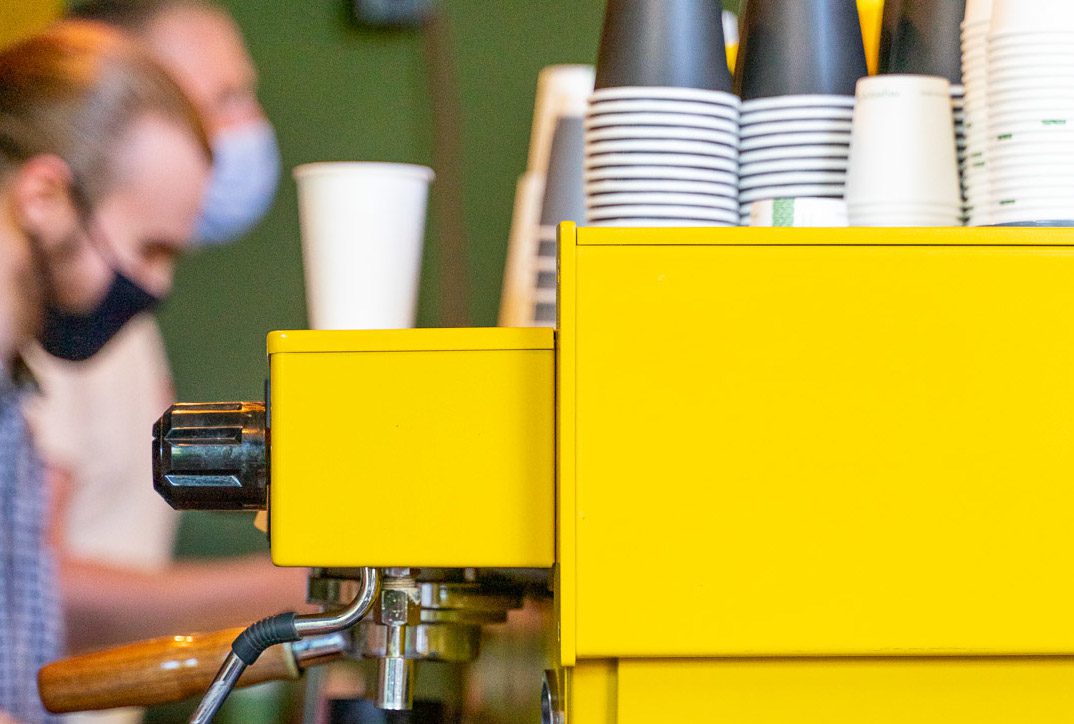 The Rocketeer
But fear not, because I discovered that The Lobster Shack and its sister The Rocketeer restaurant nearby, offer almost exactly the same menu.
The main differences being, that The Rocketeer has indoor seating and also offer some meat dishes. Now, I would advise you to make a reservation quite early if you would like to dine here, as there are only 10 or so tables.  Book ahead of time especially if you want a lovely beachfront view.
We visited over lunchtime and had two courses. Starting with the sharing platter, we had hot salmon and prawn fishcakes, two prawn fritters and some squid which came with 3 dips.
Each part was delicious and we even had comments from other tables exclaiming that they wished that they had ordered it, so the sharing platter is a must in my eyes!
For mains, we ordered the fish burger and the dressed crab, both came with double-dipped chips.
Both the food and service were brilliant, this is a must-visit.
North Berwick Fry
Sometimes, going out for a meal is not on the agenda, but you still want to treat yourself.
We felt this way after a long day of travel and we could not decide (or agree) on where to eat.
Frankly, we were tired and in desperate need of some rest, so we did what any tourist by the seaside does, and got some takeaway fish and chips!
The North Berwick Fry was the closest to us and had some great reviews. We visited the shop, ordered 2 standard fish suppers and received them almost immediately.
I was a little disappointed that they were served to us in boxes rather than being wrapped in paper as I wasn't sure how well they would retain the heat, but we got back to our cabin and all was well.
The food was still hot, the portions were large, definitely no complaints and it was really tasty.
Alandas Gelato
Another seaside treat is of course ice cream. You couldn't miss the long queue outside Alandas Gelato and to me, that's a great sign.
Using locally sourced ingredients, including milk and cream, there were a huge array of flavours to choose from.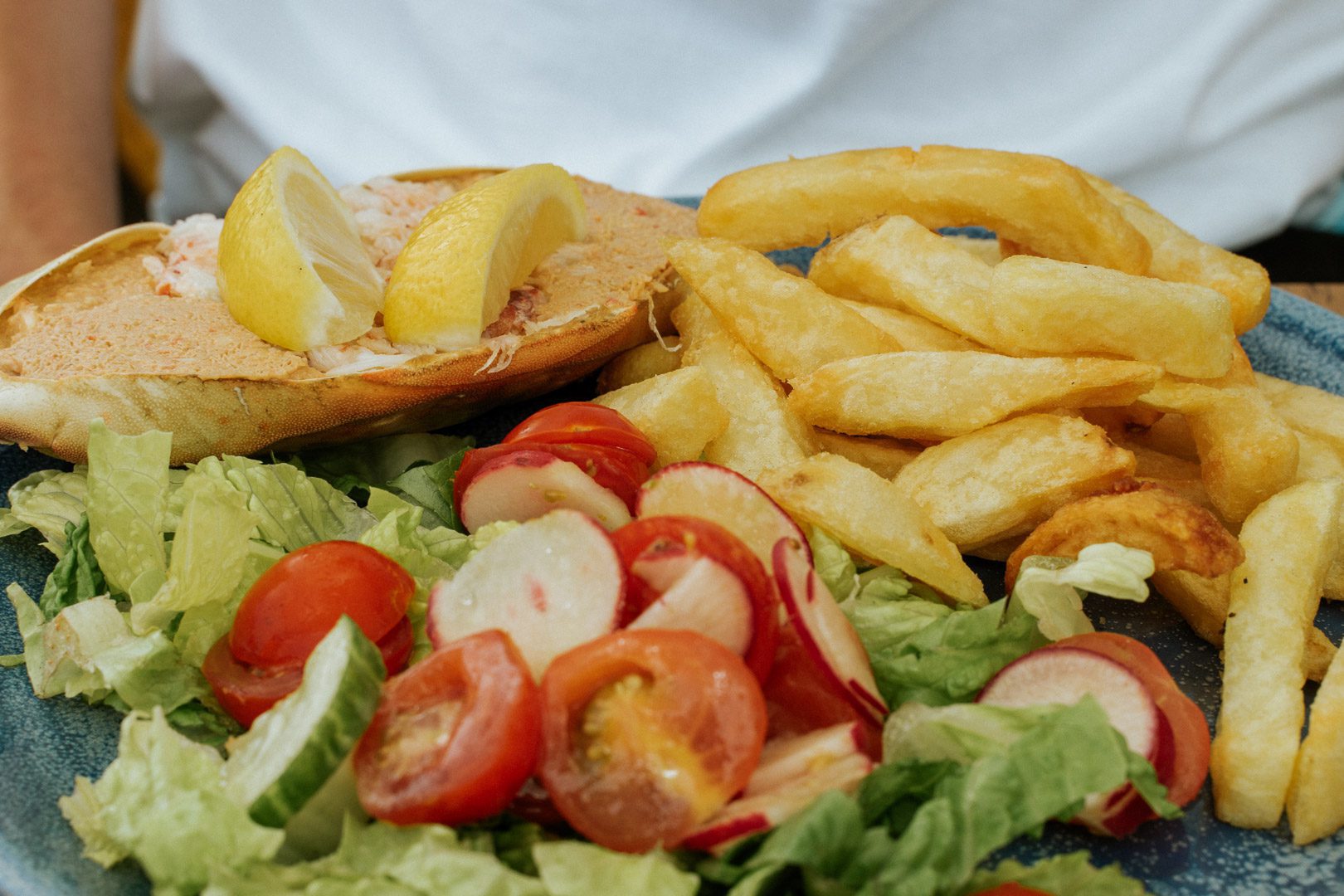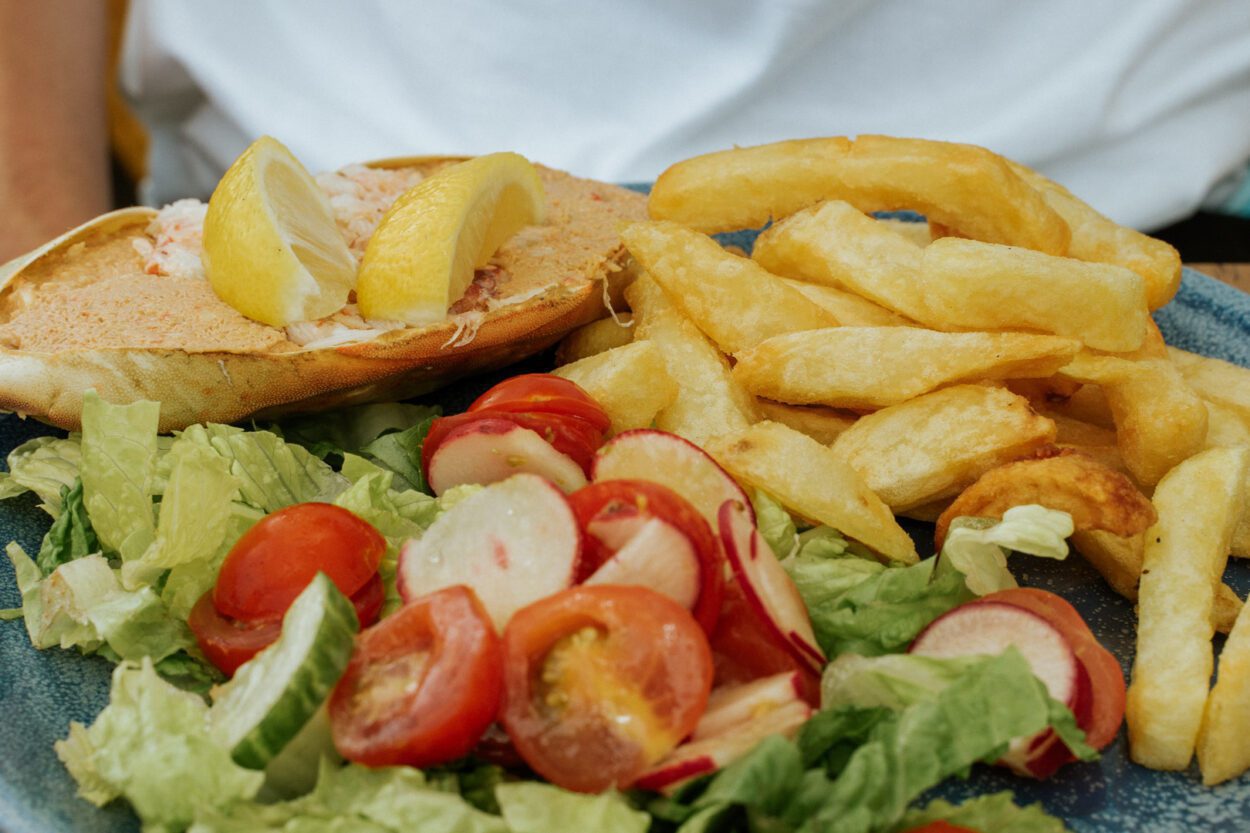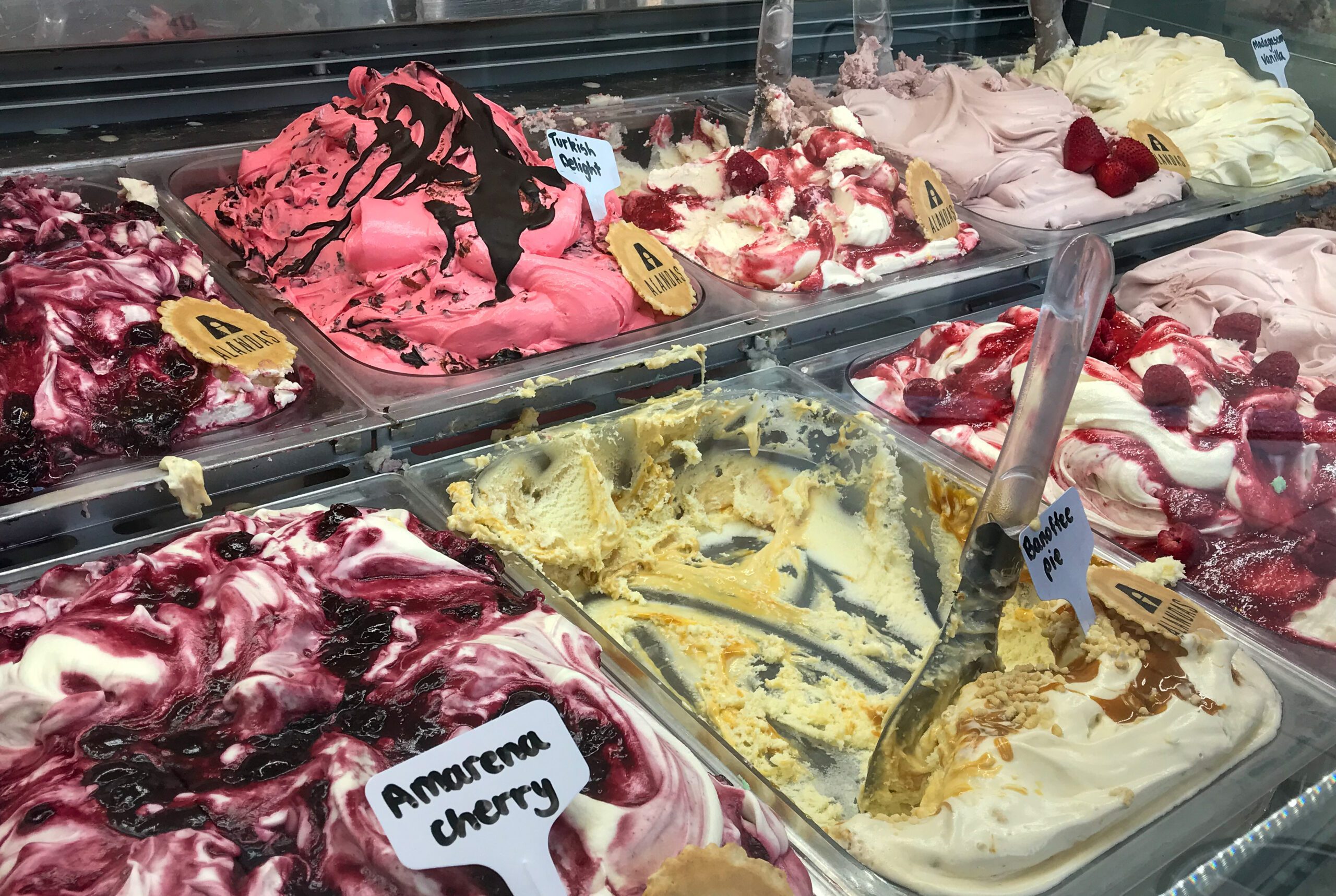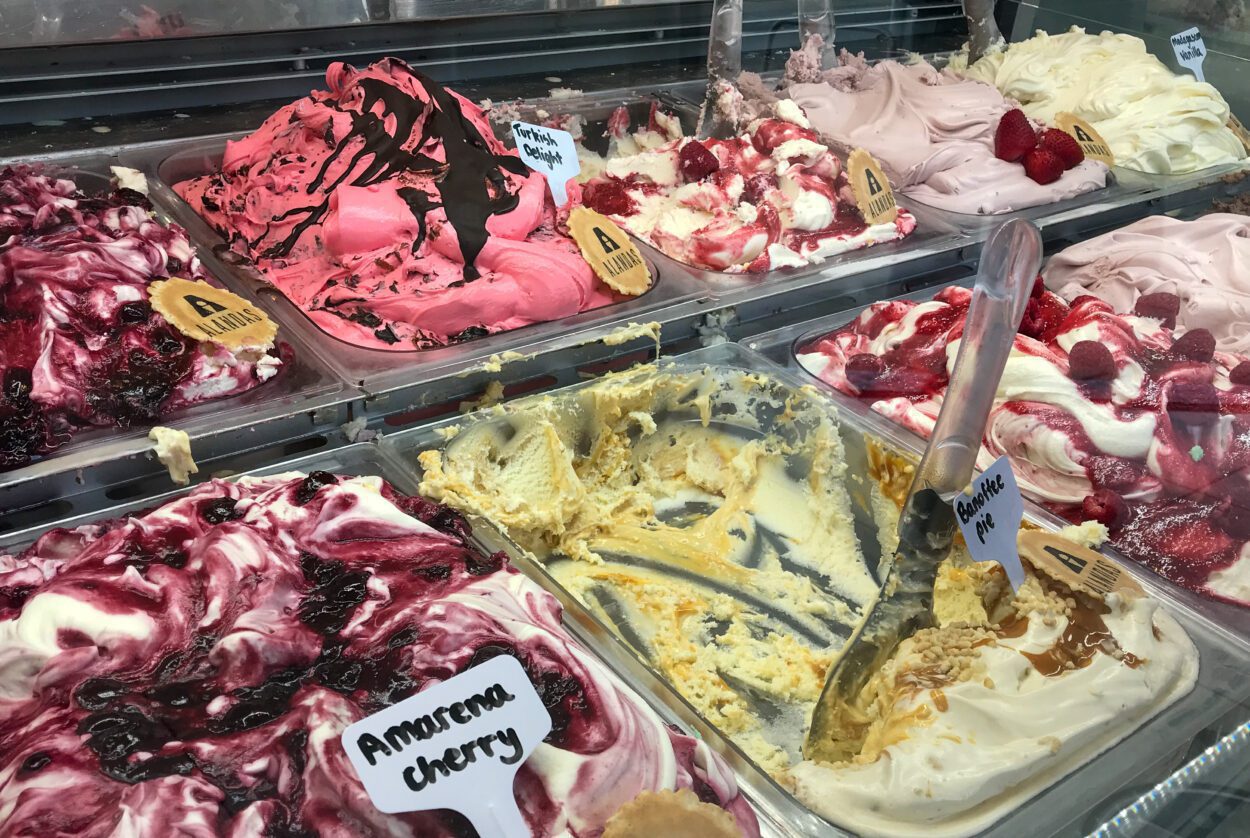 I picked the raspberry ripple, which had full frozen raspberries mixed through it and it was delicious! My mouth is watering at the thought of it!
A festival celebrating St Andrews Day and the very best of Scottish history, heritage, culture, film, music and food is set to take place in East Lothian (home of Scotland's iconic Saltire Flag) from 24 to 30 November 2021.
Just a short distance from Scotland's historic capital city of Edinburgh, The Saltire Festival will host a wide range of events and exhibitions, some of which are free, in leading venues throughout East Lothian.
As the original home of Scotland's iconic Saltire Flag, surrounded by stunning coastline, rolling countryside and vibrant towns and villages, the region is the perfect place to celebrate this important national day and the very best that Scotland has to offer.
It is said that The St Andrew's Cross or Saltire is Scotland's national flag (the oldest flag in Europe and the Commonwealth) originated in a battle between the Picts (with support from The Scots) and the Saxons close to the East Lothian village of Athelstaneford in the dark ages (believed to have been 832AD).
Fearing the outcome of the encounter, King Angus led prayers for deliverance, and was rewarded by seeing a cloud formation of a white saltire (the diagonal cross on which St Andrew had been martyred) against the blue sky. The king vowed that if he gained the victory with the saint's help, then Andrew would become to be the patron saint of Scotland. They did win and the Saltire became the flag of Scotland.
The Flag Heritage Centre at Athelstaneford is open from April to October where visitors can enjoy a short audio-video dramatisation of the traditional origins of Scotland's flag . Admission is free.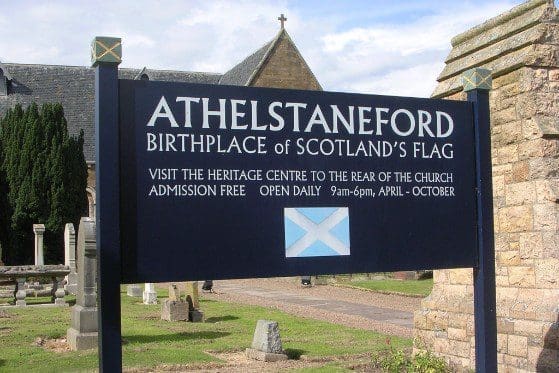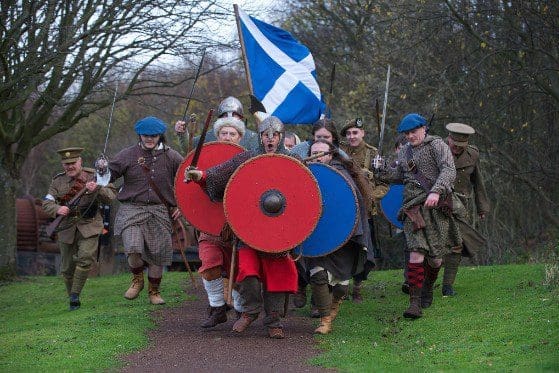 The programme includes events at The Brunton, a world-class theatre and entertainment venue located in the town of Musselburgh:
From Scotland's own highly acclaimed contemporary roots and folk musician, Kris Drever.  General admission price £17; to
West-End star Keith Jack and the MacDonald Bros, who will co-host an evening celebrating some of Scotland's greatest music icons – including The Proclaimers, Lewis Capaldi & Dougie Maclean.  General admission price £25.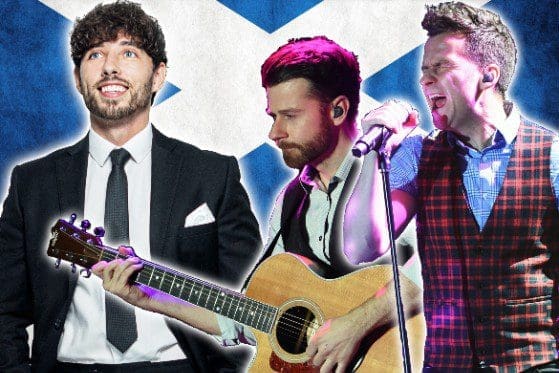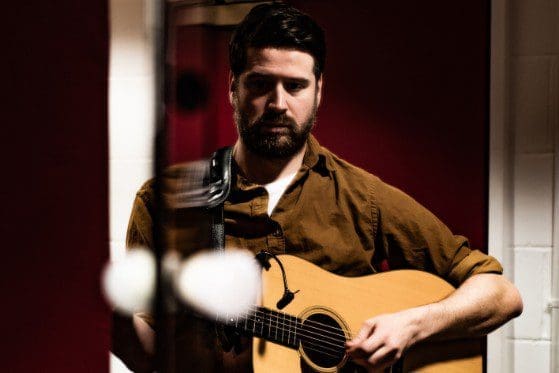 The festival will also celebrate Scotland in Film, with a special screening of the cult Scottish comedy-drama 'Local Hero' starring Peter Riegert, Burt Lancaster and Denis Lawson.  The film follows a young oil executive on a journey to Scotland to buy a whole village on behalf of the oil company he works for, which is run by Happer (Burt Lancaster).  Those who will be watching the film for the first time at the festival, will find out why to this day, visitors from all over the world come to Scotland just to find a phone box featured in the film.  Tickets from £7 to £8.
For fans of Diana Galbaldon's best-selling Outlander novels and hit global TV series, Dr Aaron Johnston will host a free Prestonpans Battlefield by Night walking tour.  The event will explore the forgotten story of the events that took place the night before the Battle of Prestonpans.  The battle in East Lothian was the first significant engagement of the Jacobite Rising in 1745, when Jacobite forces led by Bonnie Prince Charlie defeated the Hanoverian 'redcoats' army under Sir John Cope.  The battle lasted less than thirty minutes and led to the Jacobite's invasion of England. The first Outlander stories are largely based around the Jacobite rebellion and the events that followed.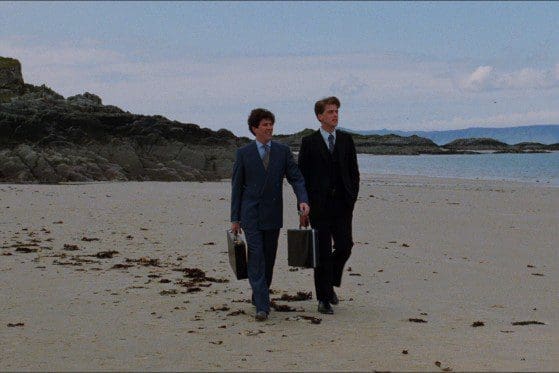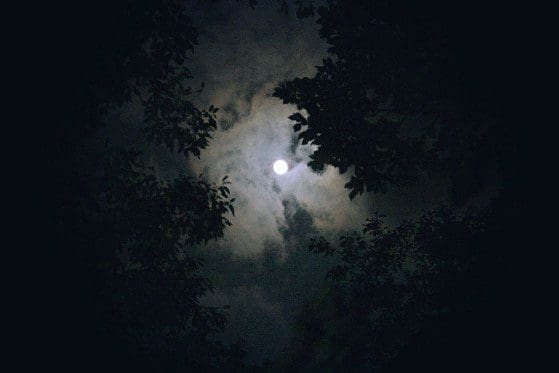 For foodies looking for a stress-free shopping experience, the Haddington Farmers' Market offers a wide range of local produce and seasonal food and drink.  It's the perfect place for festival goers to pick up some ingredients to cook their very own authentic St Andrew's Day meal at home.
Back at The Brunton, the 'Wherever a Scotsman goes...' John Muir and Robert Burns Exhibition will be free to view throughout November.  It tells the story of locally born global conservation pioneer John Muir and the role Scotland's national bard played in inspiring him.
Whether 'sauntering' in the Sierra foothills, exploring the Alaskan glaciers, rediscovering Scotland or travelling the World, Muir always had Burns with him.  As he said himself, he "had him by heart… On my first long walk, I carried a copy of Burn's poems and sang them all the way. All the country and the people, beasts and birds, seemed to like them."
Muir's knowledge and love of Burns appears throughout his letters and writing, some of which will be displayed in this free Saltire Festival exhibition.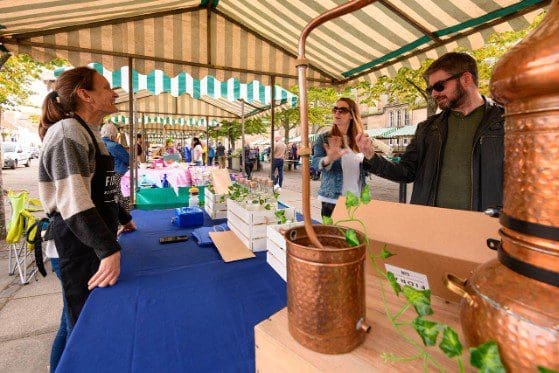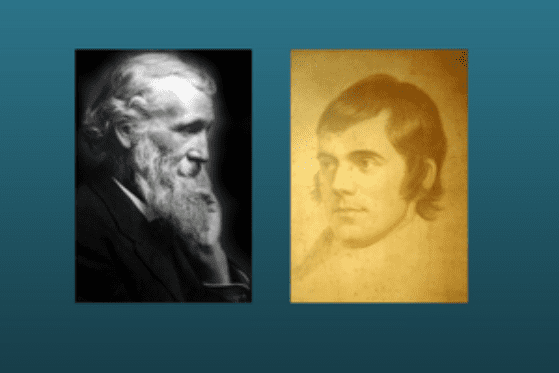 For more information about The Saltire Festival visit www.saltirefestival.com
Taking time for ourselves has always been important but often overlooked. In recent times looking after our physical health and mental wellbeing has come to the fore. East Lothian is the ideal location to take time to find balance, to rest, to recharge and indulge in a bit of mindfulness.
How about a digital detox, tuning into your surroundings, enjoying a truly authentic experience or exploring the natural landscape?
Eat Local Produce
Known as Scotland's Food & Drink County, the East Lothian larder includes seafood, fruit & vegetables, grains and is great for foraging.  Fine produce is available from shops, delis and farmers markets and can be ordered for home delivery or pick up.  Quiet cafes and restaurants proudly display the local producers featured on their menus.
Scotland's Food & Drink County
Stroll, Jog or Run along a Beach
With over 40 miles of stunning coastline, East Lothian has some of Scotland's finest beaches. Some are well known and can be busy at times such as Gullane, Longniddry and Yellowcraig. However, there are plenty of quieter spots where you can often have the whole place to yourself.
Try a Spot of Yoga
Many established yogis run classes indoors and out across the county.  You can even try SUP Yoga – a great way to test your balance!  Or simply grab your mat and head out for some individual practice surrounded by nature and really reconnect.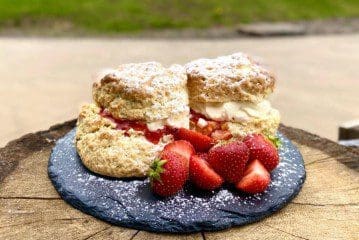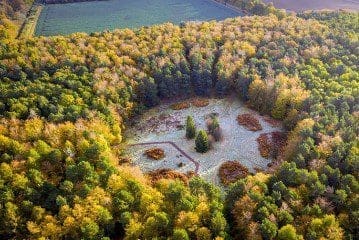 Forest Bathing
This activity from Japan means sitting peacefully and quietly in a forest or wood and tapping into your senses to immerse yourself in your surroundings.  East Lothian's woodlands date back hundreds of years and are perfect for forest bathing. 
Take to the Water
Swimming in the sea and lochs has taken off during the Covid-19 pandemic.  East Lothian has many quiet bays, secluded lakes and lochs for you to take a dip.  Or why not try coasteering, surfing or stand-up paddle boarding?  Follow safety advice and procedures when you take to the water.
Meet the Locals!
Get up close to nature as you walk, cycle or take a boat trip. There is an abundance of birdlife, marine life and wildlife to be spotted throughout the East Lothian coast and countryside. A camera is a must if you want to capture puffins, gannets, dolphins, seals, otters, swans, deer, hares and butterflies to name just a few!
Always follow the Scottish Outdoor Access Code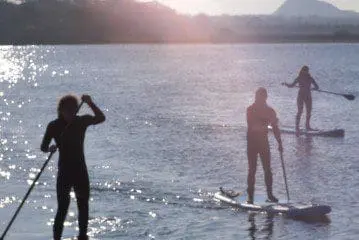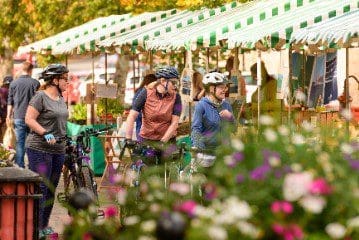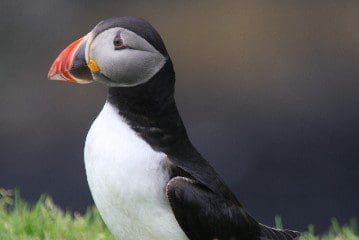 Looking after our health and wellbeing has come to the fore during the Covid-19 pandemic. And as we strive to find open spaces and places where we can relax, take time to reflect and look after ourselves, it is encouraging to see new ideas for outdoor activities and exploration.
Dunbar in East Lothian is the start or end point of the John Muir Way, one of Scotland's Great Trails linking Helensburgh in the west with John Muir's birth place Dunbar in the east.
The 134 mile route takes you on a journey through Scotland's central belt exploring a rich and varied landscape, history and heritage. East Lothian is home to three sections covering 41.5 miles and taking in some of the country's most scenic coastline from Musselburgh to Dunbar.
For 2021 and Scotland's Year of Coasts and Waters, East Lothian is pleased to partner with the John Muir Way to bring a range of coastal off route itinerary suggestions for those looking to explore further.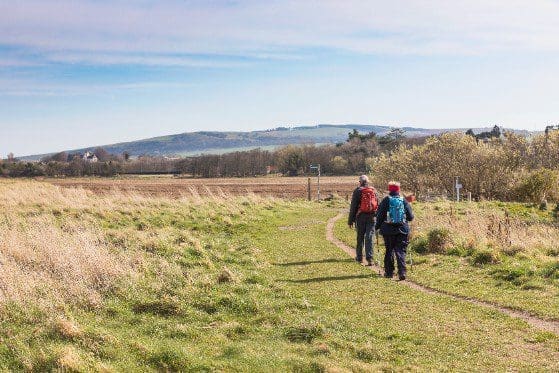 There are four walking routes and two cycling routes to try...
Walking routes:
Fisherrow to Port Seton - Just east of Scotland's capital city Edinburgh, lies Fisherrow Harbour in Musselburgh. From here you can walk to the traditional fishing village of Port Seton, enjoying the rich birdlife as you go.
North Berwick Sandcastles - One of East Lothian's best loved seaside towns is North Berwick. This route takes in sandcastles at the stunning Yellowcraig beach and an impressive Historic Environment Scotland castle with beautiful gardens at Dirleton.
North Berwick Law to Tantallon Castle - For amazing views you can't beat The Law in North Berwick and the vista from Tantallon Castle perched dramatically upon a cliff top.
Dunbar to East Linton - For some of the finest views on the whole route you need to walk the coast between Dunbar with its harbour, cliffs and miles of golden sand and the picturesque village of East Linton.
For more information on Walking In East Lothian
Cycling Routes:
Fisherrow to Aberlady - The Firth of Forth coastline from Musselburgh makes for a scenic cycle to Aberlady Bay nature reserve.
Dunbar to North Berwick - This loop takes you along quiet roads and sandy pathways covering East Lothian's most popular towns to visit. Cycling in East Lothian
For more information on Cycling in East Lothian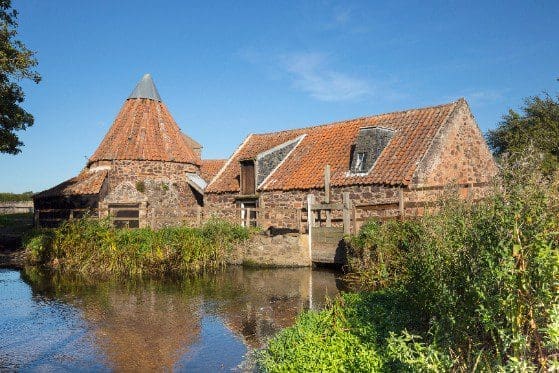 Speaking of the new itineraries, Elaine Carmichael spokesperson from Visit East Lothian, the region's destination marketing and management organisation, said: "As the birthplace of John Muir, East Lothian works closely with the partners on the john Muir Way and is particularly pleased with these new off route itinerary ideas. We hope that they will inspire those who have already walked or cycled the route to explore further and enjoy East Lothian's great outdoors."
Gavin Morton, Marketing Development Officer for the Green Action Trust (the charity behind the John Muir Way) said, "It's been great to see the growth in popularity of the John Muir Way among walkers and cyclists taking on this coast to coast trail in recent years. Now, with the addition of 20 day trip ideas across the country, even more people can enjoy the landscapes, sights and sounds of central Scotland's great outdoors, whether it's a day spent exploring their local area, or a weekend trip further afield."
Visit here to plan your East Lothian John Muir Way micro adventure!
Like so many others, I go through fleeting phases of active fitness and gym-going, but what I really enjoy, and something that never wears thin, are long walks through some of Scotland's greatest landscapes.
More so, it's heading out with a friend (even better if they have a dog!), walking for miles at our own pace whilst chatting away, stopping for the occasional picture and visiting new locations!
The fresh air and sense of accomplishment that I feel when I come home, hand in hand with memories of incredible views and picturesque stops, is hard to beat. And for this reason, I was really excited to take on part of the John Muir Way.
If you aren't familiar with the name John Muir, he was born in Dunbar, Scotland before immigrating to America.  He became a very well-revered conservationist among many other things and is often referred to as 'The father of national parks in the United States', keen on preserving natural wonders like the Sierra Nevada and Yosemite and protecting them from exploitation.
The John Muir Way is a 134 mile, walking and cycling route that connects coasts, villages and towns across Scotland, from Helensburgh all the way to John Muir's birthplace, Dunbar.
Obviously, that is a mammoth distance to undertake and can take several days to complete.  Unfortunately, this is time that we did not have available, but thankfully, there are many smaller routes on the trail that you can complete at your leisure.
The trail has been split into 10 sections, each with its own incredible offerings.  So, not only can you enjoy the captivating scenery but you can also learn more about the culture and history of Scotland, whether that's by travelling through our first National Park, Loch Lomond and The Trossachs, experiencing nature and beaches, visiting The Falkirk Wheel and The Kelpies, admiring The Forth Bridges in South Queensferry or climbing Arthur's Seat in Edinburgh.
I have already experienced some of the things mentioned above, so we decided to travel somewhere entirely new to us both and chose to visit East Lothian, particularly, North Berwick.  There were a few reasons why we decided to visit East Lothian but primarily, we wanted to see the Bass Rock, Tantallon Castle, Preston Mill and Phantassie Doocot.
Hiring a Bike
Upon arriving in North Berwick, we sought out one of the many bike hire shops in the area. I know it's not always an option to take your own, or perhaps you don't own your own, so this is a really easy and accessible way to partake in some outdoor activities without the added stress or packing.
The first shop that we came across was Law Cycles who not only sell bikes and bike equipment for children and adults but offer bike and electric bike hire.  You can hire bikes for as little as £20 for a 1/2 day which includes your safety equipment such as helmets.
We had definitely taken the time to plan our chosen path as we really wanted to make the most of our visit.  For us, we knew that the route itself would be very scenic but we were particularly keen to visit as many of the points of interest as we could manage, and as we struck lucky with the weather, we chose to set off early to achieve this.
Climbing North Berwick Law was initially high on our agenda of places to visit but we didn't feel that we would have enough freedom in the time that we had, so we are going to save this as a walking route for another visit.  However, if you do have the time, I think this would be a great one to add to the list!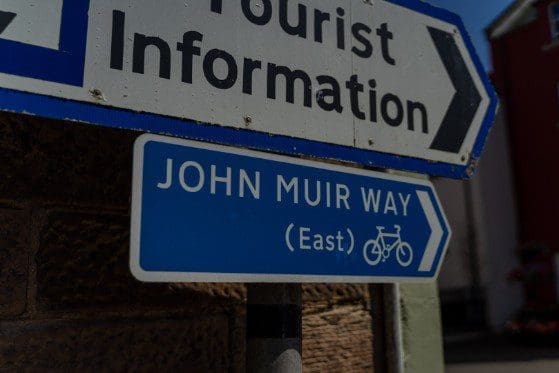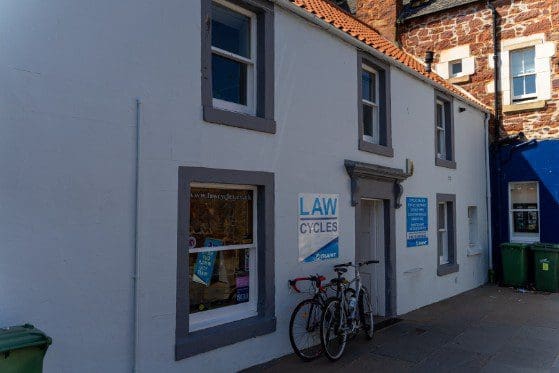 Tantallon Castle
First off, we stopped at Tantallon Castle.  Our accommodation was near Tantallon Castle, we had driven past it numerous times, I had seen it in the distance whilst on our trip to the Bass Rock and I just knew that it had to be top of the list of places to visit.
I think there's something so bewitching about cliffside castles, but sadly, at the time of visiting there were some structural checks happening and we couldn't gain entry to the castle itself.  However, this is somewhere that we will definitely return to complete that experience and although we couldn't enter the castle, we did have access to the surrounding grounds.
This was still ideal for us, we had a lovely sunny day, with barely even a breeze and as the first people to arrive, we had the grounds to ourselves.  We took the time to walk around, reading the many signs and taking it all in.  If you are a fan of history, I would highly recommend visiting the castle but I also think it would be an exciting stop for families because it is so enchanting, with plenty of space to run around.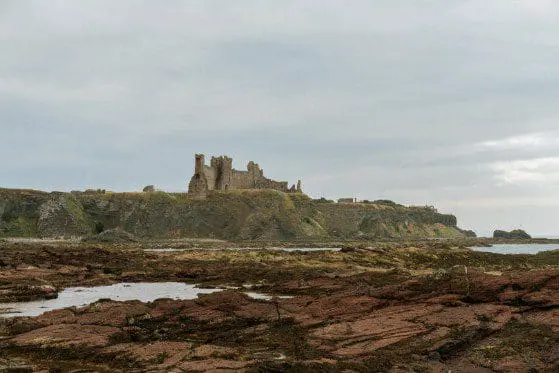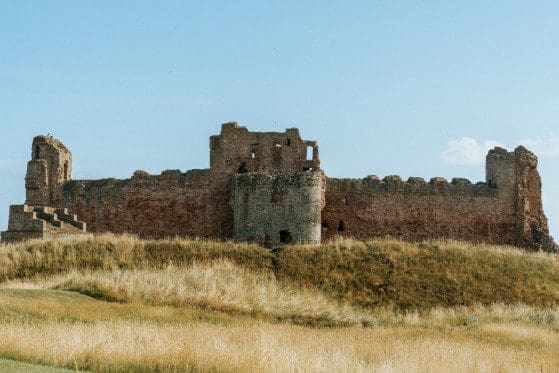 Dunbar
Last up on our John Muir Way journey, was a trip to Dunbar.  As John Muir's birthplace, it seemed a fitting place to end our experience.  It meant turning back on ourselves from Preston Mill and took just over half an hour to reach but again, it was a lovely day and we got to pass some amazing sights.
If you are visiting with children, friends or family, another stop you might want to make on your trip, is to Foxlake Adventures which sits on the edge of the John Muir Way.  This looks great for water sports, ziptrails and some segway fun.
John Muir Country Park
We ended our trip with a visit to John Muir Country Park.  John Muir Country Park is a wonderful place to visit if you love the outdoors and seeing more of the nature John Muir was so passionate about.  From the grasslands, saltmarsh, bird watching, spotting wildflowers and finally the beach at Belhaven Bay and the 'Bridge to Nowhere' – you won't be disappointed.
Pictures of 'The Bridge To Nowhere' have appeared on my social media over many years and it was great to finally visit.  People were learning to surf and canoe around this area, especially the bridge when we arrived, and I couldn't help but feel that this would be a very idyllic location to grow up.
We took some time to sit on the sand and soak it all up before we had to leave.  It brought a real sense of calm and serenity. Many happy memories!
When I mentioned to friends and family that we were initially looking to visit North Berwick, I was met with many coos of envy.  It's a funny thing, we have all heard such wonderful things about the area, yet many of us had never been before.
I have done nothing but recommend visiting since my return.  What an adventure!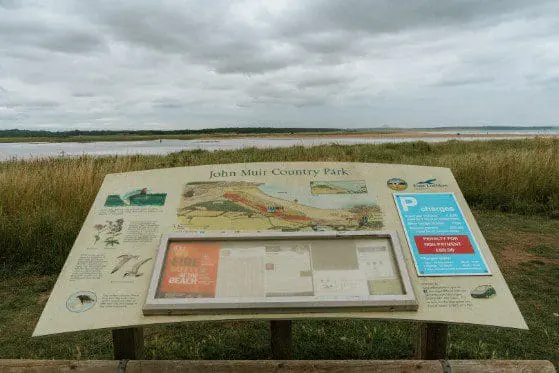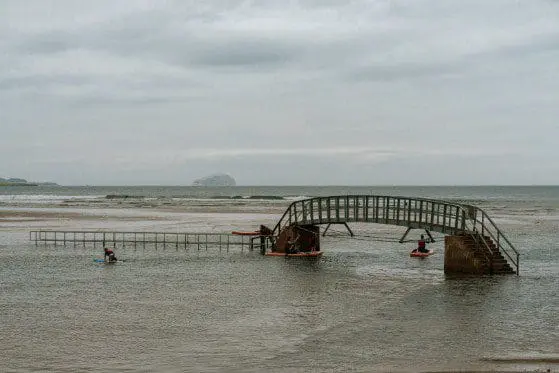 For years, I have seen pictures of the Bass Rock on those 'top must-visit places in Scotland' lists, you know the ones, yet nothing could have prepared me for the surprise I got when I finally experienced it in person.
I was awestruck. It is so much closer to land than I had expected, and yes, I knew that it was close to land but still, it was much closer than expected. I saw it in all of its glory long before we reached the shore of North Berwick, a sight that I had not anticipated so early on and it was wonderful.
Safe to say, we struck lucky by visiting East Lothian on one of the hottest days of the year so far and with that, I was really thankful for my planning on this occasion, as we had pre-booked one of the visit Bass Rock sightseeing tours with Sula Boat Trips where the cool breeze and sea spray were very much welcomed!
But I'll be honest, I had a lot of anxiety ahead of this boat trip as I recently injured my foot and was afraid that any (small as they may be) jumps could damage it further. However, there was no need to worry as there was a small gangway with barriers on either side that made access very easy and comfortable.
We booked the first sailing of the day, 10 am, for our trip. You do have to arrive at North Berwick harbour around 20 minutes before departure but it was nice to be up and see the town a little earlier in the day as it was much quieter. We also had the chance to admire the gorgeous houses and views before our trip.
Once aboard, we took our seats overlooking the water and settled in. I know that many of us tend to scramble for the best seats and the best views when on these trips, especially if you enjoy photography and want those dramatic shots with no obstruction, but the boat does turn and stop frequently to allow everyone that opportunity, so do not worry about your seating!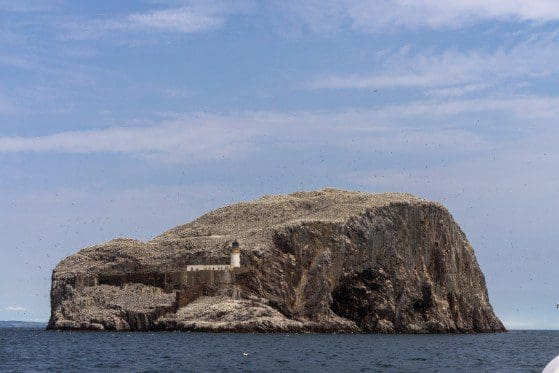 The tour is 1.5 hours long, leaving you with plenty of time to explore North Berwick afterwards if you are on a brief visit as we were, and I think the trip was a great length for the younger children on board while still feeling that you had enough time to experience and enjoy the Bass Rock.
As we had gorgeous weather, we passed lots of families and children enjoying the sun while we made our way out of the harbour, watching as they took part in activities like sailing, canoeing and jumping into the water.
We enjoyed a lovely, smooth journey towards Craigleith Island and once we arrived, we had the pleasure of seeing puffins, guillemots and kittiwakes among many other birds.
Our guide for the trip, Caroline, was fantastic. She was engaging, personable, enthusiastic, and extremely knowledgeable. I feel that we learnt so much about the birds along with the history of the Bass Rock and the surrounding area thanks to her passion, which was clear to see.
Once we learnt a little about the birds on Craigleith, we made our way to the main event.
Standing at approximately 350 feet at its highest point, the Bass Rock is an imposing volcanic plug that is now home to the world's largest colony of Northern gannets.
The island is so imposing and incredible to see close up, and it only gets more impressive as you make your way around. Now obviously, the gannets are the big attraction. Around 150,000 gannets are nesting on the island, we even had the opportunity to see some guga (gannet chicks) and despite the scores of birds flying above your head, it's a very serene experience.
And yes, it comes with its faults, I did get pooped on… twice!
But it's a small price to pay and without going into too much detail, it's easily cleaned and doesn't stain. Although, you might want to consider taking a hat if you can!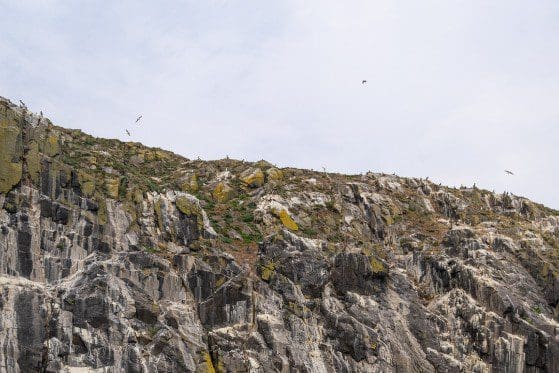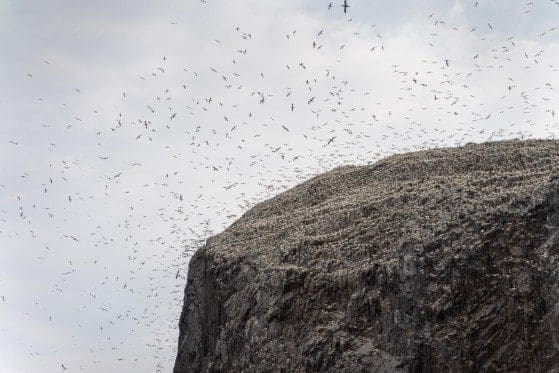 Making your way around the island and navigating your eyes through the mass of Scottish seabirds, we ventured closer to the rocks and towards the sea caves. The smell was pungent. Manageable, no retching, but as you can imagine with so many birds, it's not entirely pleasant!
We did not go into any of the sea caves but that allows a clearer view of the birds nesting, the fluffy baby guga and the opportunity to see some of the rituals and behaviours of the birds, which were really interesting. Many traits are just like us in a lot of ways.
As you continue around the island, you will spot the now out of use foghorn. It is visible on one of the highest points, and though there's not a huge amount to see, we were told a couple of facts about its time in use.
Shortly thereafter, as you make your way to the other side of the island, you can see the Lighthouse. I'm not sure if this is a personal thing, or if we all have an appreciation for lighthouses, but I love to see unique ones, especially when they have a story.
The Bass Rock Lighthouse is no longer operated by a keeper on site, I believe it is all operated by technology now.
And in terms of history, we learnt that Robert Louis Stevenson's cousin built the Lighthouse but another fact that really shocked me is that the Bass Rock was considered the Scottish Alcatraz. I'm not implying anything as recently as Alcatraz, but many centuries ago, people were banished to the rock as punishment.
We were told a really interesting story about some prisoners that had been on the island, yet escaped the guards. Of course, I won't spoil that for you in case you choose to go on the trip, but I'm definitely going to be reading more about that now that I'm home!
All while you are listening to the history of the island and trying to take in the surroundings, the experience of seeing the sheer number of gannets flying above your head and diving by the water is incredible. They are beautiful birds and it's not until you are close that you can really appreciate how big they are. They have a wingspan of around 6ft! Yet, they are so uninterested in the boat and the people that it does have tranquil elements. You are very much in their world.
All in all, I would consider this to be an all-around age and family-friendly trip. We even had a dog on our boat so do not consider that completely off-limits!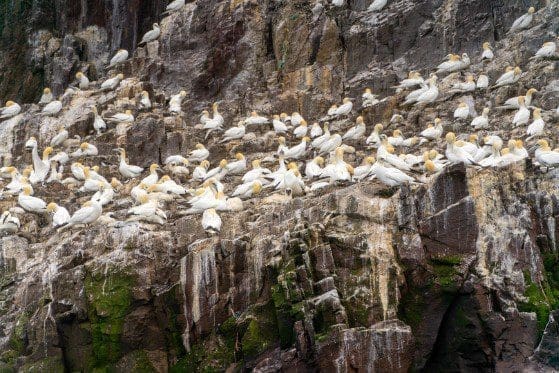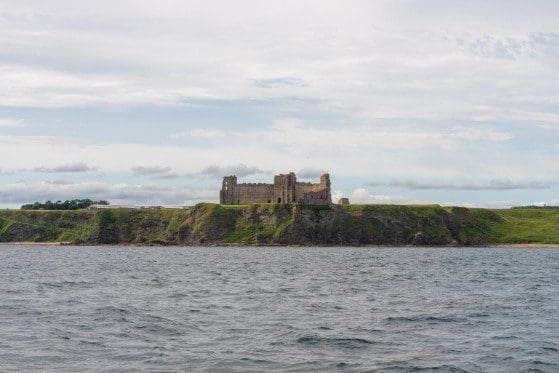 As we made our way back to the harbour, we passed the ruins of Tantallon Castle in the distance along with a section of the John Muir Way, which is a coast to coast walking and cycling route.
These were two things that I was quite excited to see as I will be returning to North Berwick shortly to hopefully see the castle a little closer, experience more of the town and attempt a portion of the John Muir Way by bike.
We thoroughly enjoyed our visit with Sula Boat Trips and I would highly recommend it but there are many other tour options to choose from such as the Scottish Seabird Centre, both of these options are priced around £26 per adult and £10 for children (although prices can differ). Alternatively, you can book BlueWild for exclusive boat hire.
East Lothian is such an undiscovered area of Scotland.  Home to one of the fastest growing puffin colonies in Scotland and with miles of stunning coastline it's a diverse and beautiful area.  It is also home to one of the best bakeries I have ever stepped foot in! 
Let's start with food, because it's always the best bet!  I can't go any further without mentioning the mecca of pastries, and location of the most incredible hybrid baking- Bostock Bakery.  We stopped in here twice, and almost cleaned them out of Cruffins (a muffin croissant hybrid) both times.  I have never in my life loved a pastry as much as I did eating these!
A lovely spot to sit out in the sunshine is Tyninghame Smithy.  The most picture perfect courtyard tearoom nestled in the quaint village of Tyninghame near Dunbar.  It's the perfect pit stop for cyclists, walkers and road trippers.  Serving coffee, tea and homemade cakes.
The food highlight of the trip was undoubtedly Hector's Artisan Pizza. A vegan heaven and with the most amazing pizzas made right in front of you it was through the roof! It is a lovely little industrial style restaurant, and to top it all off it's totally dog friendly!  You'd never know it only opened last year (amidst the height of Covid).  The staff were incredibly friendly and helpful, and the dogs got a lot of attention which they were very pleased about!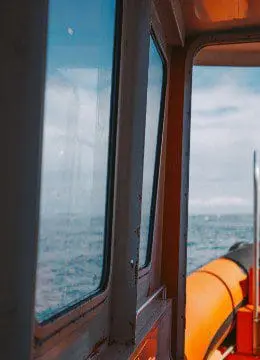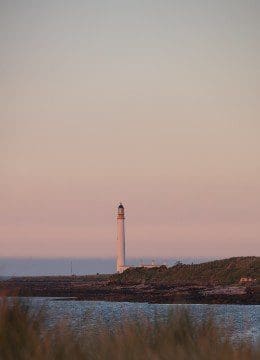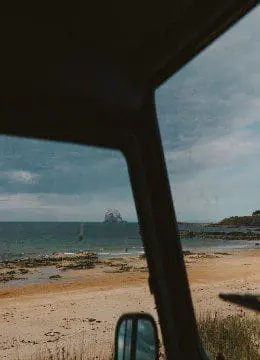 My favourite place to catch a sunset is undoubtedly Barns Ness lighthouse with a beautiful stretch of beach, that is often overlooked in favour of the more popular locations such as Gullane.  Of course the emptiness of this stunning spot only adds to the charm of the place.  The dogs were able to run wild as the sun set behind us; lighting up the lighthouse with some beautiful pastel colours.
No visit to East Lothian is complete without a trip to the Bass Rock, and to the stunning Isle of May which is absolutely crammed with puffins, and come the summer pufflings (baby puffins!!).  If seeing puffins is at the top of your UK bucket list, then this is an essential activity;  watching the puffins hopping around and fishing is a must see if you can!  The Bass Rock itself is home to one of the largest colonies of gannets in the UK; it is a sight to behold and almost unbelievable to witness, especially close up.  If you don't fancy a boat trip, the Bass Rock is a striking and iconic sight, even from the shores of East Lothian.
Preston Mill is like stepping back in time.  Hidden at the back of the village of East Linton, it is a popular spot for dog walkers and has a beautiful wildflower meadow behind the mill itself.  Photo tip;  head through the five bar gate and turn right.  Here you can walk down to a little shore and get a lovely reflection shot of the mill.  If you are still hungry, head across the road to Smeaton Garden Centre for a cup of tea and a potter around the lovely gardens.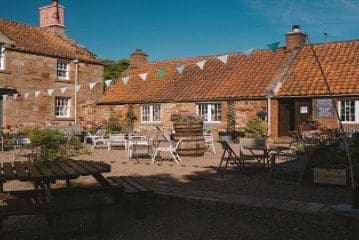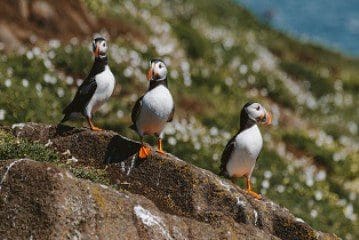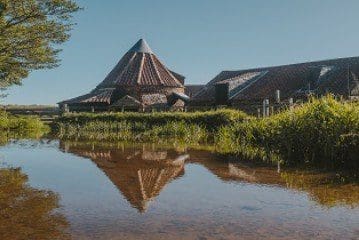 There are so many amazing spots in East Lothian, it's almost impossible to list them all; but the above are my personal favourites.
Get outside and explore #eastlothian there's plenty here to whet your appetite! #loveeastlothian responsibly #RespectProtectEnjoy
As restrictions lifted across Scotland, we didn't think twice about making our first family holiday a visit to East Lothian.  For those of you who have never been, it lies at the east of Edinburgh and easily reached by car or public transport from central Scotland and northern England.  East Lothian is very popular for families and it has many well-known locations such as North Berwick and Gullane, with attractions such as Archerfield Walled Garden and The Scottish Seabird Centre proving really popular, along with fascinating boat trips available.
We were visiting East Lothian looking to showcase some of the lesser known or visited regions of the area as well as some family favourites.  We were staying at a newly renovated cottage at Carfrae Farm near Haddington, which was only 35 minutes' drive from our home in Edinburgh.  Carfrae Farm however felt a million miles away in its remote and peaceful setting at the foot of the Lammermuir Hills.  At Carfrae there are a couple of converted luxury cottages which are used as holiday homes and lend themselves perfectly for couples and families alike, their largest has had the recent addition of a hot tub.
The journey itself is an absolute pleasure through the rolling hills, picturesque villages like Stenton with its towering Church and beautiful red roofed houses and quaint villages like Garvald.  For anyone visiting East Lothian, I'd recommend you at least stay for two nights with three days to explore the region, but personally I'd recommend you stay longer to take in all it has to offer!
Below I have included a short overview / itinerary of our visit.
Day 1
We left our home in Edinburgh late afternoon and as the sun shone we headed east towards the  small village of Garvald.  We were staying just outside the village at Carfrae Farm.
En route I had decided to stop off in Garvald, which is only a mile from Carfrae.  It has a well-equipped playground for smaller kids, with seating if you're bringing a snack.  At the bottom of the park you will also find a small stream to watch the local wildlife roam.  You will also find a few benches outside the local community hall and for a pub, the Garvald Inn is only a two minute walk.
After a good 30 minutes we jumped back into the car and headed up to Carfrae Farm.  To check in we had been sent a code in advance for the key safe by the front door.
We settled into our home away from home, kids in the downstairs spacious bedroom and parents in the upstairs larger bedroom with a large ensuite with a free standing bath, overhanging shower and uninterrupted views over the countryside.
We had booked to go for dinner at the Garvald Inn on the first night.  This is the nearest pub and restaurant.  It has been run by husband and wife Elaine and Peter for the last 17 years.  It offered a cosy and welcoming atmosphere, with good homemade quality food by Peter who is a trained chef.  This was our first dinner out in months, so we were a little apprehensive about how the kids would react.  I can report back that they did really well!
After dinner we headed back to our cottage.  With a busy couple of days we wanted to have a good night's rest.  After the kids were in bed we lit the fireplace and it was time for a wee dram to start our Scottish holiday properly.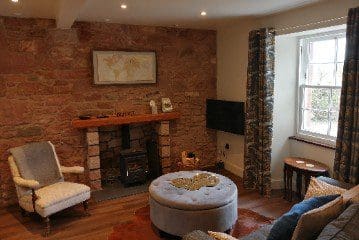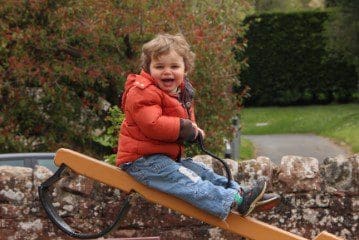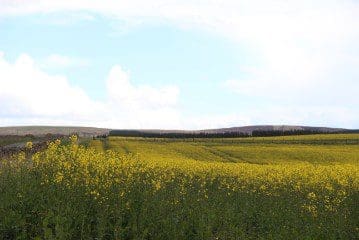 Day 2
After a very comfortable and peaceful night's sleep at Carfrae, we got ready to head out for the day, starting with a Farm Tour at Carfrae, which is part of several activities they offer either on site or locally.  We visited the sheep and new lambs they have on the farm and to the excitement of the kids they even got to sit in a proper tractor.
We then drove 2 minutes to Garvald to meet Liz, a dentist turned farmer who has 45 sheep she is looking after, along with free roaming ducks and chickens.  Here we and the kids got to meet and feed new lambs and learn more about them.  I was privileged to grow up having chickens at home to look after and working on local farms.  It was therefore fantastic to let our children have an experience of what farming life is all about.  Hopefully this will help them understand the importance of agriculture and respecting animal welfare and even where our food comes from, not just a shop down the road.
After our Farm Tour we made a short 15 minute drive to Pressmannan Wood, where I had planned for us to do a bit of a forest walk.  This worked well with our youngest having a sleep in the car park with my wife, while myself and our eldest went to explore.  The full circular walk is about 1.5 hours, but we just did part of it in hope to find a few Glingbobs and Tooflits fairies and guess what, they were not at home despite our daughter knocking very gently on their little door!  We had parked up and then followed the yellow stone down the hill and along the path and banks of the lake.  It's an easy walk, a little muddy so make sure you have appropriate footwear and not suitable for prams or buggies, but you could easily use a baby carrier, certainly for the part we walked.
After our little forest walk, we made the 20 minute drive into the centre of the seaside town Dunbar.  Here we had planned to visit one of their many local cafes and coffee houses.  This time we settled on a favourite we had not been to for a little while,  Graze Coffee and Chocolate House.
After a delicious lunch, which was finished off with homemade cakes and lovely coffees, we made a short walk along the high street to the conservationist and explorer John Muir's Birthplace.  We were fortunate the Museum had just reopened the day prior after restrictions lifting and we got a wonderful welcome from the team.  The Museum lends itself perfectly for kids of any age with various activities and stories being told on the TV, which certainly captured our two's imagination.
After our museum visit, we headed to Dunbar Harbour Battery, which lies at the edge of the harbour in a peaceful and quiet spot, apart from the soothing sounds of the sea.  Here you can enjoy uninterrupted views over the North Sea and towards the Bass Rock and the Isle of May, two very iconic bird reserves, but that's for another time.  Our kids really loved the 'SEA CUBES' by Donald Urquhart, which are on display and give a beautiful perception of the space and surroundings in the Battery.  In 2017, the Dunbar Harbour Trust created a special location at the ruined Battery and it's available for the public to visit, explore and enjoy throughout the year.
We finished off our afternoon by going on a 'bear hunt' to see the Dunbear, which is a sculpture created by the artist Andy Scott who also created the Kelpies in Falkirk.  The impressive Dunbear sculpture was created as a tribute to conservationist John Muir and his connection with the town.
That evening we went for dinner at the Linton Steakhouse in East Linton, a family run hotel which offers a welcoming service and good food.  It's a busy place with a good size beer garden, which will be for another visit!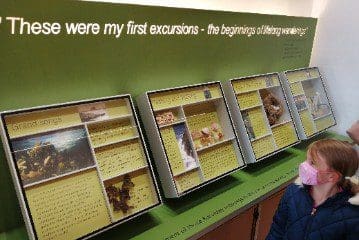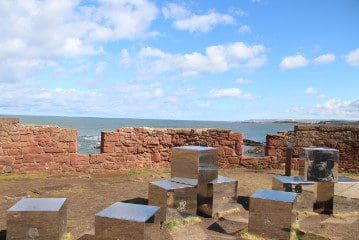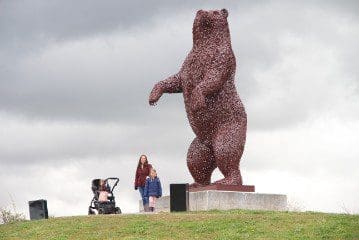 Day 3
On the morning of day three we checked out of Carfrae at 10am and then headed straight to East Links Family Park, which was only a short 20 minute drive from our cottage.  There had been much excitement from our kids about going back here after our first visit last year.
The Park lends itself perfectly for families who want their kids to have fun, but at the same time learn a little more about the animals and get right up close with them.  Here you could easily spend a full day, but even half a day would give you plenty of time to see and experience what there is on offer.
Our highlights included a ride on the train, by train driver Karen, who kindly let our kids beep the horn , which created much excitement!  But I'd also recommend you grab one of the bigger pedal carts and visit the animals on the field and then experience the musical maze, which is certainly one of my highlights.
Within the Park you will also find the John Muir Cafe serving snacks, lunches, coffees and good cakes all day.  You can either take away and use the benches onsite or sit in taking in the views.  If you are sitting outside, make sure you look out for Ginger the cat who will no doubt come by to say hello!
After a good five hours of fun filled activities around the Park, we packed the car and headed for Belhaven Bay.  You can  park by the beach with a small parking charge of  £2.  From here you can walk to the beach in about 10 minutes, with little ones anyway!  There are also free toilet facilities available, including outside showers should you wish to go for a dip in the sea.  The beach is vast and beautiful, overlooking Dunbar, the Bass Rock and Isle of May, with well-kept sand dunes.
Here we spent an hour playing in the sand and just chilling out after a wonderful few days out and about East Lothian, what a place!
En route home we made a stop in Musselburgh and here we picked up fish and chips from East Coast, an award winning restaurant and take-away.  We walked a short distance to the promenade and enjoyed these in the evening sun overlooking the Firth of Forth.
Besides the activities we visited, there are also other great attractions I would highly recommend, which includes; The Scottish Seabird Centre with a fascinating discovery centre and awesome boat tours, highly recommended.
The National Museum of Flight, a big favourite for kids (and adults) of all ages.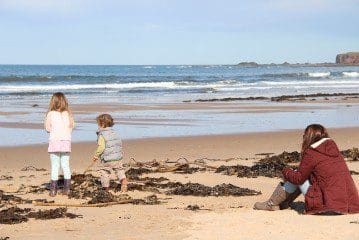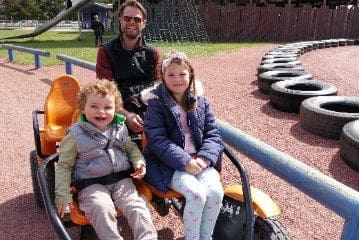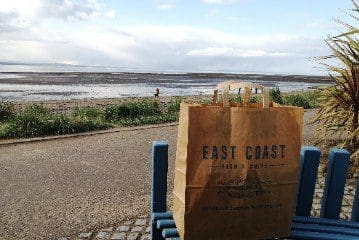 Accommodation
Carfrae Farm
We stayed at the Stravaig Cottage, which was newly renovated and finished to an extremely high standard, with beautiful touches around the cottage from the free standing bath, to high ceilings and lots of light, but still with a wood burning stove in the lounge by the exposed brick wall.